Salty and Tart! This cocktail packs a punch and is so fun to drink. A Cucumber Salty Dog will cool you down and is perfect for a summery day. I love this cocktail for a picnic or outdoors in the afternoon. It's an easy cocktail to make and a fun twist on a traditional Salty Dog.
Cucumber is so soothing, cooling, and mellows out the intense flavors of the grapefruit. It's also fun because you get to whip out your mortar and pestle and be a mixologist!
I love using fresh grapefruit for this recipe especially Texas grapefruit when it's in season. It's a lot sweeter than grapefruit juice from the store and it's fresh quality is so special you can almost taste the sunshine.
Another one of my favorite secrets to making an amazing Cucumber Salty Dog is to use the right kind of salt. You know how some salt rims on cocktails have that fluffy salt that melts easily? And how when you get a cocktail with table salt how dense and small the salt crystals are?
Well what you need to make a great Cucumber Salty Dog is Flake Salt. You can get "Margarita Salt" from any liquor store. I got Mark Bitterman's Flake Salt
as a gift and it's perfect for this recipe! Check out the other salty fresh links below and get excited about how much a fine salt can change any dish.
As far as the vodka goes, you can use your favorite. Although you can find a lot of variation in the quality of vodka, as long are you aren't using a plastic bottle kind you will be fine. I'm a big fan of several middle of the road vodkas that aren't too expensive.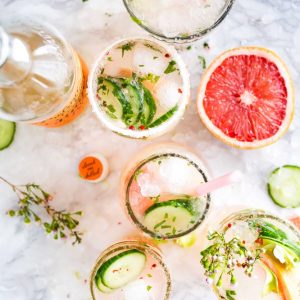 Cucumber Salty Dog Cocktail Recipe
This Cucumber Salty Dog is a delicious spin on the traditional version.  It's perfect for outdoors in the summertime and is tart and refreshing!
Ingredients
1

teaspoon

Flake Salt

1

inch

slice of Peeled Cucumber

muddled

2

oz.

Vodka

1 1/2

large Grapefruit

juiced

2

thin slices Cucumber with Peel

for garnish
Instructions
Dip your glass upside down into a small amount of water and then dip your glass into the flake salt.

Add your 1 inch piece of cucumber to the glass and carefully muddle without touching the salt rim.

Add 3 cubes of ice, or so, and pour 2 ounces of vodka over the ice.

Fill to the top with freshly squeezed grapefruit juice.

Give your cocktail a little swirl to mix, garnish and take a sip!
Let's Stay Friends!
Insta | Pinterest | Enews | TikTok