Here's something luxurious for your face! Beard Oil isn't just about hydrating your beard, it's also a great way to sooth your skin underneath. This is a great for everyday care for most bearded guys.
It's great to DIY for a couple of different reasons. One is that you can choose your own scents and use any essential oils that you like. Two because you know you are getting natural ingredients and not a ton of synthetic junk.
It's hydrating, soft, smells great and feels great. And it happens to be easy to make too. All you need are a few simple supplies.
DIY Beard Oil Supplies:
A Small Dropper Bottle
A Container for Mixing (preferably with a pour spout)
Avocado Oil
Jojoba Oil
Essential Oils (I used Pine with a touch of Frankincense)
These Free DIY Beard Oil Labels
I used a 1 oz. Dropper Bottle. You always want to start with your carrier oil, which is in this case, Avocado Oil. So add almost 1 oz. (around .75 oz) to your container for mixing.
Avocado Oil is hydrating for your skin and rich in fatty acids, potassium, lecithin, and lots of other nutrients.
I also used just the tiniest amount of Jojoba Oil which is a great addition to the Avocado Oil. Jojoba is skin soothing with it's antibacterial and anti-inflammatory properties. It's also rich in both Vitamin A and Vitamin E.
Now just add your Essential Oils! For a 1 oz. bottle, you will want to use perhaps about 15 drops total. You can use more or less depending on your palette. Here are some great Essential Oil Recipes that you can try but I chose something super simple – about 12 drops of Pine and 3-4 drops of Frankincense. And it smells amazing!
Once all of your ingredients are blended, just carefully pour them into the dropper bottle and Viola! Your DIY Beard Oil is done. But of course, we had to cute ours up with these Easy Printable Labels that you can get for free if you scroll to the bottom.
I cut my label into two pieces – because these labels are so versatile! I made a cute little flag shape which reflected the masculine style of this DIY Beard Oil.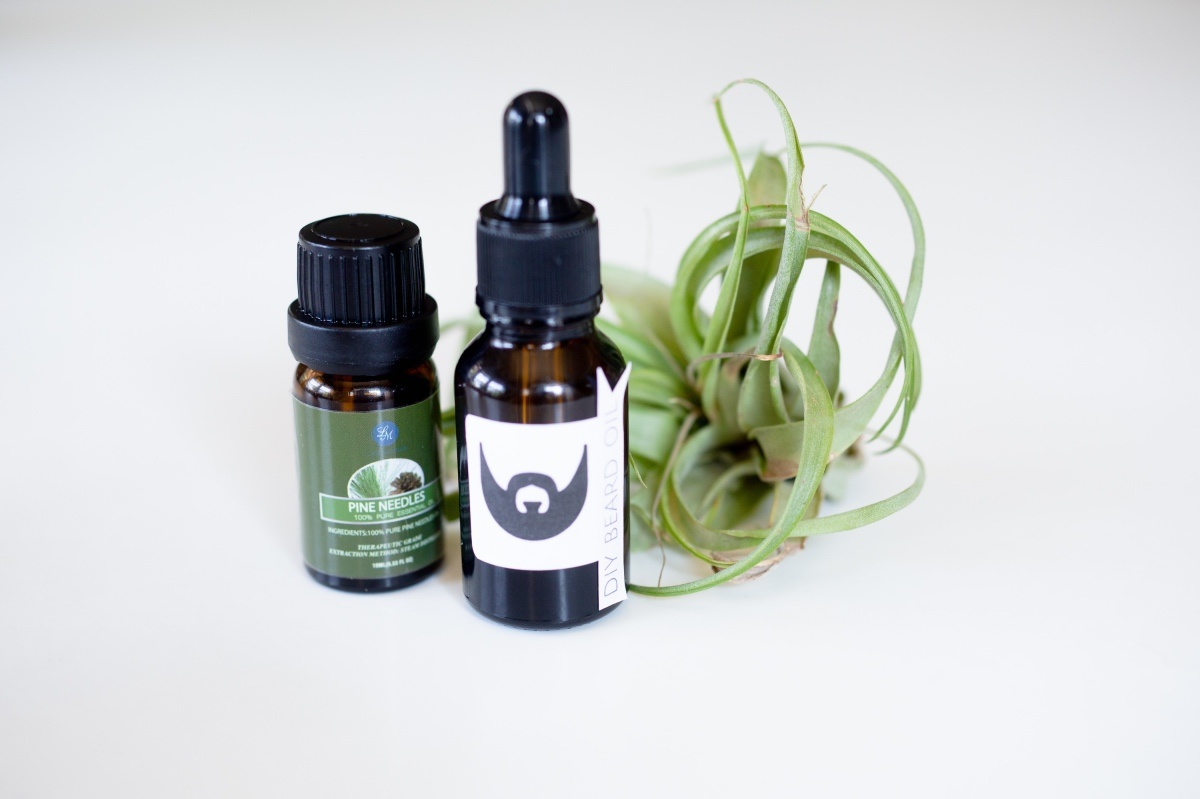 Before you add your labels to the dropper bottle, be sure that there's not any oil on the outside. Your label won't stick if there's even a hint of oil.
With this label, it's so cute, it could make a great gift! Now just scroll down to get the link for your Free Printable Bottle Labels!
Let's Stay Friends!
Insta | Pinterest | Enews | TikTok