Looking for a cooling, hydrating popsicle that beats the heat when it's hot outside?
These Easy Cantaloupe Freezer Pops are the perfect treat! They are made with fresh fruit and no sugar added. They are so simple to make and help you stay cool and hydrated.
So let's make them! Scroll to the bottom for the recipe card or read on for tips and tricks on how to make amazing Cantaloupe Freezer Pops.
Cantaloupe Health Benefits
Cantaloupes are most closely related to watermelon or honeydew melon but also related to cucumbers, pumpkins and gourds! They likely originated in what would now be Iran and have been grown for thousands of years.
Cantaloupe is mostly water. One cup of fresh cantaloupe has 144 calories, 100% of your vitamin c, 100% vitamin a (a lot in the form of beta carotene,) 12% potassium, and has trace amounts of zinc, folic acid, calcium, vitamin k, magnesium, iron, and more.
It has a low glycemic score, or in other words does not cause blood sugar to spike. Thus, it is often recommended to diabetics. It contains phytonutrients giving it anti-inflammatory properties. It's rich in electrolytes which will help you hydrate and feel hydrated.
All in all it's a healthy fruit that's perfect for this recipe!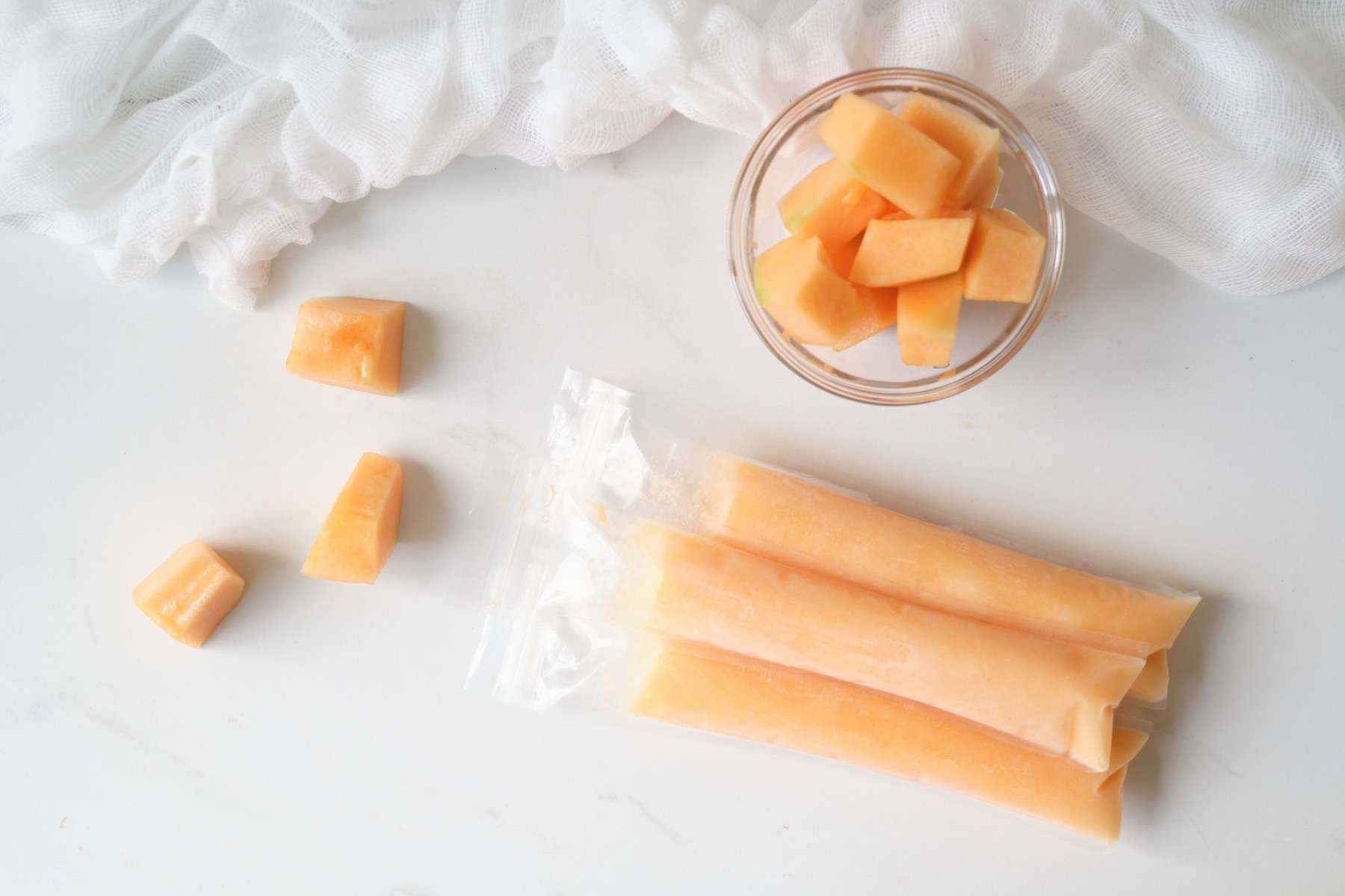 How to Pick the Perfect Cantaloupe
Using your sense if smell is the best way to pick a cantaloupe. The more fragrant the fruit, the more likely it will be ripe and delicious. With any melon, try to pick one that feels heavy for it's size. That's an indicator that the fruit is full of water and extra juicy.
You will also want to pick a cantaloupe that's sandy in color with no green. Cantaloupes have a green hue when they aren't ripe.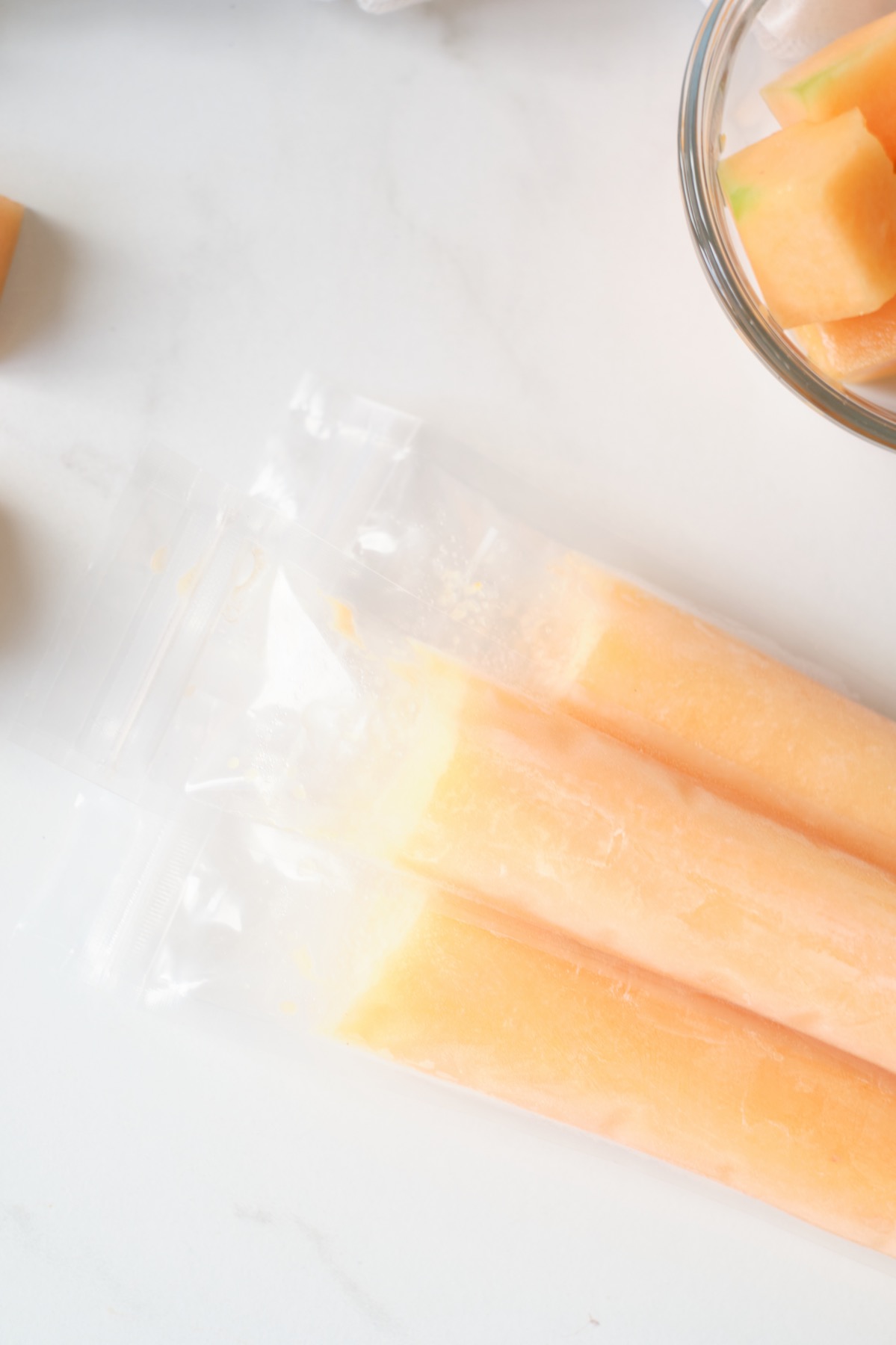 With all melons, they will have a small lighter colored spot from where they rested in the field. This is another good indicator that the fruit was able to ripen on the stem and that will have a good melon.
If you see a stem on the fruit, run away! That's a sign that it was cut too early because cantaloupe stems will fall off naturally. When you touch and squeeze the cantaloupe make sure you don't find any soft spots. That's a sign that the fruit is too ripe. Instead, the cantaloupe should slightly squeeze to the touch but should not be rock hard.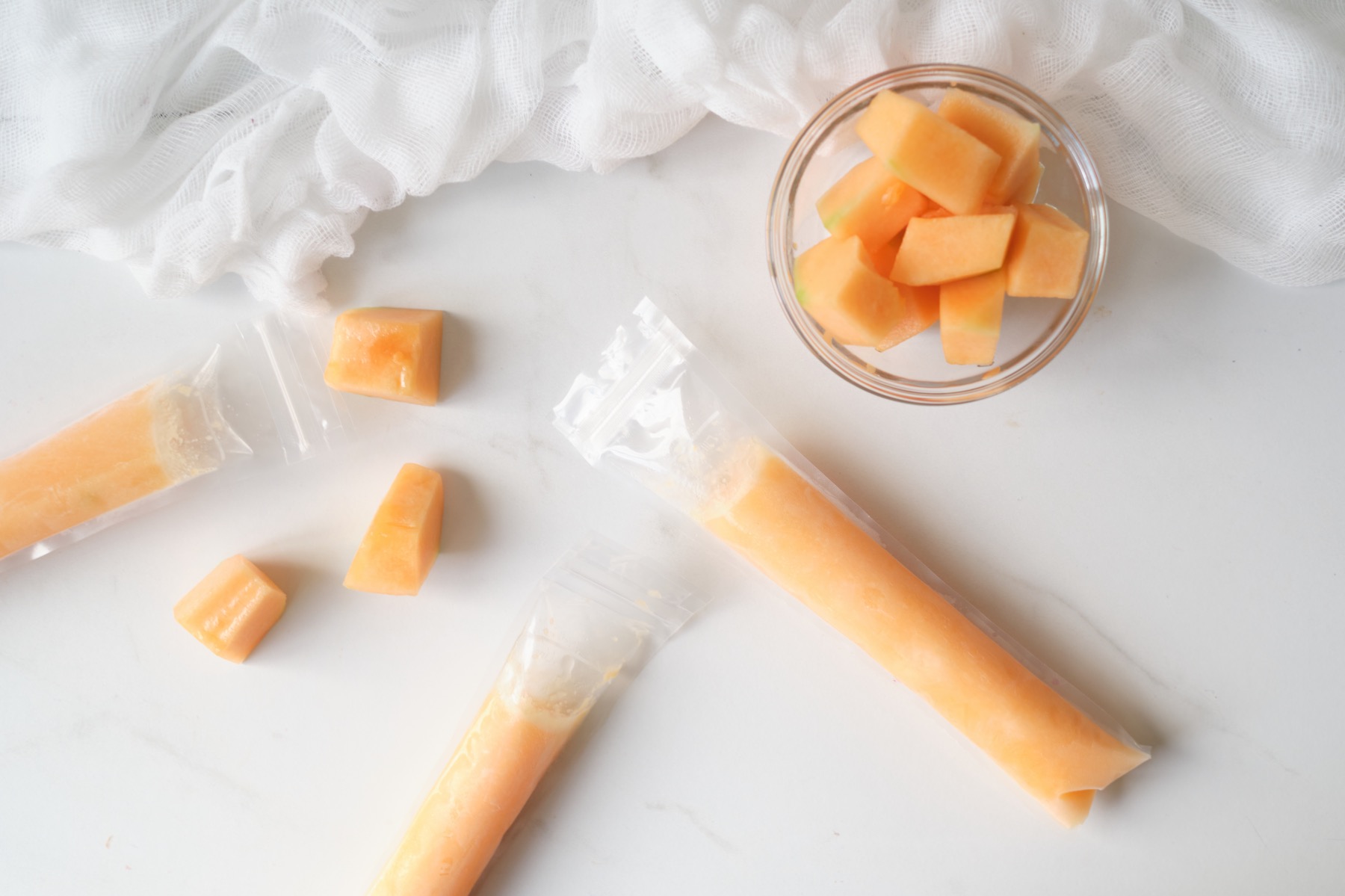 How to Make Easy Cantaloupe Freezer Pops
Once you have the perfect cantaloupe, you must wash your cantaloupe thoroughly and completely. Fun fact: cantaloupes are one of the most common sources of food borne illness because critters and germs can hide among the textured rind.
Once you've washed your cantaloupe thoroughly chop and dice your cantaloupe into small pieces.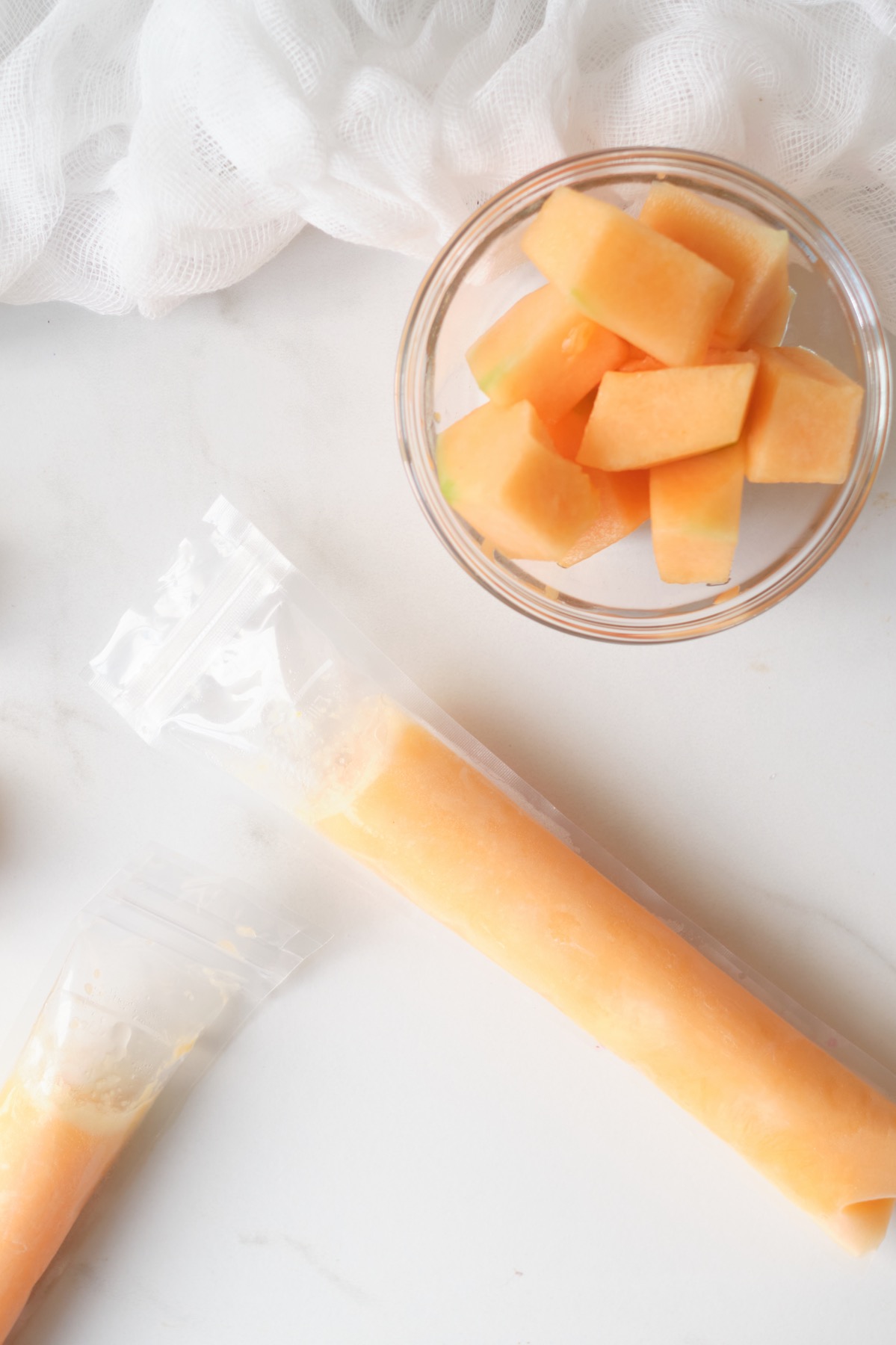 The size of the pieces doesn't totally matter because once you have it all chopped, add the cantaloupe to a blender with 1/4 cup of water and blend. Continue to beat and blend the cantaloupe until you have a smooth and even texture.
It will be thick and the most gorgeous melon orange color!
Alternative: Add Cool Whip
Now, I made my Cantaloupe Freezer Pops with nothing else added so there's no sugar at all! It's so healthy and easy. But that doesn't mean that you have to make them my way! One of my favorite twists to this recipe is to add 1/2 cup of Cool Whip. To add it, place the Cool Whip inside the blender and give your cantaloupe one more mix until the ingredients are thoroughly and completely blended.
Adding Cool Whip will give these Cantaloupe Freezer Pops a creamy, light and delicious twist!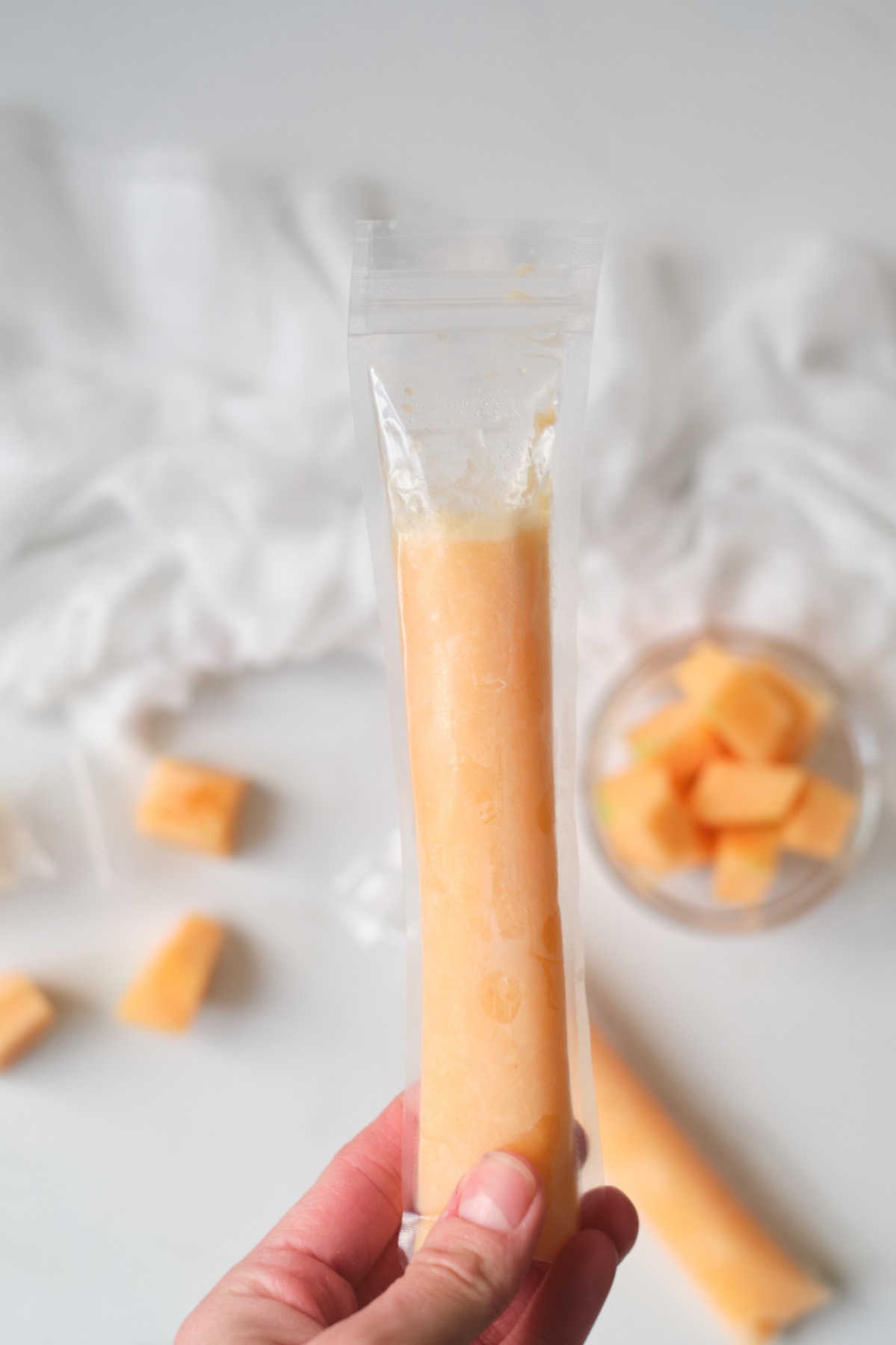 How to Fill Your Freezer Pops
Once your cantaloupe (and perhaps Cool Whip) is ready to add to the freezer pop sleeves, you will need a funnel. Most freezer pop sleeve kits come with a funnel that's perfect for this task.
Having a kit that's all inclusive is an easy way to fill the sleeves. Otherwise, use any kitchen funnel to fill the freezer pop sleeves.
When filling the sleeves, always make sure that your cantaloupe freezer pop mix stays evenly mixed and blended so you don't end up with some pops that are more watery and others that are more fruity.
And leave a little bit of room at the top so you can seal the freezer pop with no issues.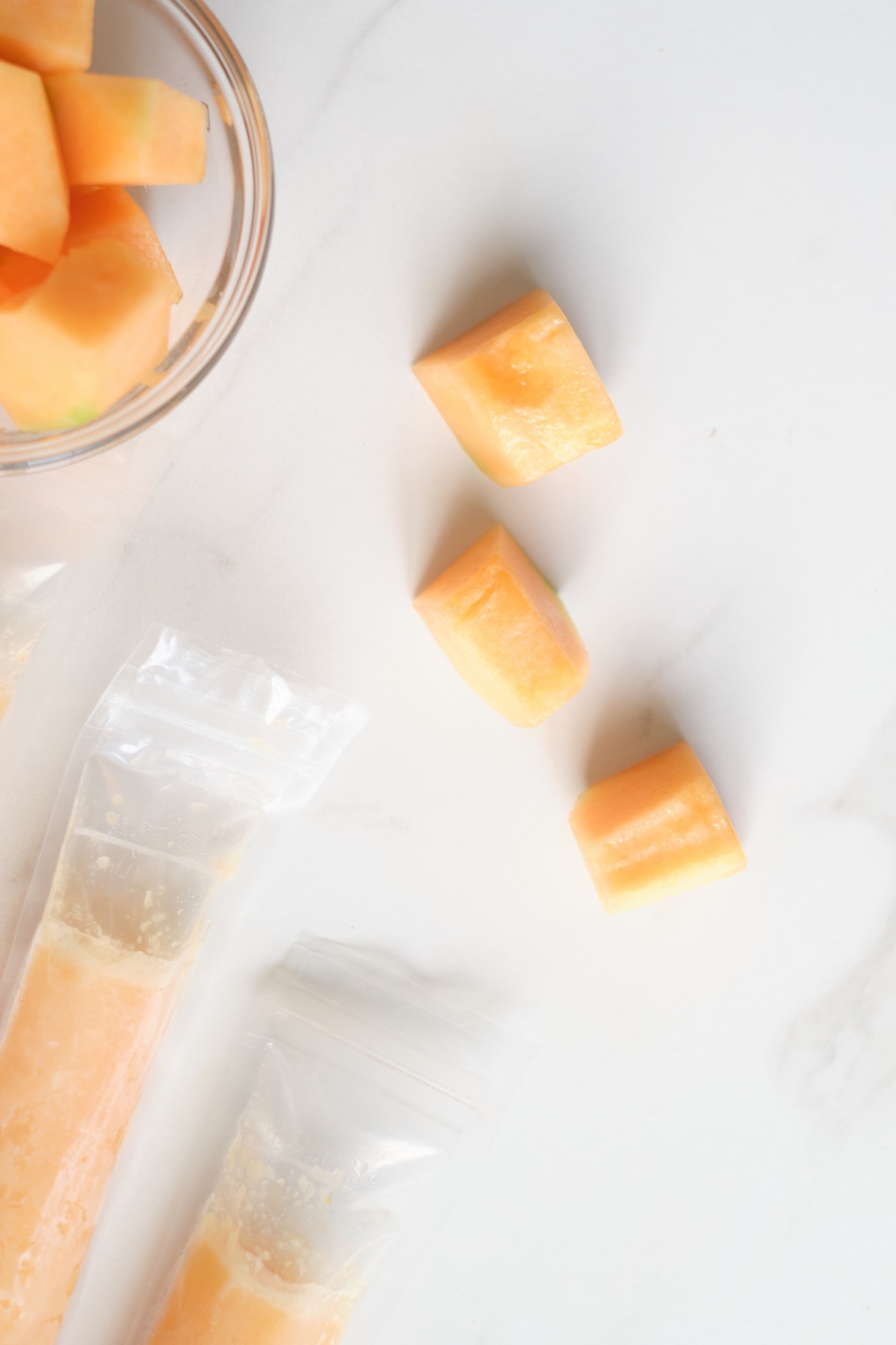 Alternative: Make Your Cantaloupe Freezer Pops Full Sized Pops
If you don't want to buy special freezer pop sleeves or deal with funneling the cantaloupe mix into them, you could also use a regular popsicle mold.
Of course the Cantaloupe Popsicles would be a lot bigger than these freezer pops, but how cute would it be to layer the cantaloupe and Cool Whip kind of like this or use a super cute popsicle mold like this.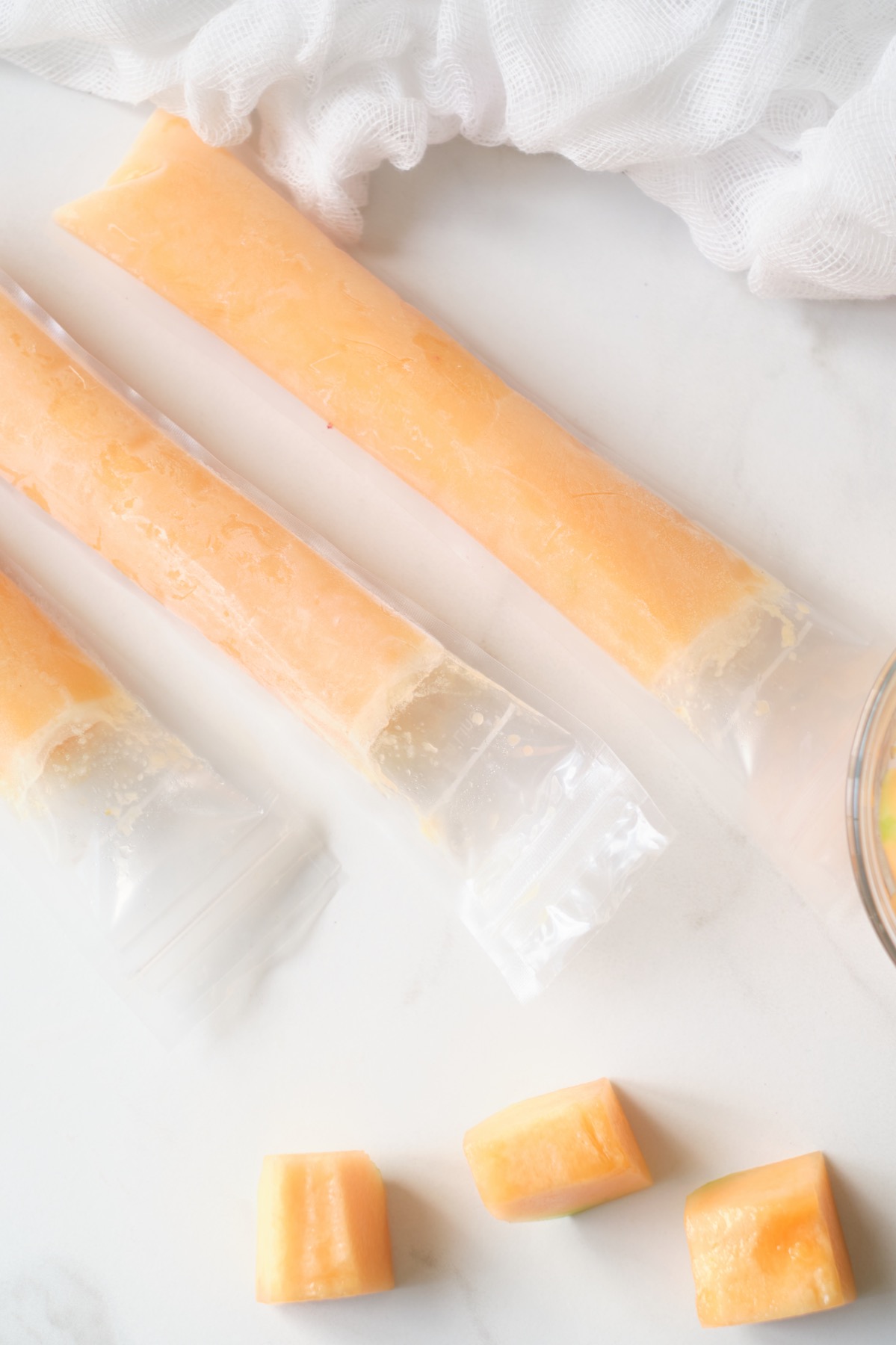 Whatever you choose, simply fill the freezer pop sleeve or popsicle mold with your mixture. Then place in the freezer overnight. Serve at a pool party, snack on these popsicles for an anytime snack or give them to kids as a healthier alternative to frozen desserts!
Any homemade popsicles will keep in the freezer for around 2 weeks. After that, they may start to develop freezer burn or the flavor may start to decline.
Alternative 3: Other Types of Freezer Pops
If you get super inspired from these Cantaloupe Freezer Pops, there are a million other variations you could make! Any melon makes for great freezer pops with no alterations to the recipe. Just dice the fruit, blend until smooth, and place in the freezer pop sleeves.
Other fun combinations could be strawberries blended into lemonade, peaches blended into coconut milk, or tangerines and grapefruits blended into orange juice.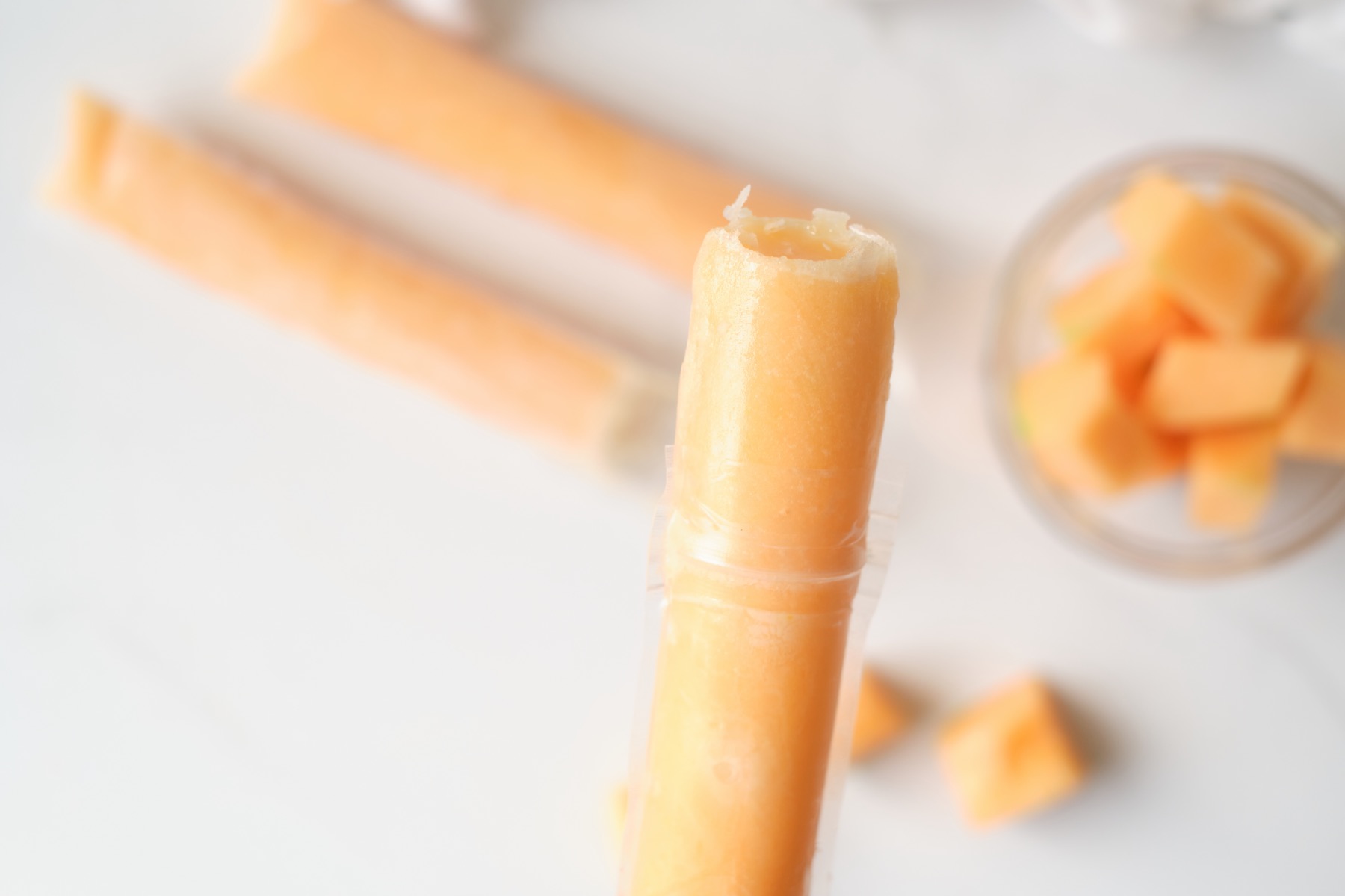 Easy Cantaloupe Freezer Pops Recipe
Fall in love with melon with these Easy Cantaloupe Freezer Pops Recipe. They are all fruit, no sugar added, and the perfect way to beat the heat!
Ingredients
1

cantaloupe

¼

cup

of water

½

cup

of cool whip

optional alternative
Equipment Needed:
Instructions
Wash the cantaloupe thorough and dice into small cubes.

Add the cantaloupe and water to the blender (Cool Whip optional) and mix until very smooth. You can add in cool whip if you want a more creamy taste, but it is optional. Without Cool Whip this recipe is all fruit, no sugar added, and still wonderfully delicious!

Using a funnel, pour mixture into the sleeves to the fill line. Be sure that your cantaloupe mixture stays blended so you don't end up with some popsicles more fruity and others more watery.

Place the popsicles in freezer and freeze overnight.

Store in the freezer for around 2 weeks or longer if they still have a great flavor and not too much freezer burn.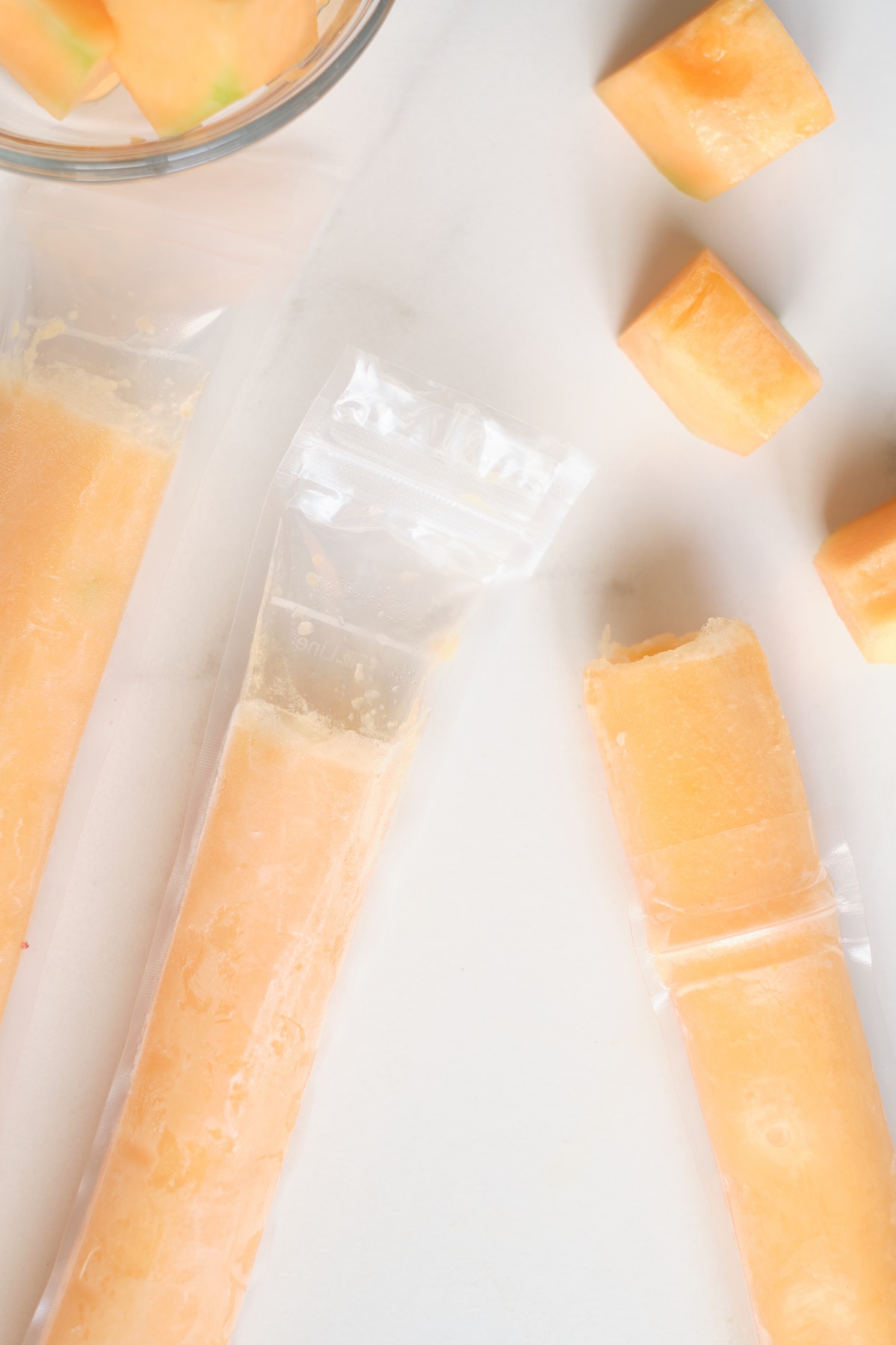 Are you ready to make this Easy Cantaloupe Freezer Pops Recipe or do you have another fruit in mind? Tell us in the comments! And check out even more delicious popsicles linked below.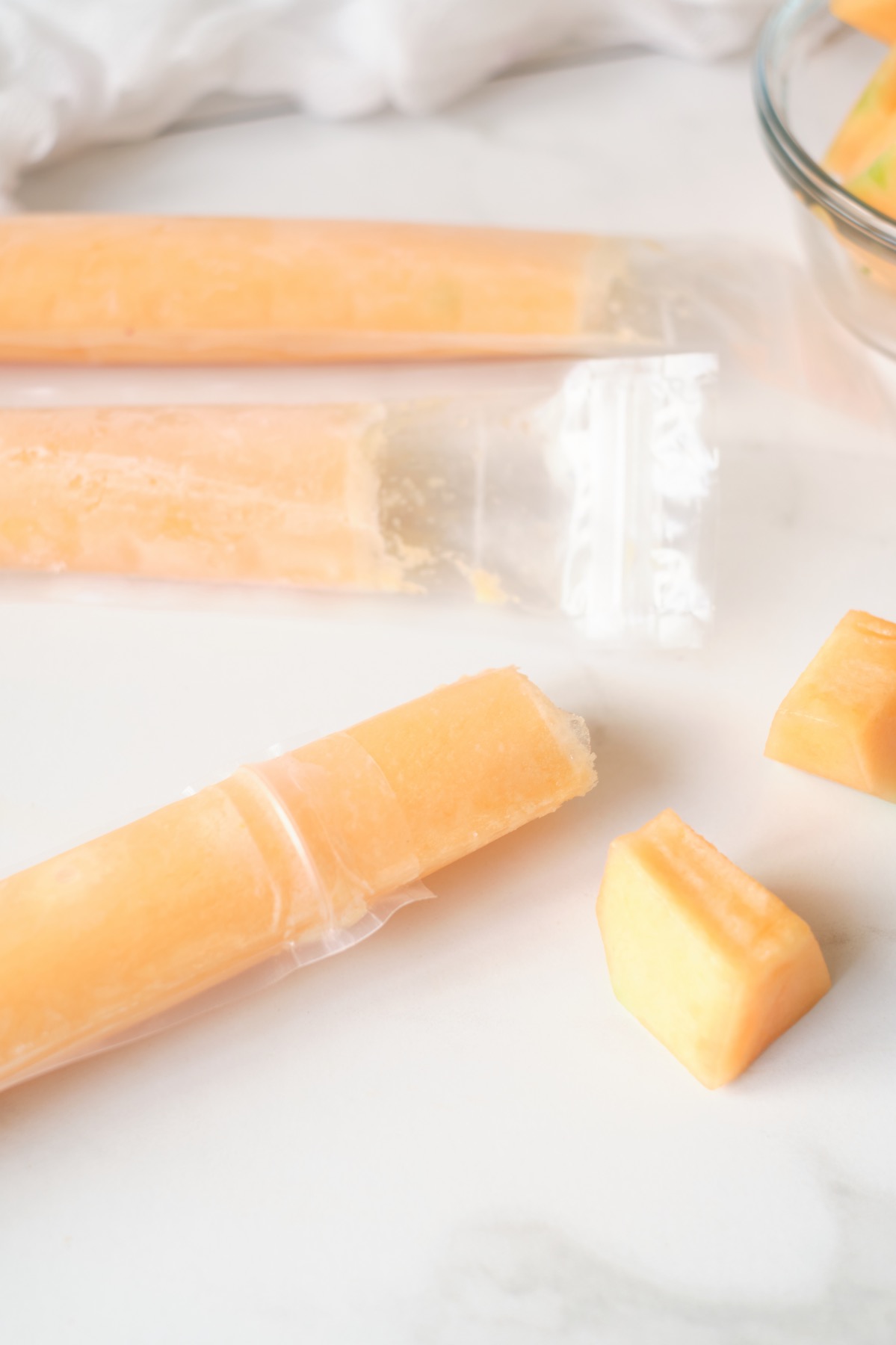 Let's Stay Friends!
Insta | Pinterest | Enews | TikTok