This is Part 2 of 3 of the Craft in Style Subscription Box Instructions for June 2021. Find the Craft in Style Subscription Box here. Read Part 1: How to Make a Painted Rock Domino Set here. Read Part 3: DIY Rainbow Yahtzee Set with Free Printable Score Cards here.
Let's get outside! This is the perfect way to play outside whether you are a kid, adult or looking for something family friendly. This adorable Painted Rock Tic-Tac-Toe Game Set is fun to make and fun to play.
Best of all, you can style it lots of different ways. Whether you love a certain color, all the colors or prefer to stick to black and white, you can customize it to your taste. So let's make it!
Supplies to Make a Painted Rock Tic-Tac-Toe Game Set
June 2021 Craft in Style Subscription Box
or
10 2 inch smooth river stones (approximate in size)
5 inch square of wood
Acrylic Paint in various colors
Paint Pens in various colors
4×6 Muslin Bag
Acrylic Paint vs. Paint Pens: You can use both, but you can choose between one or the other depending on what style you like. And your acrylic paint and paint pens can be any colors you like. Read on to see examples of each!
Step 1: Paint the Tic-Tac-Toe Game Board
Now, you can use a lot of different styles and patterns to paint your game board. But regardless of what pattern you choose, start painting the 5 inch wood square game board first. It will likely take several coats of paint to finish. Although acrylic paint dries fast, you will need time to paint, time to dry and then time to add another coat.
To paint your game board, I would recommend a light bodied acrylic paint. Medium or heavy bodied acrylics are dense, thick and great for making textures on a canvas. But it's just not needed for a project like this. Light bodied acrylics are easier to keep smooth with a flat finish.
Step 2: How to Make Tic-Toe Toe Game Pieces with a Paint Pen
Place all your rocks on a work surface and make sure they are all positioned with the flattest side facing down and the most curvy side facing up. You can use acrylic paint or a paint pen to make your Tic-Tac-Toe game pieces. I'll show you how I made game pieces with acrylic paint later.
If you are starting with a fresh paint pen, shake the pen for around 1 minute. Then repeatedly press the tip into the rock until paint starts to come out.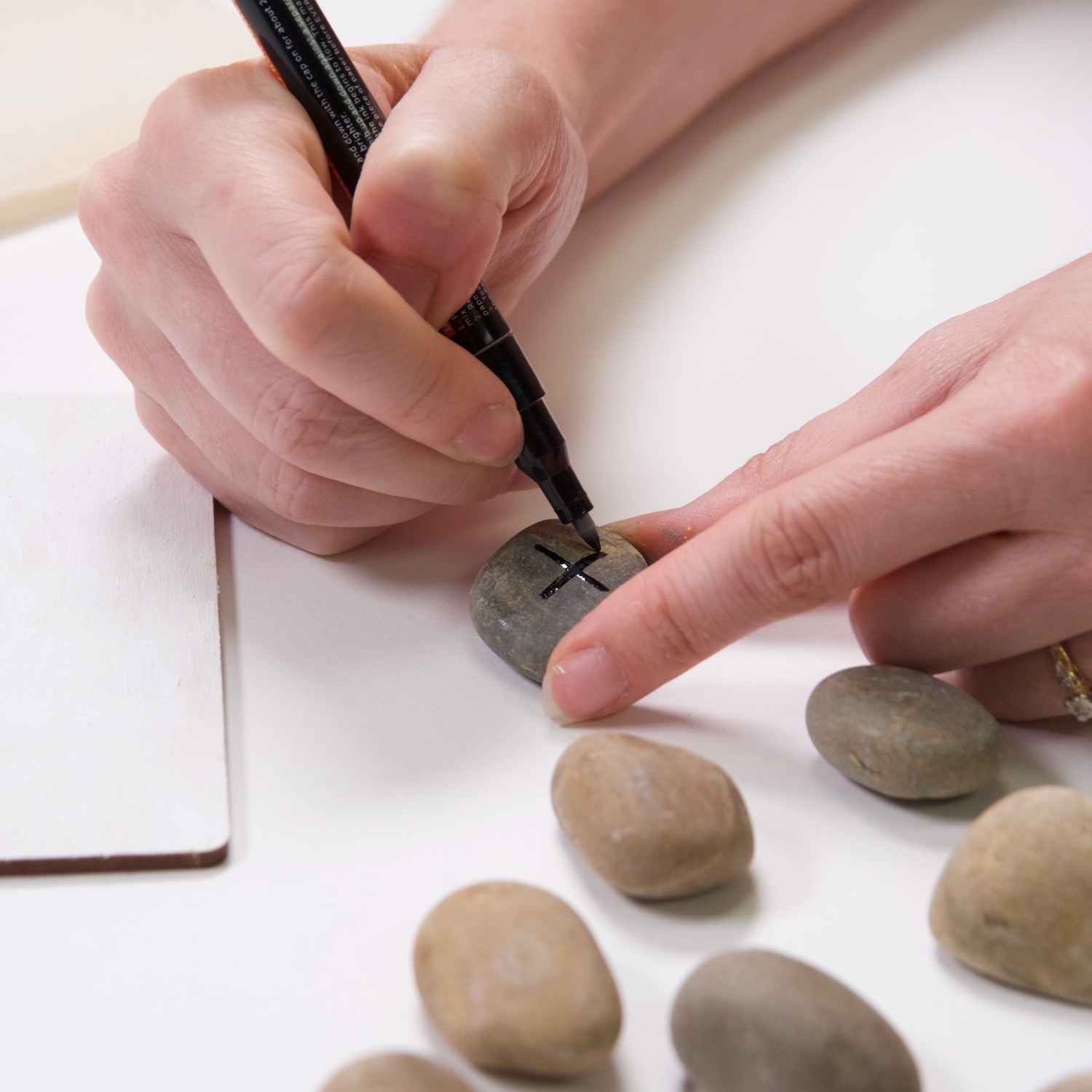 Hold your rock in one hand and your paint pen in the other and think: bubble letters. You will want your x's and o's to have thick bold lines. You could even choose a thick paint pen to make this easier.
As you paint the x's and o's try to keep your hand steady. The more even your letters the more gorgeous your finished Painted Rock Tic-Tac-Toe Game Set will look!
About Your O's
I painted my o's to look like bullseyes. If you just draw a circle with a dot in the middle you may notice that it looks like something else….Something that you don't mean it to look like! 😜
Another way to avoid this is to make the interior circle that makes the o nice and large.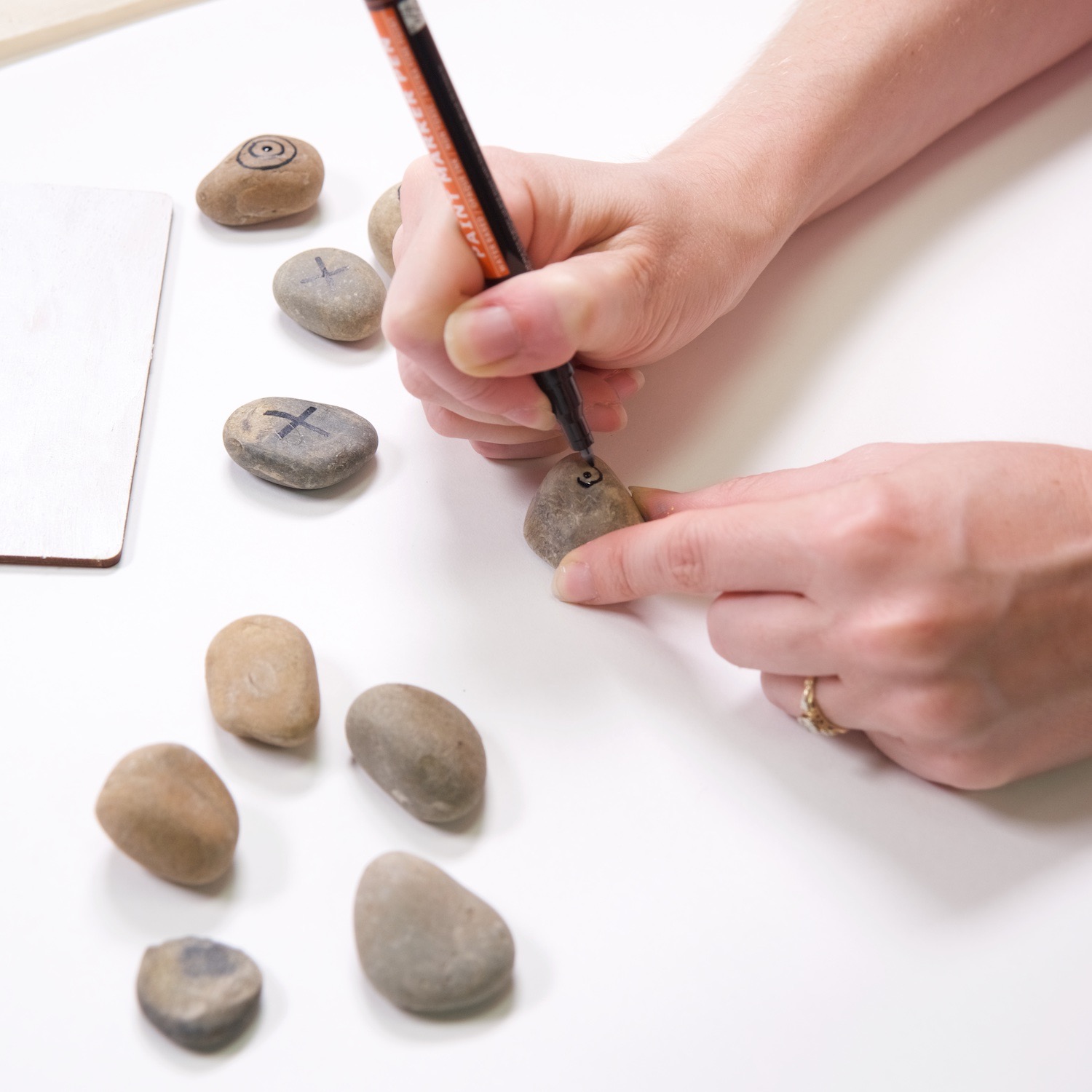 Step 3: Touch Up Your Game Pieces
For any Tic-Tac-Toe Game Set you will need 5 x's and 5 o's or 10 pieces total. Once you have all of your game pieces created, set them all together and look at them as a group. If any of them need to be retouched, now is the time. It's also great to see how they fit together to make sure your x's are a similar size and to make sure your o's are round and aren't too potato shape.
Sometimes this can be a bit quirky just depending on the shape of your rock. If a rock is really curvy on the top your letter might need a little extra tlc to fit with the group.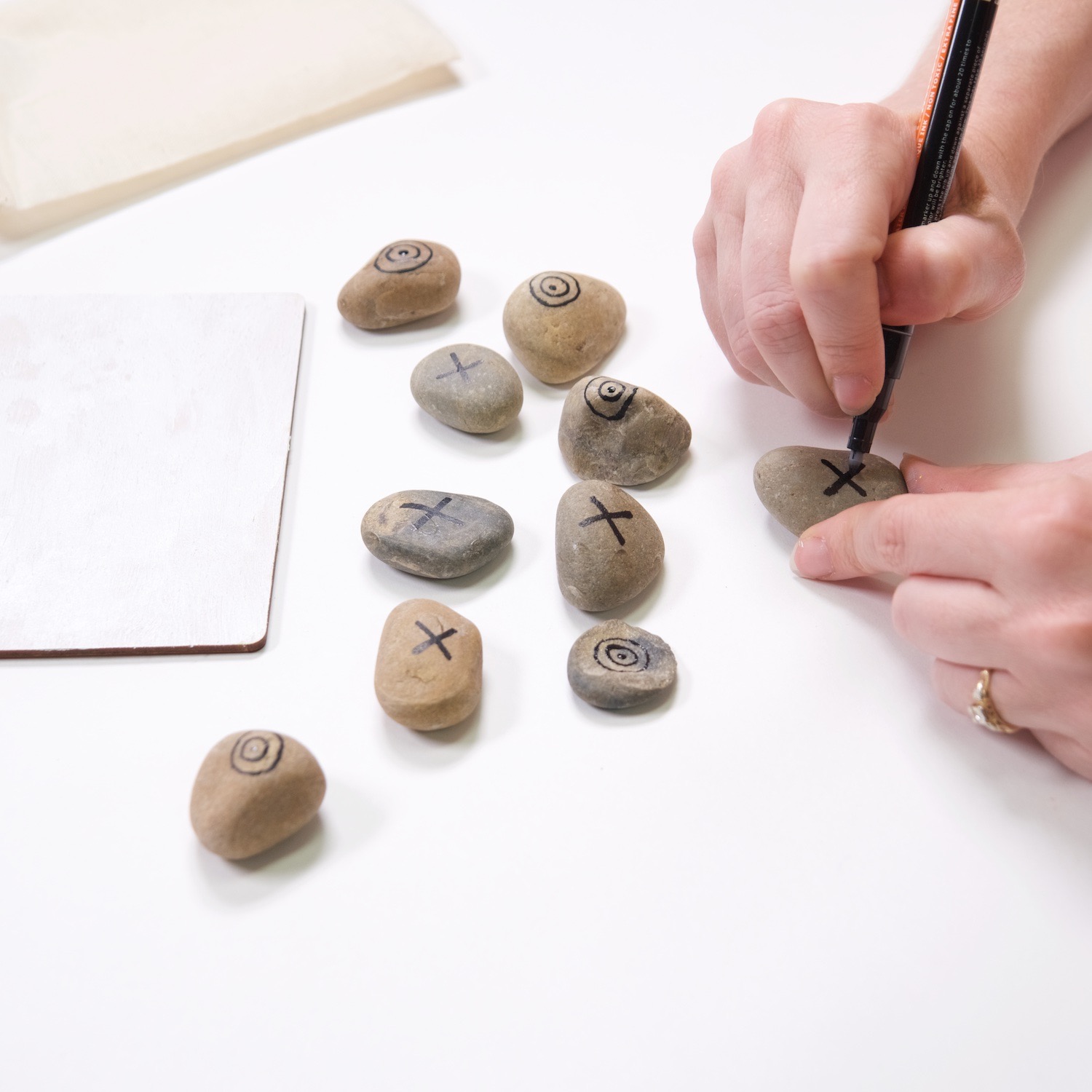 Step 4: Let Your Painted Rocks Dry
Next, just let your painted rock Tic-Tac-Toe game pieces dry. Whether you are using a paint pen or acrylic paint, both will dry within 10 to 20 minutes. There can be a bit of variation based on the weather and climate. But with either method the dry time is fast!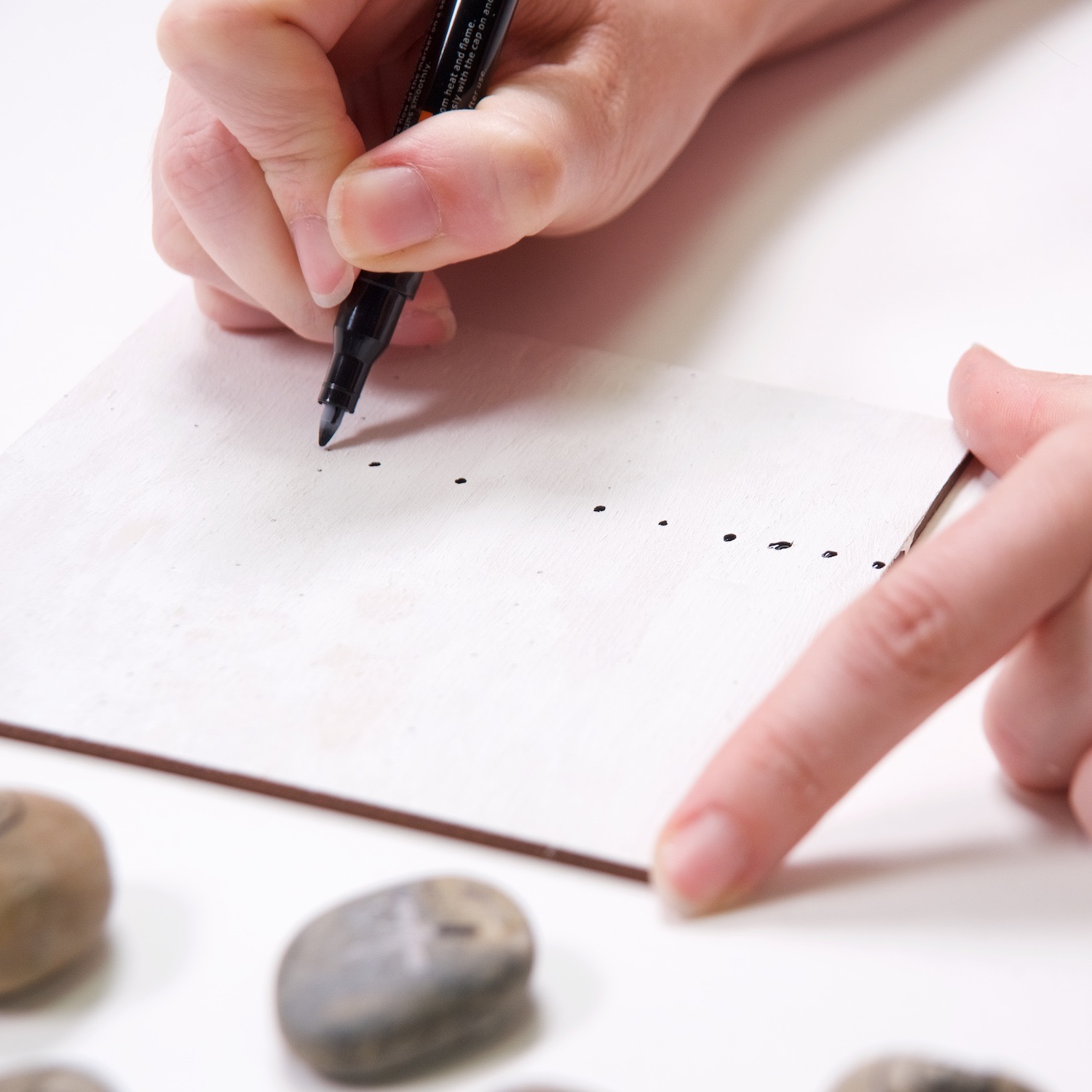 Step 5: Finish Your Tic-Tac-Toe Game Board
Last, check your 5 inch wood game board to see if the 1st coat is dry. Then divide the board into 9 equal squares. That's 3 squares across, 3 squares up and down and so on.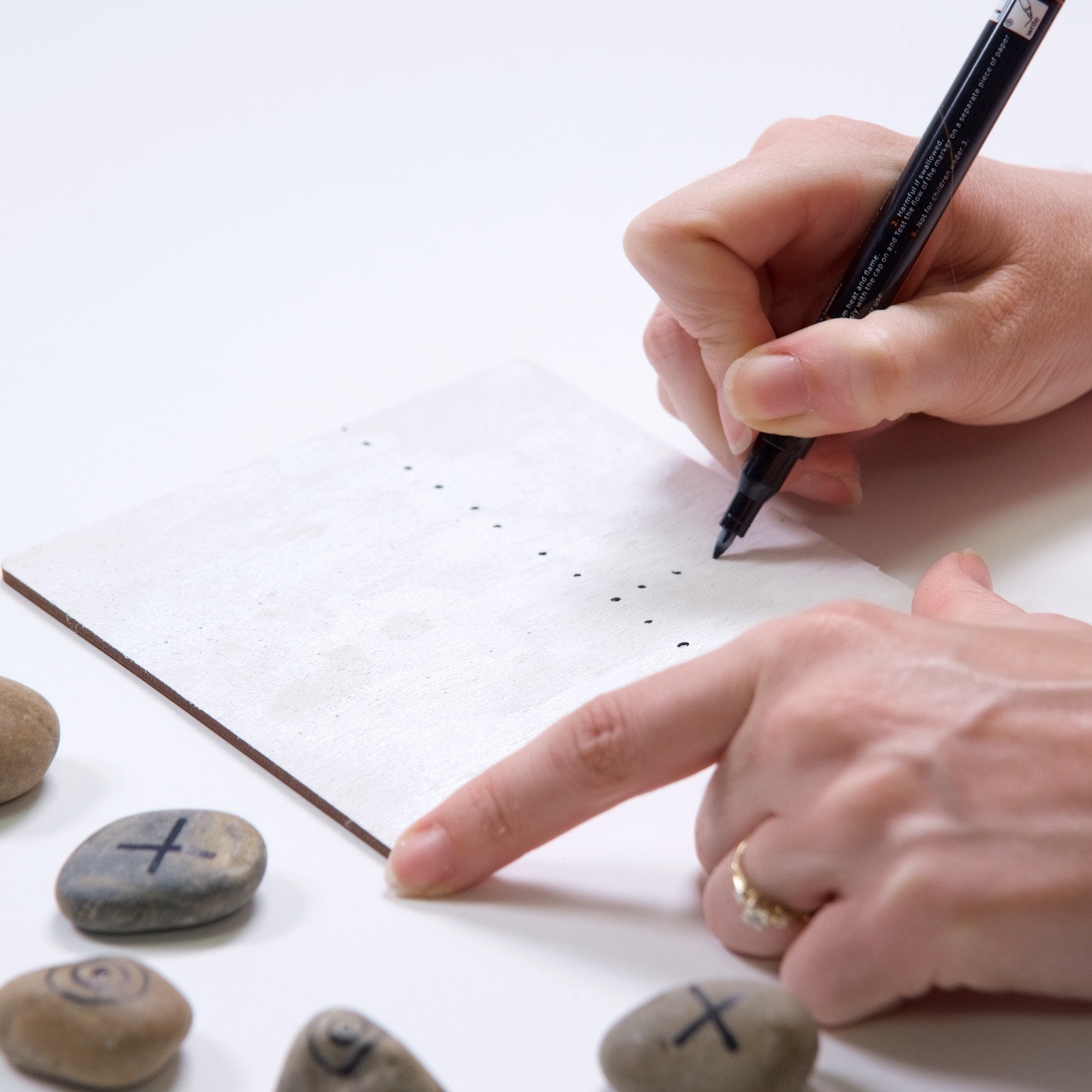 You can use acrylic paint or a paint pen to divide your game board. For this 1st Painted Rock Tic-Tac-Toe Game Set, I made a black and white minimalist designed set of stones. It's so cute, modern and would be so cool to display in a mid-century home! I used the same black paint pen to divide the squares on the game board.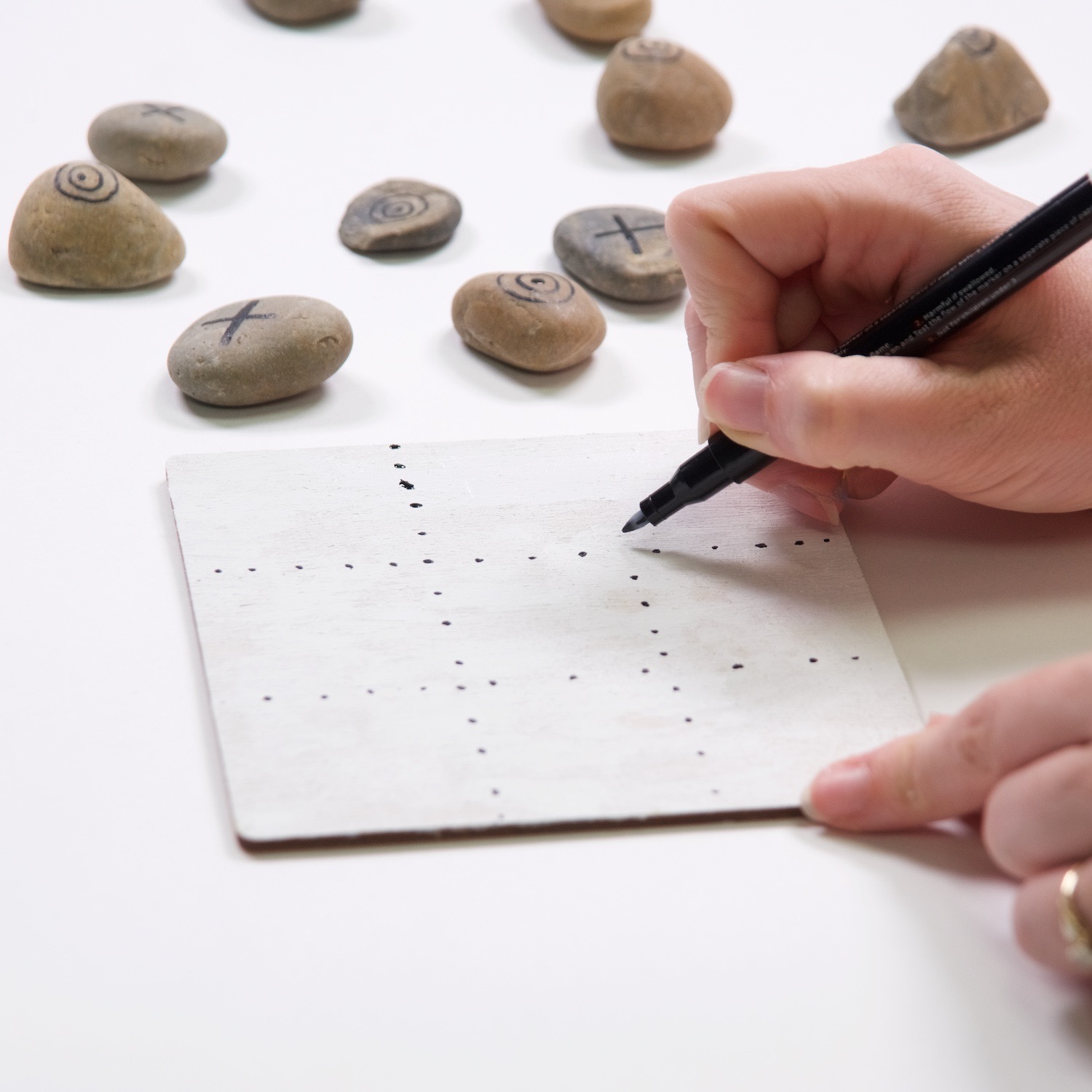 You can use a ruler to divide the squares if you like things to be perfect and even. I didn't and just created a cute and simple series of dotted lines. Then let this dry as well.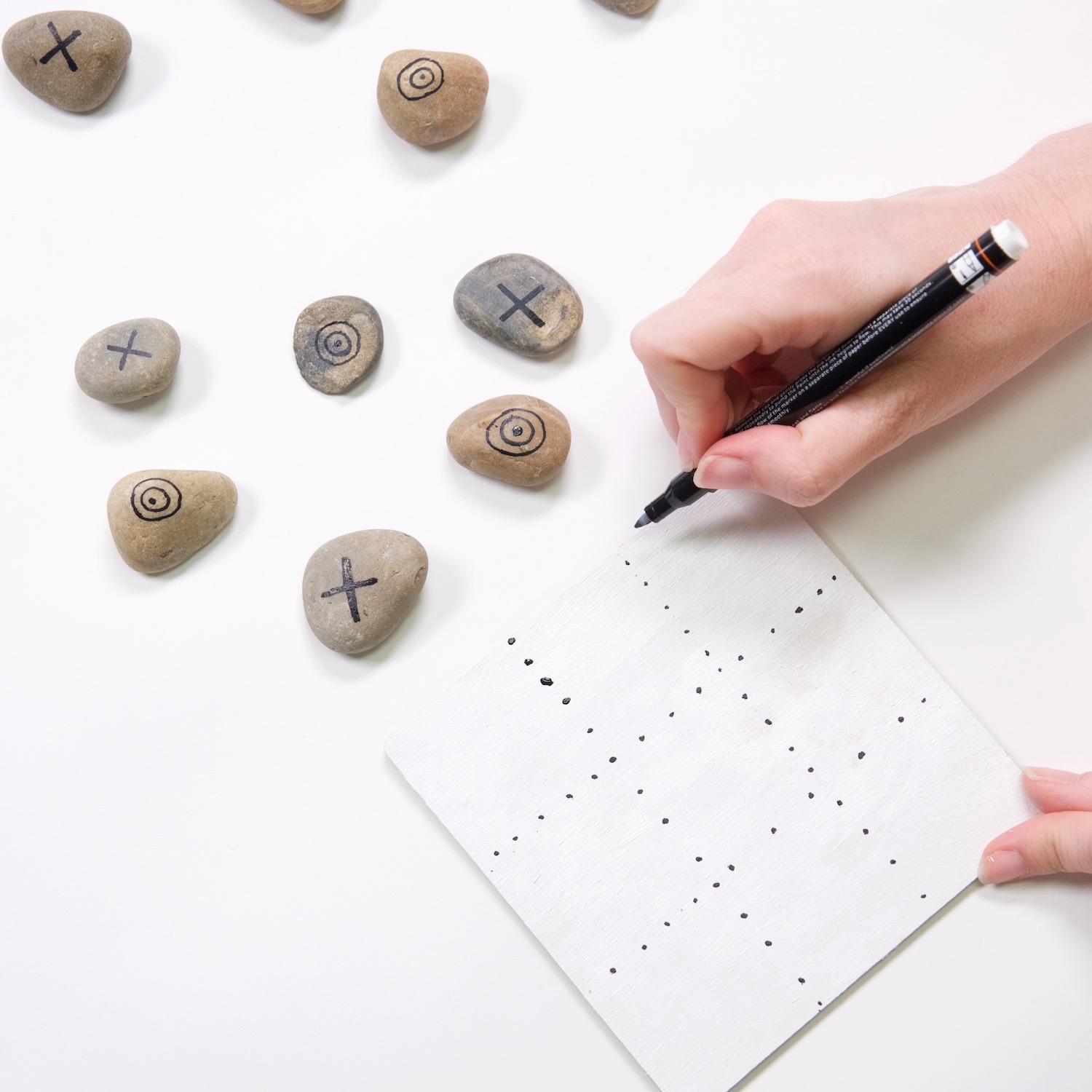 And viola! Your very own Painted Rock Tic-Tac-Toe Game Set. Use a muslin bag to store the game pieces or place them all together inside a small box.
Now, here's one more version of how to create this game set – this next one is totally different!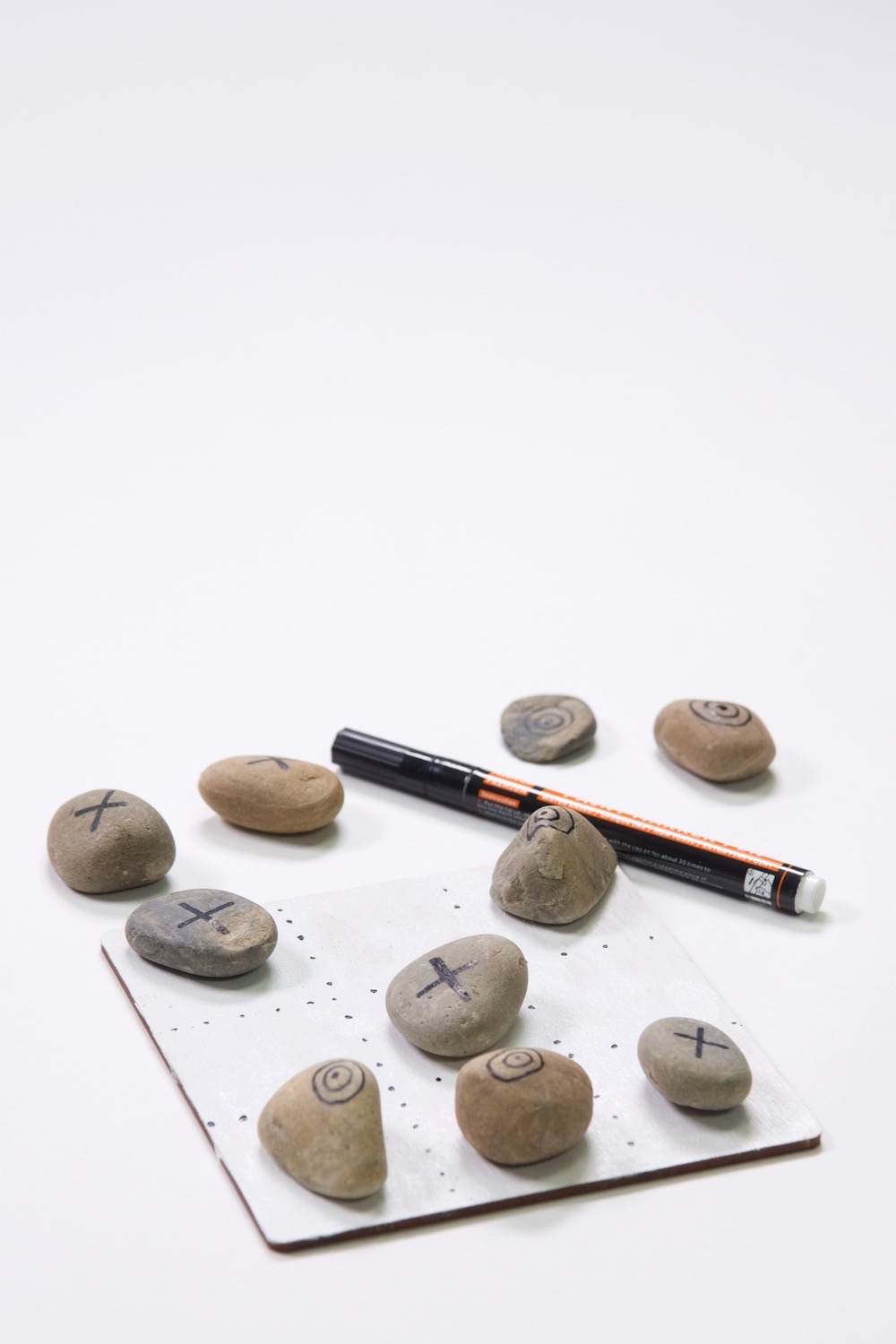 Step 2 Alternative: How to Make Tic Tac Toe Game Pieces with Acrylic Paint
If you want something multi-colored, bright and fun acrylic paint may be a better choice than a paint pen. You don't even need to make x's and o's as the shapes. As long as you have 2 distinct shapes for your 2 players, it will work! Simple shapes like these hearts and stars and perfect!
Now for the game pieces, a light bodied acrylic paint is fine, but you will do even better with a medium or heavy bodied acrylic. A thicker paint will give you more control of where the paint goes. But a lighter bodied acrylic paint is fine too.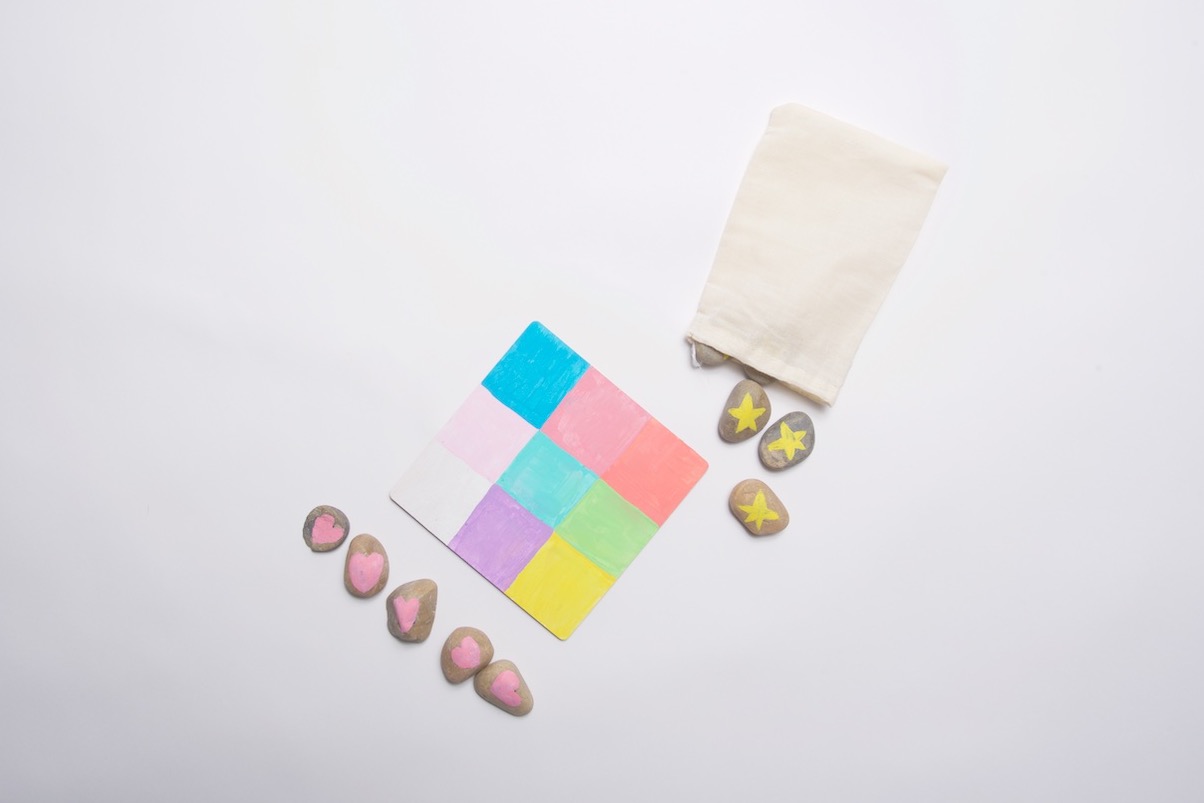 Set up your game pieces in the same way as above. Flip the stones so the flat side is down and the curvy side is up. Use a small paint brush to paint your designs on the game pieces. My Tic-Tac-Toe pieces took several coats of paint and I let them dry between each coat.
When you change colors of paint, wash your brush thoroughly with soap and water until your brush is clean. Be sure to really dig into the bristles and dry your brush with a paper towel to test that there is no color left.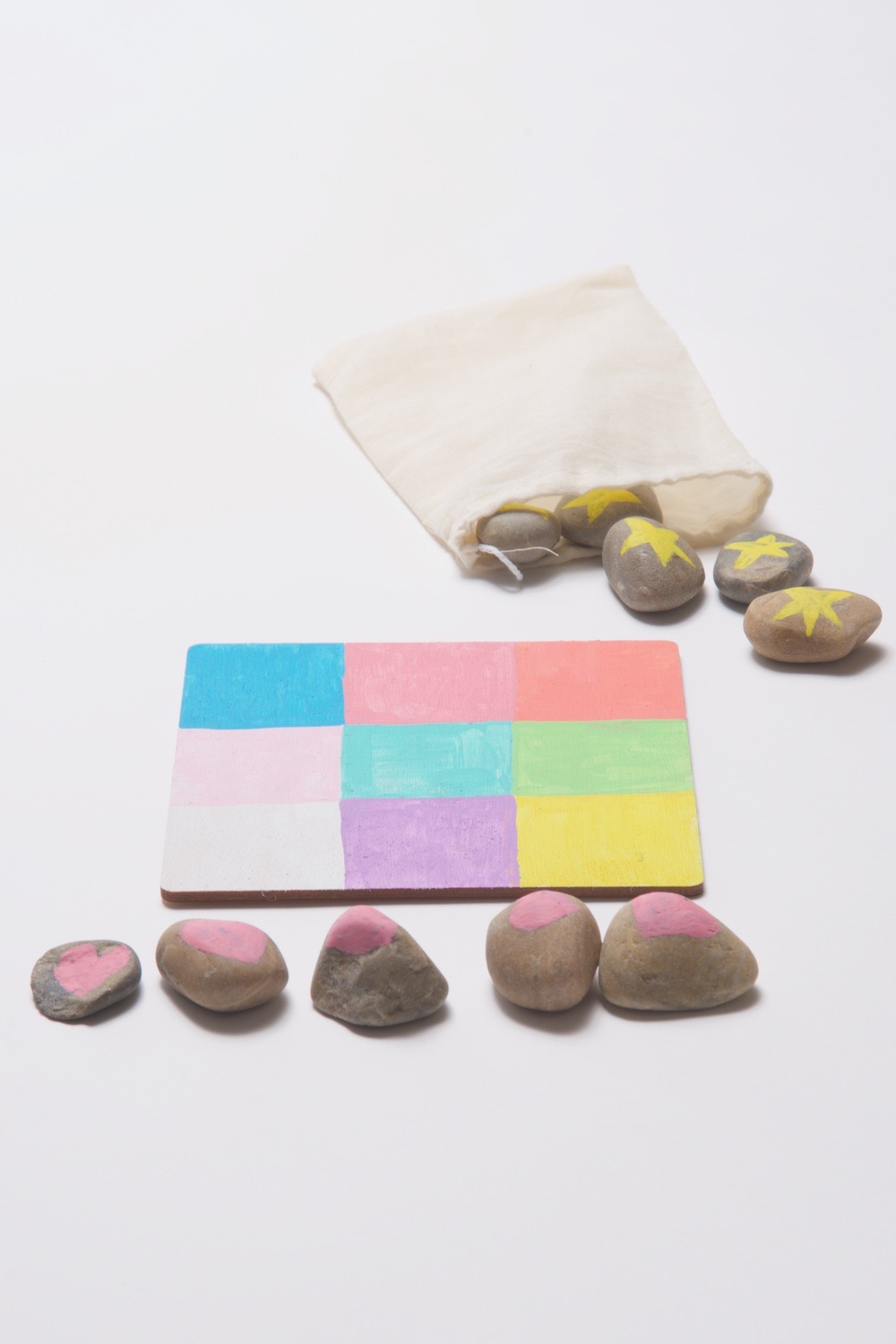 Step 5 Alternative: Finish Your Game Board with Acrylic Paint
Finishing my game board with acrylic paint was similar to using a paint pen. Just divide your 5 inch wood square into 9 equal squares – 3 across, 3 up and down and so on. I made each square a different color, a lot like this DIY Yahtzee Set here which was fun, but slightly impractical!
Any time you change paint colors you will need to wash and dry your brush thoroughly, so using 9 different colors can take a bit of extra time – especially considering that all of them will need at least 2 coats. But aren't the results just so cute?!?
How to Play Tic-Tac-Toe
Tic-Tac-Toe is a 2 player game in which one person is x's and the other is o's. X always goes first but you could flip a coin to decide who goes first or use a rule like the youngest player goes first. On each turn, place 1 game piece in any square of your choice. The object of the game is to get 3 game pieces in a row – up and down, across or diagonal. And you want to block your opponent from getting 3 game pieces in a row.
The 1st person to get 3 game pieces in a row wins!
Let's Stay Friends!
Insta | Pinterest | Enews | TikTok