Night Market Cleveland, an outdoor arts, culture, and food festival in Cleveland Ohio has been surprising and exciting me since I started Pop Shop America! It's the coolest blend of food tours, handmade goods, small businesses, and culture. It's a must visit in Cleveland. I talked to Josh Maxwell about this amazing event.
BB: What is your name and what is your title with Night Market Cleveland?
JM: My name is Josh Maxwell and I'm the Creative Director for Small Organization Solutions & the Event Coordinator for Night Market Cleveland!
BB: How long has the show been going on and what types of things can you find there?
JM: Night Market Cleveland debuted in Cleveland's AsiaTown in 2015 and is moving into its 3rd season this year. It started as a joint collaboration between the St. Clair Superior Development Corporation and the Campus District, Inc. to spotlight AsiaTown and the surrounding community.
The event is a direct reflection of the surrounding neighborhood. We strive to be Authentically Asian and Uniquely Cleveland as the event is located in the heart of AsiaTown, as well as being surrounded by Cleveland's downtown and near East side neighborhoods. The event pulls from a cross-section of traditional Asian businesses, but also from across Cleveland and North East Ohio to create a vibrant Asian-fusion blend of Asian cultures with that classic Cleveland pride.
Imagine a sky of twinkling lights suspended above a trove of red tents that bob among a sea of thousands of people; all the while, Cleveland's city skyline silhouettes softly in the background as the sun sets on the horizon.
We support over 120 vendors at each event with wide variety of participating food and retail businesses. As you walk down the street, you can stumble upon a farm stand selling fresh star fruit and jackfruit, and then come across a stand of hand-made plushies of every shape and size. Turn around and you'll find a charcoal flame grilling squid skewers, and across the way you can have another business selling hand-made soaps and lotions. You can also stroll through the streets with a fresh bubble tea or refreshing craft cocktail from the signature Night Market Cleveland bar that we curate for each event.
While you're sipping on your drink, you can take a minute to listen and watch the live performances that we schedule all evening long! Our entertainment is also a mix of traditional Asian and Cleveland bands, DJ's, and performances. We love starting off the season with a dragon performance by AsiaTown's very own OCA Greater Cleveland Dragon Dance team; and throughout the season we'll have performances from Sojoji Dancers (traditional kimono dancers), drum groups, Pacific-island fire dances, and lots of one-of-a-kind performances from Asian-fusion DJ's and K Pop performers. It's both so entertaining and educational!
BB: What's your favorite Night Market moment? Was a specific vendor or performance? Or food?
JM: One of my favorite moments, by far, was when an older woman approached me from the neighborhood and proceeded to tell me a personal story. It turns out that she had moved to Cleveland as a child with her parents and told me how she remembered playing with other children in the night markets of her home in Taipei. She was so happy to stumble upon something like this in her very own neighborhood and couldn't say 'thank you' enough for allowing her to reminisce about her past! She told me that, "she felt like she wasn't in Cleveland anymore, but instead at home."
The next event, I saw that very same women walking down the street with her grandchildren in hand pointing out all of the different aspects of the event.
It was proof to me that what we're creating for the community is an experience that bridges all ages, cultures and walks of life. It's a very a humbling moment, and something I hold close to my heart as the event matures and grows within the community.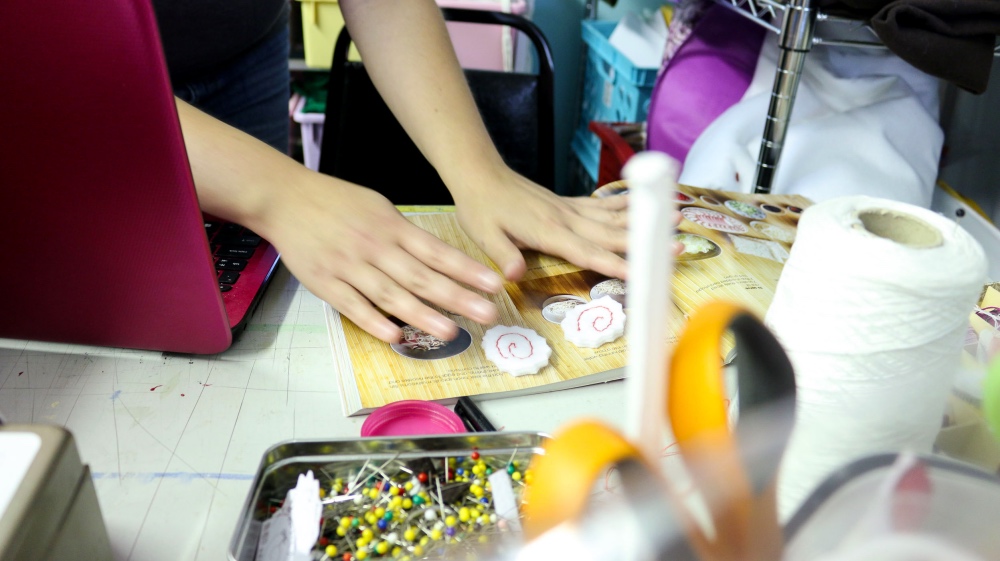 BB: I would love to hear more about the location of Night Market Cleveland. It's about cultural diversity and I see lots of references to Asian Markets and Chinatown. Can you please tell us more?
JM: Night markets are a common occurrence in many Asian countries across the world. Hundreds of small businesses set up shop along sidewalks, in alleyways, and on the streets themselves. The markets serve as meeting places for communities to congregate and take care of all their daily needs, while catching up with friends and neighbors. They are the original Flea markets of the world and have taken root in many different forms and interpretations since.
The AsiaTown community came forward and said that they wanted an opportunity to experience these same places here in Cleveland. In response St. Clair Superior and Campus District came together to support the concept, and with the assistance of Small Organization Solutions, Night Market Cleveland was born!
Old Chinatown used to serve as the epicenter for the Asian community when it was a much younger ethnic pocket in Cleveland's industrial landscape. On site of the Night Market Cleveland event still stands one of the most prominent Asian temples in Cleveland, which is used as a worshipping destination, but also as a community-gathering place for holidays, events and performances. Since the early days of AsiaTown, the community has greatly expanded to incorporated a wide spectrum of Asian ethnicities, and grown geographically into what is AsiaTown today.
Night Market Cleveland choose the location of Old Chinatown because it serves as an opportunity for the community to pay homage to the beginnings of the community and to once again have that location serve as a community gathering place. Additionally, because Night Market Cleveland was designed to fuse together the culture, community and creativity of the neighborhood, Old Chinatown was a perfect location to show the juxtaposition of the Cleveland skyline looming over the event that transports you across the world.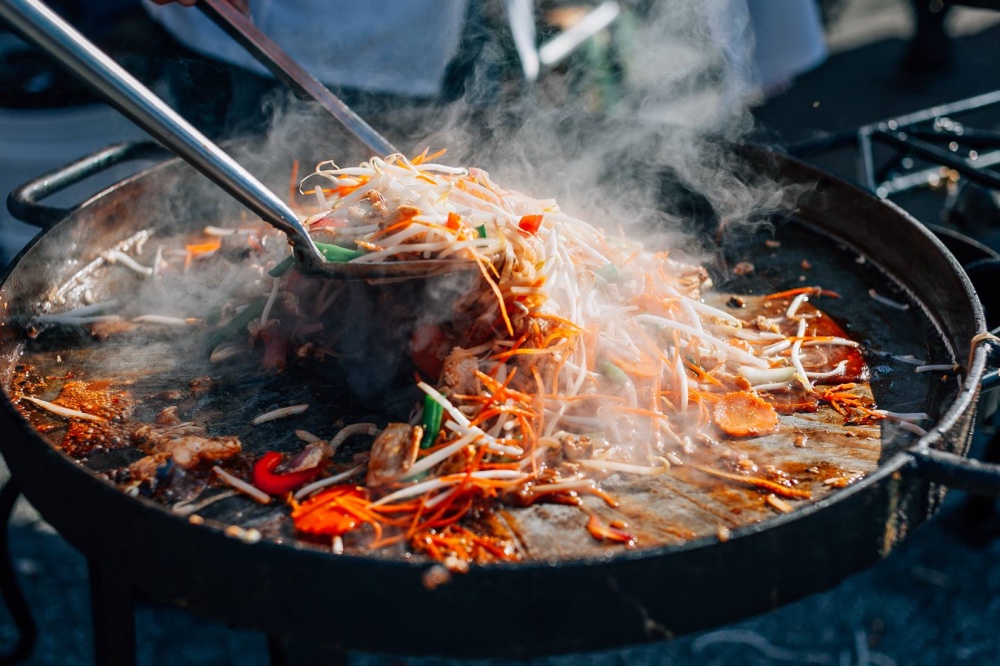 BB: And we've gotta hear more about the food!! What is the food tour like and how does it fit in to the festival atmosphere?
JM: The food at Night Market Cleveland is truly one-of-a-kind. The Asian restaurants that participate in each event bring their "A Game" with the menus they're creating. Much of it is inspired by the traditional street foods you would find at an authentic night market. Just in food alone, we represent Chinese, Japanese, Korean, Vietnamese, Filipino, and Indian cuisines along with Asian-fusion take on American dishes. These ethnic menus are originating from restaurants that have brick and mortar locations within AsiaTown.
With such a density of high quality and diverse restaurants in one spot, we wanted to continue the energy from the event in to monthly opportunities to keep coming back to the neighborhood and experience each of these restaurants on a more intimate level with a smaller group.
So we started providing curated food tours where we visit each restaurant with about 30 people each month, travel to four different restaurants to try several small plate dishes at each location, and learn more about the foods that are presented on the menu from our team and the restaurant owners themselves! Along the way we provide a guided bus tours of the neighborhood so people can learn more about the area and become excited to make a trip back themselves with family and friends.
During our NMCLE season, we invite local businesses that participate with us at the event to join us on the tour to pitch new recipes, drink mixes, and products to the audience. It's a great way to try out a new concept with a focused group of interested participants, and a great way to bring bits and pieces of the NMCLE main event with us on each food tour.
It's the perfect icebreaker into trying new food, exploring new locations, and learning a few things among the way. Everyone leaves with a full stomach, left overs, and a smile on their face.
The food tours current run 6 p.m. to 9 p.m. every third Wednesday of the month this year through October. Tickets can be purchased here.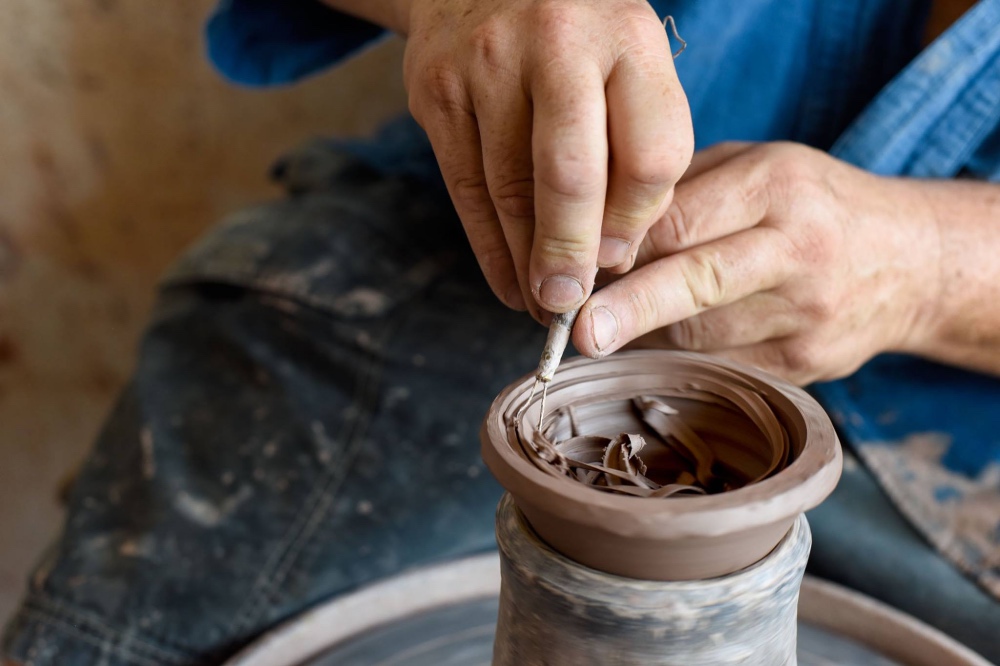 BB: What's next for Night Market Cleveland? Do you have any confirmed dates?
JM: The next steps for Night Market Cleveland is to continue to connect and strengthen the AsiaTown neighborhood. One of the ways we're doing this is through our community partnership program where we work one-on-one with neighborhood organizations and resources to provide arts and culture programming with ties to the Asian craftsmanship practices. Each month we'll highlight a different program with a different organization, allowing the public the connect more with the community through Night Market Cleveland. It's a great opportunity to work collaboratively with other locations and show that there are great ways to support the community around you every day. For more information about our upcoming programs, visit nightmarketcle.com.
Another way we hope to continue to connect and support the community is to continue to support small business growth through our incubation program. We structure of participation for new businesses in a way that removes many of the typical hurdles that a business may have to jump over in order to get up and running. Within our 2 years of operation, we've successfully helped launch more than 12 businesses through NMCLE, and we look forward to engaging more businesses this year as we provide more opportunities for pop-up events, public presentations, and design services to get them ready for their public debut.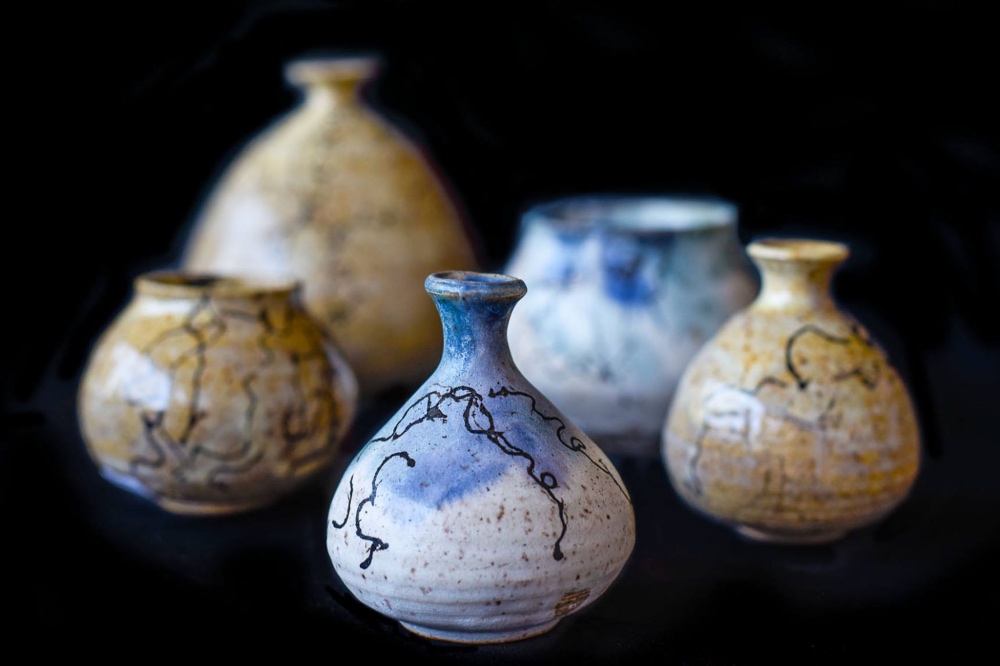 We've been so humbled by all the positive feedback we've received thus far, and we look forward to growing the neighborhood, supporting the NMCLE community of small businesses and organizations, and continuing to promote a platform that supports local, encourages diversity, and allows everyone to create a space where all can come and enjoy the beauty of the city.
Learn More about Night Market Cleveland
Let's Stay Friends!
Insta | Pinterest | Enews | TikTok