I say it over and over again. If you want to have big sales at any pop up market it all starts with your Booth Display! Your booth display is the only thing that's visible from far away, it's the first thing that people take in when getting to know your brand.
So make it pop! Here are some our favorite Indoor Pop Up Market Booth Displays from previous Pop Shop America events. So let yourself swoon and think bigger and think great for your next craft fair or trade show booth set up.
Apdat Printing does so many things right! First of all, it's interactive because they print t-shirts for you on the spot. So right away you see people making things and cool equipment. It's exciting to be around.
Also, their display is on point! They have items up high that you can see at eye level. They have a bold and graphic pop up banner and banners that run in front of their table too. The bright white makes everything look clean and crisp. And it helps the t-shirts to stand out too!
Having things at eye level is so important because it's the only way people will see you from far away. Don't make your customers look down. That's uncomfortable after a while!
Kathrine Zeren's mini wooden kiosk is perfect for small spaces. You can instantly see that this is a luxury brand. The wood and copper are luxe and refined and make the handmade men's suit accessories look modern and fashionable. Using high end materials is a great way to stand out at pop up events.
You can also see her company name easily. It's up high so people can see it from far away. Did you know that the average consumer needs to interact with your brand 7 times before making a purchase? Make it easy for them!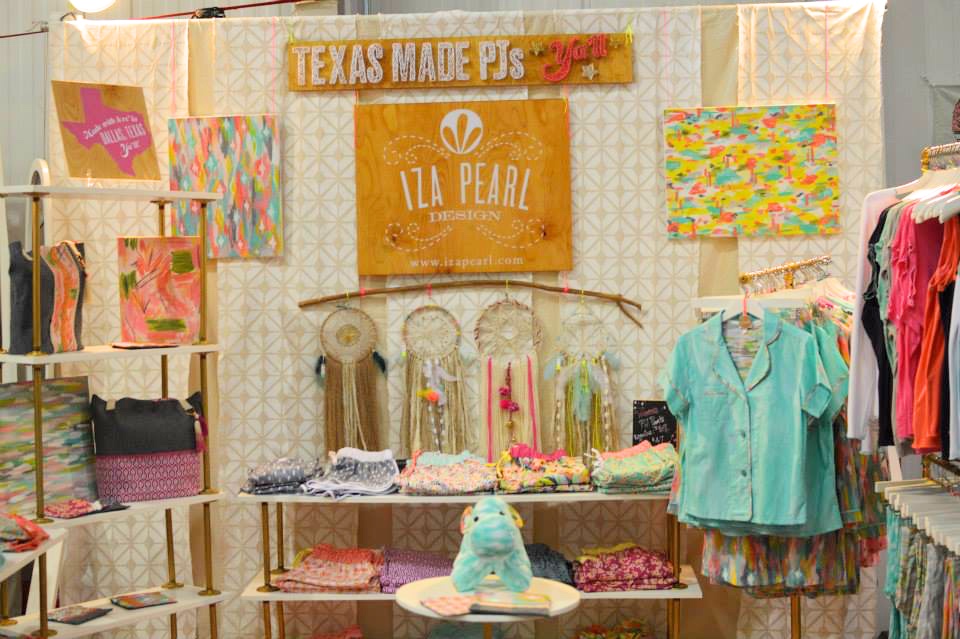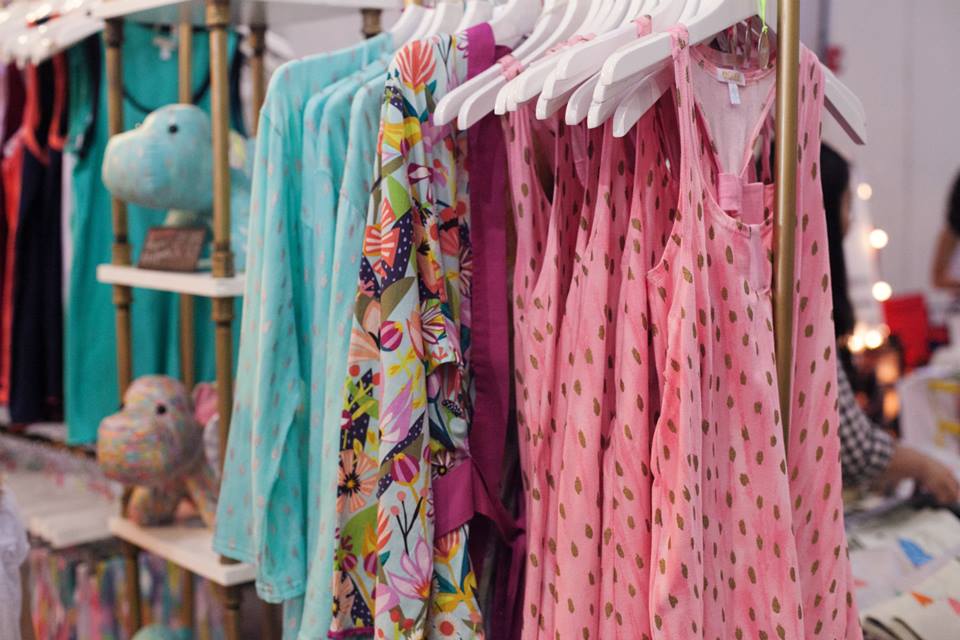 Iza Pearl makes gorgeous patterned paintings that she then turns into cute jammies and rompers. When you walk into her booth it's like going into another world. She uses lights to brighten her booth and make the bright colored jammies irresistible.
She always has paintings of her work to show off her process. You can see how her vision starts as well as the style and mood with dreamcatchers and handcrafted plushies. To tie it altogether, she uses a super cute rug. Rugs are such a great touch at pop up events too!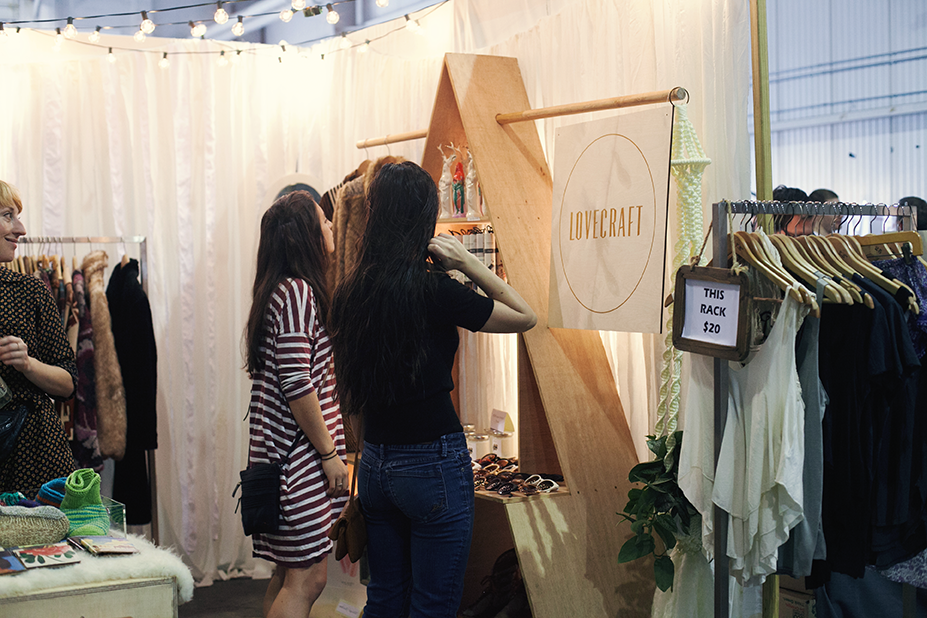 I have two words for you – Lovecraft ATX. I looooooove her booth set up. Regina, the owner, has a gorgeous triangle shelf that is the height of her booth. She always brings in extra lights (I can't stress the importance of this enough).
Notice how the curtains in the background separate her booth and create a clearly defined space? This is a great way to stand out. Not having a backdrop will cause you to sink into the background from far away. Instead, make sure you have a backdrop and stand out from everything else!
Speaking of standing out, how about this sculpture that Stephanie Toppin made for Pop Shop Houston Festival our first year? Everyone had to take photos with it! Booth displays get a lot easier when you have a wall to hang them on. Buy one of these easy photo stands if you don't have a wall behind you. It's the easiest way to create a backdrop.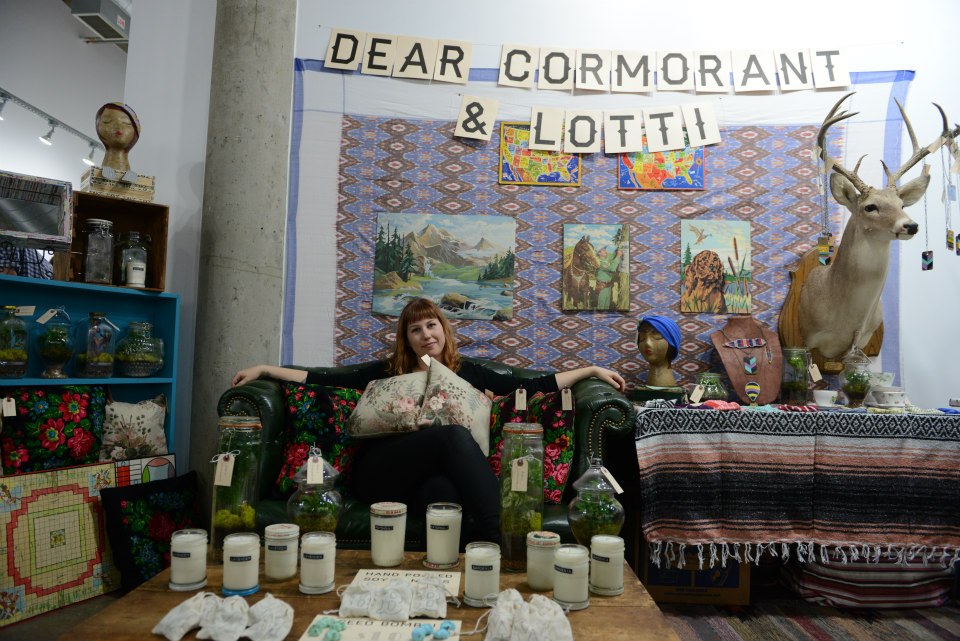 There's so many things that I love about this Dear Cormorant/Lotti exhibitor space that's also from our first year. And it covers a lot of the things we've previously mentioned – items at eye level, creating another world when you walk in, and a super cool backdrop.
What I especially love about this Craft Fair Booth Display is that there's a place to sit down!! Offering space in your booth to lounge is the best way to keep people there, comfortable, and engaged.
Amanda Medsger – she is swimming with talent. She made this booth display with palettes and wrote on them in chalk. The booth blocked some of the light of the space, which was perfect for her live oak lamps.
There are a couple of additional details that are so smart. The prices are clearly displayed! Take the guess work out of what's available for purchase. Having prices clearly displayed is great for people who are shy and takes the guess work out of shopping at art markets. Learn more about the awesomeness of price tags here.
Some of the prices are hand painted in white and some of them are written in chalk! These are both fabulous ways to create easy and professional signs right on the spot.
Evens wood display is a lovely compliment to these handcrafted dresses and fashion. The wood hangers upgrade it too! Little touches like refined hangers make this space special.
Sinister Signs above actually makes booth displays for others. So it's no wonder that their booth is really unique!
Big Imagination Etsy Shop has a booth display that is perfect for small spaces and portable too. It's perfect for her work because she is able to showcase her varying products – from jewelry to mobiles and she gets plenty of height with her unique display.
So what do all these booths have in common? The business names are clearly displayed. They all have work at eye level. Their displays are bright, colorful, and represent their brand well. Walking into their space is like walking into a different world. They use lighting and cool backdrops.
If you are just starting your craft business or need a refresher, check out our Ebook about How to Have the Ultimate Success at Craft Fairs.
Let's Stay Friends!
Insta | Pinterest | Enews | TikTok