Ready for a family friendly and easy to make Halloween treat that is to-die-for cute?
These Girly Oreo Spiders can be made in just a few minutes. They are perfect for a party. They are perfect to add to a lunch box and they are perfect for a Halloween themed at home movie night.
So let's make them!
Ingredients to Make Girly Oreo Spiders
Oreo Cookies (Double Stuff Works Best)
Pretzel Sticks
Edible Eyes with Eyelashes
White Icing with a Small Round Tip
And I highly recommend putting together a super cute display. These Girly Oreo Spiders are meant to be shown off! A cake plate with some Halloween decorations is perfect for this recipe.
Step 1: Attach the Pretzel Sticks
Start by gently and slowly twisting the pretzel into the creamy center of the Oreo. If you break the pretzel stick, that's okay! Just pull it out and try again. Your pretzel will hold in place just from the Oreo Cookie's frosting.
Spiders have 8 legs, but I only added 6 pretzels. If you can make 8 fit, go for it, but your spider will still look like a spider with 6 legs. And it's a lot easier to place them because you can angle 1 pretzel up, 1 pretzel down, and 1 straight to each side.
Step 2: Add the Edible Eyes
Next, add the edible eyes with just a tiny bit of frosting. Place the frosting on the back side of the eye and place the eyes in place on the cookie.
Eyes should usually be half way down the face, but with these, just place them so they don't hang over the edges of the cookie. Want to put a twist on your eyeballs? You can find so many different colors, shapes and styles. You can find gummy eyeballs and blood shot eyeballs that are perfect for Halloween.
Step 3: Make an Icing Smile
Now is the time that you need a small round icing tip. Otherwise, making these smiles will be so tricky! I recommend making a simple smile and don't worry to much about every cookie looking perfect.
Notice how a few of mine have little flaws? Trust me, you are your own worst critic.
How to Serve Girly Oreo Spiders
Once your smiles are iced, your edible eyeballs are attached and your pretzel legs are added, your Girly Oreo Spiders are done!
Serve these as a super fun treat for after school or on a movie night. If you want to place them in a lunch, wrap them individually and place them in a way that prevents their pretzel legs from breaking.
One of the cutest ways to serve these is to make a party platter full of Girly Oreo Spiders! Stack them up at your next Halloween party so everyone can try them. Since the ingredients are simple, this is an affordable treat for a party!
How to Store Girly Oreo Spiders
To store your Girly Oreo Spiders, place them in an air tight container at room temperature. As an alternative, you could also individually wrap them in cellophane. The fridge is okay for storage as well, just be sure to let them warm up to room temperature before you eat them.
Eat them within a few days or the pretzels will likely get soft.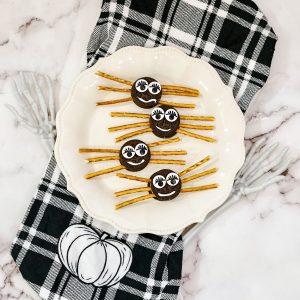 Girly Oreo Spiders for Halloween
Make these fun Halloween treats that are perfect for a family friendly party!
Ingredients
1

bag

Oreo Cookies

Double Stuff is Best

1

bag

Pretzel Sticks

1

container

Edible Eyes

2

oz

White Decorator's Icing, small round tip
Instructions
Gently twist the pretzels into Oreo frosting. The frosting will hold the pretzel in place.

Spiders have 8 legs, but your cookie will still look like a spider with 6 legs. So just add as many as you can fit and that look good.

Angle a leg up, another down, and 1 straight out on each side of the cookie.

Dab a small amount of icing on the back of the edible eye. Place the eyes on the cookie so that no part of the eye hangs off the edge of the cookie.

Last, make a smile with a small round icing tip.
Let's Be Friends!
Insta | Pinterest | Enews | TikTok