I'm in the mood for yum! Have you ever seen a more colorful and inviting selection of fruit? Because I sure haven't! This Rainbow Breakfast Fruit Tray is so pretty you may not want to eat it! But because it's so healthy and sweet – it will be irresistible.
What's great about this recipe is that it's all about assembling and not about cooking. It's raw, vegan, pretty enough for a party. This Rainbow Breakfast Fruit Tray would be the perfect dish to bring to a pot luck! So let's get to making it.
First, you need fruit in every color of the rainbow. You need red, orange, yellow, green, blue, and purple! When prepping this Rainbow Breakfast Fruit Tray, find an array of all your colors. And try to find multiple fruit of each color – not just one. For example we included limes and kiwi for green!
Second, you need fruit that's big, small, and every size in between. Part of what makes this tray impossible to stop staring at is how there are big pieces, small pieces, tall pieces and short pieces of fruit. We created the feeling of abundance by adding lots of layers!
Third, you need very ripe fruit. It's hard to make this Rainbow Breakfast Fruit Tray when fruit is not in season because we would end up with a tray that is very sour. And since we've included grapefruit, limes, and other tart fruit, it's important to balance it with plenty of sweet. That's why it's important to include sweet apples, peaches, mango, and berries that are in season and ripe.
Last, cut your fruit into lots of different shapes. Notice the fun chevron pattern in the kiwi? Or how we included both sliced and whole strawberries? We created slices, cubes, halves, whole, and a pineapple bowl too! We created a bit of everything.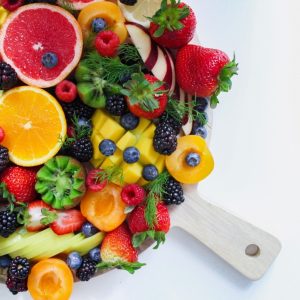 Gorgeous & Simple Rainbow Breakfast Fruit Tray
Make this gorgeous fruit tray that is a rainbow of colors!
Ingredients
Peaches

Blueberries

Raspberries

Lemons

Limes

Oranges

Grapefruit

Mango

Golden Applies

Red Apples

Blackberries

Strawberries

Pomegranate

Coconut

Kiwi

Pineapple
Instructions
Wash and clean all fruit thoroughly.

Start by chopping off pineapple leaves and placing them on the tray as bedding for the fruit.

Hollow out the pineapple to make a cup for fruit and fill it with pomegranate seeds, coconut, blueberries and raspberries.

Slice, half, and chevron style slice the fruit into an array of shapes.

Place the fruit on the tray spreading out the colors into a unique pattern.

Be sure to put lots of large pieces on the bottom and layer the fruit up to make the tray look full.

Garnish with dill for a cute finishing touch!

Eat, enjoy and share with your friends! This is the healthiest tray around.
Let's Stay Friends!
Insta | Pinterest | Enews | TikTok