Too cute! Piñatas are so fun and perfect for any holiday and every party. That's why we had to make this Mini Shamrock Piñata. It's spring perfect and St. Patrick's Day perfect! It's so adorable and is meant to be filled with all kinds of treats like chocolate gold coins, rainbow candy, and green confetti.
We made these piñatas for our Craft in Style Subscription Box Subscribers as a little freebie giveaway. We give a Mini Freebie Box 3 times a year and these boxes we're shipped in January and early February. It's actually a 3 in 1 craft kit because you can make this Mini Shamrock Pinata, an Easter Egg Pinata or a DIY Mini Heart Pinata too! It's a very simple DIY that only requires a few supplies. So let's get to making it.
Supplies to make a Mini Shamrock Piñata DIY:
Pop Shop America Mini Shamrock Template (Free Download)
1 A4 Size Sheet of Cardboard
3-4 Sheets of Tissue Paper ( I chose an array of greens)
Painter's Tape
A Glue Stick
A Small Length of Twine or Yarn (Around 8 inches)
An Array of Treats like Chocolates, Candy, Stickers, and More
Other Supplies:
A Pencil
Scissors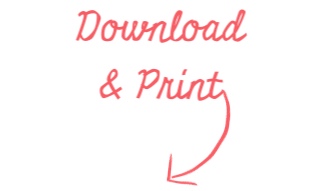 First, download and print the template. Then trace it on the sheet of cardboard. You will need 2 shamrock shapes and a couple of rectangular stripes. The shamrock shapes will become your front and back and the rectangular stripes will become the sides.
Next, add a small loop of yarn or twine to what will become the top of the piñata. Using small sections of painter's tape, add the rectangular stripes of cardboard to the sides of the piñata. The cardboard stripes will need to be bent and curved to match the outer shape of the shamrock. I left the sides of the shamrock open to make the finished piñata easy to open.
Now is the fun part because it's time to fill the shamrock piñata will all kinds of treats! Anything rainbow would be perfect. Candy, small gifts, stickers, or confetti are all perfect! Once the treats are inside, it's time to tape the 2nd shamrock.
Now it's time to add the tissue paper to the outside of the cardboard shape. Cut long stripes of tissue paper that are just a couple of inches tall. Make fringe in the tissue paper by cutting stripes but leaving the top 1/2 inch or so intact.
Using the glue stick, start from the bottom of the shamrock gluing stripes of tissue. And repeat the gluing on the sides of the shamrock too! And viola! Such a cute decoration, right?
If you prefer hearts, which would be sweet for a princess party and perfect for Valentine's Day. Try this DIY Mini Heart Pinata Tutorial here.
And if you love getting freebie seasonal DIY Kits like this, join the Craft in Style Subscription Box. Our next freebie box will be shipped to all our subscribers in May and June!
Let's Be Friends!
Insta | Pinterest | Enews | TikTok