I don't know about you, but I absolutely adore fresh herbs! I love savory in my sweets. And I love the potent and powerful flavor of tiny, delicate herbs. That's why I'm obsessed with making this Rosemary Simple Syrup.
Simple syrups are great because they are versatile and they can keep for at least 1 month. With some recipes they will stay fresh for 6 months.
What's great about this Rosemary Simple Syrup is that it's perfect for desserts and perfect for cocktails! I first made this recipe to pair with this delicious cocktail called The Pink Garden.
Another great thing about this recipe is that you need minimal supplies. Minimal. I'm talking water, sugar, rosemary, a stock pot, and a stove. That's it. It's also quite a quick little recipe. It just takes around 15 minutes to create this recipe from start to finish!
There are a couple of tips that will make your Simple Syrup sparkle. First of all, most simple syrup recipes do not tell you to boil the sugar long enough for it to completely dissolve. After the sugar crystals are completely dissolved, around 9 minutes, I continue to cook the syrup for 2-3 additional minutes to ensure that the texture is perfect.
As far as the flavor, you can easily control how powerful the rosemary essence is. If you are looking for an intense flavor, then leave your rosemary in the simple syrup for around 1 hour. If you are looking for a light and subtle flavor, just keep the rosemary in the syrup for 10 minutes.
The best way to store your simple syrup is in the fridge in a clean, air tight glass jar. You could even store it in the freezer in ice cube trays to use for later! In the fridge, your syrup will last for several weeks to several months. It will go bad from developing mold so stay on the lookout for that!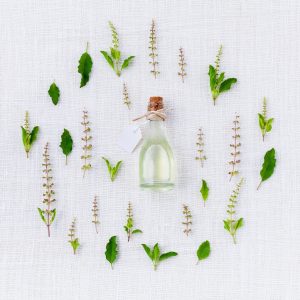 How to Make Rosemary Simple Syrup
Looking for a twist on an ordinary simple syrup?  Make this Rosemary Infused Simple Syrup Recipe that's perfect for desserts, cocktails, and coffees.
Ingredients
2

cups

Sugar

2

cups

Water

6-8

sprigs Rosemary
Instructions
In a small stock pot, bring your water to a boil.

Add the sugar, reduce heat to medium, and stir every few minutes.

Cook until sugar is dissolved and 2-3 additional minutes.

For the last minute of cooking time, add the rosemary sprigs.

Remove from heat.  For a strong flavor, let the rosemary soak for 1 hours.  For a mild flavor, remove the rosemary after 10 minutes.

Store in an air tight container and keep chilled.
Delicious and easy, right?! And you could try this exact same recipe with your personal favorite herb like sage, lavender, or even turmeric! And if you are looking for cool recipes to try out your new Rosemary Simple Syrup try these: Pink Garden Cocktail, Holiday Cranberry Margarita, Sparkling Gin & Rosemary Lemonade, & Rosemary Cold Brew Coffee Cocktail.
Let's Be Friends!
Insta | Pinterest | Enews | TikTok