I used to be an avid coffee drinker.
I was the kind of person who got up in the morning and made her coffee first thing. One of those people who didn't like to be spoken to until I had my coffee. I didn't have any t-shirts or mugs that stated this mood, but I definitely felt that way.
All of that started changing when I began my yoga teacher training.
I started to notice how the coffee made me feel, and more specifically, how it felt always drinking it on an empty stomach. I had been thinking about giving up coffee but was worried that my energy levels would flop or that I would get headaches from the lack of caffeine.
However, when we started studying pranayama and the difference between our sympathetic and parasympathetic nervous systems in my yoga teacher training, that really cemented my idea of giving up coffee.
Basically, caffeine is a stimulant that puts your body into fight or flight mode (sympathetic) instead of being in a more calming rest and digest mode (parasympathetic). It's not a bad thing to sometimes be in sympathetic mode, but it's better to avoid it as much as you can so that you can try to be calmer and your body can function properly without placing extra strain on your systems.
For me, I would often feel jittery and anxious when drinking coffee. After learning that this was a symptom of being in my sympathetic nervous system, I'm now doing everything I can to always be calmer and to try to be in rest and digest mode, which included giving up coffee.
I didn't go completely cold turkey on caffeine though and instead turned to matcha for its LONG list of health benefits.
It's packed with antioxidants, releases the much lower amount of caffeine slowly over time for sustained energy, plus it boosts your mood and lessens anxiety.
I had been drinking matcha on and off for years, but finally made the switch to replace my coffee with it and it feels great!
Also, because I've recently made the full-time switch, I FINALLY figured out how to make the perfect matcha latte!
It's super easy to do and incredibly delicious! I do recommend taking all the steps and using the equipment that I've specified to ensure that you get smooth and creamy matcha without any powder left at the bottom!
I used to make my matcha with a mini metal whisk and that worked ok, but once I bought a proper matcha bamboo whisk, that changed the game for me and perfected my morning matcha latte! Using the matcha whisk also changed the flavour of the matcha and made it taste less grassy, hence much more enjoyable!
Here's how you can make perfect matcha latte at home: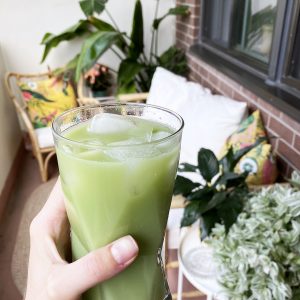 How to Make the Perfect Matcha Tea Latte
Perfect silky smooth matcha latte is only minutes away with this foolproof technique for making the perfect cup at home!
Ingredients
a scant 1/2 tsp of quality matcha green tea

I use this one

1 1/2

cups

of water

1/4-1/2

tsp

honey

optional

2

tbsp

milk or cream of your choice *See notes
Essential Tools:
a fine-mesh sieve

a matcha whisk

I love this one
Instructions
Start by heating your water in a kettle. The ideal temperature for matcha is 75℃/170℉, so if you have a fancy kettle where you can set the temperature, by all means, do that. I don't have a fancy kettle so I just bring the water to a boil

While the water is boiling, place a fine-mesh sieve over your mug. DO NOT skip this step even if you have a whisk! It helps to create a perfectly smooth and silky tea with no big clumps stuck to the bottom.

Using a 1/2 teaspoon measuring spoon, measure out your matcha. I like to use just under 1/2 teaspoon so I often tap the measuring spoon to take a small amount out. I feel like it works better with this volume of water.

Take the matcha powder and place it into your sieve, pressing it through the mesh gently into the mug to get rid of any large lumps. Remove the sieve from the top of your mug.

Once your water has boiled pour about a tablespoon or two into your mug. Also crucial here that you start with just a small amount of water to incorporate the matcha!

Take your matcha whisk and gently start to whisk the matcha with the water creating a thin paste.

Keep whisking until you don't see any lumps in your matcha. I've tried doing this with a regular whisk and it's just not the same! The matcha whisk really makes sure that all the matcha gets dissolved in the water which enhances the flavour and in my experience, makes it taste less "grassy"

Slowly start to pour the remaining water into your mug while whisking. I like to keep whisking until I've filled my mug halfway and then I take the whisk out and hold it over the mug and pour the remainder of my water over the whisk just to get off any matcha left on it.

Now, once you've poured all your water into your mug, you can totally stop there and enjoy your matcha. I like to take mine a step further and add just a small amount of honey - anywhere from 1/4 - 1/2 teaspoon. I think the honey really helps to bring out the flavour in the matcha. To finish it off, I add about 2 tablespoons of 5% cream the same way I would make a coffee. Now all you have to do is sit down, relax and enjoy your perfectly-made matcha!

To make this into iced matcha as I did here, I like to chill my matcha mixture for about 15 minutes before pouring over ice!
Notes
When adding milk or cream, do whatever works for you whether that's dairy or non-dairy. I can eat dairy, so I go with a 5% cream the same way I would when I was drinking coffee. Almond milk or other non-dairy kinds of milk are a great choice as well. However, I have made my matcha with canned coconut milk and would advise against that. The canned stuff is way too rich and the matcha flavour completely gets lost because of the high-fat content. If you are going to use coconut milk I would use the carton similar to almond milk with a much lower fat content.
Step 1: Whisk Your Matcha
Step 2: Pour Your Matcha Over Ice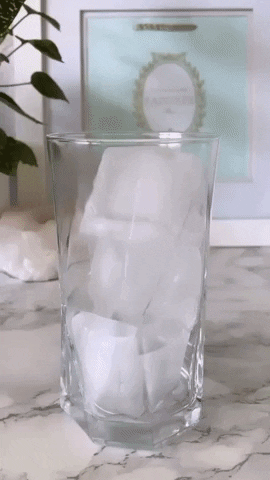 Step 3: Add Milk
Let's Be Friends!
Insta | Pinterest | Enews | TikTok