Lemon is such a bright flavor, isn't it? Flavoring desserts with lemon or lime is probably my favorite way to zest them up! And lemons and raspberries just go together like peanut butter and jelly, so they made the perfect combine for this Lemon Raspberry Dip!
It's no secret that cake mix cookies are some of my favorite recipe hacks (cookie dough in 5 minutes – let's celebrate that!). But cake mix dips are fabulous recipe hacks, too. I made this dip for a recent friends' gathering, and it was so nice to throw a dip together in less than 5 minutes! Instead of being stuck in the kitchen, I whipped up the dip beforehand and just pulled it out of the refrigerator when everyone got there.
If you're looking for a great dip that everyone will love – who doesn't love a dip made from cake mix?? – then this will be a huge hit at your next party. And, if you've got kids who like to cook with you, this is a perfect kid-friendly option because there are no hot ingredients or cooking involved. My toddler loved helping me make this dip!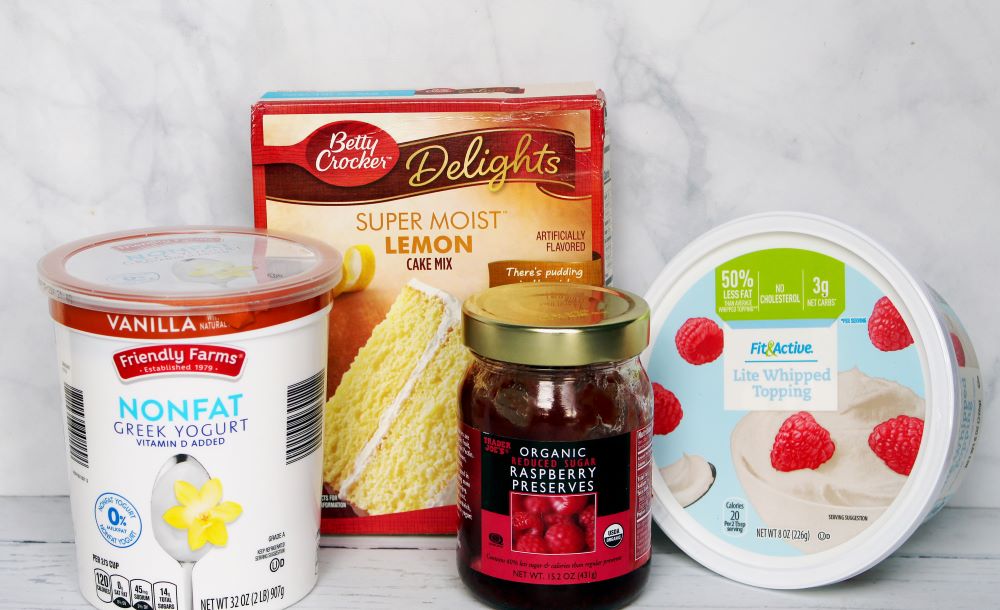 Lemon Raspberry Dip – the Ingredients
As always, here's your handy, quick reference grocery guide. You'll need:
a box of lemon cake mix
a large container of vanilla Greek yogurt (you could use regular vanilla yogurt as well; it'll be less tart but it may be a bit thinner, too)
a container of frozen whipped topping
a jar raspberry preserves or jam (I buy the all natural one for the best flavor)
something to dunk in your lemon raspberry dip: animal crackers, graham crackers, fresh fruit, etc.
Got your ingredients? Time to spend a few minutes in the kitchen!
Making the Lemon Raspberry Dip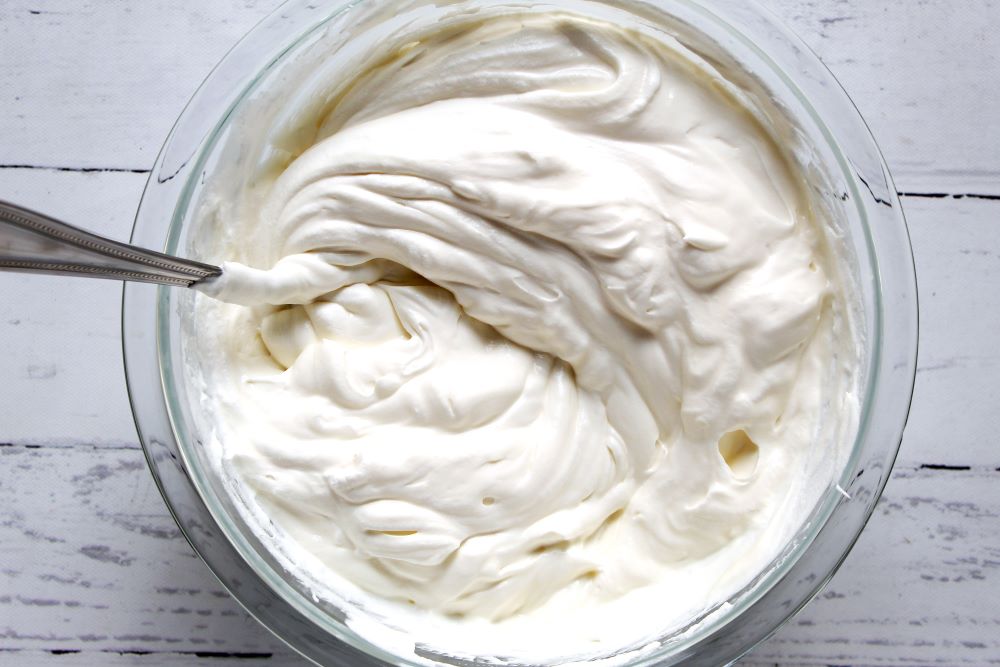 Start by combining your vanilla Greek yogurt and whipped topping in a large bowl. Sprinkle the lemon cake mix over the yogurt mixture and stir well to mix. Once it is completely mixed, set it aside.
In a small bowl, measure 1/2 cup of raspberry preserves. Heat the preserves for about 30 seconds in the microwave and stir until the fruit spread is smooth. If it's not smooth, microwave for a few more seconds and stir again.
Pour half of the raspberry preserves into the bowl of lemon dip and stir to combine. Then use a spoon to dollop the remaining preserves in 4 or 5 blobs over the top of the dip. Use a knife to swirl: using an up and down motion, run the knife through the entire dip. Then use a back and forth motion to go the opposite way through the dip.
If desired, save a spoonful of whipped topping to decorate the top of the dip. I also crushed a graham cracker and sprinkled the crumbs over the top of the dip.
Refrigerate the lemon raspberry dip for at least an hour before serving.
Serving the Lemon Raspberry Dip
This Lemon Raspberry Dip is something that can be served with pretty much anything sweet. Some ideas of dippables include:
animal crackers
graham crackers
sweet biscuits
pretzels
cookie thins
fresh fruit
baguette
cubes of sweet brioche
and pretty much anything else you can think of!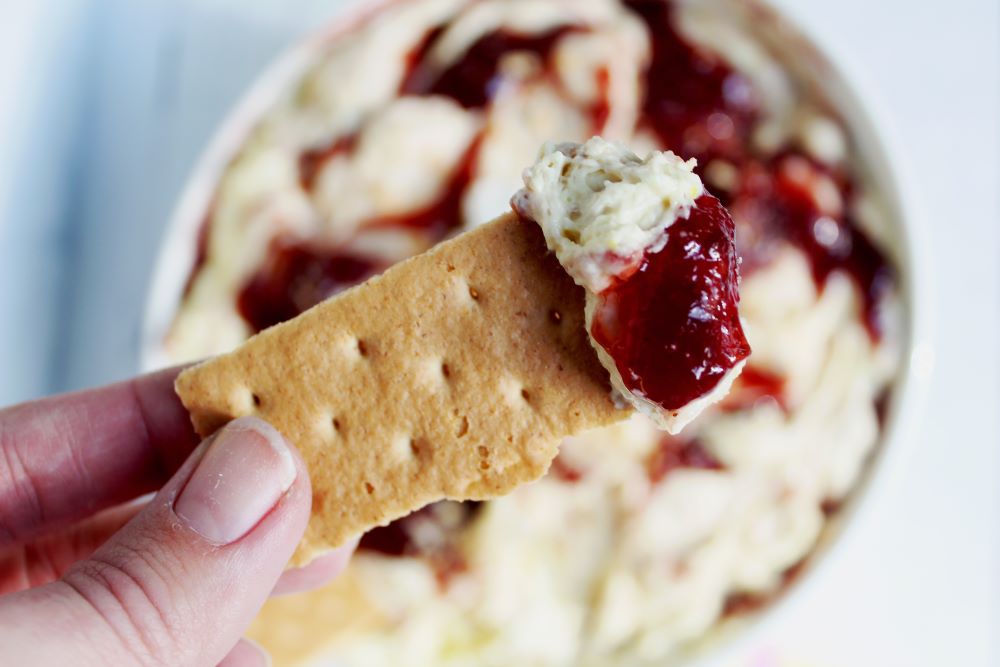 Tips/Tricks/Substitutions
Can I use regular yogurt instead of Greek? Sure! Like I said above though, your dip may be a bit thinner. The difference between Greek yogurt and regular is that the Greek yogurt is strained to make it thicker. But if you don't like the extra tang of Greek yogurt, regular vanilla yogurt is a great option!
Can I use plain yogurt instead of vanilla-flavored? This is entirely up to you. Plain yogurt is tangier and it doesn't have the sweet flavor. However, the whipped topping and lemon cake mix do have sweetened flavors, so it still balances out. My recommendation? Mix a little cake mix and whipped topping with plain yogurt and try it. If you like the flavor, go for it!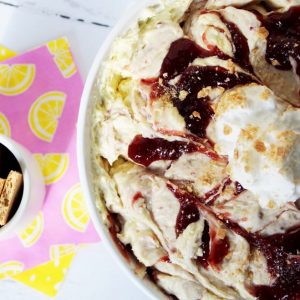 Lemon Raspberry Dip
creamy, sweet and tart - and ready in just a few minutes!
Ingredients
box lemon cake mix

32

oz.

container vanilla Greek yogurt

8

oz.

tub whipped topping

1/2

c.

raspberry preserves

dippables: graham crackers

fresh fruit, animal crackers, wafer cookies, etc
Instructions
Stir together vanilla Greek yogurt and whipped topping.

Stir in lemon cake mix.

Heat 1/2 cup of raspberry preserves in microwave for 30 seconds. Stir until smooth.

Stir 1/4 cup preserves into lemon dip.

Dollop the remaining raspberry preserves in 4 or 5 blobs on top of the dip. Use a knife to swirl the preserves through the top, back and forth, and then up and down, across the dip.

Refrigerate for at least an hour before serving.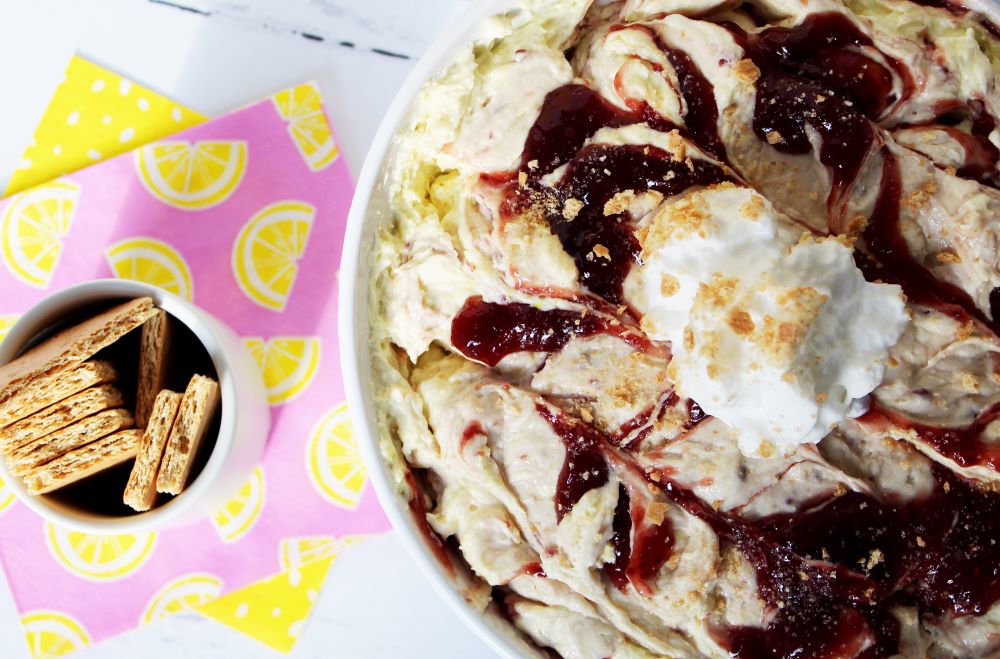 Let's Be Friends!
Insta | Pinterest | Enews | TikTok