There can be such a wide variation of quality in beaded jewelry. On the one hand, it can be a beginners tool and be a plastic cheap mess.
On the other hand, it can be an intricately woven tapestry of gorgeous gemstones, swarovskis, and seed beads.
Here's to those amazing jewelry artists that are creating Next Level Beaded Jewelry that You Must See Now. So here's some jewelry eye candy for your soul. Click through to read more and shop these jewelry makers too.
Happy Beadwork makes all kinds of pieces that have a woven native vibe. You can find an array of color palettes and the earrings are long, dangly and totally oversized!
I love the layering going on with Eveille Jewelry. The colors are bright and popping and there are so many interesting shapes like coins, evil eyes, peace signs, buddhas, and crosses. These bracelets are perfect for layering.
With Love Abella is sweet, innocent, and magical all at the same time. I love her color palette and her prices are amazing too. These are pieces of beaded jewelry that are meant to be shopped!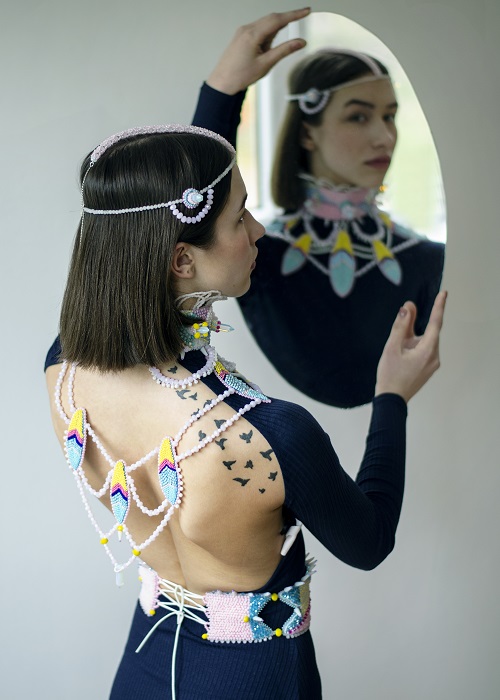 Swoon! These beaded crowns and bodysuits are art just as much as they are jewelry. The color palettes are simply divine and they surprise you with their detail. Learn more about
Rasa Vil Jewelry here
.
I love these crystal crusted gemstone bracelets. Lea Spirit has a unique way of displaying semi precious gemstones inside of faux druzy clusters that look so fresh and modern.
Frosted Ice Queen! These layers of tiny beads are woven into the most unique pattern of array of icy delight. This necklace is simply magical.
I've got one word for this Snake Necklace: DOPE. What a cool use of woven beads. Now this is a statement piece.
Brass Thread perfectly organizes beads around the shapes of skulls, cats, and evil eyes.They are detailed pieces that are so fun to look at.
These African Zuri pieces are geometric and tribal. They are African Inspired and you can also find cool Maasai Blankets and Throws there.
Let's Stay Friends!
Insta | Pinterest | Enews | TikTok