Pokemon Handmade! If you guys are like me, you can't get enough Pokemon Go. The game created by Niantic is already bigger than Tinder, has added $9 billion to Nintendo's Market Cap, and is competing with Twitter with Daily Active Users. It's a phenomenon.
1. Gastly, Haunter, and Gengar Crochet Amigurumi by Airashii Gurumi $65.00
2. Mini Bulbasaur Terrarium Necklace Charm by Nerdy Little Secrets $12.00
3. 8 Bit Pikachu Shirt by Hi Scarf $14
4. Pokeball Bath Bomb by Nerdie Nifties $4.50
5. Pokemon Washi Tape by Meowashitape $6.50
6. Pokemon Cupcake Holders with Pikachu & Eevee by Liara K Crane $11.93
7. Viridian City Travel Print by Harknett Prints $6.00
8. Pokeball Laser Etched Cork Coasters by Black Lotus Haven $7.99
9. Pokeball Ring in 925 Sterling Silver by Geek and Freak $50.00
10. Bulbasaur Individual Cookie Cutter by Crimson Mane Creations $7.73
11. Marbled Bulbasaur Pokemon Terrarium Planter by Foxberry Studio $18.67
12. Pokemon Charmander Art Print Instant Download by Art Quality $3.00
13. Pokemon Converse with 4 Characters by Creative Customs Art $200
14. Blue Spaghetti Strapped Pokemon Dress by Rebecca's Dorky Designs $60
15. Eevee Evolutions Sylveon Earrings by Alex's Misfit Toys $8.00
16. Crochet Pikachu Baby Hat by Stylish Baby Hats $24.99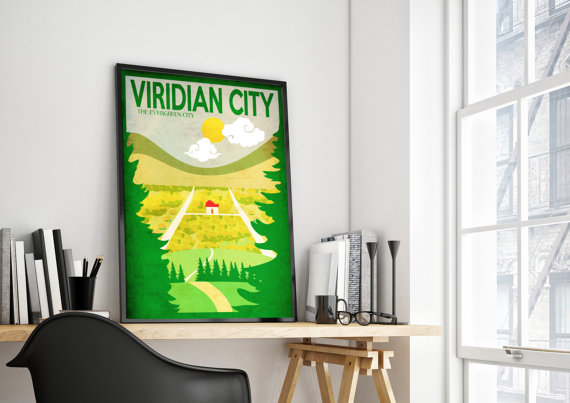 But it didn't just start with Pokemon Go. For die hard comics and gamer fans Pokemon is at the top of their list of all time favorites. It's in the same world as The Legend of Zelda, The Maxx, Game of Thrones, Batman, and Sailor Moon. It's given Etsy Sellers plenty of time to come up with super cute and clever Pokemon collectable art and design.
We hope you love these handmade Pokemon items. If you didn't get enough nerd gear in your life try our
Super Mega Kawaii Style Fashion Lookbook -or-
How about the Top 5 Classic Video Games that You've Never Played and probably never even heard of!
This blog and other blog posts at Pop Shop America may contain affiliate links! Thank you for supporting Pop Shop America.
Let's Stay Friends!
Insta | Pinterest | Enews | TikTok