What a way to wake up! If you love a fine balance between healthy and sweet treats you must try this Breakfast Cereal Frozen Yogurt Parfait recipe. It's quick and simple. It's fun to make. And best of all, they are fun for kids too!
You can include all your favorite cereals. I'm a big fan of using a mix of this Assorted Kellog's Cereal Mini Pack. So let's make it.
First of all, you will need a great frozen yogurt recipe. I prefer either our Triple Vanilla Bean Frozen Yogurt Recipe which uses 3 different kinds of vanilla for a delicious froyo. Or if you prefer a little less sugar, try this Plain Tart Frozen Yogurt Recipe.
What's amazing about making homemade frozen yogurt, is that you only need plain yogurt and an ice cream maker to make it. The sugar (or honey as a substitute) and vanilla is actually optional.
I used honey and vanilla and nothing else. But it would be delicious to add small slices of strawberries, bananas and other breakfast fruits to the parfaits!
Honestly, even the ice cream maker is optional. You could make a no churn version with just a container and a freezer. It will take longer than an ice cream maker – around 4 hours compared to the 30 minutes with a machine.
Once you blend and freeze your frozen yogurt, you will want to make your parfaits right away or be ready to get that frozen yogurt in the freezer.
From here it's all about layering and finding the right cereals for your Breakfast Cereal Frozen Yogurt Parfaits.
So grab a glass, and ice cream bowl or any cute cup that you want to serve your parfaits in.
First, make a layer of cereal. For the bottom layer, I chose Pops for one and Lucky Charms for the other. You could use any cereal you like: Apple Jacks, Capt. Crunch, Cookie Crisp! Any of them will be so delicious.
After your first layer of cereal, add a few small scoops of frozen yogurt. Then add another layer of cereal – this time use a different one. I chose Fruit Loops!
You can continue to add layers of frozen yogurt and cereal until you have the amount in your glass. Then serve immediately.
This is an easy recipe that will only requires you to add yogurt to an ice cream mixer and whirl! It's so fast and fun. And it's a great way to think outside of the box when it comes to brunch.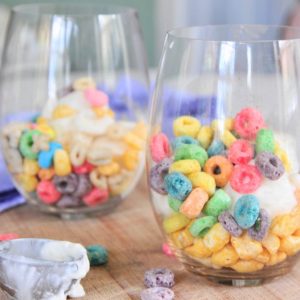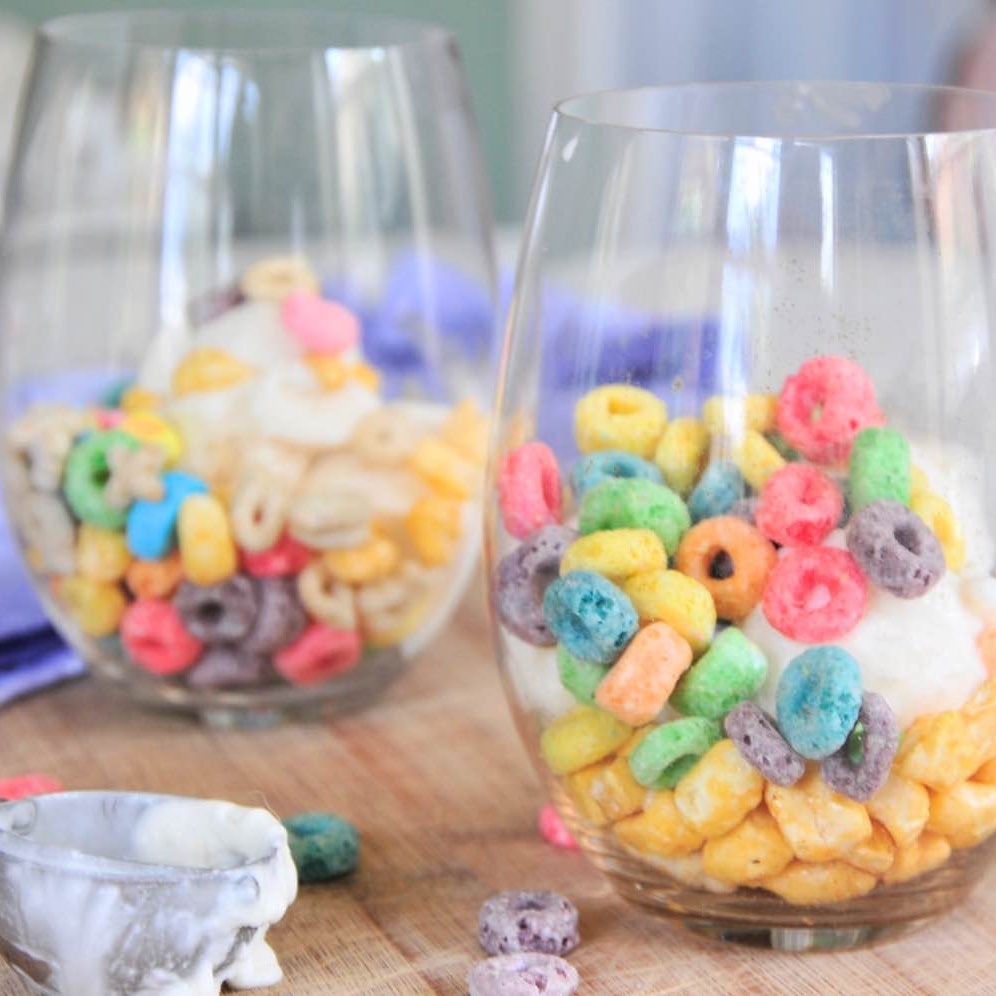 Breakfast Cereal Frozen Yogurt Parfait
Make morning fun with these easy to make Breakfast Cereal Frozen Yogurt Parfaits! You can use any cereal you like.
Ingredients
For the Frozen Yogurt Recipe Follow:
This Triple Vanilla Bean Frozen Yogurt or This Plain Tart Frozen Yogurt Recipe

32

oz.

Plain Yogurt

1 container

Optional: 1/3 Cup Sugar or Honey

Optional: 1 Tablespoon Vanilla Bean or Vanilla Extract
For the Parfait:
Finished Frozen Yogurt

A Mix of 4-6 Different Breakfast Cereals: Apple Jacks

Fruit Loops, Lucky Charms, Pops, and more
Instructions
First start by making your frozen yogurt as the recipe indicates. It can be made in an ice cream maker or no churn but no churn will take longer.

Once the frozen yogurt is finished, get your serving glasses or ice cream bowls ready.

Layer around 1/4 cup of breakfast cereal on the bottom.

Then fill the glass with around 2 scoops of frozen yogurt.

Next, add another 1/4 cup layer of breakfast cereal.

Continue adding frozen yogurt and cereal until your serving glasses have the desired amount.

Serve immediately.
Need more easy brunch ideas? How about this Berry Toast Recipe or these Vanilla Bean Blueberry Muffins Recipe?
Let's Stay Friends!
Insta | Pinterest | Enews | TikTok