For holidays like the 4th of July and Memorial Day, it's almost a requirement to make super cute red, white and blue food. But if you are like me, holiday planning takes a long time!
Some years, I have the energy and time to make more detailed desserts like these 4th of July Macarons. But sometimes I just want to make something fast and easy like these adorable Red, White, and Blue Cocktail Shooters.
These Mini American Flag Pies are easy enough to bring to a pot luck and pretty enough for any 4th of July party. They're perfect! So let's make them.
Kitchen Supplies to Make Mini American Flag Pies
To make these pies, you will need a few different tools:
Cupcake Pan
Rolling Pin
Regular Size Circle Cookie Cutter
Several Sizes of Star Cookie Cutters
Basting Brush
Of course this is a baked pie, so you will be using an oven too!
Ingredients to Make Mini American Flag Pies
All Purpose Flour
Non-Stick Spray
Refrigerated Pie Crust
Cherry Pie Filling
Blueberry Pie Filling
1 Egg & Water
The ingredients are so simple! That's one of the things I love about this recipe.
Start by Making the Pie Crust
Gently sprinkle a flat and clean surface with flour. Then place your chilled but not frozen pie crust on the floured surface. Because you are making mini pies, refrigerated dough that's not shaped into a pie is easiest.
Sprinkle your rolling pin with a touch of flour and roll the dough just to flatten it evenly.
Punch Circles of Dough
To make the bottom half of the pie crust, punch the dough with a circle cookie cutter. There may be slight variations based on what type of cupcake tin you are using, but a 3 or 4 inch round cookie cutter will be the perfect size.
If the dough sticks to your cookie cutter, dip it in flour first before cutting the dough. Spray your cupcake pan with non-stick spray, and place your cut circles of pie dough inside.
You may need to adjust the bottom of the pie crust once it's in the cupcake tin. You may need to fold a strip of the dough over itself. You may need to add an extra strip to the top if your dough isn't tall enough.
That's okay. To add to your dough, use water to help press the pieces together and smooth away any edges.
Fill the Pie Shells
Next, fill the pie shells with red and blue filling like cherry and blueberry pie filling. Fill the cups to almost the brim. The fruit will boil and bubble in the oven if they are overfilled but you definitely want these pies to feel full.
If you like an extra crispy bottom crust, you could actually pre-bake the bottom of the pie shell before adding the fruit for 5-10 minutes.
Cut out Stars for the Top of the Pie
With any excess dough, you can form it into a ball and then roll it back out. You will want your dough an even thickness and the same thickness that you started with.
Now it's time to use your cookie cutter to punch stars! This is the fun part. You may want to have 2 star cookie cutters handy to test them on top of the mini pies and see what looks best. Gently place the stars on top of the mini pies.
Coat the Star in Egg Wash
For a gorgeous golden brown pie crust, make an egg wash with 1 egg and a tablespoon of water. Mix the two together to whip the egg and use a basting brush to brush it over the surface of the star. Want detailed instructions on how to make egg wash? Find the full Egg Wash Recipe here.
Now Bake!
Once your mini pies are topped with stars, and coated with egg wash, it's time to bake them!
I recommend using the middle rack to prevent the top from browning too much. If the stars become too golden while they are baking, just cover the pies with a sheet of aluminum foil! That way you can keep the pie baking but prevent any browning to the crust.
How to Serve & Store Mini American Flag Pies
Once you pull your pies out of the oven, allow them to cool until they are safe to eat – around 10 minutes. Since these pies are so adorable, they have to be made center stage of any 4th of July or Memorial Day celebration – so place them on a serving tray or on a cupcake stand.
They can be served as is, or even better with a scoop of vanilla ice cream. And you can warm the pies again in the microwave when you are ready to serve them.
To store the pies, keep them in an air tight container in the fridge for up to a few days, maybe even a week if you are lucky!
You can also freeze already baked pies for up to 6 months – but these pies are best in the fridge and eaten quickly!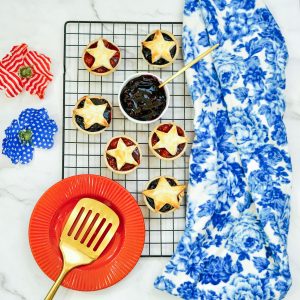 Red, White, and Blue Mini American Flag Pies
These adorable Mini Pies are perfect for the 4th of July or Memorial Day! Make them with cherries and blueberries for a red, white, and blue perfect dessert.
Equipment
1 Cupcake Pan

1 Rolling Pin

1 Circle Cookie Cutter

3-4 inch

1-2 Star Cookie Cutters

3-4 inch

1 Basting Brush
Ingredients
All Purpose Flour

for dusting a flat surface

Non-Stick Spray

1

Package

Refrigerated Pie Crust

1

Container

Cherry Pie Filling

1

Container

Blueberry Pie Filling

1

Egg

1

Tbsp.

Water
Instructions
Pre- Heat your oven to 350°F and spray a cupcake tin with non-stick spray.

Next, flour a flat, clean surface with flour. Remove the pie dough from the packaging.

Sprinkle your rolling pin with flour. Roll the pie dough, just to even the dough.

Use a circle cookie cutter to cut out the bottom of the pie crust. Once the circle is cut, place the dough inside the individual cupcake molds.

Once you have cut your desired amount, you can pre-bake the pie shells. This is perfect for anyone that likes a crispy, crunchy pie shell.

To pre-bake the pie, stuff the center of each mini pie with a ball of aluminum foil. Bake for around 10 minutes. The pies won't be completely cooked, but will be further along for when you bake them fully later.

Next, fill half of your pies with blueberry pie filling and half with cherry pie filling. Fill them slightly over 3/4 full - imagine that you want them around 90% full.

Now cut out stars with your pie dough. If you don't have enough dough left, roll it into a ball. Flour your surface again, and flour your rolling pin again. Then roll the dough until it's the same thickness as your last batch of pie dough.

Punch stars in the pie dough and place them on top of the Mini American Flag Pies.

Make an egg was by whipping together 1 egg and 1 tablespoon water. Use a basting brush to spread the egg wash over the star.

Bake the Mini American Flag Pies in the oven for around 30-40 minutes or until golden brown. If the crust browns too much before 30 minutes, cover the top of the pies with aluminum foil.

Remove the pies from the oven and allow them to cool until they are safe to eat - around 10 minutes.

Serve at a 4th of July or Memorial Day potluck. Serve them on a decorative tray or with vanilla ice cream.

To store, place them inside an air-tight container and store them in the fridge for up to around 5 days.
Ready for your 4th of July party? I bet you are now that you have these super cute Mini American Flag Pies! If you want even more Patriotic inspiration, check out the links below.
Let's Stay Friends!
Insta | Pinterest | Enews | TikTok