Scroll straight to the bottom for the Easy Printable Recipe. Or read on for tips and tricks about how to make the best egg wash.
***
You know when baked goods are oh-so-perfectly golden brown? And they have that gorgeous glossy finish that's irresistible? That's probably from an egg wash!
It's easy to make and it's a staple for baking. So let's make it!
What Baked Goods Can You Top with an Egg Wash?
An Egg Wash is perfect for: rolls, pies, many types of bread and any kind of pastry crust.
It's ideal for sealing pie crusts together because it holds the crusts together perfectly – like glue! To make an egg wash, all you need are a few simple supplies that you likely already have around you house.
Making an egg wash reminds me of making Homemade Vanilla Extract because it's easy with minimal supplies.
Milk or Water? Yolk or Egg White?
I like to make my Egg Wash with water but you could use cream or milk too. All of these recipes work well. To make mine, I started with 1 tablespoon of water in a small bowl and then cracked a fresh egg in. You can also make a wash with just the egg white or just the yolk. But it's easiest (and still delicious) to use the whole egg.
The point is that making an egg wash is versatile. You can use milk and cream if you have it. Or water if you prefer! Yolk, white, or whole egg – it's all a technique worth exploring.
How to Make An Egg Wash
So let's jump back to how to make an egg wash. Check out the wash I am making. You can see it in the photos. I started with a tablespoon of water in a small bowl. Then cracked an egg in. Next take your fork and break the yolk. Mix the egg and all of the water thoroughly until it's completely blended and uniform in color. It's just like making scrambled eggs – but with more water!
So now you whip it. Whip it good. Once you are finished your Egg Wash will be a gorgeous lemon yellow! I always use mine immediately. It's so fast to make, that you can create it at the last minute right before you pop your pie or rolls in the oven. Egg Wash is not something you will want to keep in your fridge.
How to Apply an Egg Wash
Whenever you are ready to use your Egg Wash, grab a basting brush and add a thin layer to the surface of your dough or pastry crust. Immediately put the item in the oven while the Egg Wash is still wet.
Sometimes after I baste my dough or pastry crust with egg wash, I add a little sprinkle of sugar or salt – depending on whether the item is sweet or savory. It's the perfect way for these toppings to stick!
Best of all, the sugar or salt (whatever you use) will begin to break down as it bakes. It adds a crunchy crusty delicious topping to all of your favorite baked goods. Wanna think outside of the box? Use your egg wash to add black pepper, cinnamon, rosemary to your baked goods.
So what is your favorite way to Make Egg Wash? And how are you going to use your egg wash? Tell us in the comments.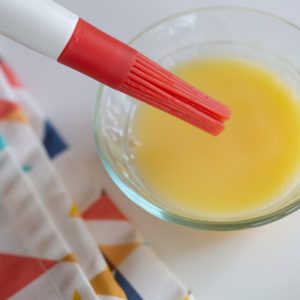 How to Make an Egg Wash
Make and easy Egg Wash for gorgeous golden brown desserts!  An Egg Wash is perfect for bread, rolls, pastries, and pies.
Ingredients
1

Egg

1

tablespoon

Water

or sub. Cream or Milk
Instructions
Add the water (or cream/milk) to a small bowl and then add your cracked fresh egg.

Quickly and thoroughly, whip the egg and water together using a fork or whisk until it is completely blended.

Using a basting brush, immediately apply a think layer of egg wash to any rolls or pastry dough that is ready to bake.  Be sure the egg wash is wet - don't let it dry before adding the pastry to the oven.

Don't keep the egg wash.  Just throw away any unused portions.
Let's Stay Friends!
Insta | Pinterest | Enews | TikTok