I bet it's no surprise that there are lots of cool DIY, handmade, and vintage boutiques in Philadelphia, PA!
Philadelphia is quite the industrious city with a history of perseverance. For people in the city, everything is better that's from Philly. Handmade is all over and there are some particularly cool shopping areas, like South Street, which is also known as the Headhouse District. South Street is known for being an alternative bohemian punk area with culturally diverse shops, take out, and adult shops. South Street is also the home to Philadelphia's Magic Gardens, a legendary folk art sculpture garden by Isaiah Zagar. It's definitely worth browsing and exploring.
There are also some really great staples of Philadelphia handmade boutiques like Nice Things Handmade or Philadelphia Independents. Nice Things has an visual-artist-turned-crafter aesthetic with prints, drawings, and lots of felted stuffed critters. They are also the co-organizers of The Superfantastic Craft Bazaar, an ongoing craft fair in Philadelphia.
Philadelphia Independents has an ethos, "All Handmade. All Local." This shop looks like an exhibition gallery style space with clean lines, minimalist moments, and bright pops of color. This shop has a wide array of media – from lamps and kid's clothes to women's accessories and Philly themed wrapping paper. Check out their perfectly curated online shop here.
I got to spend some time in a walkable shoppable area called Manayunk that's all about craft beer and local food, tons of vintage, and lots of indie style shops.
Manayunk is an outdoor shopping district named after the main thoroughfare. It's slightly hilly and plays holiday and classical music through vintage megaphones that gently distort it. It's really pleasant. One side of the street stays shady through most of the day while the other side is sunny so it's perfect for walking regardless of the weather. It's so perfectly idyllic, like stepping back in a moment in time (except with really modern goods and shops). Manayunk is home to a Farmer's Market, an Art Festival, a Foodie Festival, and has other events throughout the year.
We chose this area because of the walking path that connects Manayunk to other parts of the city and some historic landmarks. This path connects the Canal at Lock Street, Canal View Park, and Lower Merion, crosses a railroad bridge from 1889, and another from 1918. Some of the buildings were textile mills and date to the 1850s. The mills are beautiful and history is always around you in Philadelphia.
We were so excited about the shopping. The first place we stopped was The Little Apple Store. This is definitely the handmade boutique experience that you want to get at Manayunk. They had the cutest window display of Santa riding in a vintage hot air balloon. He was inside of a cloud and a rainbow array of party pom poms. The Little Apple has giftable items cards, stationery sets, handmade goods, jewelry, and lots of kids stuff too. One of my favorite things was a small section of prints on the walls.
And these baby onesies that have a map of Philadelphia are so precious. The Little Apple was packed to the brim with holiday shoppers so I have a feeling that this store is thought of as solid gold handmade shopping.
The next shop that drew me with otherworldly window displays is Millay Vintage. It is a curated vintage boutique full of mostly clothing in addition to shoes, furniture, housewares and even new beauty items that have a vintage look. The clothing they carry is absolutely stunning – mint condition and very unique. They had a lot of eras that you don't see in other places. Not just 60s and 70s, it had an older Edwardian/turn of the century/Roaring 20s styles in abundance. No polyester and no space age was to be seen anywhere.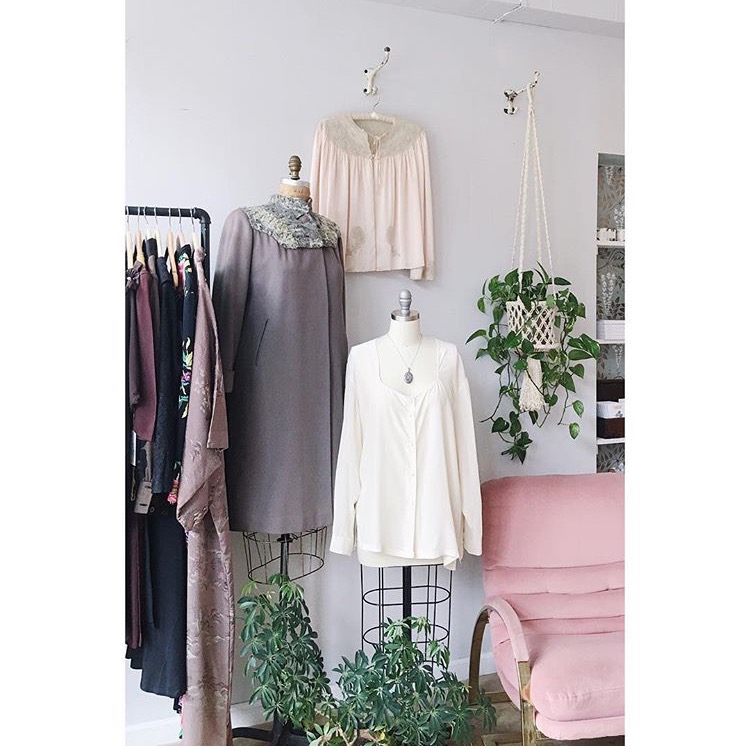 Trust me, you need more Millay Vintage in your life. Check out their instagram here. Apparently, I was late to the party since they have 27k followers!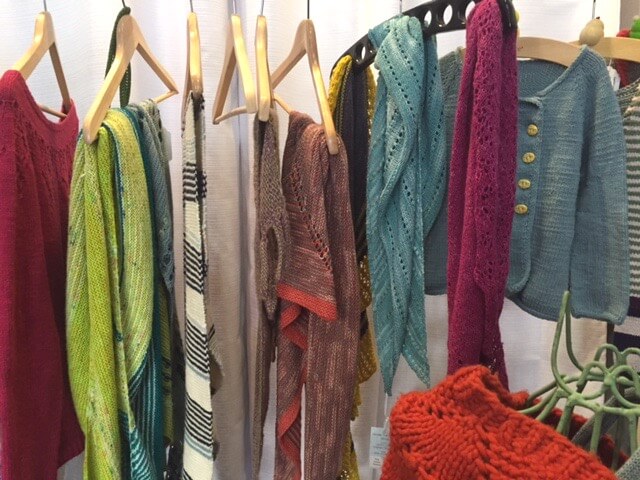 I'm not even a knitter but I had to pop by Hidden River Yarn. They carry a professional selection of yarns in a rainbow of colors. I could tell right away that this a great shop to get high quality and interesting yarns with the types of dye and colors you don't see at Hobby Lobby. They also had an array of hand knit finished pieces like scarves, shawls and lots of items for wee ones. All of the pieces available for purchase were masterfully crafted with expert patterns and adorable little buttons. Hidden River Yarn is a true crafter's wonderland.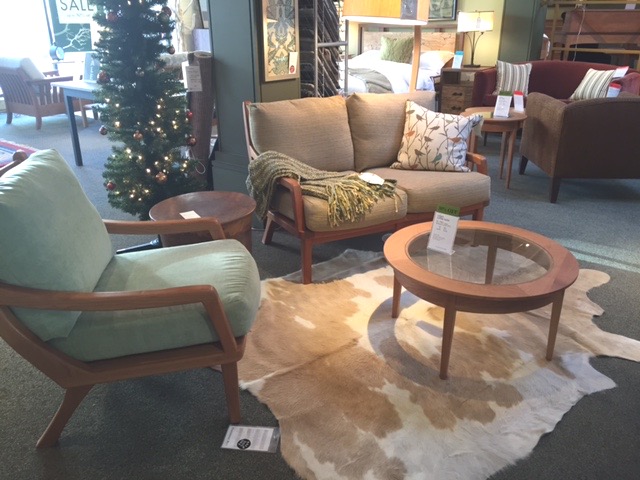 The last place is a little bigger, a little more high end, and absolutely amazing. Pompanoosuc Mills is a handmade furniture company not from Pennsylvania but from Vermont. I was surprised to see it there and to learn that they have showrooms from Vermont through Massachusetts, Connecticut, and even to Virginia got me super excited. I love hearing about handmade business success.
Their furniture is made of natural materials, mostly wood, and is quite modern and stunning. It's also informed by Frank Lloyd Wright's version of Craftsman Furniture and stylistically sticks to the classics. The pieces are luxurious and you can find just about any piece of furniture you can think of – tables, bed frames, desks and more.
Tailor-Made for Life from Pompanoosuc Mills on Vimeo.
Take a look at their video and see the production of Pompanoosuc Mills furniture for yourself.
There were lots of other shops that carried local and vintage goods. There was even a Chocolate Pop Up inside of a performance hall going on when we were there! They had an array of the best small batch handmade chocolates I've ever seen. I wish I still had their contact info. Shopping and browsing around Manayunk was sweet, idyllic and fun.
But if you are really going for the handmade in Philadelphia experience I would be sure to include Nice Things Handmade and Philadelphia Independents in addition to shopping Manayunk.
Let's Stay Friends!
Insta | Pinterest | Enews | TikTok