Putting together this interview took me deeper and deeper into the history and magic of Sheena Rose's talent. She has so many visions and just the right drive to make them all happen. Watching her videos, I could hear the passion in her voice. It was really inspiring, and I included some of those videos at the end. Enjoy!

---
Please tell us a little about yourself and your artistic background. Where are you from? Where are you now?
Well, I am from Barbados, in the Caribbean, and from the time I was six years old, I drew comic books and hung work in my bedroom like a gallery. As I grew older, I became more and more interested in art and really wanted to be an international artist. I wanted to travel and show around the world.
In 2008, I received my BFA in Visual Arts at Barbados Community College, then eventually, I exhibited a hand drawn animation called "Town" in many international shows in galleries and museums. I participated in several artist's residencies such as Alice Yard in Trinidad, Greatmore Art Studio in Cape Town, and Tembe Art Studio in Suriname.
I am very happy to say that my work is also on three book covers, "Small Axe 43″, " See Me Here", Christopher and Roberts Publisher and in 2015 "The Star Side of Birdhill" cover of Naomi Jackson's book, Penguin Press. 
I exhibited my work in lots of art shows while studying my MFA at UNCG, such as MoCada (Museum of Contemporary African Diaspora Art) Brooklyn, New York, Jamaica Biennial 2014, African Heritage Cultural Arts curated by Mikhaile Solomon, RWUL Film Festival in Ghana, Moengo Festival in Moengo, Paraguay first Biennial and Venice Agendas at the Turner Contemporary Gallery invited by Waugh Office in the UK.In 2014, I received a Fulbright Scholarship to pursue my MFA in studio art at the University of North Carolina at Greensboro and will receive my masters in early 2016.
What's your studio or workspace like?
At this moment, I have two studios, I have one in Barbados and one in North Carolina. The one in Barbados, I transformed my older brother's old bedroom into a studio . In North Carolina, I am currently studying at the University of North Carolina at Greensboro and each MFA student has a studio to work in. My studios are full of work lol. In the future, I am looking for a bigger studio, because I am looking to work bigger too. Therefore, I will need more space.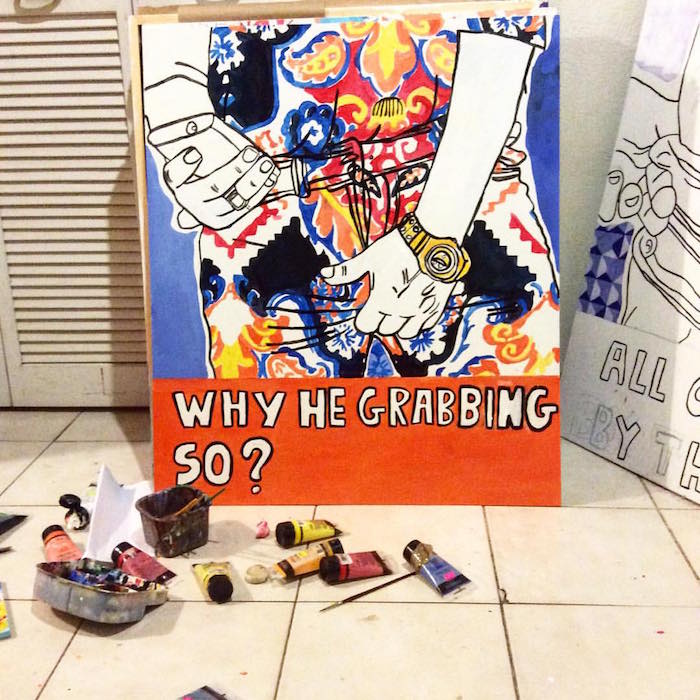 I first saw your art on a Tumblr feed. Your Sweet Gossip collaboration project was featured, and I was instantly attracted to your style. Are you working on any other large, conceptual or themed projects right now?
I am blushing lol thank you. Well, yes for sure, the sweet gossip collaboration with Adrian Richards, photographer and Natalie McGuire, art historian was fun and blew up so big on the social network. I really enjoyed that project and still continuing the paintings. Right now, I am looking to work bigger and on a body of work. So far, I have a painting that is about 5 ft tall and 13 ft wide and that is the biggest I have ever worked on. I love working big, and I am very excited to see more large work coming! I have tons of ideas to work with, and I am really excited to start very soon.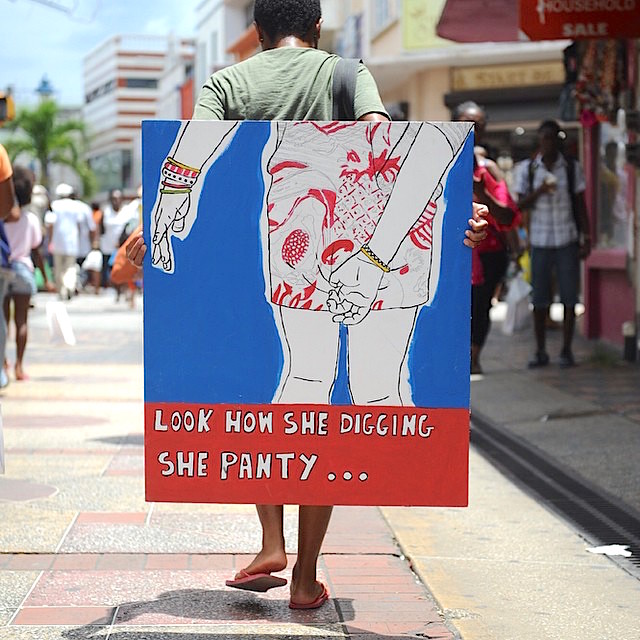 What's your creative process like?
I love to be on the streets, in stores, have conversations and read art and comic books. I find I have a weird sense of humour too, lol. For instance, I will discover something funny or very random on the street that will spark ideas and make me run to the studio.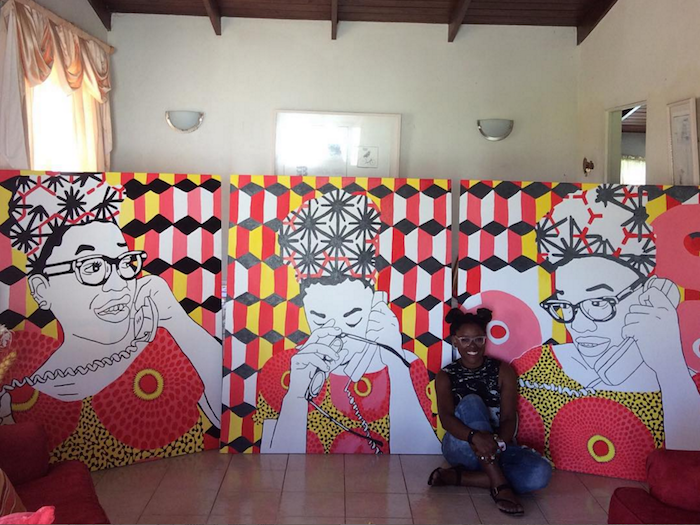 Was there a distinct moment when you knew you wanted to be an artist? Were you ever unsure?
You know what is funny, it was either art or music. There were moments that I questioned myself, what else can I do? Then there is a long pause and I get nothing. To be honest,  I am very happy with that. I cannot think of anything else I should be doing in my life right now but to be an artist. Sometimes, performance do come to play in my work but again that is another form of art there too. So I will remain an artist.
What are your favorite art supplies? Are there any mediums that intimidate you?
I love to draw but honestly I love to work with anything that I can grab in my hand and ask myself what can I do with this? I laughed at myself many times because I am sometimes an amateur at certain art materials and create something beautiful out of it. For example, I taught myself hand drawn animations and I love the result out of it…how the animation has sticky movements. Right now, I am teaching myself photoshop and i love again how amateur the work is but how the work is developing. I guess I have a strange taste but it seems to be working for me. My favourite art supplies are finding stuff from the thrift store or finding old comic books. They really put me in a happy place.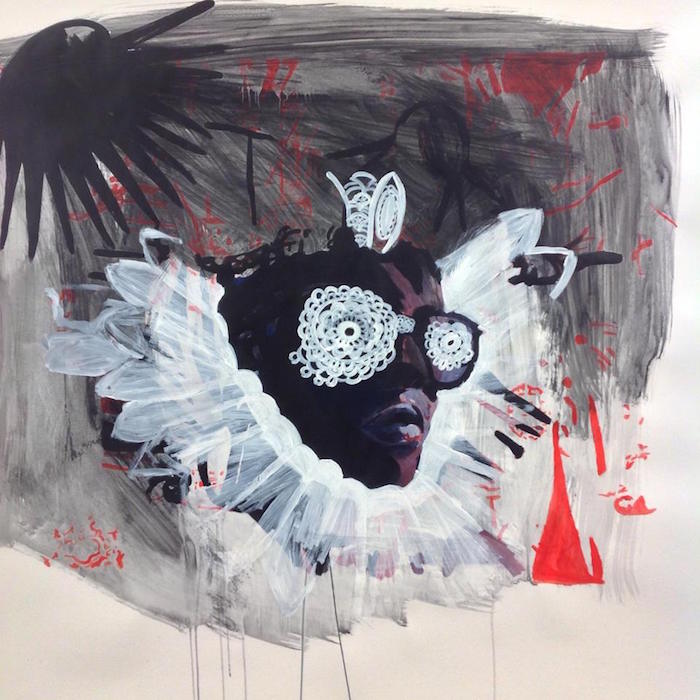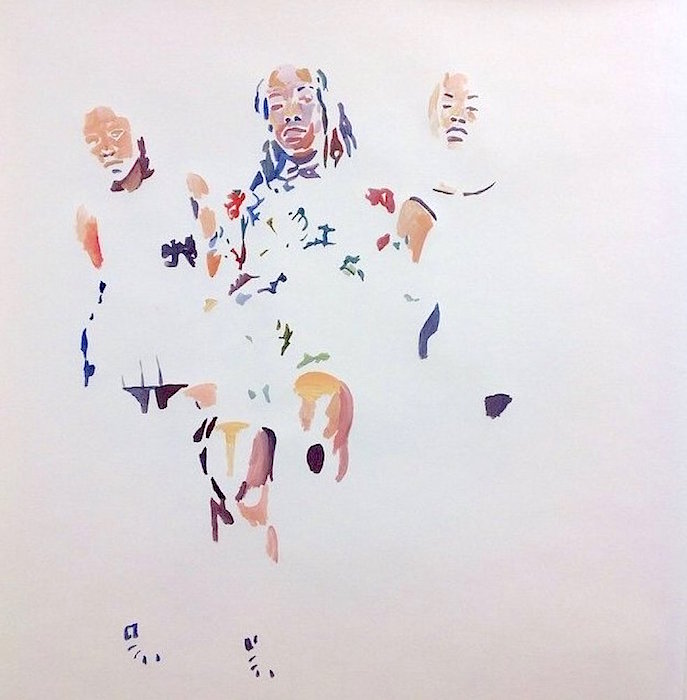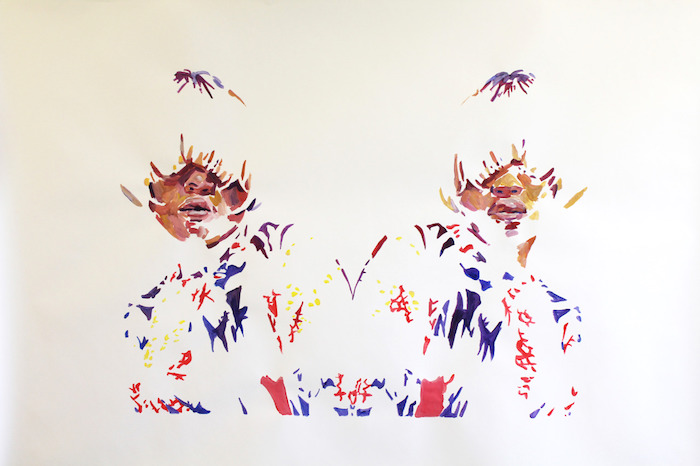 Do you collect anything?
I love collecting old comic books, vintage cameras, 1950's-1980's clothes and decorations.
And lastly: What makes you happiest in life?
Good question, lol. There is a list…traveling, love to shop, go to the beach, hang with family and friends and sharing my art with the world!
---
Watch Sheena as she is featured on TEDxYouth.
Check out the Sweet Gossip Collaborative Project on YouTube.
There is also a short film of a special art performance she was a part of.
Follow her on Instagram, Tumblr, & Facebook.
Not enough? Well, you can full-on stalk her by also visiting sheenaroseart.wix.com
Above image from Naomi Jackson's book 'The Star Side of Bird Hill'
Her art was also on the cover for See Me Here: A Survey of Contemporary Self-Portraits from the Caribbean, & Small Axe Issue #43.
All images sourced from Tumblr, Instagram or Website unless otherwise noted.
Let's Stay Friends!
Insta | Pinterest | Enews | TikTok