This Blog May Contain Affiliate Links.
Nothing says party like a Tiki Bar! It's vintage cool, retro, and fun loving. It includes lots of wood, bamboo, warm and natural tones, and lots of good vibes. Here's our perfect gift guide with all things vintage and all things Tiki.
1 Original Hand Made Wood Working by Mobius Frame Art $185 on Etsy.com
2 Tiki Hawaiian Hair Clip by Passion Aloha Shop $20.99 on Etsy.com
3 Retro Table Lamp and Shade by Modilumi $340 on Etsy.com
4 Set of 4 MCM Teak Serving + Party Plates by Moondrop Vintage $45 on Etsy.com
5 Set of 4 Tiki Mugs, Drinkware by Logo Bar Products $37.96 on Etsy.com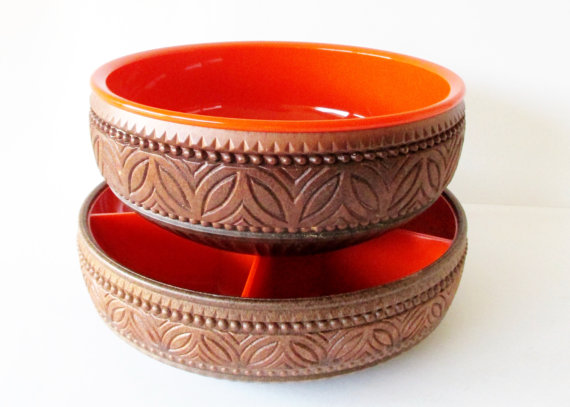 6 Mid Century BBQ Party Bowls Set by Good and True Co. $28 on Etsy.com
7 Vintage Atomic Blendo Glasses and Pitcher Set by The Black Cat Closet $95 on Etsy.com
8 Vintage 1970s Otagiri Tiki Tumblers Set from Trash Kat Junktiques $60 on Etsy.com
9 Vintage Bamboo and Wicker Rattan Woven Tray by Pug House Vintage $18.00 on Etsy.com
10 Vintage Bamboo Bar with Tortoise Shell Finish by Dovetails Decor $871.20 on Etsy.com
11 Infuse Ginger Bitters – Handmade Single Bottle Bitters by Infuse Spirits $18.00 on Etsy.com
12 Tiki Bamboo Paper Straws by Wendy's Funky Ribbon $7.49 on Etsy.com
13 Wooden Hand Carved Tiki Sandals from JJ's Hoard $89 on Etsy.com
14 Handcrafted Tiki Bar by Borboleta Decors $1480 on Etsy.com

Tiki is a Polynesian influenced design style that includes cocktails, furniture, and art. Tiki first appeared in the 1934 when Don the Beachcomber, a bar and restaurant opened in Hollywood. "His restaurant featured Cantonese cuisine and exotic rum punches, with a decor of flaming torches, rattan furniture, flower leis, and brightly colored fabrics." Sounds like heaven!
From there Tiki spread through Paolo Alto, the West Coast and California's World Fair in 1939. Most people's favorite aspect of Tiki are the cocktails like Mai Tai's, Zombies, and boozy rum punches flourished with flowers, fruit and adorable garnishes.
Let's Stay Friends!
Insta | Pinterest | Enews | TikTok