You guys! Look, look, loooook at who I've found! Over in Florida, Miss Valentina Felce is busy hand-making these wonderfully unique plush dolls and painting characters onto them. They are one of a kind and have a real vintage air about them.
---
Please tell us a little about yourself and your artistic background. Where are you from? Where are you now?
I was born in Venezuela and raised in Orlando, FL. I got a Bachelor's degree at the University of North Carolina School of the Arts where I studied scenery design and theatrical production. It is something I am still working on today, along with my doll shop.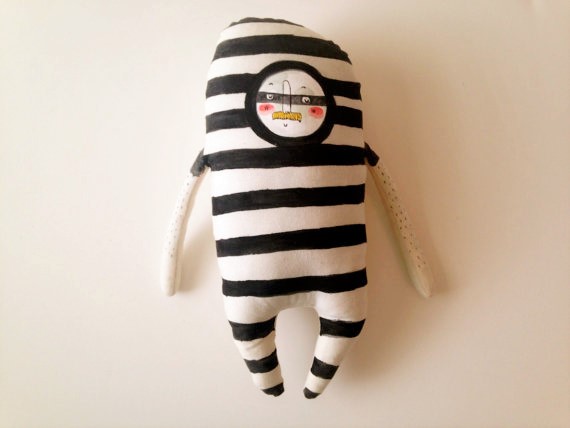 Have you always been drawn to making things?
I most definitely have been making things my whole life. Ever since I was a little girl, I dreamed of being an artist – I can't remember a time when I wasn't drawing or sculpting. I'd like to be able to say that I've been sewing for a long time as well, but the truth is I was terrible at it until only a few years ago. However, where there's a will there's a way, and I figured it out in time with my mother's help.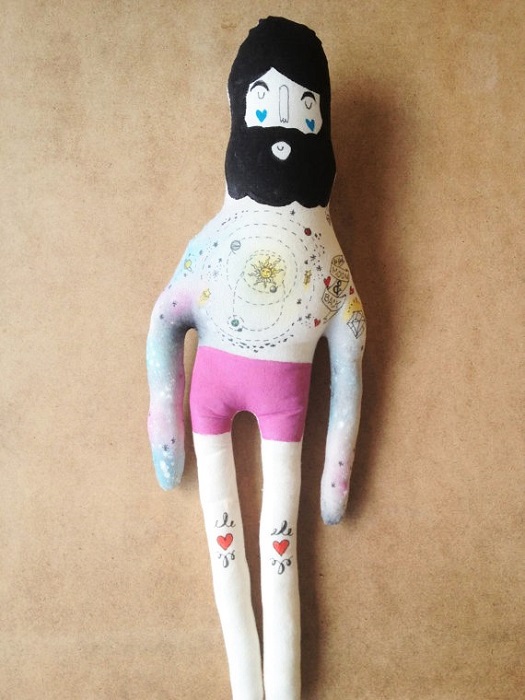 Your dolls are so darling and authentic! What do you remember about making your very first one?
It was extremely exciting to see her come to life. I fell in love with sewing after the very first one- even though she took me an entire two days to make and was nowhere near perfect. I remember thinking that even if only one person liked my creations I would be satisfied, since they were so strange. What I wasn't expecting was the amount of attention and support I received from not just my family and friends, but from total strangers all over the world. That's what having an online platform allows you to experience- connections with a community you might not even know exists.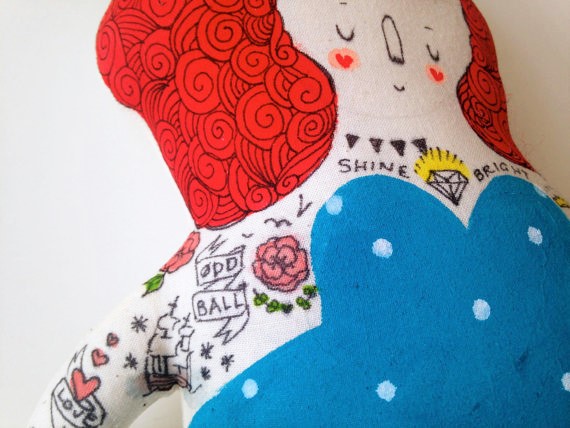 When did you realize your creations could bloom as a business?
To be honest, I thought of the business before I made a single doll. I dreamt one night that I was walking through a toy store where all my strange doodles and portraits had turned into dolls that I could squeeze and play with. I woke up and spent a few nights drawing and writing ideas. I didn't end up learning to sew until several weeks later.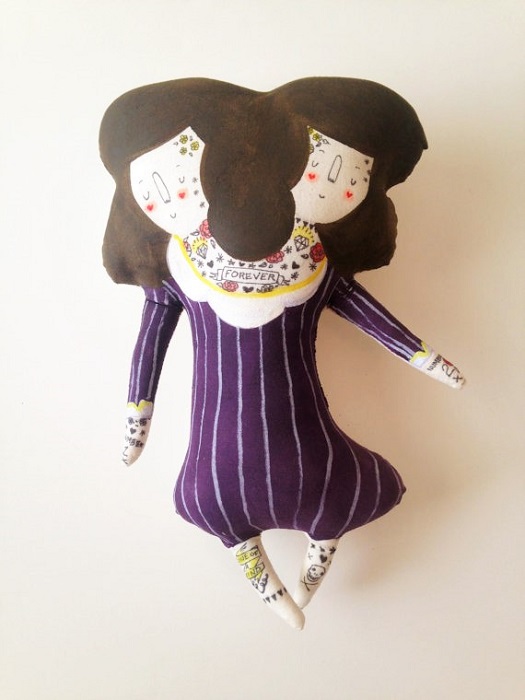 What's your process like?
I don't know how many half made dolls I threw away in the first few months. I tried buying stamps that looked like they'd make good tattoos, or fabric with tattoo like patterns. Finally, I just drew my ideas out on fabric, exactly as they looked in my head and they started to take on a life of their own. It's what I do today with each new design. Sort of like doodling but with fabric- once the body is made I hand paint each tattoo into place until I am satisfied.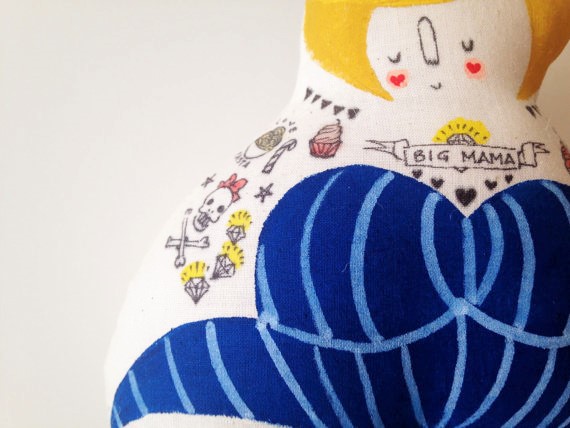 What's your studio/work-space like?
My work-space is small, but neatly organized. Not surprisingly, I have prints of my favorite illustrations on the wall and a couple of shelves full of stuffed animals- mostly from movies I like, but also from other handmade shops. It is a big mash-up of patterns and colors, and I love looking at it.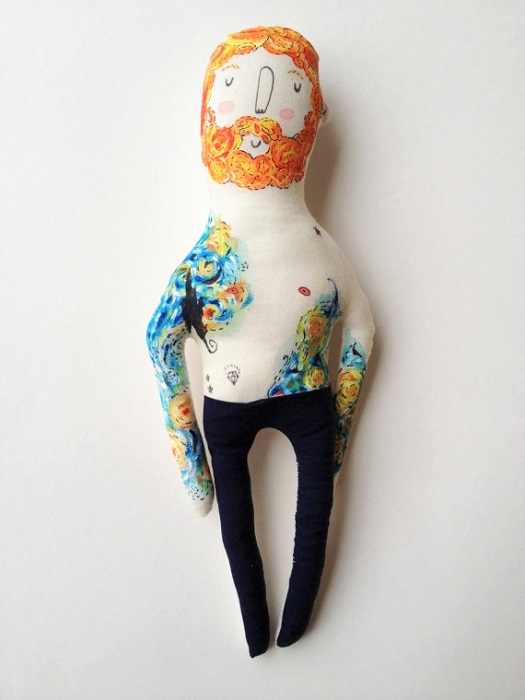 Is there anything new that you'd like to try with your dolls, like collaborating or a change in styling?
I want to launch a line of mythology- related dolls. I am very inspired by mythology, old fairy tales, folk tales- things like that. I am working right now on a line of animal-human hybrids that I am very excited about. Keep an eye out for the new line in spring! It will be very different from what I currently make, but I've been itching to get started on that style for a very long time. I will just have to dive in and see how it goes!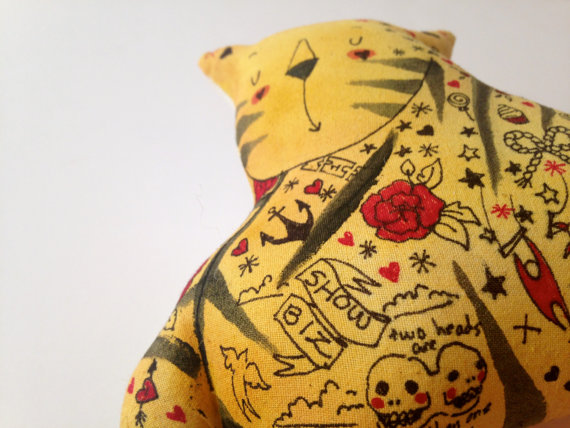 What makes you happiest in life?
I am still figuring that out- making things makes me happy, but so do my pets and my favorite people. I suppose what makes me happiest is when I can have all three.
---

Let's Stay Friends!
Insta | Pinterest | Enews | TikTok