Hey you chocolate lovers out there!
Just because you love chocolate doesn't mean you can't love carob too. I absolutely adore carob. It's so rich and nutty. It's unique and interesting. I put a spin on a classic Carob Chip Cookie Recipe because hey, why not?!
Everyone loves a classic pecan in a cookie but this orange zest was really just for a pop of flavor and a really gorgeous color. So we had to include it. Isn't it the prettiest?
So here is our new classic Toasted Orange Zest, Pecan, & Carob Chip Cookies Recipe. It's the perfect anytime cookie and totally perfect for people who are allergic to chocolate or people who hate chocolate too. Carob is caffeine free so it's great for that reason too!
To make this cookie all you need are some simple ingredients. Carob can usually be found at your high end grocer like Whole Foods or Central Market. Otherwise you can find it online at Amazon. It's actually in the pea family and often called a locust bean. It's from the Mediterranean so you often see it in North African, Jewish, and Mediterranean cooking. St. John's Bread is a classic example.
As for pecans, I am all about fresh chopping. It makes a richer, fresher flavor that you need to taste! Chop them right before you add them to your cookie dough and trust me, you will have a flavor that is super special.
Orange and carob is so fun together. For a batch of these cookies you will just need 1 to 1 1/2 oranges. But if you are looking for a carob substitute for the classic chocolate chip cookie, you could skip the orange all together. Since you are using the skin of the orange, organic is really the way to go. It should only add a dollar or so to the total price! I'd say that's well worth it.
So scroll down to get the easy printable recipe.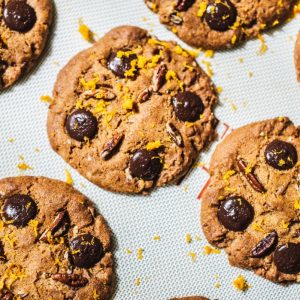 Toasted Orange Zest, Pecan, & Carob Chip Cookies Recipe
These Orange Zest, Pecan, and Carob Chip Cookies are a  heavenly spin on a normal Carob Chip Cookie.  Don't forget about the greatness of the Carob Chip!
Ingredients
1/2

cup

Unsalted Butter

softened to room temp.

1/2

cup

Sugar

1/2

cup

Light Brown Sugar

1

Egg

1

tablespoon

Vanilla Extract

1/2

teaspoon

Orange Exxtract

1 1/2

cup

+ 1/8 cup All Purpose Flour

1

teaspoon

Corn Starch

1/2

teaspoon

Salt

1/2

teaspoon

Baking Powder

1/4

teaspoon

Baking Soda

1/2

cup

Pecans

chopped

3/4

cup

Carob Chips

Orange Zest

to taste
Instructions
Preheat your oven to 350 degrees F.  Using an electric mixer, beat together butter and both sugars until evenly blended.

Add egg, vanilla, and orange extract to butter mixture, blend until smooth.

Add cornstarch, salt, baking powder, and baking soda and blend lightly until evenly mixed.

Next, add your flour in small portions, and blend until even.  Do not overmix!

Gently stir in carob chips and pecans.

Using a scoop, drop heaping spoonfuls onto your cookie sheet.  Sprinkle with orange zest.

Bake at 350 degrees F for 9-11 minutes, or until edges are golden brown.

Allow to cool before serving.  Bon Appetit!
Now for what occasion are you going to make these cookies? Tell us in the comments below!
Let's Stay Friends!
Insta | Pinterest | Enews | TikTok