I'm going to go out on a limb here and make a very bold statement regarding cookies.
Now, I know a lot of people think that white chocolate macadamia nut cookies are the best. But, I'm here today to tell you that there's something better.
That something better is these oh-so-soft & chewy white chocolate rosewater cookies.
They're a sort of cousin to the white chocolate macadamia nut cookie. Like their less fabulous cousin, these cookies are still supremely soft and melt in your mouth chewy. They still have big luscious chunks of sweet and creamy white chocolate along with a nut component for crunch (hello almonds!). But, where they differ is the addition of rosewater which adds a delightful floral note to the sometimes too sweet cookies.
They're my new favourite and they're HEAVEN. You must make them!
Here are a few suggestions for when you might want to make these cookies:
Now. Let's be honest, you're never going to stick to that new year's resolution to not eat sweets, so might as well cave now.
Valentine's day! Combine her flowers and chocolate all in one this year!
Your next girls night. Cookies and gossip basically go hand-in-hand.
A baby shower
A bridal shower
A Tuesday night
Really, the possibilities are endless.
This recipe is inspired by a chocolate chip cookie recipe by Anna Olson. It's an amazing recipe that uses cornstarch to make a delicious texture of cookie.
So, without further ado here's how to make them: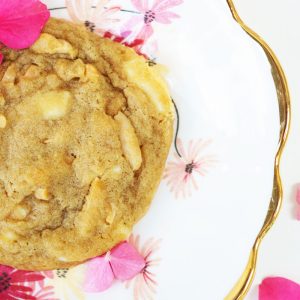 Soft & Chewy White Chocolate Rosewater Cookies
Love Rosewater?  Then you must taste these White Chocolate & Rosewater Cookies that are oh, so soft and chewy!
Ingredients
1/2

cup

Unsalted Butter

softened

1/2

cup

Light Brown Sugar

packed

1/3

cup

White Sugar

1

Egg

room temp.

1/2

teaspoon

Vanilla Extract

2

tablespoons

Rosewater

1 1/4

cup

All Purpose Flour

2

tablespoons

Corn Starch

1/2

teaspoon

Baking soda

1/2

teaspoon

Salt

1/2

cup

Slivered Almonds

1/2

cup

White Chocolate

chopped
Instructions
Preheat oven to 350 degrees F and line two baking trays with parchment paper.

Cream the butter and sugars together until fluffy using the paddle attachment in a mixer.

Scrape bowl and then beat in the egg, vanilla and rosewater.  Mixing until just combined.

In a separate bowl, combine the flour, cornstarch, baking soda and salt.

Add the flour mixture to the butter mixture and mix until the dough comes together.

Add the almonds and chopped white chocolate and mix until just combined.

Using a 2" scoop, scoop up some dough, level the top of the scoop and then place on your lined baking tray.  Leave about 1.5" between scoops.

Bake for about 8-9 minutes, or until the cookies are a golden brown on the bottom.

Transfer to a wire rack to cool.
They're just as easy to make as, say, white chocolate macadamia nut cookies, but the subtle rosewater flavour just gives them something a little special. You don't typically see rosewater in cookies, so it's a pleasant floral surprise when you bite into the perfectly soft and chewy cookie 🙂
What do you think of these cookies? Are you a rosewater lover like me?
Let me know!
xo, Tess.
Follow Me at
Angean Blog | Facebook | Twitter | Instagram | Pinterest