If I had a favorite recipe of all time, this may be it. This recipe I learned while I was studying to become a yoga instructor and it's stuck with me ever since! It's the perfect everyday recipe.
This is a beverage you drink after class and it's something you can have in place of coffee. Best of all it has that spicy, warm, wintery flavor that I love so much. In fact, I love it so much I made it into Buttercream Frosting here and Chocolate Truffles here.
The reason I wanted to share this reciep with you is that I've seen it created a billion different ways. So here is how we learned to make it through it's roots in yoga and ayurveda and here's why everyone should get excited about Homemade Yogi Tea!
About the Ingredients
The ingredients are simple: Cardamom, Ginger, Clove, Black Pepper, and Cinnamon. At the end you will add a couple of black tea bags and then it is served with honey and your choice of milk or non-dairy.
First of all, be sure to use the ingredients in their whole form. You will need cinnamon sticks, whole cardamom, and whole black peppercorns. You will see a lot of variation in quality and price of these ingredients. You could go to a fancy spice shop or you could get them all for super cheap if you have an Indian Grocery in your area.
If this tea is for everyday drinking, you may want to stick to Amazon or an Indian Grocery since you will blow through so many spices in such a short time!
What's amazing about these ingredients is that they are very healthy. We we're taught in yoga that cinnamon is good for the bones, ginger is good for the immune system, cloves are good for the colon, pepper is good for the blood, and cardamom is good for the nervous system. Of course, all of the health benefits are from a yogic perspective.
Tips on Making Yogi Tea
If you want to make fabulously delicious and warm yogi tea here are a few tips.
First, since all your spices are dry except for the ginger, add the ginger about halfway through cooking time. That will keep a lot more of it's powerful punchy spice!
Next, and this is the most important thing, taste the tea when you are about 10 minutes away from being finished. Your spices will vary in flavor and kick. So it's best to taste it every time and see what you need to add to make it feel finished.
Last, use nice honey. Local honey or wildflower honey will make all the difference. With these gorgeous spices don't limit them with regular store bought honey!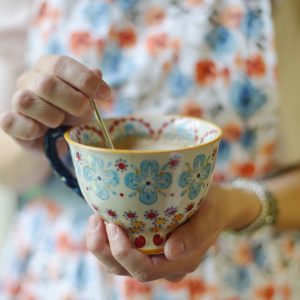 Traditional Yogi Tea Recipe (Easy Homemade Chai Tea)
This delicious yogi tea is a perfect spin on chai tea.  It's healthy, warming, and easy to make.
Ingredients
10

cups

Water

15

thin Ginger Slices

24

Whole Cloves

32

Green Cardamom Pods

32

Black Peppercorns

4

Cinnamon Sticks

2

Black Tea Bags

Splash of Milk or Non-Dairy

for serving

Dollop of Honey

for serving
Instructions
Add water to a large stock pot and bring to a boil.

Add your cloves, cardamom, peppercorns, and cinnamon.

After 15 minutes, or so, add ginger.

Let brew for about 5-10 more minutes, taste your tea and add additional spices as desired.

Brew an additional 30 minutes and then remove from heat and add black tea bags.

Serve hot with milk and honey.

Store any leftovers in the fridge for up to one week.  To serve, reheat on the stove until steaming.
So what do you think about yogi tea? Do you have a different yogi tea or chai tea recipe that you would like to share with us? Please tell us in the comments! And if you can't get enough chai spice here are a few recipes to try! We made DIY Chai Tea Scented Sachets here. We also have Chai Tea Chocolate Truffles here. And here is a totally delicious Chai Tea Buttercream Frosting Recipe!
Let's Stay Friends!
Insta | Pinterest | Enews | TikTok