This blog is the Part 2 of 2 tutorials for the June Craft in Style Subscription Box. You can find the additional tutorial for May, previous box tutorials, more about this box, and other Craft in Style Boxes here.
Making an arm knit pouf pillow wasn't enough for me. Once I got started, I wanted to make more and more! Especially because
knitting and crochet can be so similar – it's a good time to learn both skills.
If you are just getting started with crochet, here's an easy and fun way to get started.
The best crochet projects for beginners are should be small – so that you can finish them in a reasonable amount of time. They should have simple patterns so that you can focus on learning to crochet. And I personally like projects that are useful.
These coasters are absorbent, cute, giftable, and the perfect way to get started with crochet. Plus there are so many different styles to choose from!
Watch These Before You Get Started
More Easy Stitches
+++
Flat Circle Coaster Tutorial
How great is Toni? All of her tutorials are thorough and helpful which is why I recommend them. Please note the use of "magic circle" in this tutorial. A magic circle is very similar to a slip knot, but not the same.
A slip knot is tightened by pulling on the working end of the yarn.
A magic circle is tightened by pulling on the tail end.
I hope this helps you as you learn to crochet! And the next tutorial below shows you a slightly different way to make a magic circle.
Flat Circle Coaster Tutorial
Both of these tutorials use the term "double crochet" which is something that you will hear a lot while learning to crochet. If you start to read patterns, you will see this written as dc and single crochet as sc. Here is a video that shows you just the double crochet and explains why you use it in a bit of detail.
But I think following along with just one video is best. When I start watching additional videos to learn a new stitch, I end up more confused.
Whatever you choose, give yourself a bit of time to learn these stitches. These are skills that can last a lifetime!
Simple Flower Crochet Coaster Video Tutorial
Bella Coco is my personal favorite crochet pattern creator because her style and language is effortless! Her teaching style makes this the easiest tutorial in this collection – so if the first few seem daunting, try this one.
In general if you find that you are struggling with a pattern try this:
1. Make sure you are working along with the video so you are doing each step at the same time as the video.
2. Pause and replay parts of the video if anything gets confusing.
3. If you have any questions, read the comments below the video to see if that question has been answered. If not, write out
your question as a video comment.
4. If you are still not having any luck with a particular pattern, try one that is wildly different and from a different content creator so you can try crochet without using the exact same patterns or stitches.
Crochet Daisy Flower Coaster
Now this is getting fun! This tutorial moves a bit faster than the first few. But she does create the magic circle in the same way as the Flat Circle Coaster Tutorial if you want to watch the flat circle tutorial there.
Also here's a helpful Youtube tip. In the lower right side underneath the video you will see the closed captioning options. Next to that there is a gear icon. If you click the gear icon then click playback speed, you can slow down the video or even speed up the video!
This is perfect for people that want to move faster or slower than the video instructions. Just be sure to reduce the sound so you don't hear chipmunks or the slowed down chopped and screwed version of the audio!
With this tutorial, you could also use white and yellow to make a fried egg coaster!
Boho Coaster Crochet Tutorial
How stylish is this coaster?!?
Now one thing you may be asking yourself is what yarn size goes with which crochet hook? You don't have to follow this chart precisely, but here's a good way to determine just that!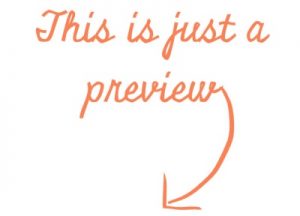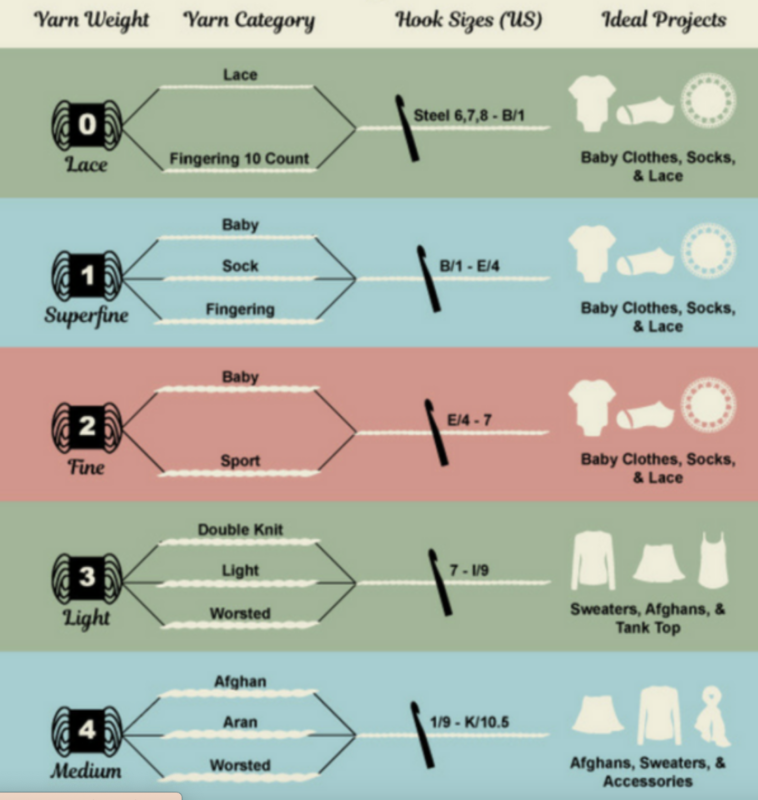 Click here to check out the full blog tutorial. It's a wildly helpful tutorial from All Free Crochet Blog. Most tutorials are customizable. Meaning you can use larger hooks with larger yarns to make coasters. Or you can use thinner hooks with thinner yarn to make coasters. It just means that the finished size of the coaster may differ.
Heart Shaped Crochet Coaster Tutorial
Do you love hearts? Then this coaster tutorial is so much fun! This is another tutorial from Bella Coco so you know I love it. As you watch these tutorials or even just look at a few seconds to see which tutorial is right for you, are you starting to feel more comfortable with these patterns?
It takes time, but repetition is the best way to learn crochet!
Crochet Hexagon Coaster Video Tutorial
If you are looking for a different shape – this is a great one! It uses all the same stitches that you have used before, but creates a different shape.
Crochet Lace Doily Coaster Tutorial
This coaster looks like a flower or like a doily that you would find at your grandmother's house. This is another tutorial that's a bit more quick paced. But again, remember that if you want to slow down the video, you can click the gear icon in the lower right underneath the video. Then click playback speed.
Crochet Cottage Mug Rug Tutorial
Our very first square coaster tutorial! This is another tutorial that only uses a few stitches that are repeated across the entire mug rug. That alone makes this a very beginner friendly tutorial. Another thing I love about this tutorial is the vocal explanation. It's clear and easy to understand.
If you think these squares are cuter than the round, you are going to love this tutorial!
Crochet Evil Eye Coaster
What's cuter than an evil eye coaster? This is a great example of how you can use color to change the entire style and meaning of these coasters – just like what I was mentioning about the daisy coaster tutorial – that it could also work as a fried egg coaster.
Sometimes color will mean so much.
This tutorial is more advanced, but you could watch this and the flat circle coaster tutorial and blend them to create the evil eye in a much more beginner friendly way.
Crochet Seaside Mug Rug DIY Tutorial
Seaside is the description that Desert Blossom Crafts uses to describe this pattern. But to me this looks like a macrame wall hanging! Even though this pattern is a bit more detailed, this is a very easy pattern to follow and even has a written tutorial that you can follow if you want extra support.
So which one is your favorite? Which one will you make? Tell us in the comments and happy crafting!
Let's Stay Friends!
Insta | Pinterest | Enews | TikTok