Now that we *should* all be sorted with Christmas shopping, it's finally time to start wrapping! To me wrapping presents while listening to the best Christmas playlists is up there between my favourite things to do in the festive season, almost comparable to baking Christmas biscuits!
I have a real dedication and care to beautiful artistic wrapping, trying to always come up with different ideas each year to decorate my presents with ornaments, bows and also fresh pine springs or other natural elements.
Today I'm sharing three fun but super simple DIY wrapping ideas in case you need some inspiration to get creative with your wrapping this year!
DIY Gold Polka Dots Wrapping Paper
Materials:
– Plain green (or dark) wrapping paper
– Gold stamp ink pad
– Pencil with eraser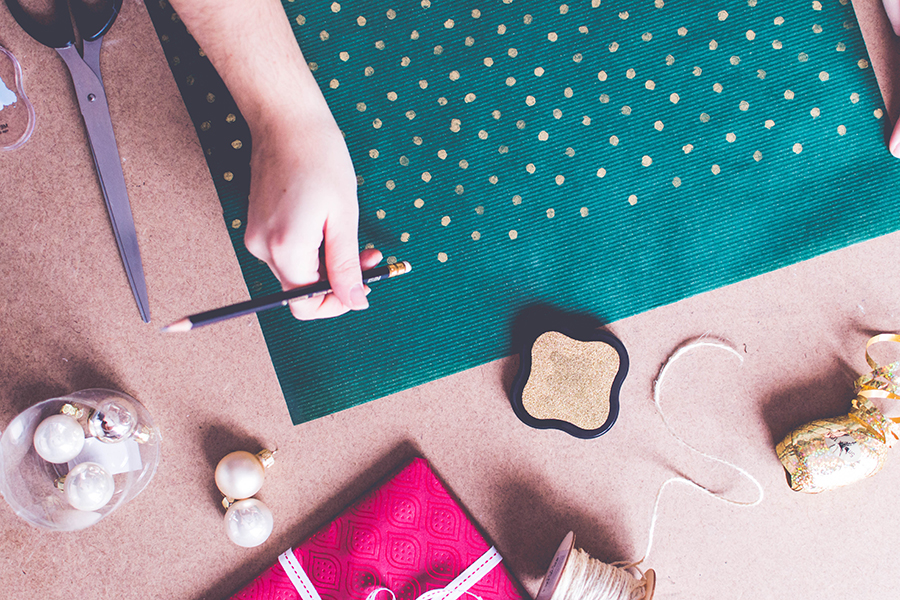 This is such a simple but fun project to do (also with children if you fancy) that makes spicing up your plain wrapping paper so interesting!
All there's to do is take a pencil with the eraser on the top and use an eraser to create perfectly round polka dots with your gold ink pad. Let it dry for at least 30 minutes before wrapping your presents in your 100% custom wrapping paper and decorate with a matching gold ribbon and the addition of a tiny gold bauble.
DIY Dried Orange Ribbon
Materials:
– 2-3 Dried Orange Slices
– Subtle kraft wrapping paper
– White twine
I have recently explained how I dry orange slices in this post, but you can also buy some ready-made ones if you are running out of time. This idea involves adding a touch of winter scented dried fruit to your wrapping by simply threading a couple of orange slices with a white thick twine and wrap it around your present a couple of times.
For this option I've picked some subtle kraft-like wrapping paper to make the orange slices pop against it!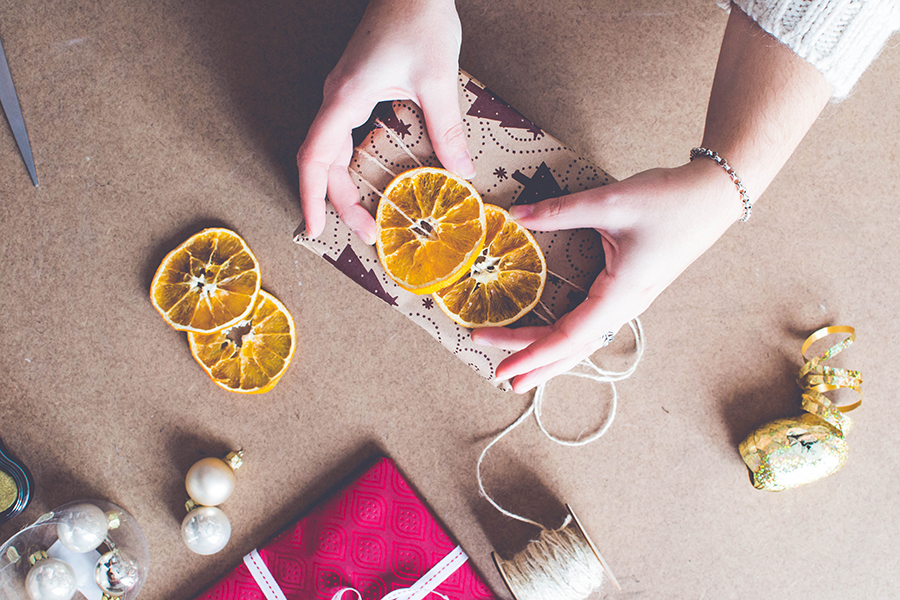 DIY Glittery Snow Tape
Materials:
– Kraft wrapping paper
– Clear tape
– Faux glittery snow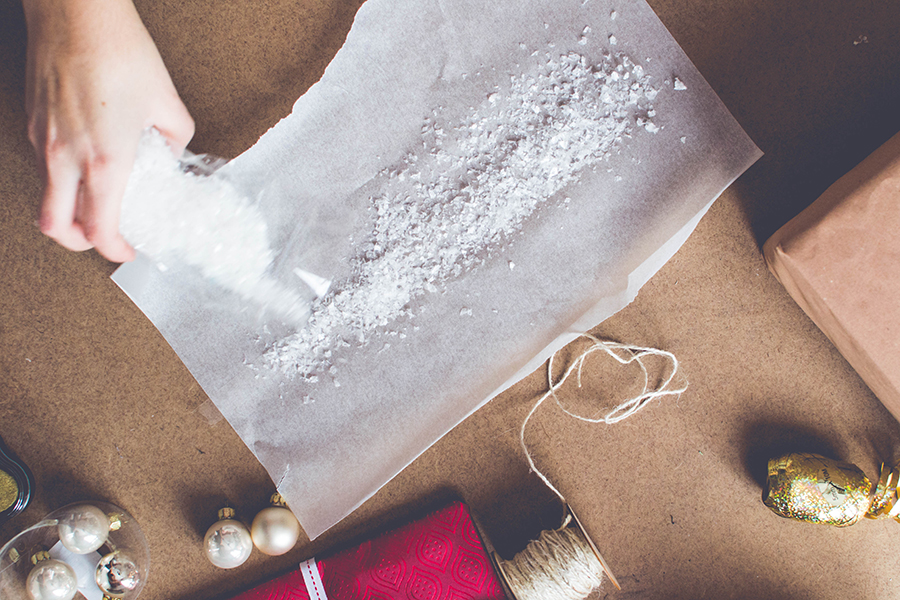 Take a long piece of clear tape and lay it down with the sticky side on top. Then sprinkle a good amount of faux glittery snow on top, taking care not to cover a couple of centimeters of tape from the borders on both sides. Remove the excess faux snow and use your tape to decorate the front of your wrapped present.
Again, I used plain kraft paper here to make the glittery snow tape pop against it and I added a touch of gold ribbon around it. This is such a quick and simple idea if you only have a limited amount of materials and need to make your wrapping interesting.
Can also be made with any kind of glittery powder or tiny paper confetti.
Get More Lifestyle & Design Yumminess from Giada
Miel Cafe Blog | Miel Café Design | Twitter | Instagram | Bloglovin | Pinterest

Let's Stay Friends!
Insta | Pinterest | Enews | TikTok