Let's get party perfect with these easy diy cocktail stirrers! You can make so many things into swizzle sticks and match the mood and theme to any occasion.
I created 5 that I just absolutely love. I hope this shows you how versatile you can be with this diy! You can change it for a specific color palette – like for a wedding. And you can use this to suit the party's style. I was inspired by a couple of summery cocktail recipes that were just begging for a cute accoutrement. One was our Pink Garden Cocktail. I was just daydreaming a Rosemary Sprig Stirrer like the one you can find here. The other was our ImPeachment Cocktail which we photographed with our Leather Cocktail Stirrers DIY.
The 5 Party Perfect DIY Cocktail Stirrers we'll make are:
Modern Leather Flags
Agate Crystal Topped
Rosemary Sprig Topped
Ribbon Knot Embellished
& Geometric Paper Drink Stirrers
---
Here are the supplies that I used:
Leather Cocktail Stirrers
These leather drink stirrers are so modern and masculine. They are perfect for a whiskey cocktail and I just love the combination of tan and black leather. For these you can use any color leather. You could even alter the shape! We went into
this diy more in depth here
.
As an overview, carefully and slowly trim the leather. Go across your edge several times to trim down the fine and loose hairs of leather that form along the edges. Cutting the leather slowly is the trick of how to make these leather cocktail stirrers look fabulous.
Use hot glue to attach the leather to a wooden skewer. And voila! Two Tone Leather Swizzle Sticks.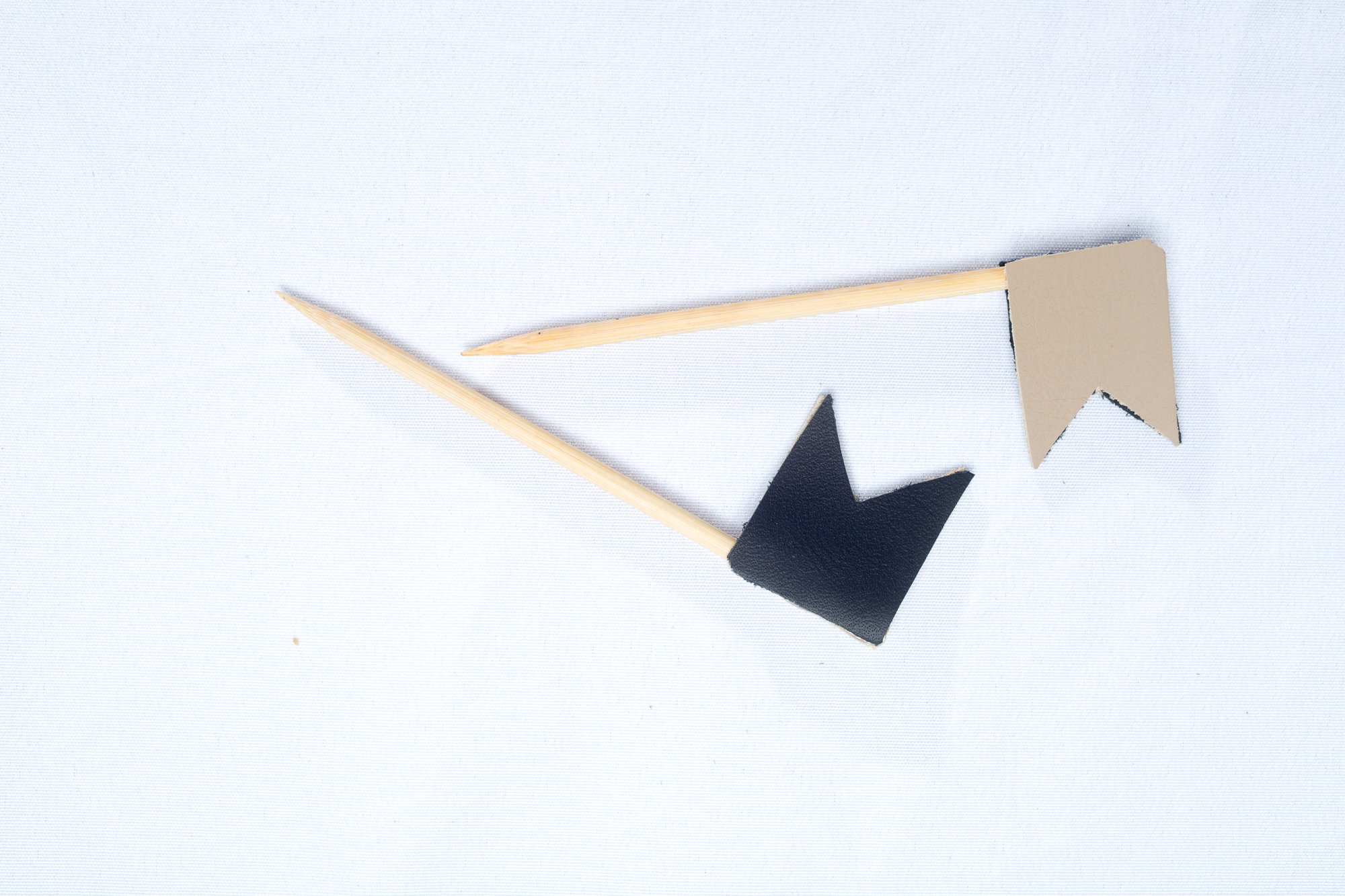 Crystal Cocktail Stirrers
Here is another swizzle stick that just requires a hot glue gun! These crystal cocktail stirrers are so gorgeous and perfect for a brunch or a wedding. We used agate slices but you could use any kind of crystal as long as it's not too heavy to weigh down your swizzle stick too much.
Add a strip of hot glue to your skewer itself like the photo above. Gently press and hold the crystal in place. Hot glue is easy to work with so you can always peel the crystals off the hot glue after your brunch or party and reuse the crystals.
Viola Crystal Topped Party Supplies!
Rosemary Sprig Cocktail Stirrers
This diy is perfect for spring and perfect for a garden party. You can use any herb but the sturdier herbs like rosemary stand up well and look the best.
All you need is a thin piece of wire. We used bead wire but you could use something from the hardware store or floral wire. The trick is you want something that is going to be discreet and show off the herbs.
Carefully wrap the sprig of rosemary to the skewer with your wire. Be sure to tuck the ends inward to prevent anyone from being poked!
Viola Rosemary Topped Swizzle Sticks!
Ribbon Cocktail Stirrers
These ribbon cocktail stirrers are super simple and so fun! We chose green to make a cool color palette that worked with the rosemary sprigs and crystals but you could chose any color! And any thickness of ribbon too. All you need to do is cut a section of ribbon, make a loose knot. Once your knot is ready slip the swizzle stick through the ribbon and tighten the knot.
You may want to trim the edges of the ribbon to make them just perfect.
And voila – Ribbon Swizzle Sticks!
Geometric Paper Cocktail Stirrers
This last drink stirrer diy has the most simple materials and can also be the most creative. You could actually make any shape. Need some eye candy inspiration? How about these pineapples, cacti drink stirrers, or paper clouds with raindrops.
We cut ours into diamond shapes to match the style of the other swizzle sticks.
When you cut out your shape, be sure to cut two and create a front and a back. We're using hot glue again to attach the paper to the swizzle stick.
Viola – Geometric Party Perfect Barware!
Now how about a drink to put these swizzle sticks in?

Let's Stay Friends!
Insta | Pinterest | Enews | TikTok