This blog is the 4th part of the September 2019 Craft in Style Subscription Box. The other parts can be found here. Part 1: How to Blend Essential Oils Part 2: Make Your Own Vegan Leather Travel Pouch Part 3: The Basics of Melt and Pour Soaps
You can also buy the Soap Making Kit as a standalone kit, now that the Craft in Style box has passed!
If you are ready to make your own melt and pour soaps, here's a collection of gorgeous soap recipe ideas! These recipes include adding essential oils, moisturizers, oats, sea salt and more! These will make great gifts and are oh so fun to make too.
For any recipe, add 1/2 teaspoon of your add in to fill an 8 to 12 ounce soap mold. Regardless of whether it's liquid or a dry add in, 1/2 teaspoon is the perfect amount to ensure that your soap solidifies perfectly. For different size soap molds, check out our more in depth recipe blending instructions here.
Plain & Simple Soap
Use a simple glycerin, goats milk, or olive oil soap base. Melt using the instructions you can find here and pour into your mold. This gentle soap is scent free and lovely. If you like, add a touch of coconut oil for moisture. Be sure with any liquids, and with your average soap mold, that you add around 1/2 teaspoon or less.
Oat Scrub Soap
Looking for a soap that's healing, gentle and has a rough texture to scrub away dead skin? This oat scrub soap recipe is perfect! Just add 1/2 teaspoon of oats to 8 – 12 ounces of your goats milk soap base and mix in thoroughly before pouring into the molds.
Morning Sun Soap
Love an invigorating, wake-you-up clean feeling? Add 1/2 teaspoon citrus peel to any soap base in addition to a few drops of citrus essential oil. It's sunny, fruity, and fun! This soap is perfect to keep in a kitchen and makes a great housewarming gift.
Floral Salt Soap
This recipe is inspired by our Pink Rose Salt Soak DIY here. The mineral content of salt helps to restore the protective barrier in the skin and helps to maintain hydration. To make it, add 1/2 teaspoon or less to your goats milk soap base. Then either add a few drops of floral essential oils or a few flower buds to complete this gorgeous recipe.
Fresh Herb Soap
Fresh herbs are a gorgeous addition to soap! Add a few sprigs of chives, mint, or 1/2 teaspoon of dried rosemary to your glycerin soap base. I would also add just a few drops of any herb essential oil like eucalyptus, sage, or peppermint. Using the clear glycerin soap base is perfect so you can see all the herbs inside!
Lavender Soap
Who doesn't love lavender? This soap will help you relax and is perfect for a nighttime bath. To make it, just add 1/2 teaspoon of lavender buds to your goats milk soap base. You can additional add a few drops of lavender essential oil to mix as well.
Floral Bouquet Soap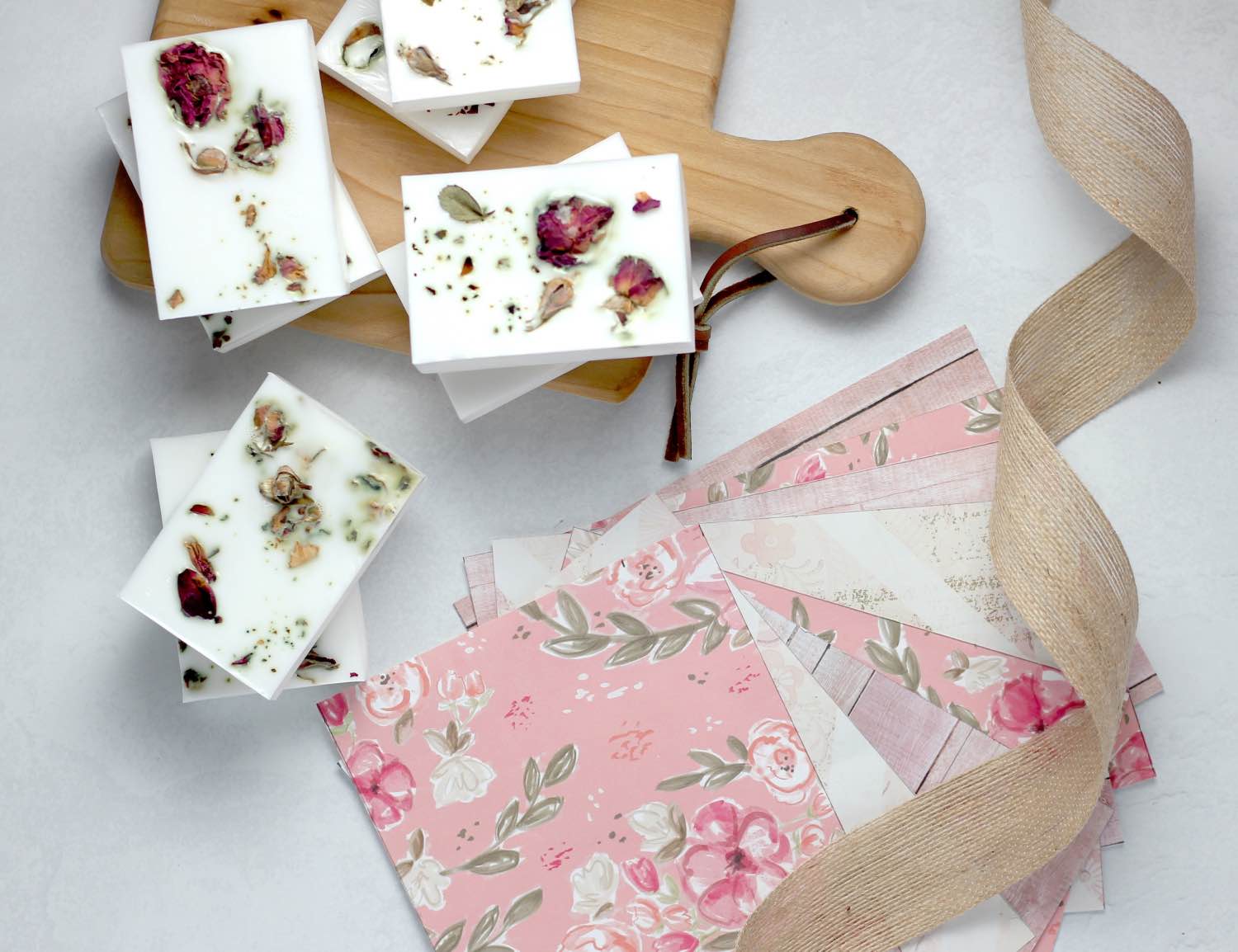 This is an everything and the kitchen sink kind of recipe! Add any dried flowers and any floral essential oils to your soap base. Remember that it needs to be less than 1/2 teaspoon! And that's 1/2 teaspoon total among all of your ingredients. Geranium, ylang ylang, chamomile, and rose are all great additions. I recommend a goats milk soap base to create that gorgeous white color.
So which soap are you going to make? Tell us in the comments! And if you love these recipes, don't miss out on the Soap Making Kit. It has all the supplies you need to make all of these recipes in addition to lots of other fun items!
And each month of Craft in Style features different projects and different craft supplies, so check out the Craft in Style subscription box too!
Let's Stay Friends!
Insta | Pinterest | Enews | TikTok