Now this is a stay at home comfort meal! These baked apples taste just like apple pie but only have a small amount of sugar and butter making them so much healthier!
I think they are just fabulous for breakfast. And they make the loveliest dessert too!
So let's make them! If you want to go straight to the printable recipe, scroll to the bottom. If you want to learn tips and tricks of how to make these, scroll on.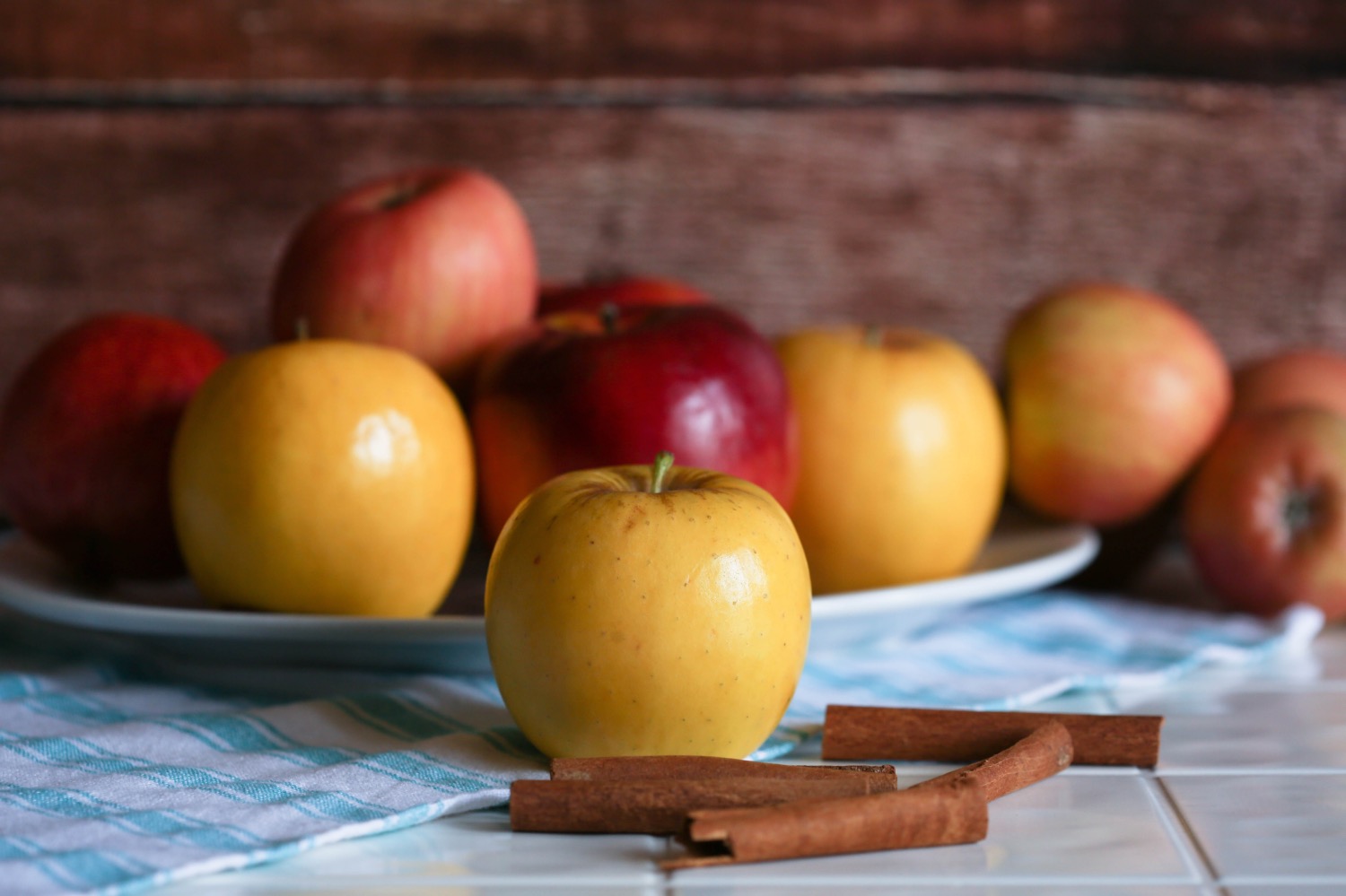 What Apples Should You Use?
Of course this recipe can be made with many different types of apples. I chose Honeycrisp! It's one of my favorites and has such a lovely flavor before and after it's baked.
You could also use Fuji, Pink Lady Apples, or if you want something sweeter a softer apple like Golden Delicious would be incredible.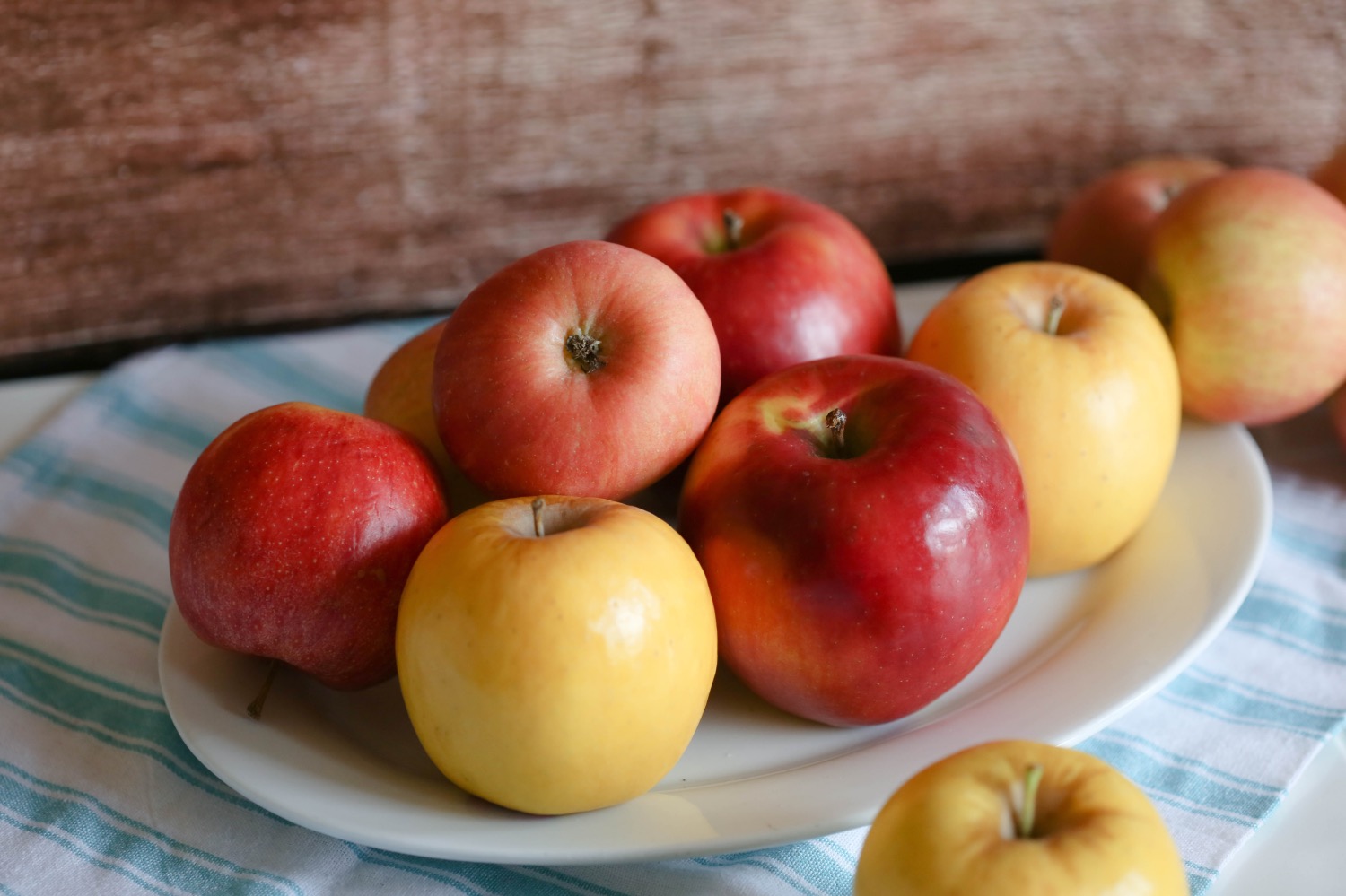 You will want at least 1 apple per person. And this is the type of recipe where you will want extra. That are just that good! Because you are baking them in a normal baking sheet, you can bake up to 12 fairly easily.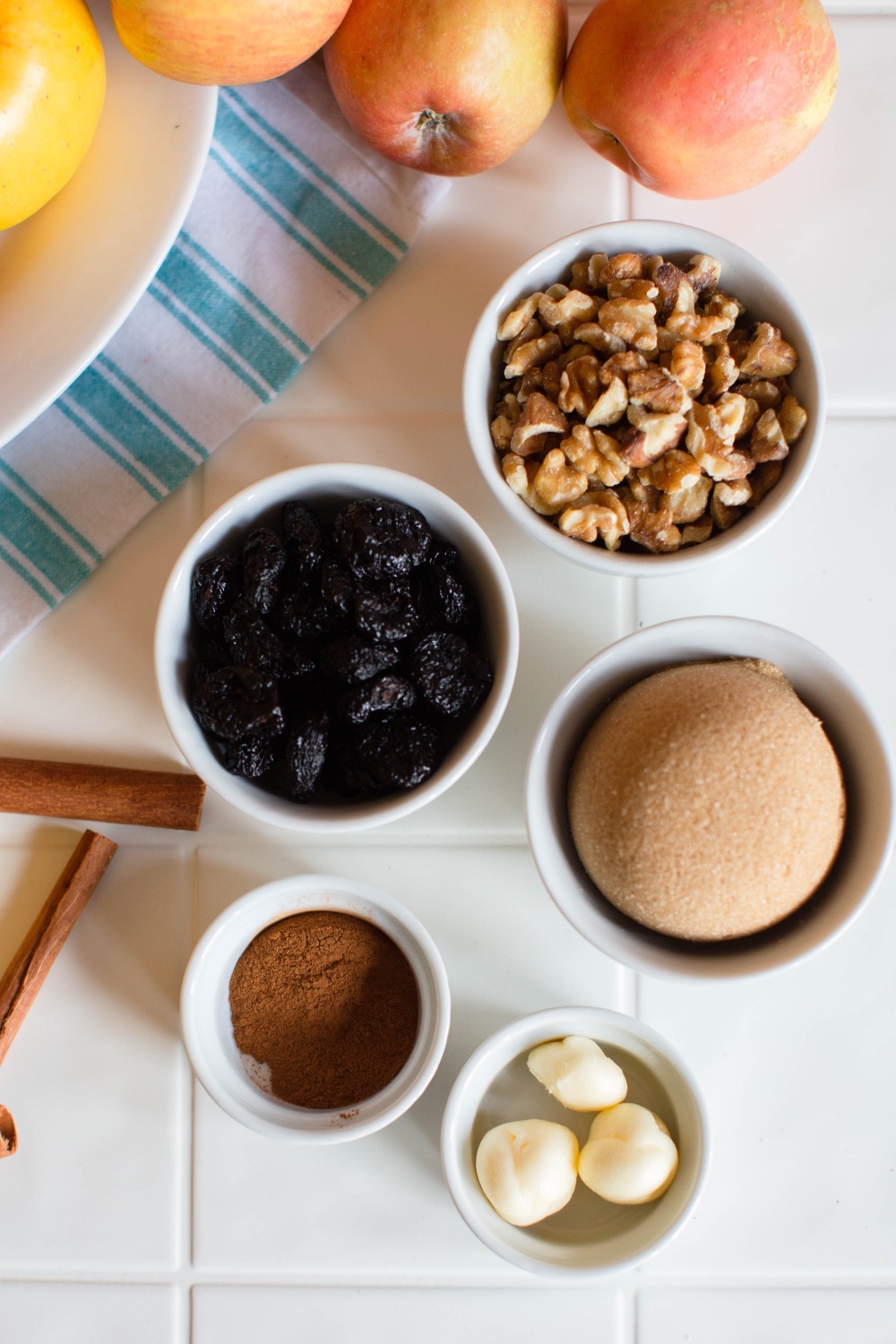 Start by preheating your oven and gathering your filling ingredients. You will need: brown sugar, cinnamon, walnuts, dried cherries, and butter. Then begin to make your filling.
To make the filling, simple toss together the brown sugar, cinnamon, walnuts and dried cherries in a bowl until they are evenly mixed. Be sure that your cherries and walnuts are coated in the sugar and cinnamon.
This recipe was born out of having dried cherries on hand and needing something delicious to make with them, but you could substitute them for another dried fruit that you love!
Next, hollow the apples with a paring knife. Be sure to leave the bottom intact as best you can, so the butter and apple juices will remain contained inside the apple. It will cook better and be so much more moist!
You can leave the peel of the apples on and it will soften just like the rest of the apple.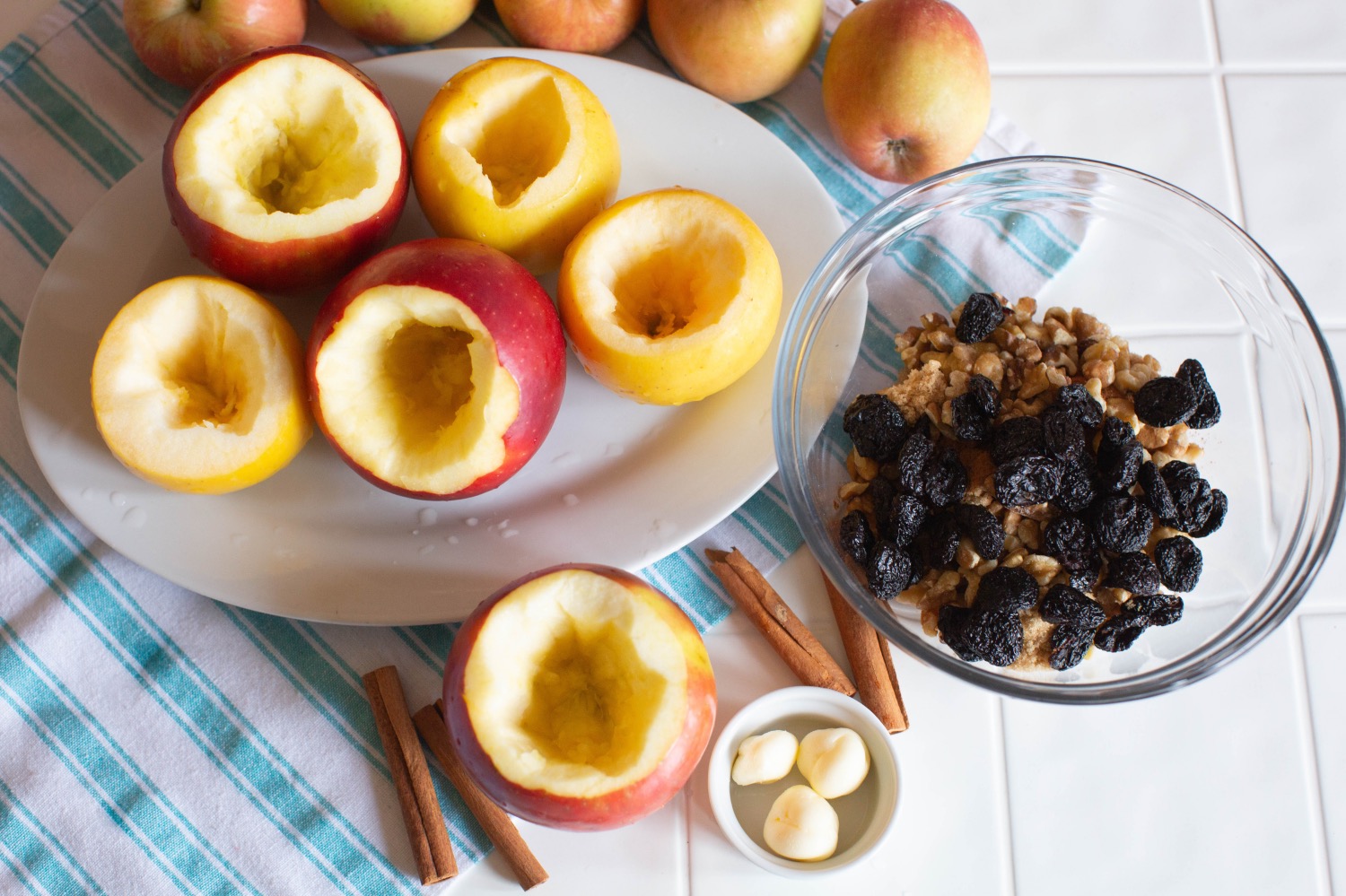 Aren't these hollowed apples just stunning? Now comes the fun part!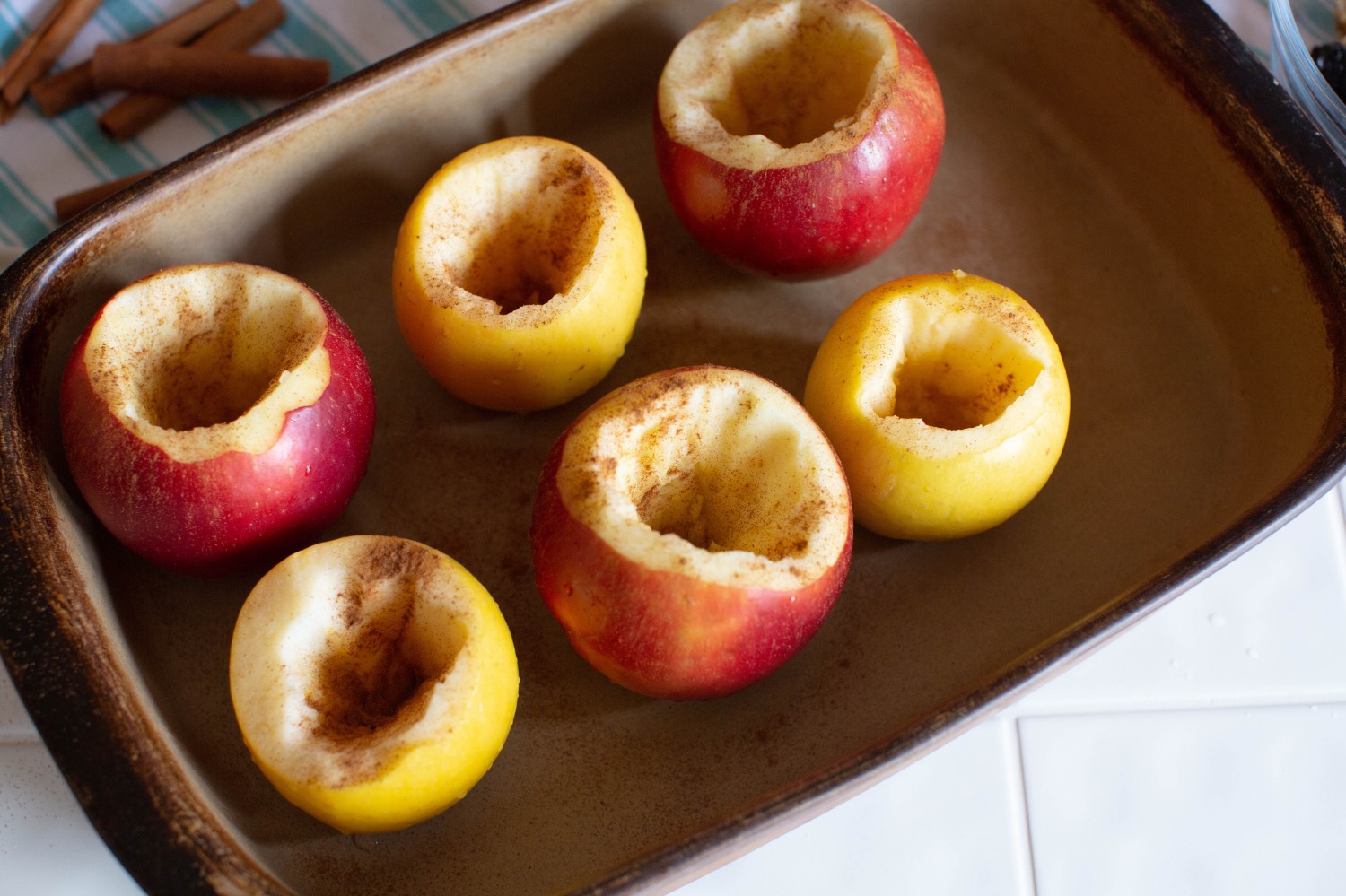 Sprinkle a small amount of cinnamon directly on the apple. It will give it an extra little pop of flavor! Then stuff your apples with your brown sugar and cherry mixture.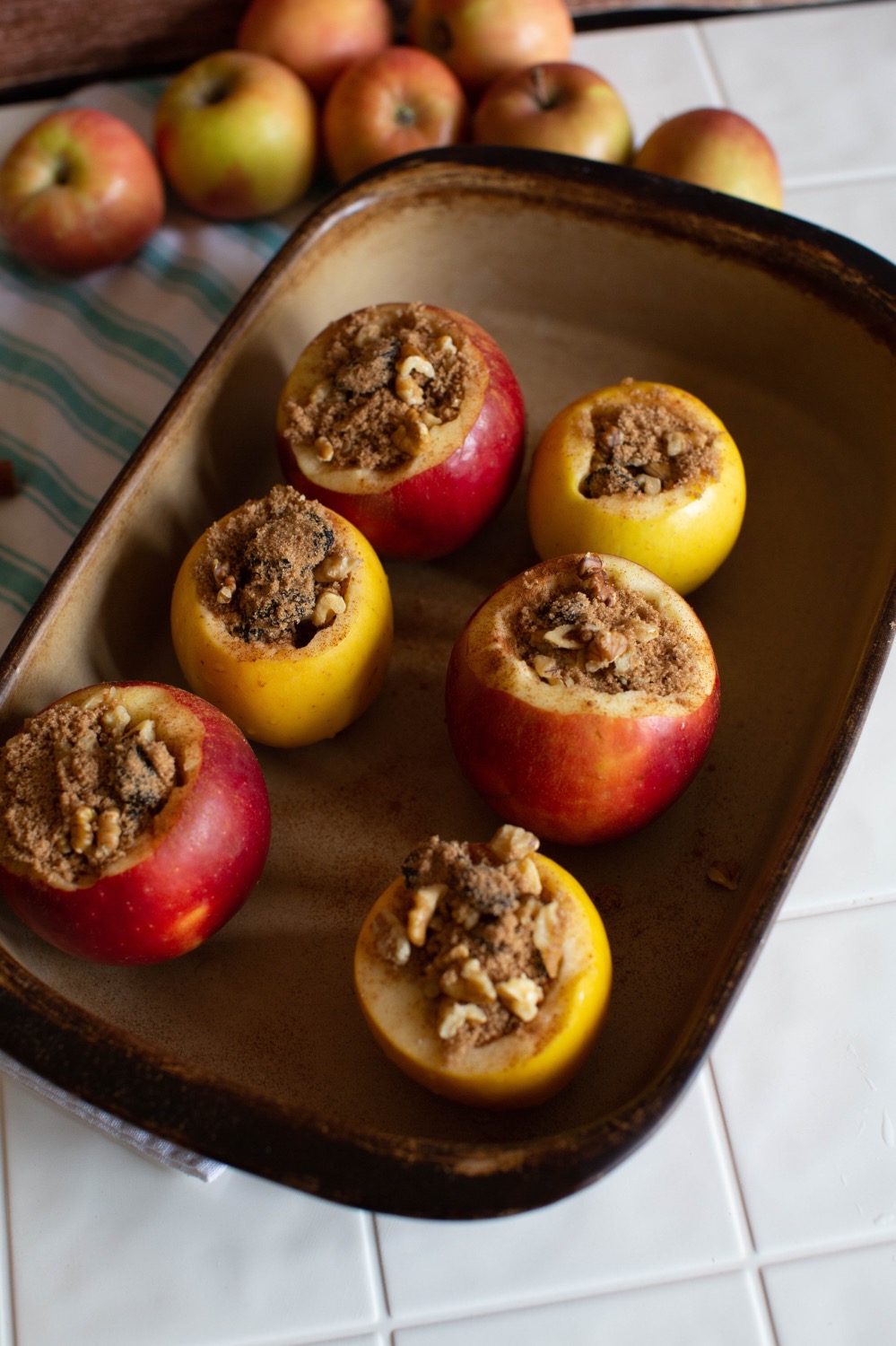 Just layer in the filling until it reaches the top. There's no need to overstuff the apples. Last, add a small amount of butter on top of each apple.
I used about 1/4 to 1/2 tablespoon per apple.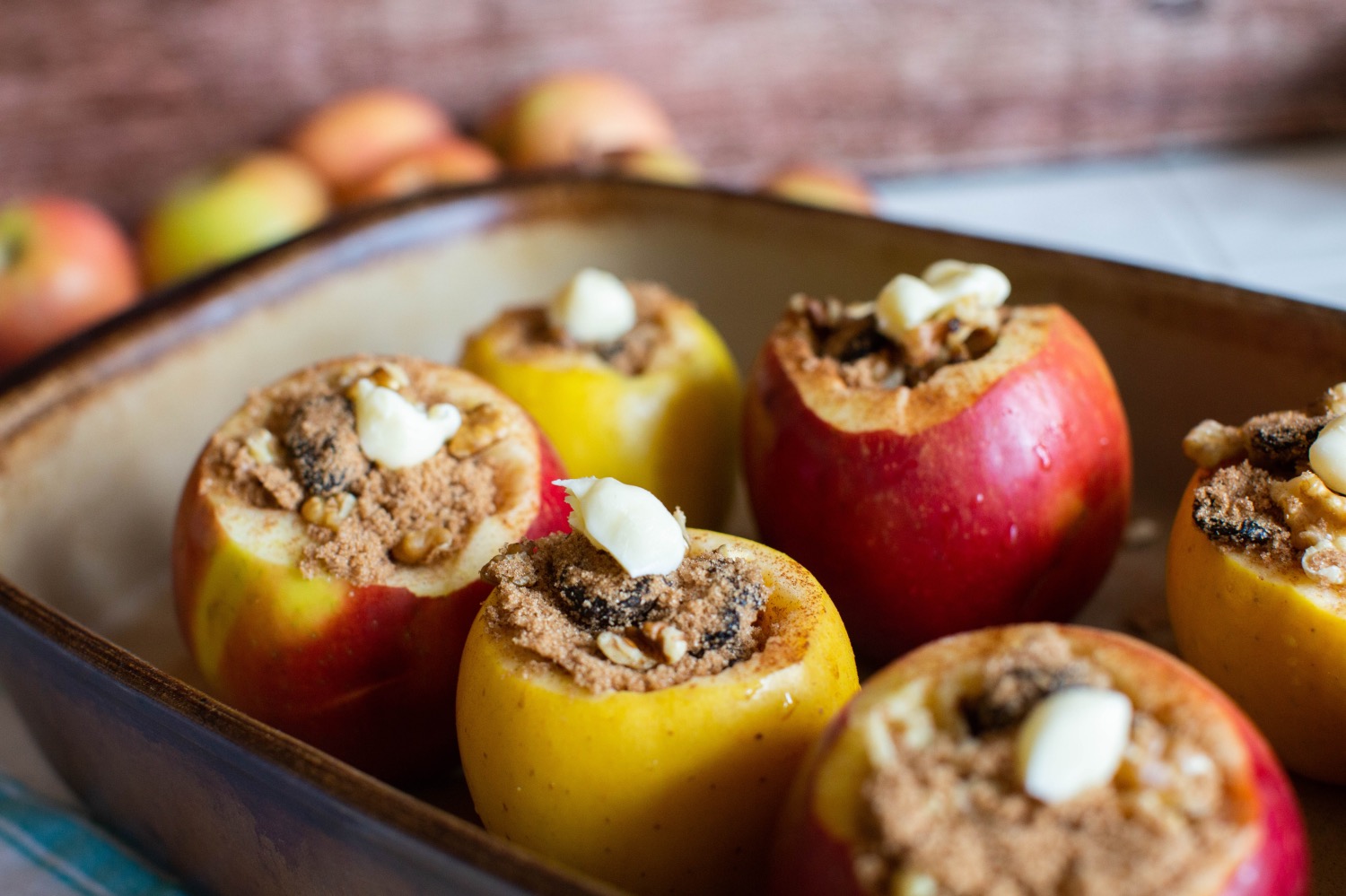 There is just 1 last thing you need to do before baking the apples. Add a small amount of water to the bottom of your baking pan. This will help the apples stay nice and tender as they bake.
Once you pour in the water, they are ready to be baked!
How to Bake Apples
Your baked apples are simple and don't require much attention. It's actually remarkably similar to the way you would bake apple pie!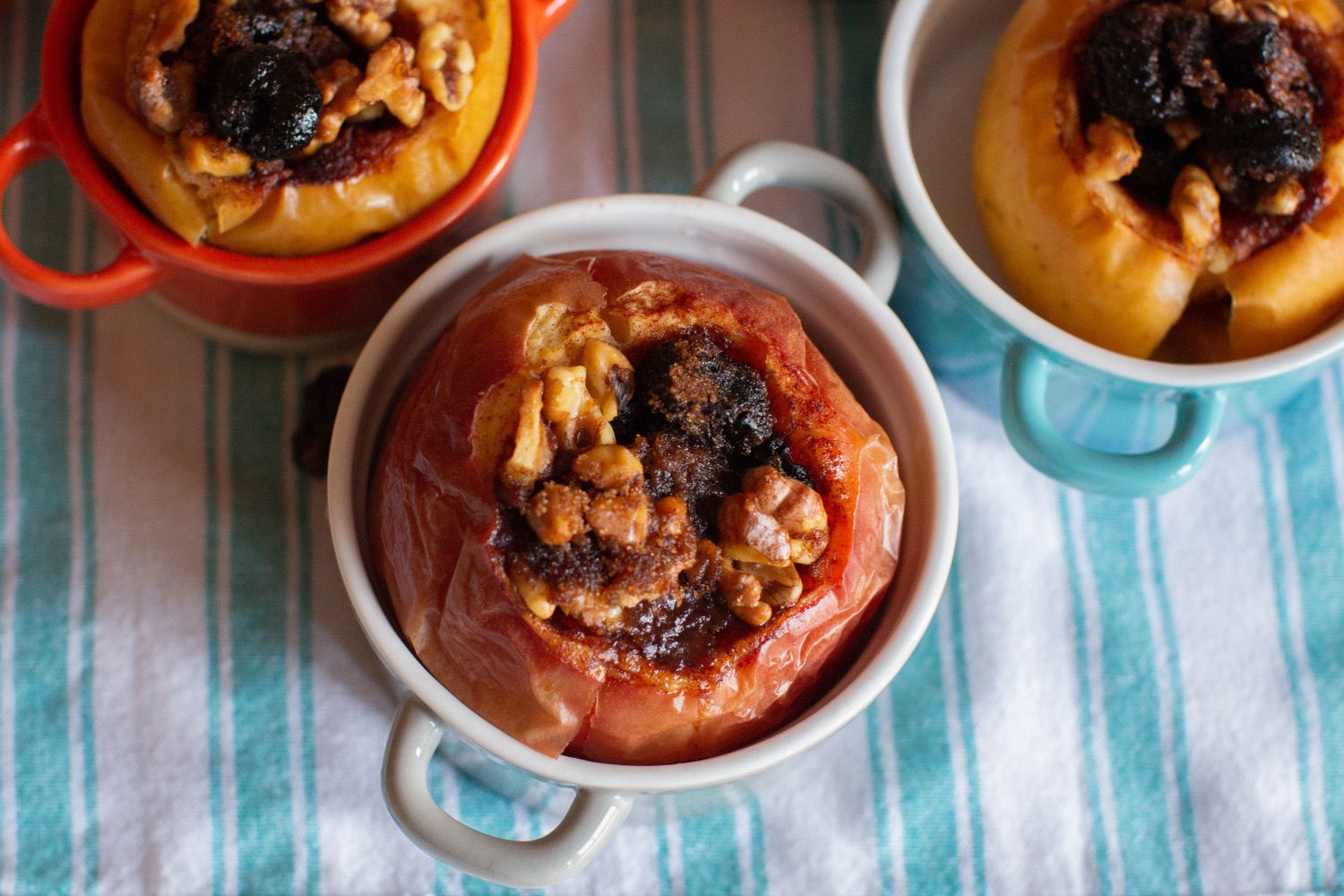 Leave them in the oven for around 30 to 45 minutes. You can poke them with a fork to see when they are done. You will want them to be tender to the touch but still have a bit of crisp as you reach the deeper layers of the apples.
The thing you don't want are a too soft and mushy apple! So whatever you do, don't over bake them.
When I serve them, it's completely on their own without any garnishes or accoutrements. But you could serve them with fresh whipped cream, fresh made frozen yogurt, or your favorite ice cream!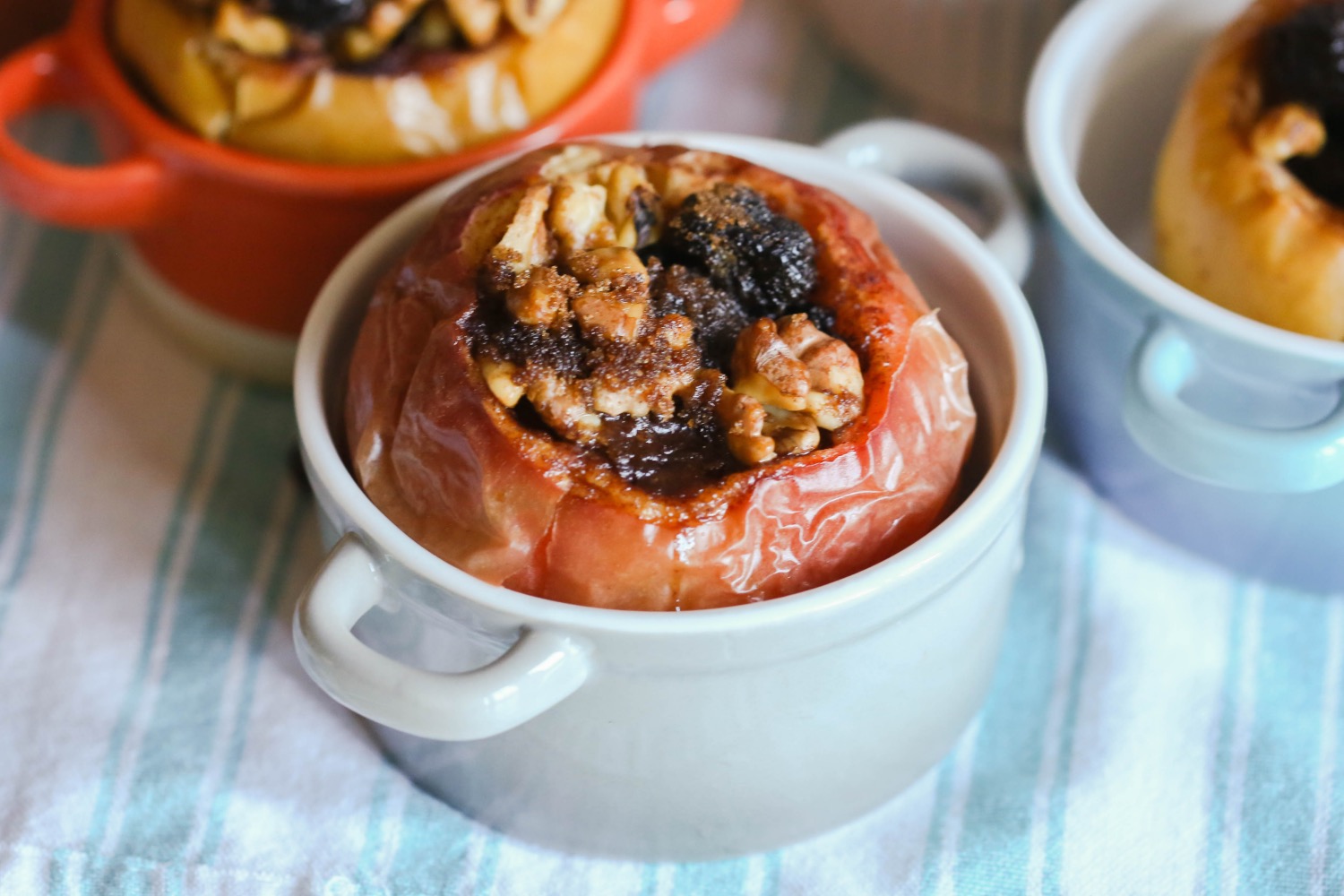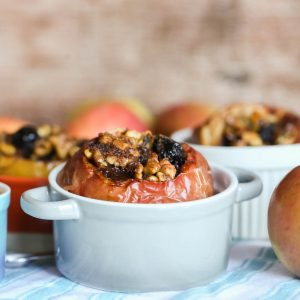 Baked Apples Recipe with Cinnamon, Walnuts & Cherries
This recipe is a simple way to make the most delicious baked apples you've ever had! It includes cinnamon, walnuts, and dried cherries.
Ingredients
Six Large Honeycrisp Apples

1/4

Cup

Brown Sugar

1

Teaspoon

Cinnamon

1/4

Cup

Chopped Walnuts

1/4

Cup

Dried Cherries

1

Tablespoon

Butter

1/4

Cups

Water
Instructions
Preheat the oven to 375°F

Rinse the apples and remove the core and seeds by cutting a hole through the top and into the center with a sharp paring knife. Leave about 1/2 inch of solid apple at the bottom to hold in the juices.

Place apples in baking dish.

In medium sized bowl, combine brown sugar, cinnamon, walnuts and cherries. Mix until evenly blended.

Sprinkle cinnamon in the apples.

With a spoon, fill the apples with the brown sugar and cherry mixture. Fill each apple to the top.

Add a 1/4 to 1/2 tablespoon of butter to the top of the filling in each apple.

Add 1/4 water to the baking dish to help keep the apples moist during baking.

Bake for 30-45 minutes. Apples should be soft enough to poke with a fork but not

mushy.

Serve solo or with whipped cream or vanilla ice cream.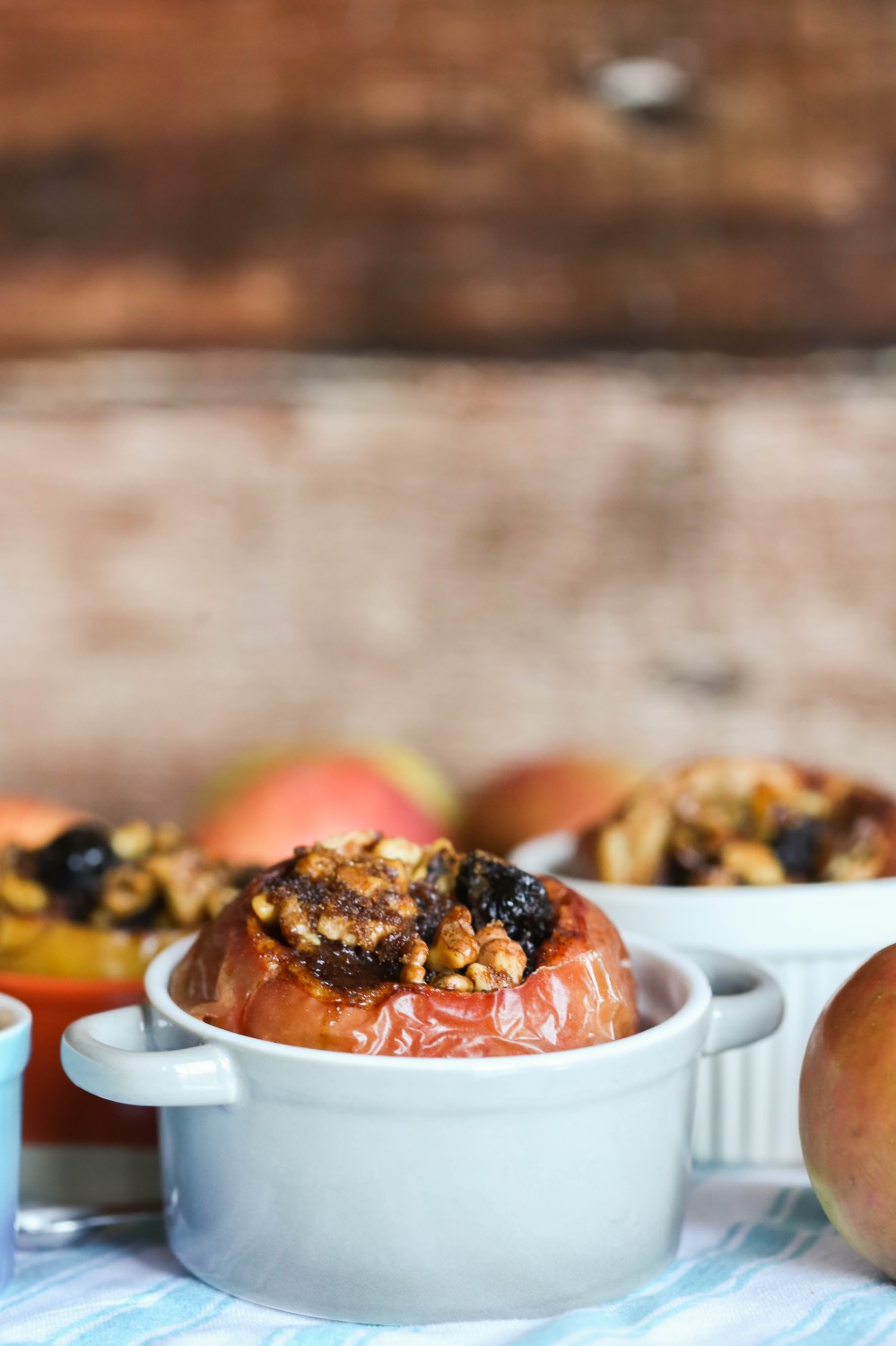 So how are you going to serve these apples? Tell us in the comments! And if you have gone apple crazy, don't miss our other apple recipes below.
Let's Be Friends!
Insta | Pinterest | Enews | TikTok