I am seriously getting in the fall spirit. Halloween Costumes and Fall Sweaters just aren't enough! Pumpkin Pie, Tangerine Cranberry Sauce, and these Chai Tea Chocolate Truffles are all go to's for me during the fall and winter. And I'm ready to create some seasonal desserts. Pumpkin Pie just happens to be one of my absolute favorites pies anytime of year.
This Vegan Pumpkin Pie Recipe is super special to me because it's one of my very first recipes, create, adapted and perfected when I was a teenager! I've been baking my whole life and went vegan when I was in high school (it was short lived but amazing while it lasted.)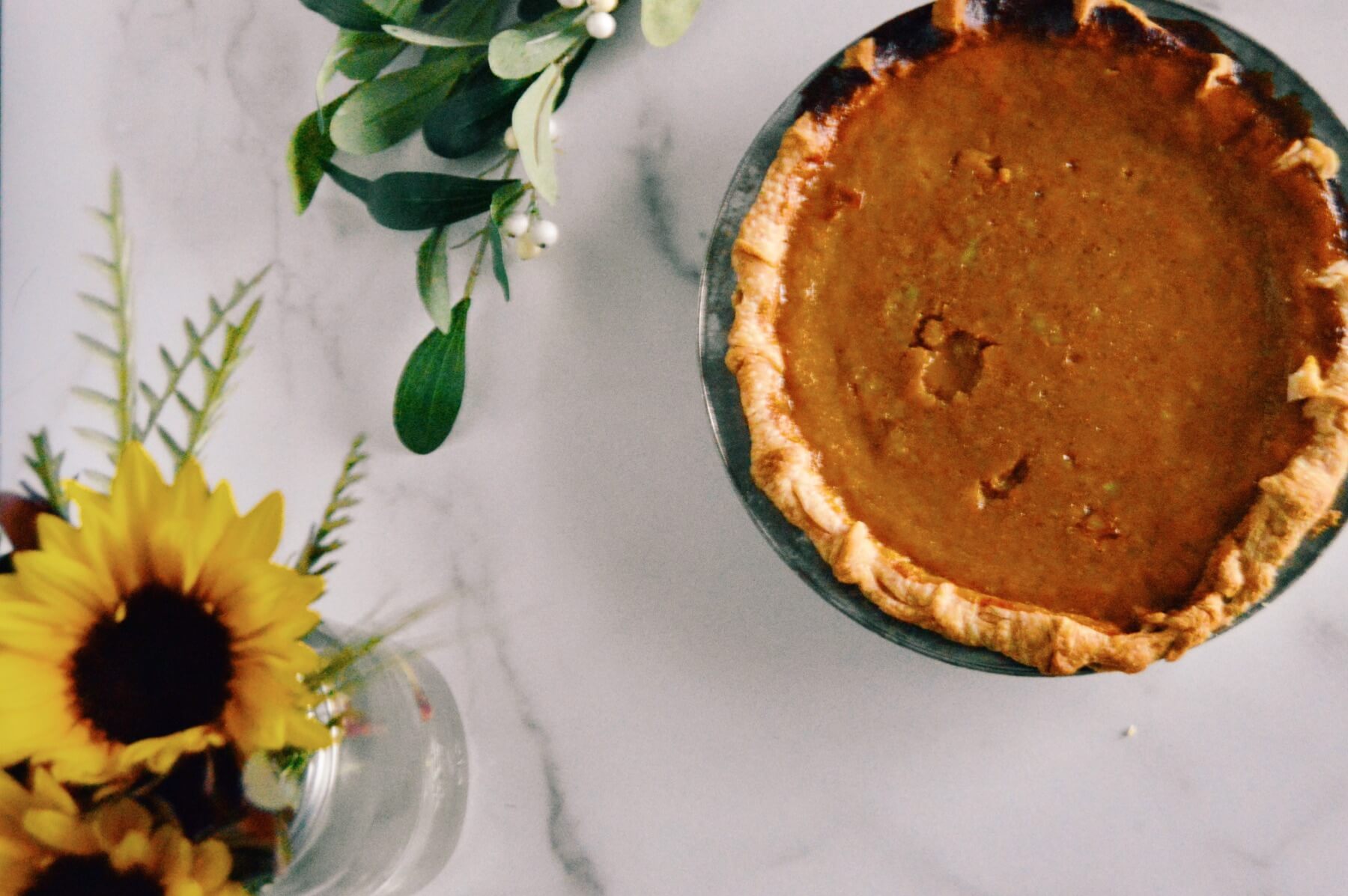 My favorite thing about this recipe is that it doesn't include tofu. I don't know what my problem is, I love tofu, but just not in desserts. The flavors don't work for me. There was a moment in time where all Vegan Pumpkin Pie Recipes included tofu. Those were dark days.
If you want to go straight to the printable recipe card, scroll to the bottom, but if you are looking for tips and tricks to make the best Vegan Pumpkin Pie, then read on!
Fresh Baked or Pre-Made Crust
To make a totally delicious Vegan Pumpkin Pie, you don't need to bake your own pie crust. Most pre-made pie crusts that you find in the frozen section are vegan and make for a delicious pie. If you want to bake your own here are some tips:
1. Chop your vegan butter into small pieces before you use it. Cold ingredients work best, and chopping butter into the short crust into small bits is an essential step of making the crust. Once you chop the vegan butter, return it to the fridge to re-chill until you are ready to use it.
2. Don't overmix the short crust. For the perfect texture crust, you need to just mix the ingredients until blended. Overmixing can cause the crust to become too crumbly or tough.
3. You can pre-bake the pie crust. If you ever struggle with the bottom of your crust staying doughy or if you like a crispy crust, you can pre-bake the pie shell empty. To prevent it from rising, cover the pie crust with aluminum foil and set pie weights inside. Don't have pie weights? I don't either! I use a ceramic coffee mug set in the center. Then I bake my pie shell for around 10 minutes. Don't bake it all the way, just bake it until the dough starts to look slightly dry.
Coconut Milk, Soy Milk, or Almond Milk
This Vegan Pumpkin Pie Recipe allows for a lot of substitutions. The first time I made this recipe, when I was a teenager Coconut Milk wasn't a thing! The only non dairy available was soy milk. In this recipe, it's totally fine to substitute the coconut milk for almond or soy. As far as the coconut cream, that gives the pie a bit of creamy richness. It doesn't have a replacement, but it won't alter the texture too much if you leave it out completely.
Additionally, I've always considered replacing the maple syrup with honey! Some people would say that honey is not vegan and that's a tough call because bees are insects, not animals, and produce honey outside of their bodies in a way that does not harm them. If you want to experiment, you are welcome to try substituting the maple syrup for honey.
Just as long as you keep the basic ingredients in place, you can try getting creative with this recipe to adapt it to your own tastes!
How to Make Pumpkin Pie Spice from Scratch
Pumpkin pie spice is so convenient. But if you use a pre-blended mix the flavors have often settled together so they aren't quite as punchy and pronounced. Instead, I like to make my own pumpkin pie spice blend which is so easy!
All you need is: 1/2 tablespoon Cinnamon, 1/3 teaspoon Ginger, 1/3 teaspoon Nutmeg, 1/4 teaspoon Allspice, and 1/4 teaspoon Clove. Just blend the spices together thoroughly and evenly before adding them to your pumpkin pie filling. The flavors are fresh, spicy and delicious.
How to Bake a Vegan Pumpkin Pie
To make your pie filling, just blend the ingredients completely, thoroughly and evenly. It's important to make sure the texture will be even and the spices are perfectly blended.
But baking a pumpkin pie does have a few tricks.
1. Your crust will likely brown before the pie filling is finished. It happens to me every time! But the solution is simple. Tear thin strips of aluminum foil. Remove the pie from the oven and gently cover the edges of the crust with the strips of aluminum foil leaving the center uncovered. Return the pie to the oven. The aluminum foil will slow down the baking of the crust and allow the filling to finish baking.
2. Knowing when your filling is finished is similar to a pecan pie. Any gooey creamy filling is hard to know when it's done and ready chill. That's because it doesn't quite set when it's in the oven and warm, that happens as the pie is cooling. To know when the Vegan Pumpkin Pie is ready, just give it a little jiggle. Not too hard. When you see the center of the pie jiggles evenly with the outer edges of the pie it's ready. It's not quite ready when there's a lot more movement in the center than around the edges.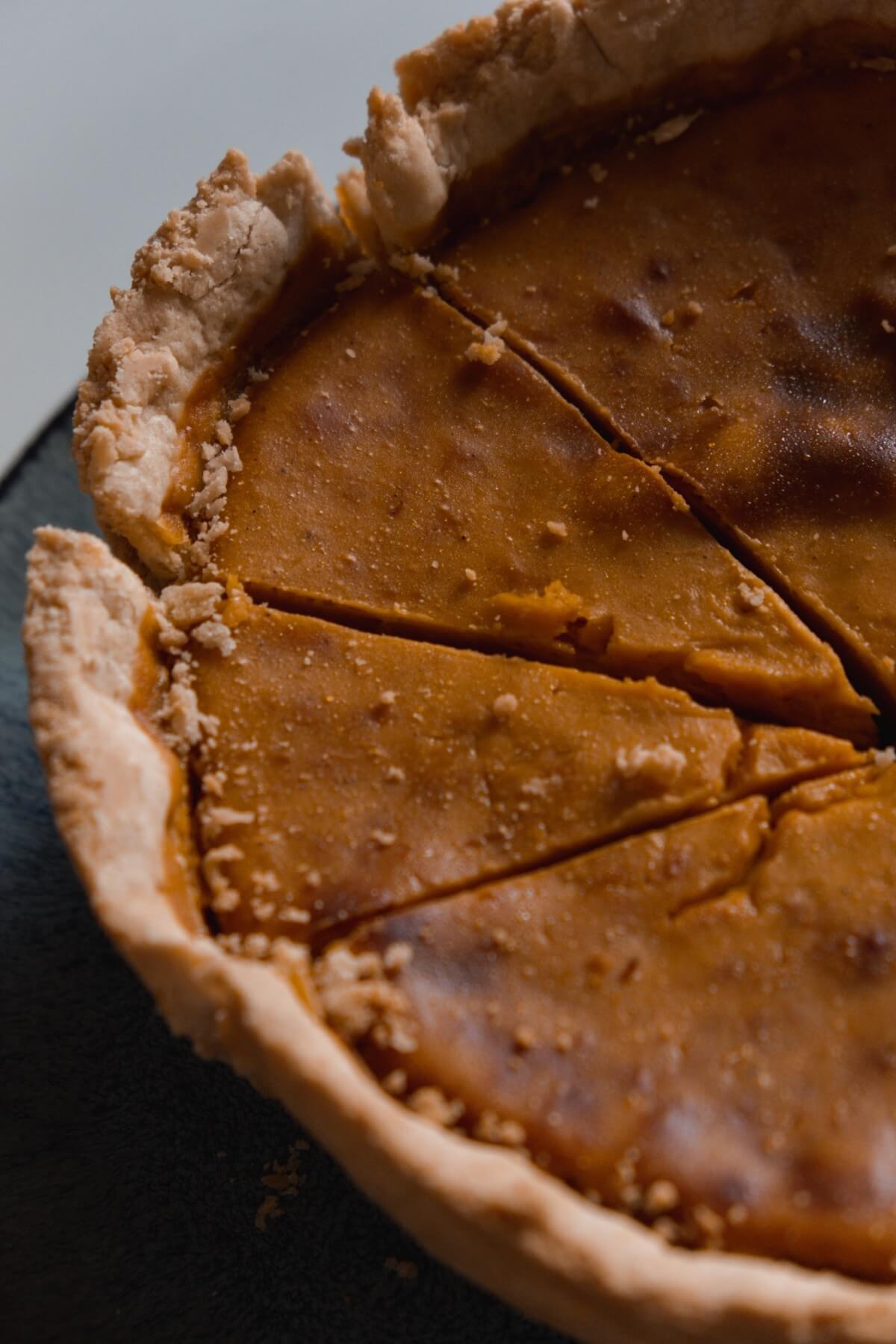 How to Serve a Vegan Pumpkin Pie
I can't even fathom eating a pumpkin pie without whipped cream! It's a must. The good news is there are so many different vegan whipped creams available. This one is my favorite.
You could also serve this pie with a vegan ice cream! Or a cup of coffee to give yourself all the pumpkin spice latte vibes.
This pie is a great alternative to a regular pumpkin pie and is perfect with a traditional holiday feast for the non-vegans with: turkey and cranberry, or glazed ham. And for vegans: butternut squash pasta, or any of these hearty soups.
Best Ever Vegan Pumpkin Pie Recipe
This Best Ever Vegan Pumpkin Pie is a delicious dessert that no one will know is vegan! The best part is that it's easy to make and there is no tofu needed.
Ingredients
Pie Crust:
1

Pre-made Vegan Pie Shell or

2

cups

Flour

1/4

cup

Sugar

1/2

teaspoon

Salt

1/2

cup

cold vegan butter

chopped into small cubes
Pie Filling
1

can Pumpkin

15 oz *Not Pumpkin Pie Filling

2/3

cups

Coconut Milk

1/3

cup

Coconut Cream

1/3

cup

Maple Syrup

3

tablespoons

Corn Starch

1/2

teaspoon

Kosher Salt

2

teaspoons

Vanilla Extract

1

drop Vanilla Bean Paste

optional

1/2

tablespoon

Cinnamon

1/3

teaspoon

Ginger

1/3

teaspoon

Nutmeg

1/4

teaspoon

Allspice

1/4

teaspoon

Clove

Non-dairy Whipped Cream or Ice Cream for topping
Instructions
Preheat oven to 350°F.

Start by making the crust. In a medium sized bowl, whisk together the flour, sugar, and salt.

With a pastry cutter or your hands, thoroughly and evenly mix in the vegan butter until the dough starts to clump. Then transfer to a work surface or a cutting board to continue to knead until a dough forms.

Place the dough back in the bowl, cover, and chill in the fridge for 30 minutes to 1 hour.

Remove the dough from the fridge and place it on a floured work surface to roll out with a rolling pin.

Place the dough in a lightly greased pie dish and if you like a crispy crust, pre-bake your pie shell at 350°F for around 10 minutes or until the pie crust looks about half-baked - dry but still doughy.

To make your pie filling, in a mixing bowl, blend together all of the ingredients until smooth, completely and thoroughly mixed.

Pour the filling into pie crust and place it in the oven.

After half of the cooking time, around 20-25 minutes, check the edges of the crust to see if they are golden brown.  If they are, wrap the edges in aluminum foil to prevent overcooking.

Also, check the pie filling just to see how far along it is. Give it a little jiggle - when the top holds together and jiggles together your pie is done (this will take up to 45 minutes). If the center of your pie has more movement than the edges, continue to bake the pie for longer.

Check the pie again at around 40 minutes, gently jiggle the pie again.  Once the top of the pie filling is starting to look even, remove from the oven for it to continue to set.

Allow the pie to cool for around 4 hours before serving.

Garnish with non-dairy ice cream or non-dairy whipped cream for a special touch!
The best thing about this Best Ever Vegan Pumpkin Pie Recipe is that no one will know that it is vegan! This is the perfect dish for a group gathering or a holiday dinner. Bon Apetit!
Let's Stay Friends!
Insta | Pinterest | Enews | TikTok