Dessert for breakfast! Or breakfast for dessert! You can choose either with these gorgeous and delicious little Blueberry Cobbler Muffins.
This muffin is a normal blueberry muffin on the bottom with a blueberry cobbler top! It's a simple way to add a twist on a more standard Blueberry Muffin Recipe. So let's make it!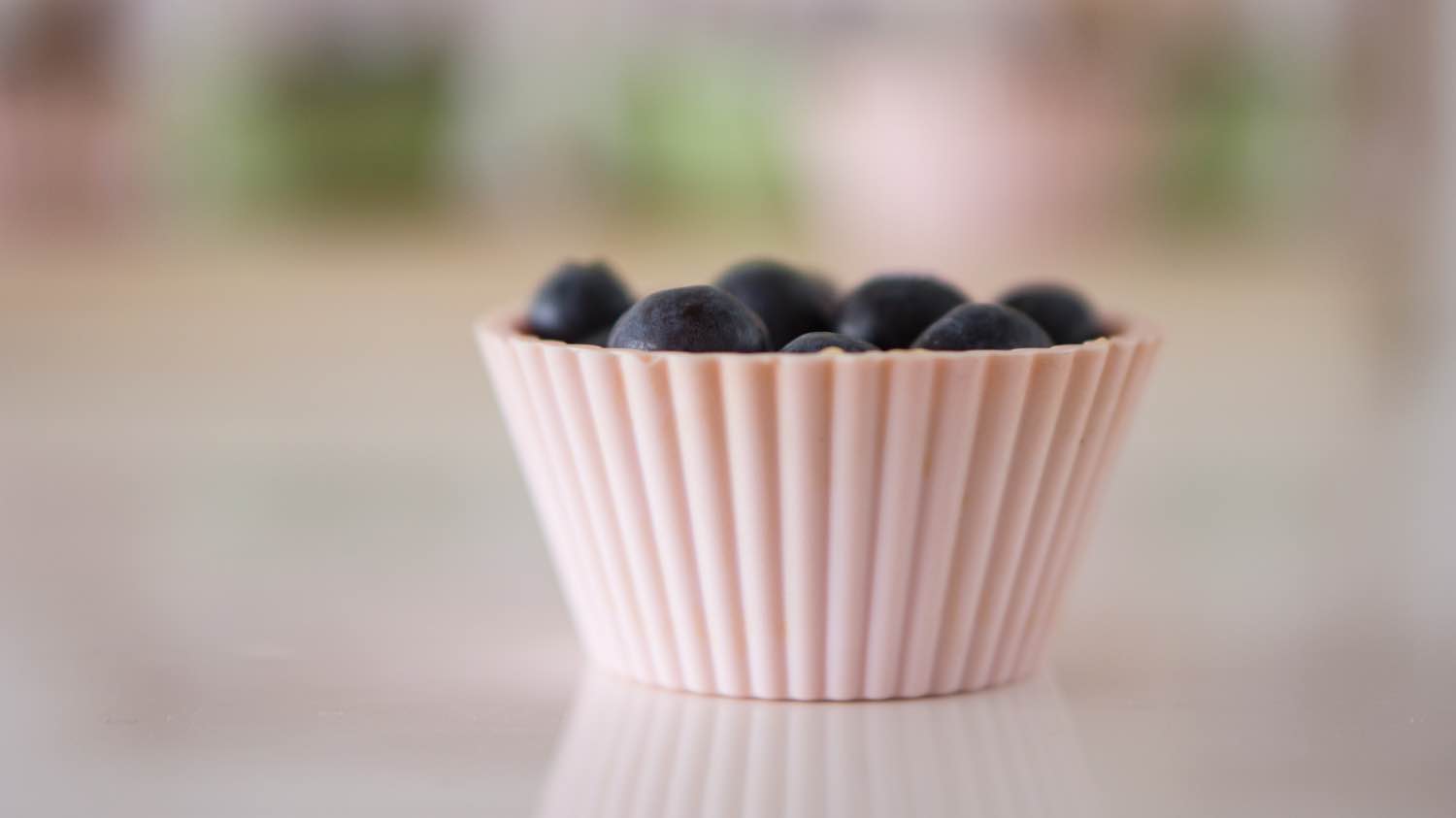 The Blueberries
First of all, the best blueberries for making muffins are ones that are very ripe. Maybe even a little too ripe. Just think of how you use brown bananas when you are making banana bread. You want your blueberries to be sweet, soft, and burst open spilling their juices as soon as they get some heat from the oven.
Using very ripe blueberries will change your muffin game for the better!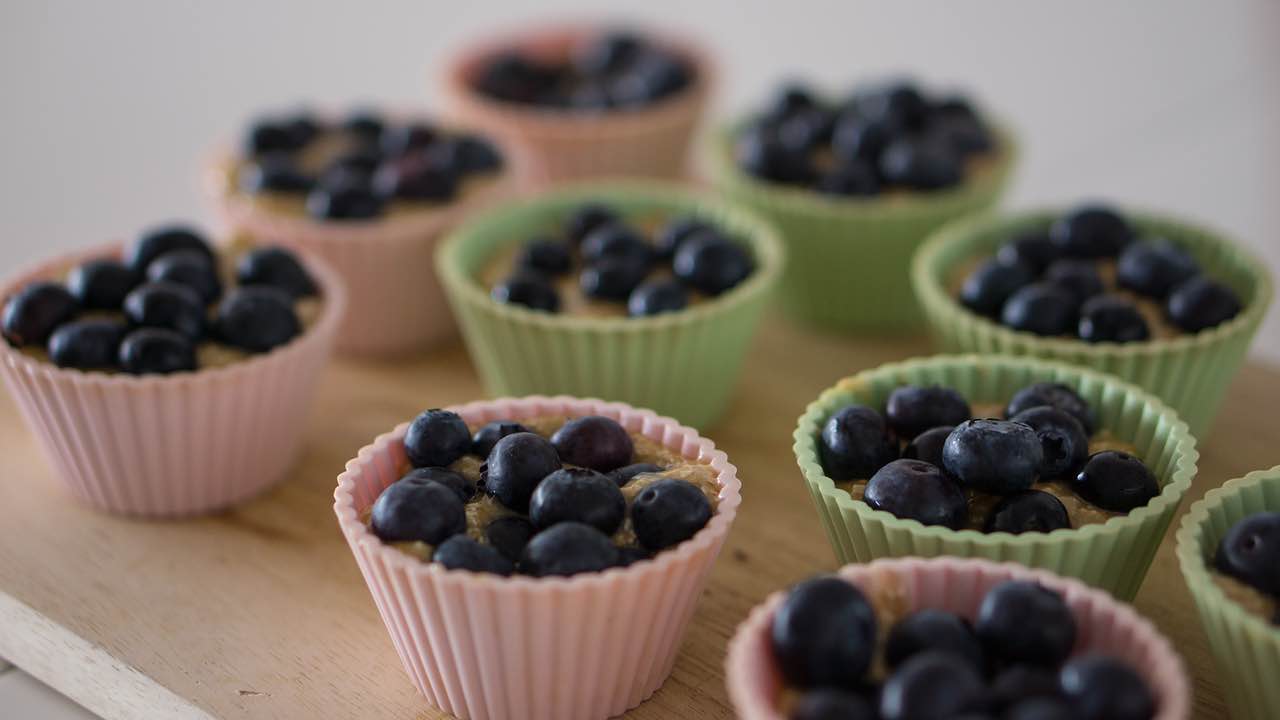 Muffin Batter is Always Lumpy
News flash: most batters shouldn't be overmixed and muffins are one of them. You always want your muffin batter to be lumpy. You can just mix it with a wooden spoon. No need to put it in a mixer. In fact, in a lot of recipes overmixing will dry it out, change the consistency and make an inferior baked good.
You should never overmix cookie dough, muffins, or brownies.
Making the Cobbler Top
There are a million ways to make a cobbler topping – this is just one! That means that you can substitute your own favorite cobbler topping in this recipe. What I love about cobbler topping is how easy it is to make and how buttery and crunchy it is. It's perfect for these muffins!
For my version I use: flour, butter, sugar, baking powder, salt and vanilla. You could also add a sprinkle of cinnamon. Yum!
Using a Muffin Tin
For this recipe, I used free standing silicone muffin tins like these. But you could use a regular muffin pan that's lined or unlined. If you use an unlined pan, just coat your pan with butter and flour.
I don't know if this info is "basic" or helpful! I'm always surprised but what other bakers like me, ones that grew up baking with their mom, know and don't know.
Add Layers of Ingredients
Once you have your blueberry muffin batter mixed and your cobbler topping mixed (in separate bowls) all you need to do is layer the ingredients into your muffin tins. Start with the muffin batter. Add your blueberries in the center. Last top the muffins with your cobbler topping!
It's actually really fun!
How to Bake Blueberry Cobbler Muffins
These muffins bake like your standard blueberry muffins. To know they are ready, look for 2 different things. First, you want a crunchy and golden brown cobbler top. Second, you want to put a toothpick in the center and see it come out clean. It's hard to do without popping a blueberry and not really knowing what's happening underneath, so just use your best judgement!
Blueberry Cobbler Muffins Recipe
It's everything you love about cobbler and blueberry muffins combined into a gorgeous breakfast treat!
Ingredients
For the Muffins:
1

cup

Sugar

1/2

cup

Butter

at room temp.

2

Eggs

2

tablespoons

Vanilla Extract

2

teaspoons

Baking Powder

1/2

teaspoon

Salt

2

cups

All Purpose Flour

1

cup

Milk

3

cups

Fresh Blueberries

Too Ripe Blueberries are Best!
For the Cobbler Topping:
1

cup

all-purpose flour

3/4

cup

granulated sugar

1

teaspoon

baking powder

pinch

of salt

1/2

cup

butter

melted

1

teaspoon

vanilla extract
Instructions
Preheat your oven to 375°F.

Prep your silicone muffin tins with non stick spray. Or grease and flour a regular muffin tin and set aside.

Beat together butter and sugar until creamy.

Add the eggs, one at a time, and mix thoroughly.

Beat in the vanilla extract.  Then add the baking soda and salt and continue to mix thoroughly.

Add small amounts of flour and milk alternating between the two and mixing thoroughly.

In a separate bowl start your cobbler mix by whisking together the flour, sugar, baking powder, and salt.

Melt the butter on a stovetop or by heating it for a few seconds in the microwave, then stir in the vanilla.

Pour the butter mixture over the flour and stir just until the ingredients are blended.

Now in the muffin tins layer the muffin batter, then blueberries, and last the cobbler batter on top. Your cobbler topping does not need to cover the entire surface of the muffin and the muffin batter, the bottom layer, should fill the tin about halfway.

Bake at 375°F for around 20 minutes until the top is golden brown and a toothpick comes out clean.

Serve!
So the real question is: are you going to serve these for breakfast or for dessert? Will you pair it with coffee or with ice cream? Tell us in the comments! And if you love this recipe, check out even more blueberry recipes below. YUM!
Let's Stay Friends!
Insta | Pinterest | Enews | TikTok