Have you ever seen one of those gorgeous tubs full of fresh flowers? It looks like a dream! It's gorgeous and it will make you feel like a movie star. A DIY Fresh Flower Bath Soak is quite simple to make but there are a few tricks that you need to know.
If you want a Flower Bath Soak that's giftable you could try this DIY Flower + Milk Bath Soak Set here.
Supplies to Make a DIY Fresh Flower Bath Soak
2 cups Epsom Salt
1 Can Organic Coconut Milk
¼ Cup Honey
5-10 drops Lavender essential oil (or another Floral like Rose, Geranium, or Ylang Ylang)
Fresh Flowers (Edible Food Grade Only!)
What's important about this diy is to use edible flowers from your local organic market. I do not recommend using conventional flowers as you have no idea what they have been treated with. Edible flowers are safe to soak with and you can find them at places like Whole Foods.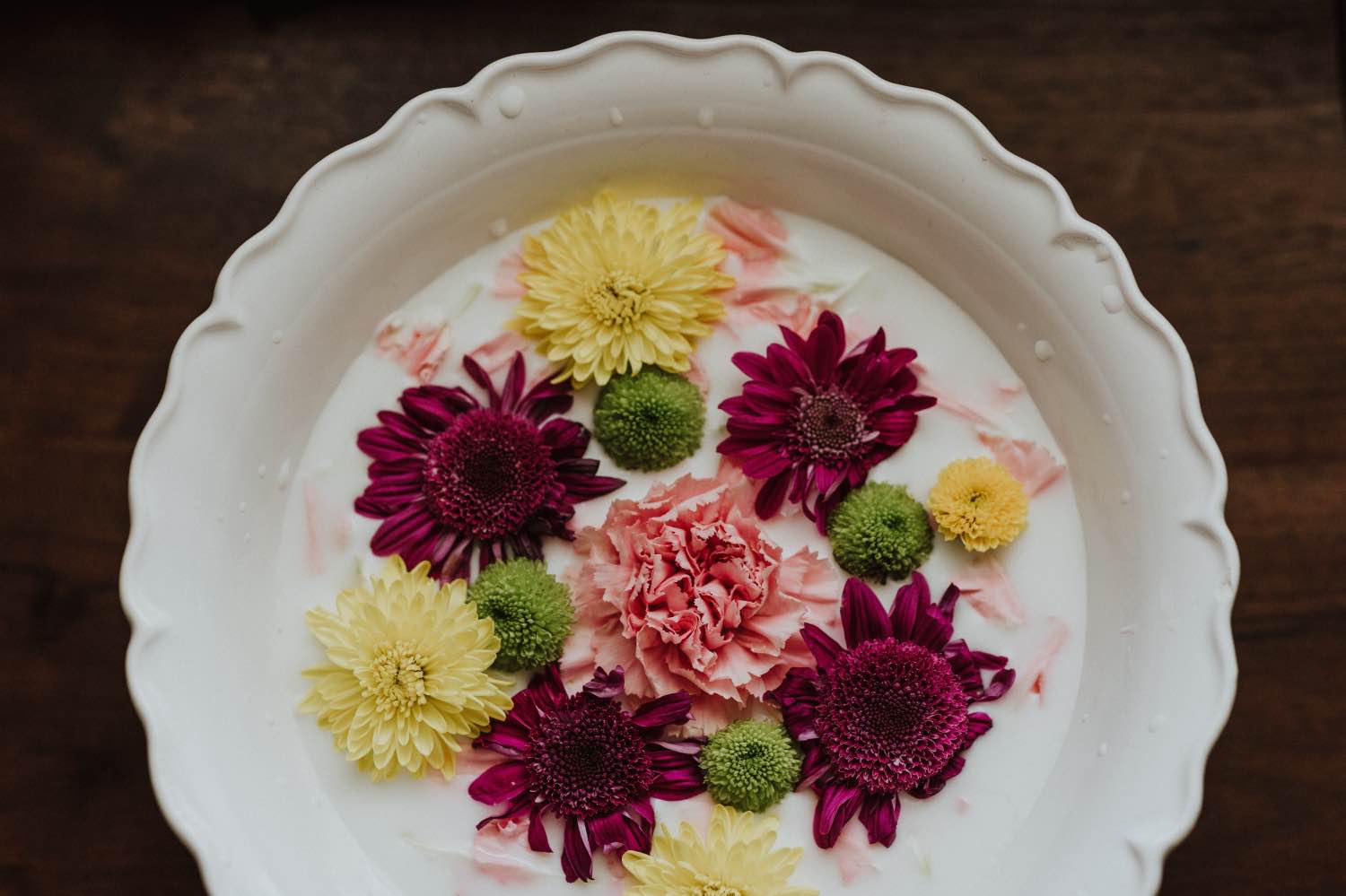 The rest of the ingredients can be found anywhere. For any of these supplies, if you can choose organic it will really elevate your bath. Organic essential oils, organic coconut milk are all amazing.
To make the DIY Fresh Flower Bath Soak Recipe first pour your coconut milk and honey into a bowl. Blend them together until they are even. Then, fill your bathtub with warm to hot water. It just depends on your preference. As the tub starts to fill, add your epsom salt and coconut milk. Keep the water moving to dissolve the epsom salt and incorporate the coconut milk and honey.
Once your tub is full, add your few drops of essential oil and last add the flowers. Viola! It's time to soak in your gorgeous tub.
I always add the essential oils last because essential oils can burn off and lose their scent at a low temperature. So I always try to keep as much of the fragrance intact. And you may want to protect the flowers from the heat as well by adding them last.
This DIY Fresh Flower Bath Soak has lots of healing properties that are going to make you feel so good. The honey is full of amino acids Honey is rich in antibacterial, antioxidant and antifungal properties. It provides soothing and anti-inflammatory effects. The antibacterial and antimicrobial properties of honey heal the skin, making it healthy and immune to skin irritation.
Organic, full fat coconut milk is rich in skin loving fatty acids that will plump your skin and make it feel smooth and dewy. Coconut milk takes on double duty for your skin, acting as a gentle exfoliator, and moisturizer to hydrate your skin (thanks to its vitamin content like A and C, as well as protein.)
A bath full of epsom salt is a great way to promote better sleep. It can help relieve soreness from tired muscles. There are many health benefits that are unproven but good to be aware of – like for example that you can absorb the magnesium from epsom salt through the skin giving you a trace mineral that is fairly rare in food and lacking in a modern western diet.
So are you ready to soak in this gorgeous DIY Fresh Flower Bath Soak Recipe? It's the perfect way to unwind after a long day or enjoy a lazy Sunday. And if you need even more gorgeous beauty and bath recipes, look below!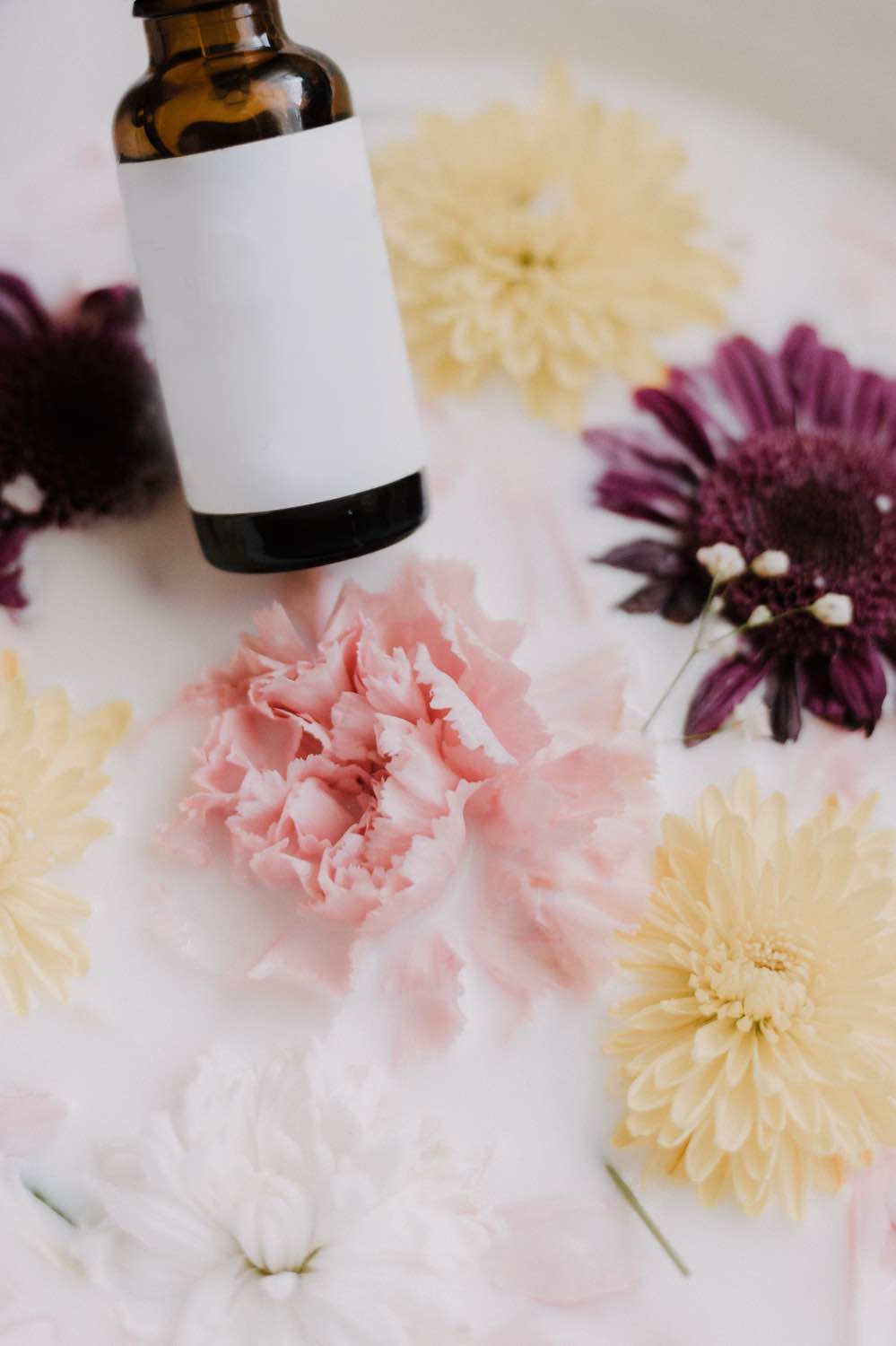 Let's Stay Friends!
Insta | Pinterest | Enews | TikTok