Have you ever seen anything prettier than this cocktail?
This Chocolate Covered Strawberry Martini is perfect for Valentine's Day when you want something to sip on that's a little sweet and holiday perfect. It would pair so well with a hearty steak and potatoes dinner. Or you could just go casual and sip on this with your favorite pizza.
It's so much fun that it's perfect for any meal or a gal's night too! Imagine this with a Galentine's Day get together.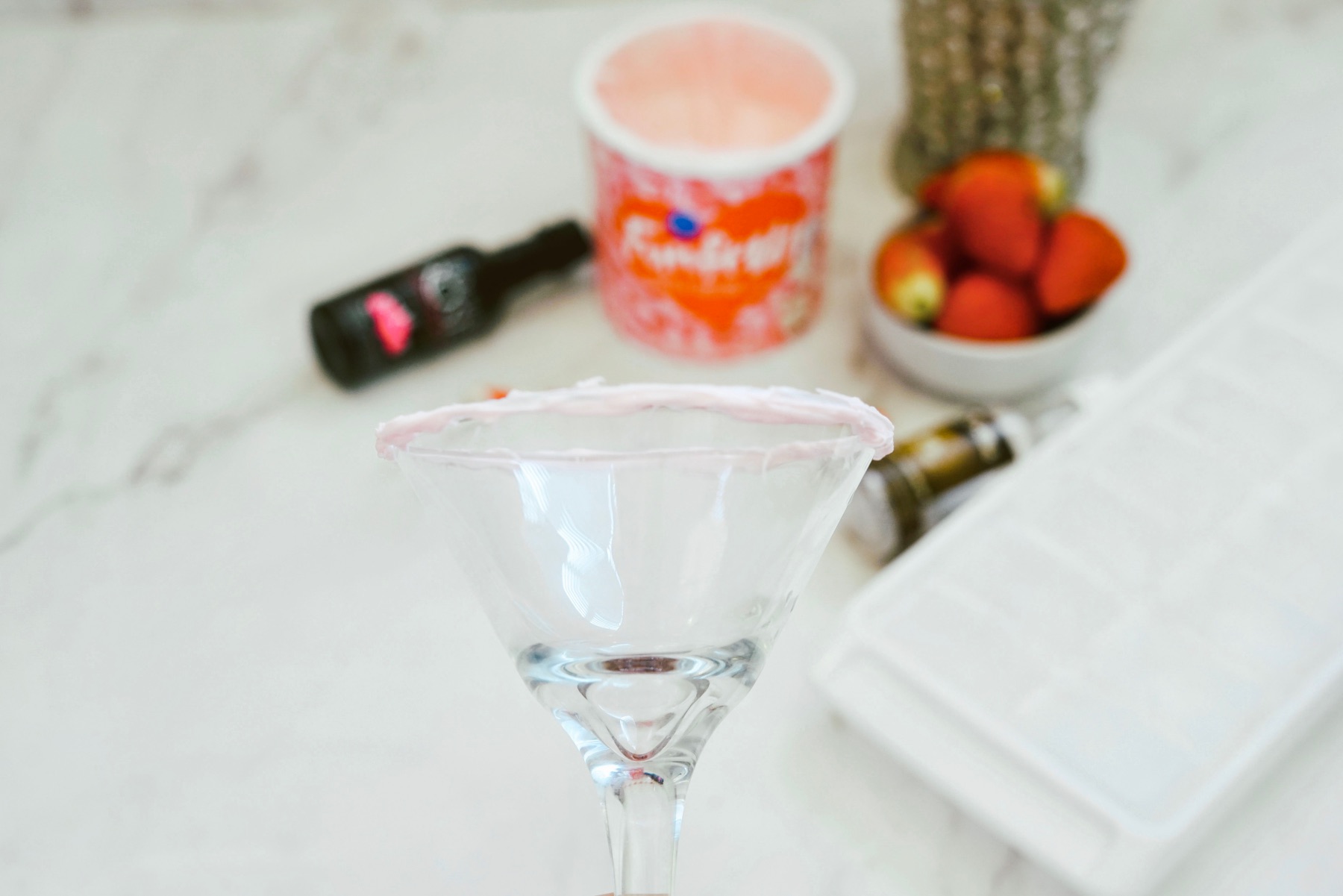 Ingredients to Make a Chocolate Covered Strawberry Martini
The ingredients to make this cocktail are simple! You will want:
A Martini Glass
Pink Frosting
Oversized Valentine Sprinkles
Tequila Rose, Chilled
Chocolate Vodka, Chilled
Strawberry Milk, Chilled
A Cocktail Shaker
Ice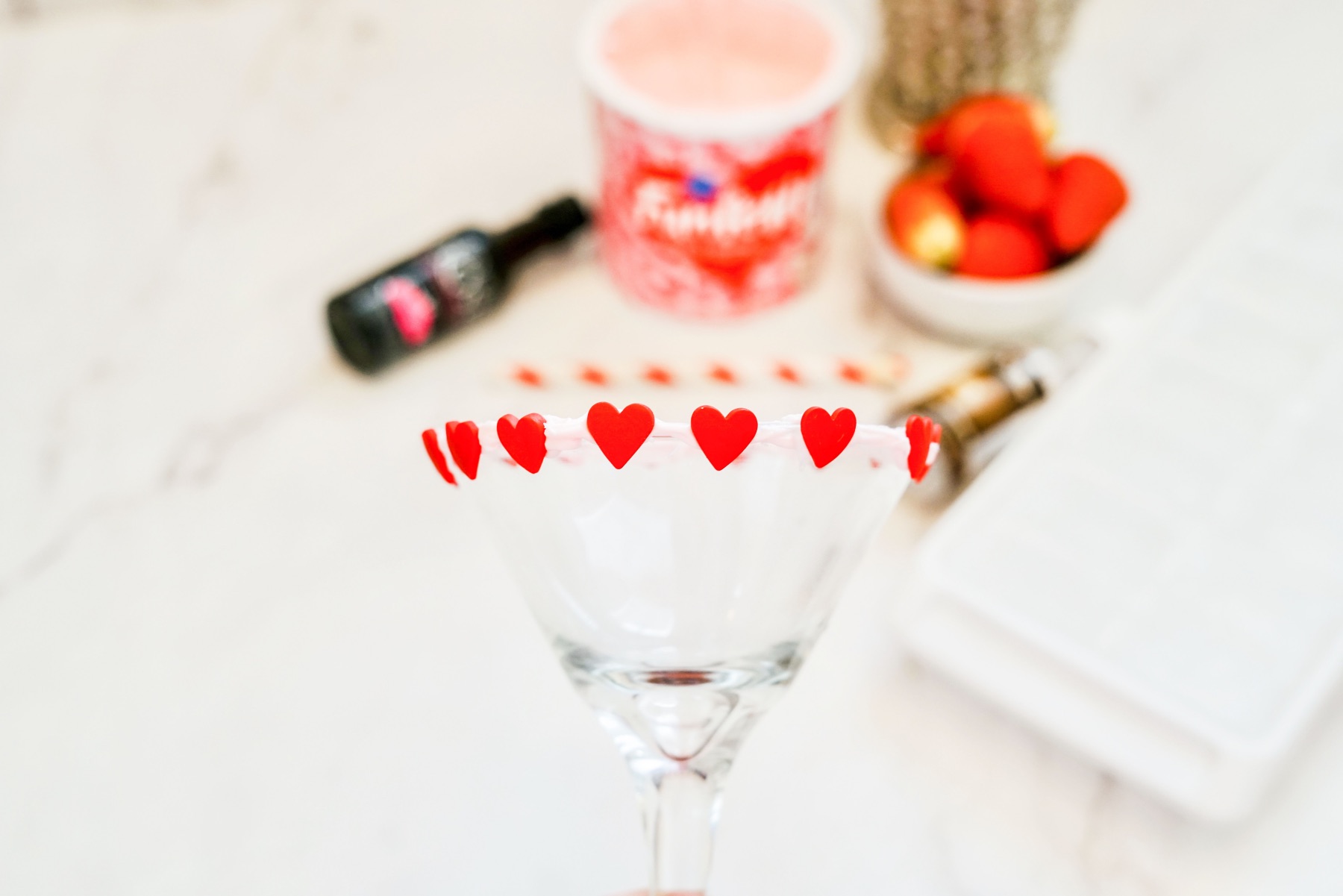 How to Make the Frosted Rim
This cocktail was meant to be dressed up, so I made a sugary sweet rim with frosting. It's the perfect way to add sprinkles and for them to hold in place with something edible.
To make it, spread a thin layer of pink frosting on a flat plate. Turn your glass upside down and spin it into the frosting. That way you get a thin layer. You can also just use a butter knife to spread the frosting but it may come out thicker that way.
All About Tequila Rose
This was the first time I used Tequila Rose, but I am in love! It's a Strawberry Cream Liqueur that contains tequila instead of whiskey – apparently whiskey is quite common to combine with creamy drinks to make liqueurs.
It's delicious and perfect for this cocktail. It doesn't have a strong flavor of tequila, the flavor is much more fruity and milky.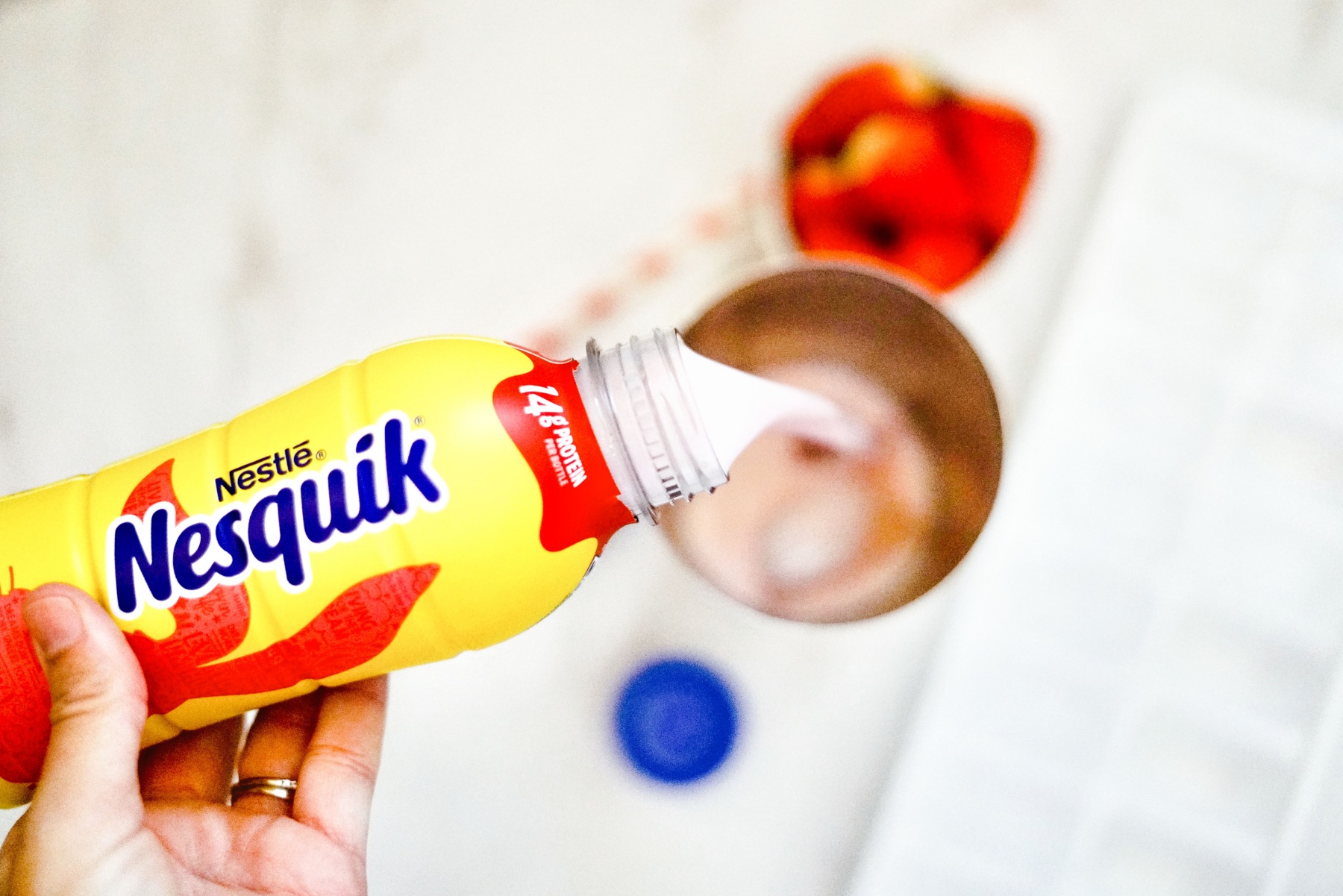 How to Make a Chocolate Covered Strawberry Martini
Making this cocktail is a snap! So it's perfect to serve for friends. Before you start, be sure that your ingredients are all ice cold and chilled. This cocktail is served without ice, so you will want it to be as cold as possible. You can also add your martini glasses to the freezer after you dress them with sprinkles if they can handle the cold.
Add your ice to a cocktail shaker. Then add 2 ounces of Tequila Rose, 2 ounces of Chocolate Vodka, and 2 ounces of Strawberry Milk to your cocktail shaker and shake.
Strain into your martini glass.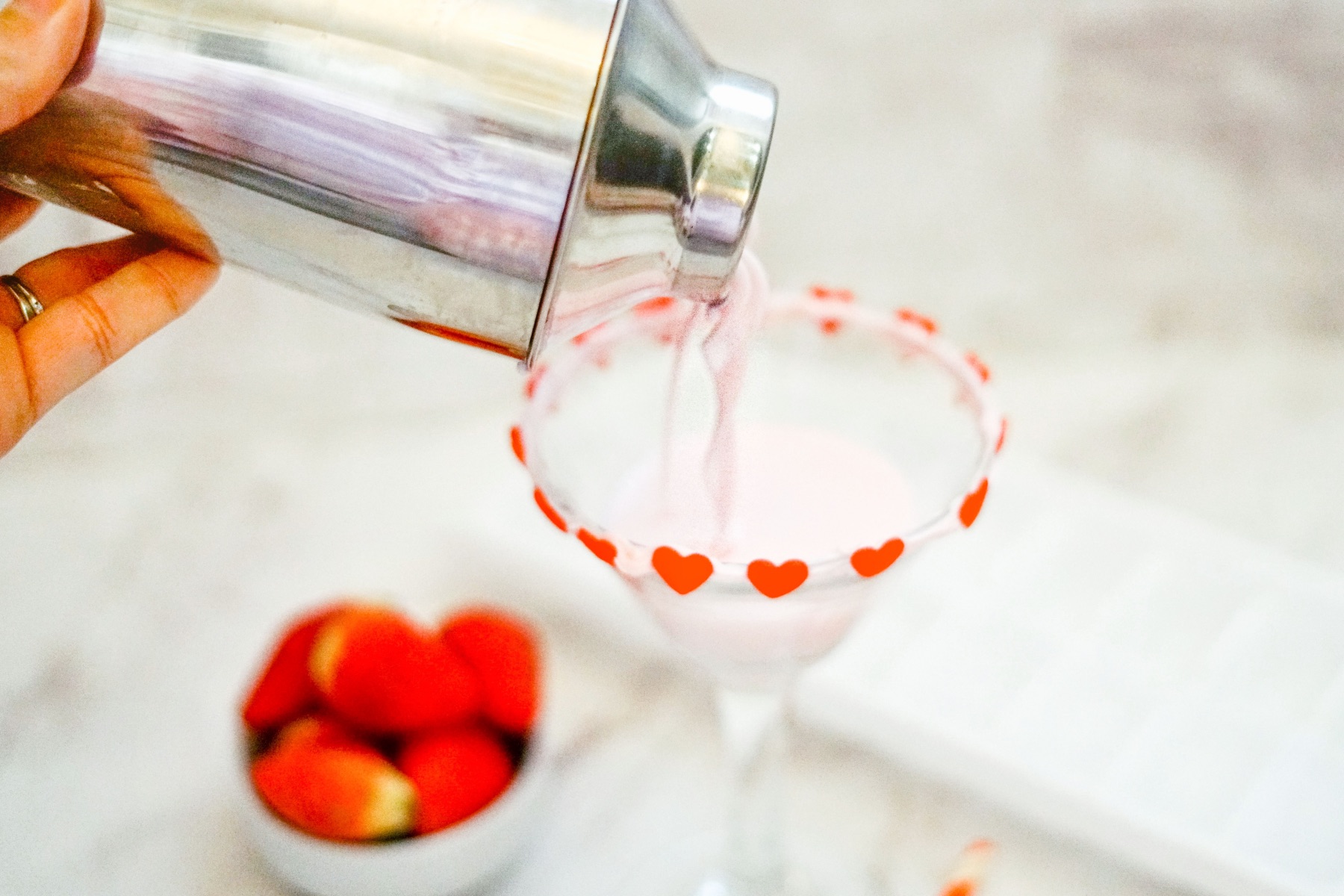 How to Serve Your Chocolate Covered Strawberry Martini
I already mentioned that you have to serve this drink ice cold! It's so delicious that way.
This Chocolate Covered Strawberry Martini is a touch sweet and totally creamy, so it's lovely as an after dinner dessert cocktail. It's lovely with a fruit plate like this. Or it could go perfectly with a chocolate dessert like this.
Because it's so pretty, it could be fun for a gal's night with appetizers. Although cheese might be a bit much, it would be lovely with a vegetable heavy crudités plate.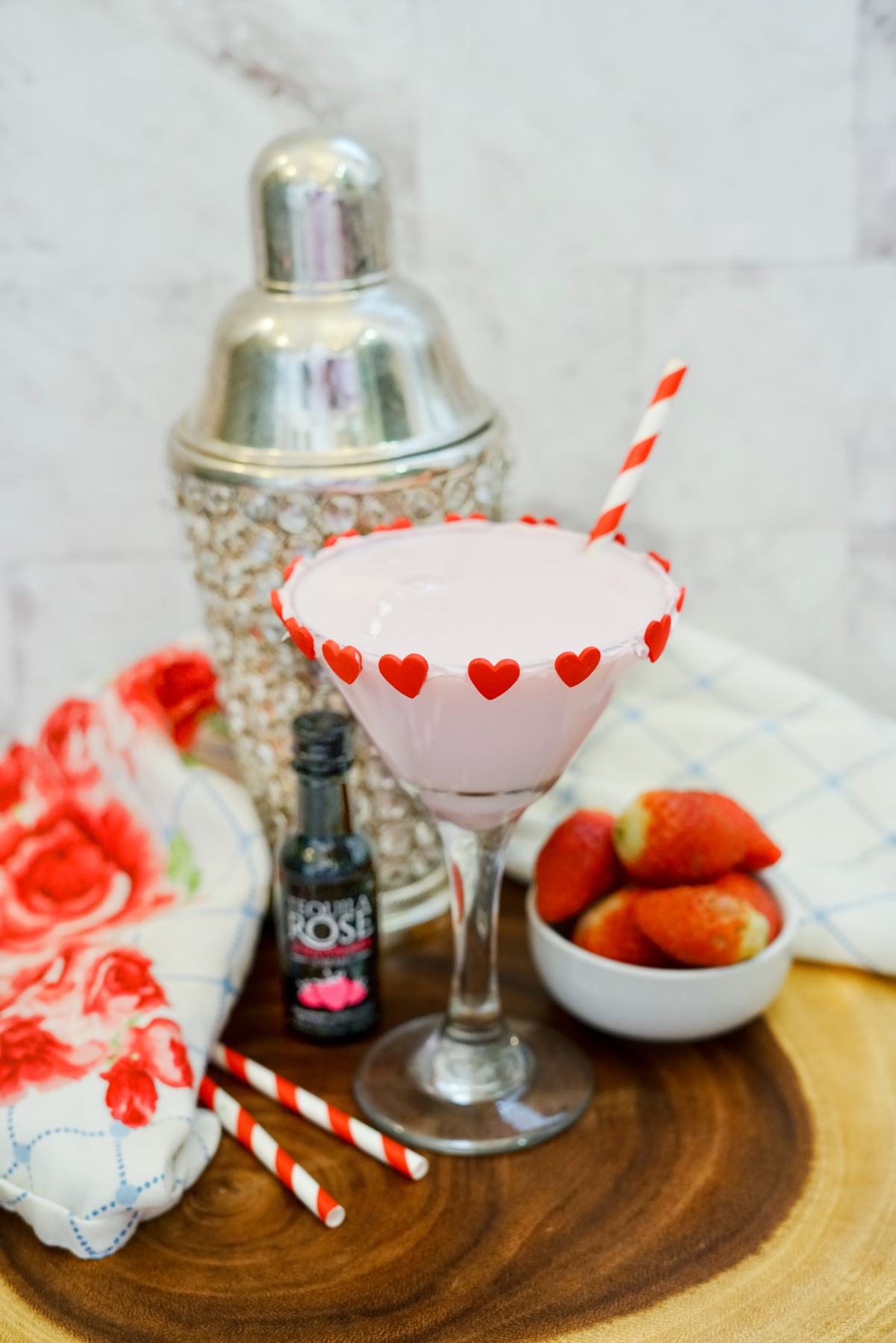 Substitutions for a Chocolate Covered Strawberry Martini
Don't want to use Tequila Rose? Looking for a cocktail that's more chocolatety? That can be done! Here are some common substitutions and additions.
1. Add freshness by adding thinly sliced fresh strawberries.
2. Drizzle tempered chocolate over the martini glass rim instead of frosting for a touch of elegance.
3. Use Bailey's Strawberries & Cream instead of Tequila Rose.
4. Use chocolate milk instead of strawberry milk as your mixer for a chocolate feast.
5. Add a splash more chocolate vodka to make this drink stronger.
6. Remove the Tequila Rose and Chocolate Vodka and replace with a touch of Hershey's Chocolate Syrup for a non-alcoholic version.
Got an idea? Tell us in the comments!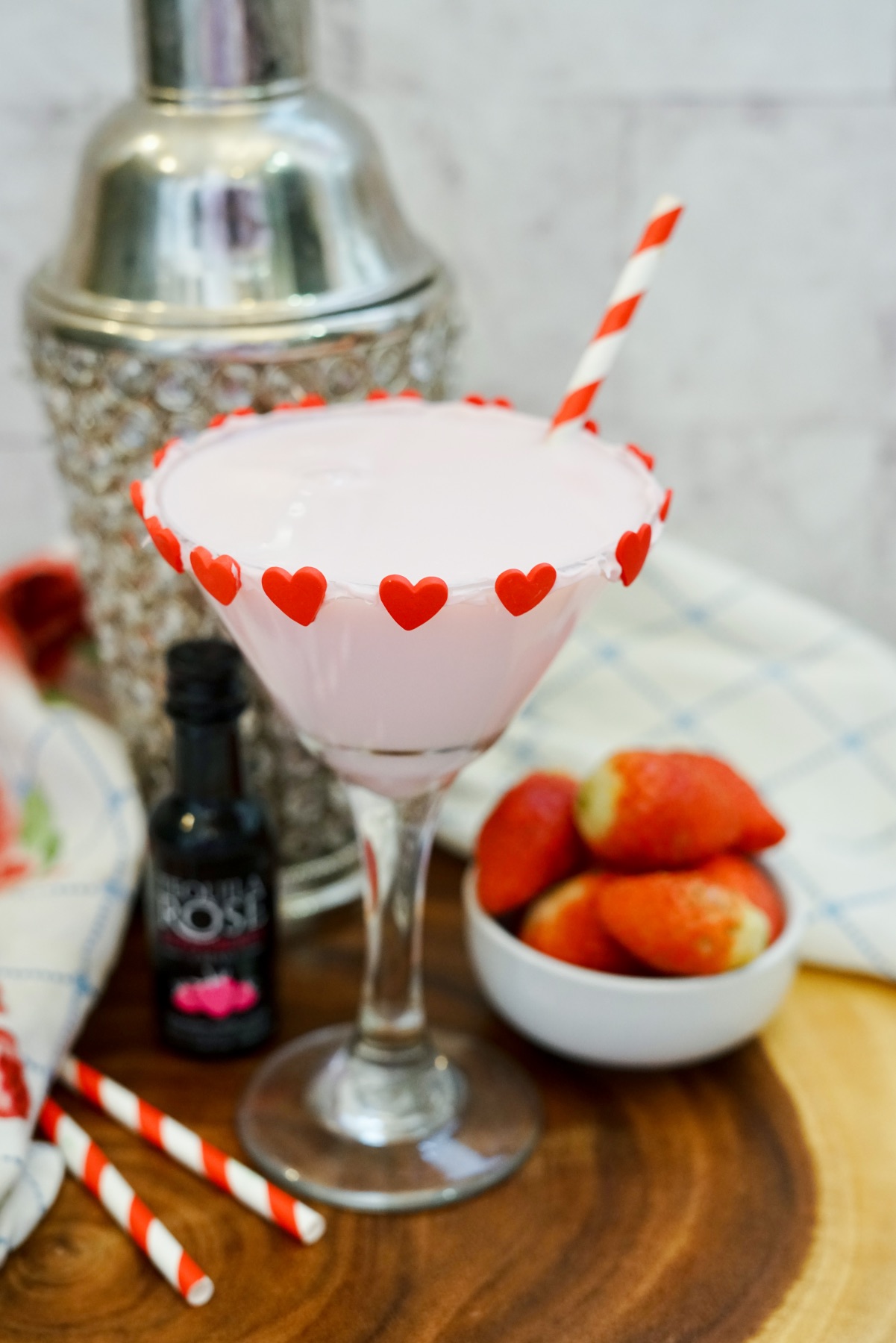 Other Valentine's Day Perfect Cocktails
If you are looking for something pink and creamy, try this Skinny Pink Squirrel Cocktail made with Frozen Yogurt instead of ice cream.
I love mojitos. This Strawberry Mint Mojito is the color of Valentine's Day and is super fresh and tasty.
This Slushie Watermelon Mojito is part smoothie part cocktail. It's full of so much watermelon you are going to love it!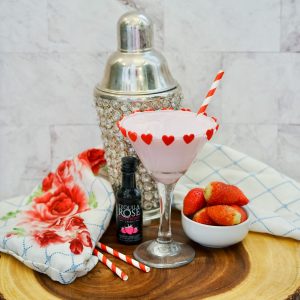 Chocolate Covered Strawberry Martini
This perfectly pink cocktail is creamy and delicious! Make this for Valentine's Day or a gal's night.
Equipment
1 Martini Glass

1 Cocktail Shaker
Ingredients
1/2

cup

Ice

Pink Frosting

Pink or Red Sprinkles

2

oz.

Tequila Rose

2

oz.

Chocolate Vodka

2

oz.

Strawberry Milk
Instructions
Prep your martini glass by freezing it for 8-12 hours.

Spread a thin layer of pink frosting across a flat surface like a plate or cutting board.

Dip and swirl your martini glass into the frosting. Or thinly spread the frosting on the rim of the martini glass.

Press any adorable sparkly, pink, red, or oversized sprinkles into the frosting until they hold in place.

Add ice to a cocktail shaker.

Pour your Tequila Rose, Chocolate Vodka, and Strawberry Milk over the ice.

Strain from the cocktail shaker into your martini glass.

Serve with fresh fruit, a steak dinner, or by themselves for a gal's night!
Let's Stay Friends!
Insta | Pinterest | Enews | TikTok