Is it just me, or does summer put you in the mood to grill? Grilling is not only one of my favorite ways to cook but it is one of my favorite ways to eat just about any food. I love a good out of the box grilled recipe like these Grilled Wedge Salad Skewers and I love a simple, classic like this Garlic Marinaded Steak.
Now, this post is all about the steak marinade, so you are welcome to pan sear it, use a Forman Grill, or roast it in the oven. My method of choice is a classic grill but this Simple Garlic Steak Marinade is so delicious you will want to use it regardless of how you are cooking the steak! It's so easy and fabulous.
It adds a robust flavor to your dish. There is even a fun surprise in the little pinch of coffee that is added. Coffee not only stimulates digestion, but it also has a rich, nutty flavor. So let's get started making it!
If you are using a high quality beef then you might already be rolling your eyes at using any marinade at all! But any steak can do with just a little pop of flavor.
First allow your steak to warm to room temperature and start with the raw garlic. You will want that to connect with the steak as much as possible. So once you crush it with a garlic press, spread it like butter across both sides of the steak.
Next add the rest of your spices. They are similar to a standard Montreal Steak Seasoning. The difference here is that we are blending them fresh. If you prefer to use a Montreal Steak Seasoning, you can skip the dried garlic, onion, coriander, paprika, and dill. But don't skip the cracked peppercorns and ground peppercorns! Those flavors pack a big punch.
Last, sprinkle the coffee on top and rub all your spices gently into the surface of the meat. Add the Worcestershire Sauce and allow everything to marinade. If it's a cheap steak, allow it to marinade for 1 hour or more. If it's a high end cut of steak, just a few minutes will make a big impact.
To grill the steak like I did, heat your grill to high and be sure that your steak is not cold to the touch. Coat liberally with butter and place it on the grill for around 4 minutes without moving it. Lift the steak enough to see if the grill lines are there and if so, don't flip your steak over yet. Instead, turn it 90° and allow it to cook for 2-3 more minutes to get those gorgeous grill lines. Then turn the steak over and repeat. Serve immediately with Mac & Cheese or a Grilled Wedge Salad. Enjoy!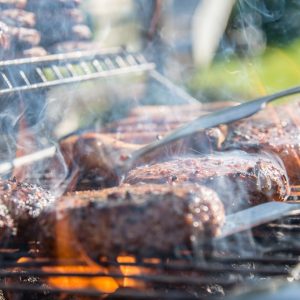 Simple Garlic Steak Marinade Recipe
Make this delicious steak marinade that's perfect for grilling, pan searing, or however you cook your steak.
Ingredients
2

cloves

garlic

1

tsp.

coarse salt

1/2

tsp.

dried garlic

1/2

tsp.

dried onion

1/4

tsp.

dill

1/2

tsp.

coriander

1/4

tsp.

paprika

1/2

tsp.

cracked peppercorns

1

tbsp.

fresh ground coffee

1/8

cup

of Worcestershire Sauce
Instructions
Allow your steak to warm to room temperature.

Crush the raw garlic with a press and spread across both sides of the steak.

Sprinkle with salt, dried garlic, dried onion, dill, coriander, paprika, and cracked peppercorns.

Sprinkle the steak with the fresh coffee evenly across the steak.

Gently rub the spices into the steak, cover with Worcestershire Sauce and marinade for 1 hour.
Let's Stay Friends!
Insta | Pinterest | Enews | TikTok