You know how sometimes you see something that's just objectively cool, like dinosaurs, and not only are they small, but they're covered in glitter?? Well, that's what happened to me when I saw the cutest ornaments ever: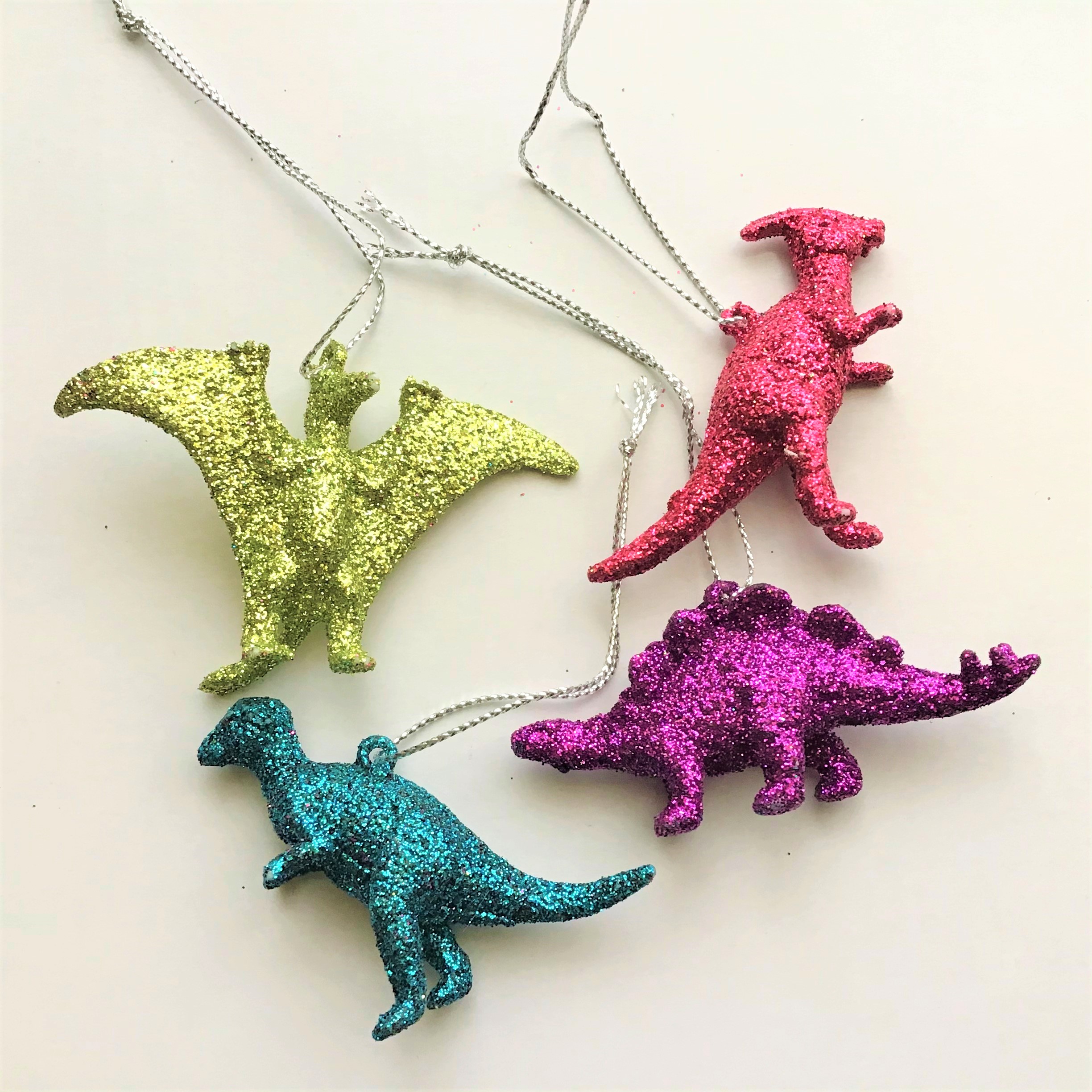 Supplies to Make DIY Glittery Dinosaur Earrings:
Dinosaur Ornaments
Jump Rings
French Hooks
In Addition to:
Needle Nose Pliers
Although the idea of pretty much anything decorated with dinosaurs sounds overwhelmingly delightful, I knew immediately that I could make these into the cutest earrings in the universe! I've done some SUPER basic jewelry making in the past, so I see every small thing with a place for a jump ring as an opportunity.
I had a couple of essentials on hand, however, if you wanted to get super fancy, you could choose any variety of metals (silver, gold, rose gold, etc.) for the hardware. Once you gain more confidence through experience, you can even create chandelier earrings with lots of dangles and extra pizzazz!
Since these dinosaurs were a variety of shapes, I decided to use different hardware to create length with jump rings when necessary. So, let's get started! For my turquoise T-rex, I knew he would need some length, but not a lot, and based on their existing loops, getting them to face forward only required one jump ring!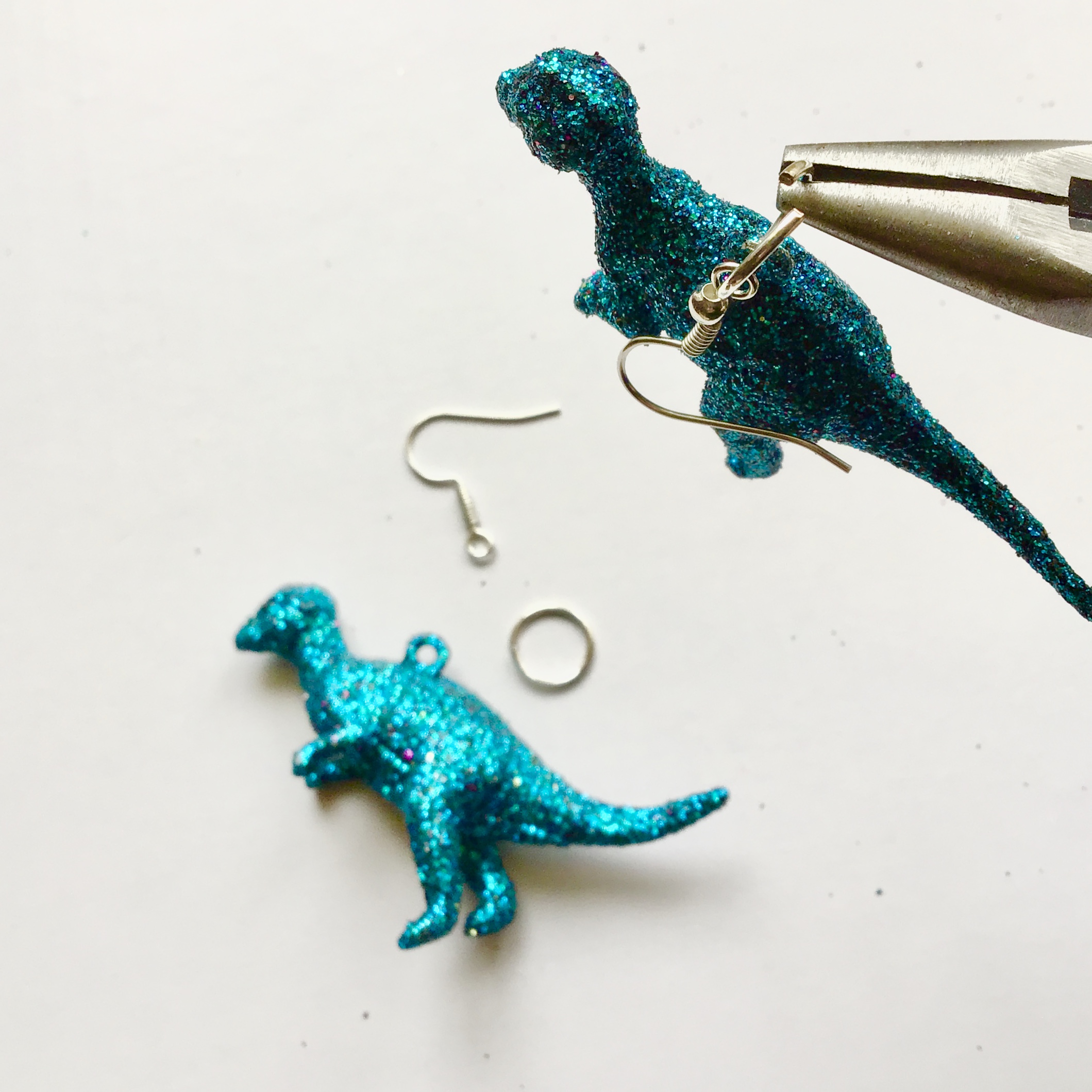 When using jump rings to connect, I always try to open/close the least amount possible so the connectors stay strong. In this case, that means opening the center jump ring and connecting through the dinosaur's loop AND the earring hook hardware, then closing it tight with my pliers.
I used a similar method for the peachy Parasaurolophus, except I used a small jump ring instead of the larger one. Notice that with both pairs, the dinosaurs are facing one way, while the earrings go the other, that way they'll face out so you can show them off!
I also opted to keep my pink Stegosaurus earrings short, since they speak for themselves! With this pair, though, I used a different style of hardware that locks into place. I figured I'd be rocking out pretty hard wearing them and didn't want them to end up on the floor or going home with someone else!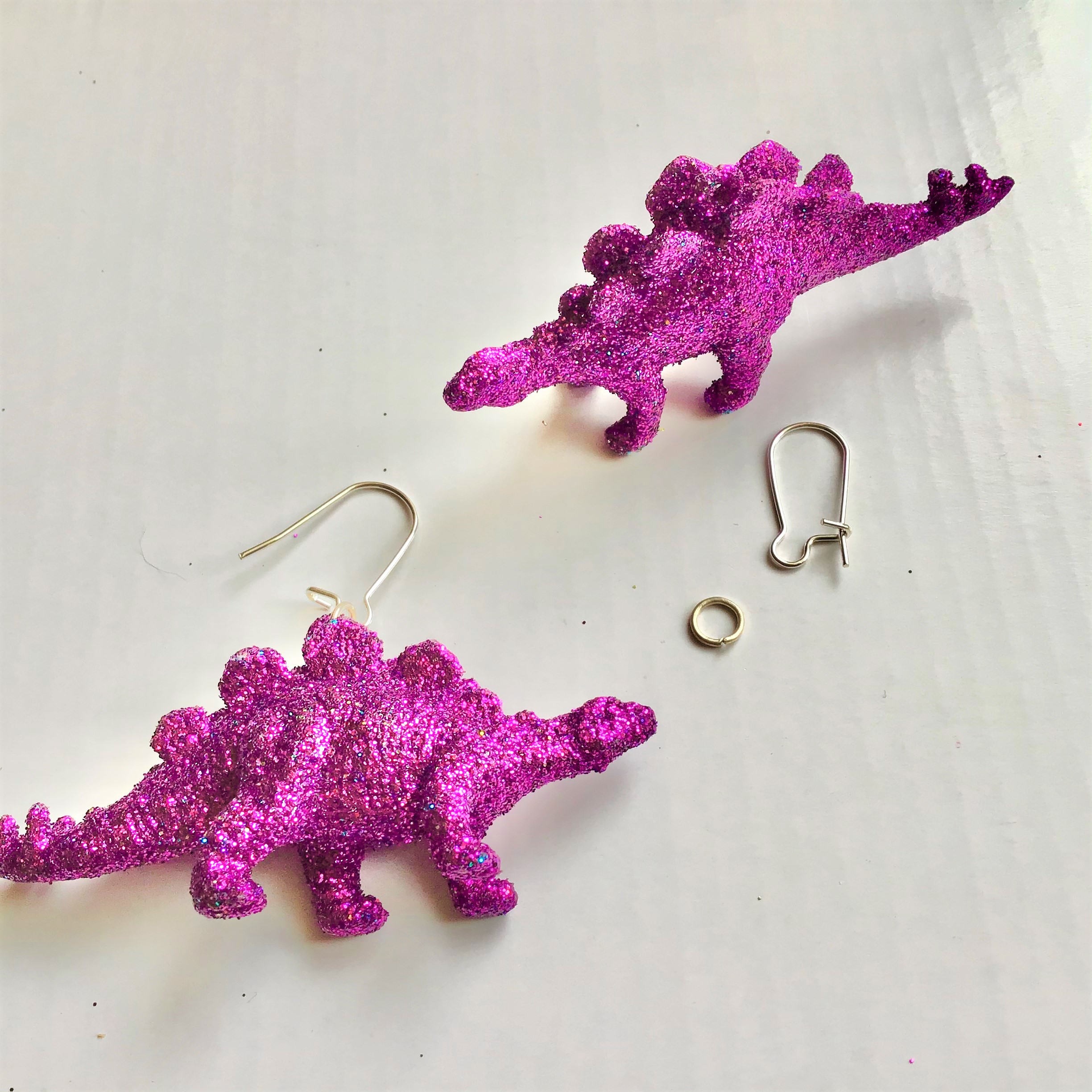 Last, but not least, my favorite green Pterodactyls! I wanted them to have more movement and really be a fun statement, so I added a couple of extra small jump rings. Keeping in mind that they would have to face out, three was the magic number!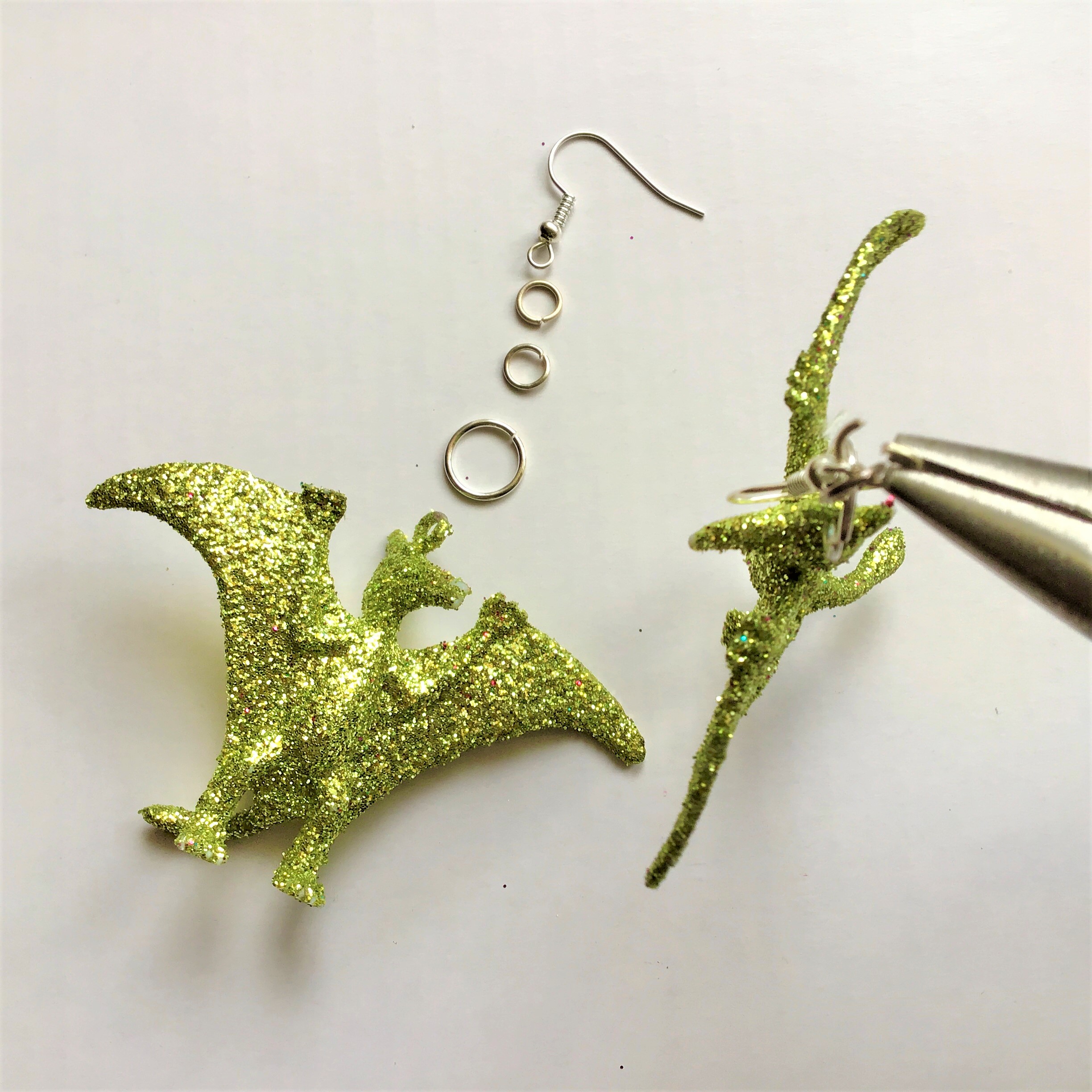 These were SO fun and simple to create! They all look amazing in their distinctive ways, and are sure to get all the compliments, regardless of the season!
I love wearing sparkly jewelry, and these are sure to brighten any day and/or outfit. They're a great conversation starter and would be a wonderful gift for anyone who appreciates science, dinosaurs, glitter and pure whimsy!
So what are you going to wear you DIY Glittery Dinosaur Earrings with? Jeans and a t-shirt or something dressy? Tell us in the comments or better yet, tag us in your photos.
And if you need even more dinosaur diy's be sure to check out our blog below!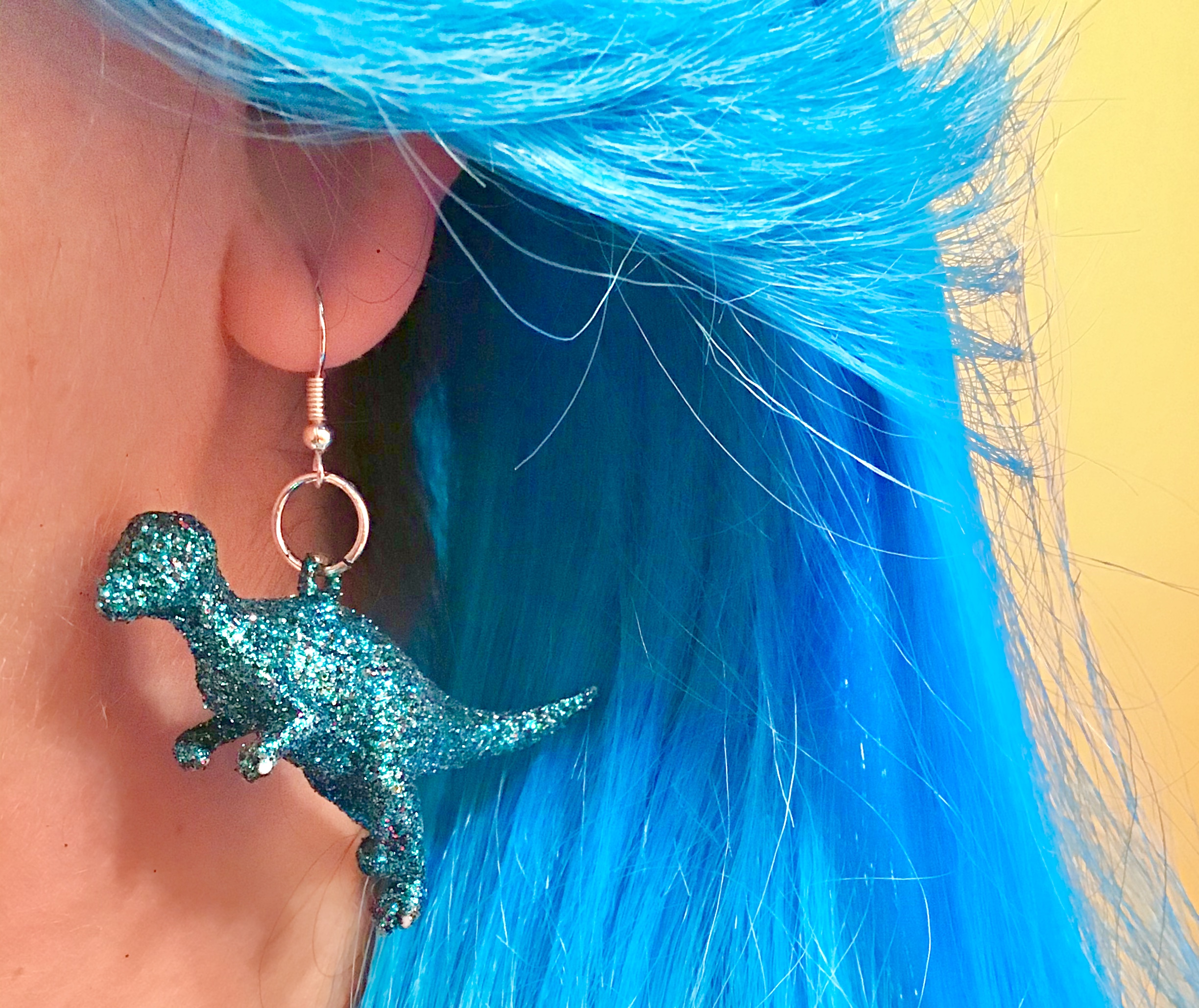 Let's Be Friends!
Insta | Pinterest | Enews | TikTok