Calling all besties! You need to make these adorable, sweet and fun to make earrings. You can make them bright and colorful. You can make them into rainbows. Or you can even make them into broken hearts. Here are your supplies:
Shrinky Dink in White, Cream, or Frosted
Prismacolors or Micron Pens (or both)
Small Scissors (Kid's scissors are perfect)
Hole Punch
Clear Coat (I used Krylon – Satin)
Oven or Toaster Oven
For Stud Earrings: E6000 Glue (or any 2 Step Resin) & Earring Posts
For Dangly Earrings: Jump Rings & French Hooks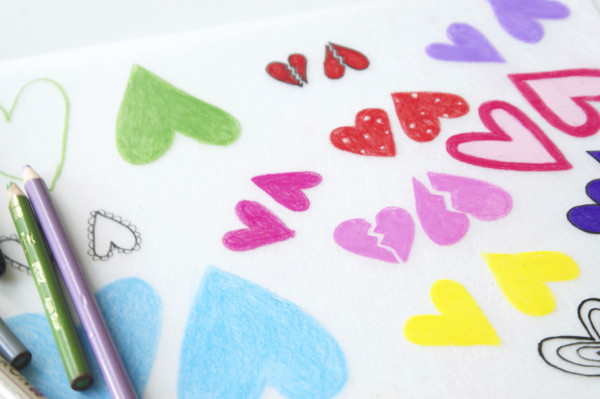 Color your hearts with prismacolors and microns. We used frosted shrinky dink paper but you can use bright white, clear or cream – just be sure that you are using the correct type of pen for the shrinky dink paper because it can vary.
Cut out your heart shapes from the shrinky dink paper. Small hearts can be made into stud earrings. Larger ones work better as dangly earrings.  Use a standard size office hole punch. Be sure to get it close enough to the edge to put a jump ring through it. Stud earrings won't need any hole punches.
Place your hearts colored side face up on a cookie sheet lined with a piece of cardstock or paper from a grocery bag. Your shrinky dinks will take 2-4 minutes in the oven. Don't remove them while they're still curled in the oven. Be sure that the pieces are laying nearly flat. When you pull them out of the oven immediately lay a heavy book on them. Once they're cooled, take them outside and clear coat the colored side to protect it.
For the stud earrings, use E6000 to glue the posts on the hearts. E6000 requires an entire day to dry so don't get tempted to wear them! For the danglies, use 2 jump rings on each earring, a bigger and a smaller one, to help your earring hang forward. Use a larger jump ring next to the heart and a smaller one next to the french hook. Make sure you make a perfect, complete, and closed circle with the jump ring so that it's nice and sturdy.
And Viola! Valentine Heart Earrings in Every Color of the Rainbow.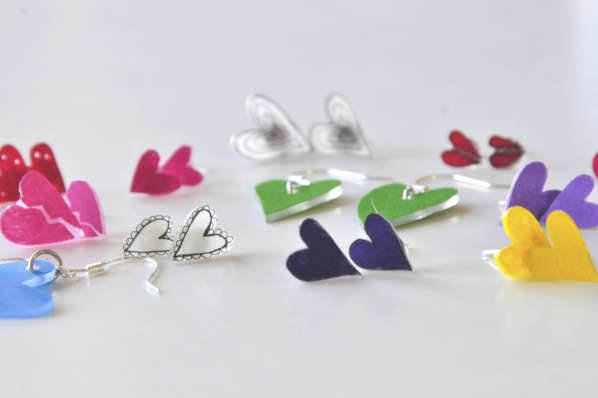 Need More Color in Your Life?
DIY Ombre Sunset Lip Gloss | Ombre Tassel Earrings | Rainbow Candy Skewers

Let's Stay Friends!
Insta | Pinterest | Enews | TikTok