Farmhouse decor is super trendy right now, and I will admit to being obsessed with it. But a lot of it seems overpriced for what it is. I look at it and I think, I could make that for a quarter of the cost. I guess that's the drawback of the "rustic" look!
When I saw the white wooden pallet hearts at the craft store, I knew I wanted to do something 'farmhouse-ish' and also sweet to hang in our half-bathroom. I love anything with hearts. And then I wandered by the laser cut wooden words, and my brain went into overdrive.
When I priced buying something similar, each heart would sell for $15+. If you paid full price for the hearts and the letters (which I didn't, because the craft stores always have sales and coupons), it would cost less than $25 to make the whole set!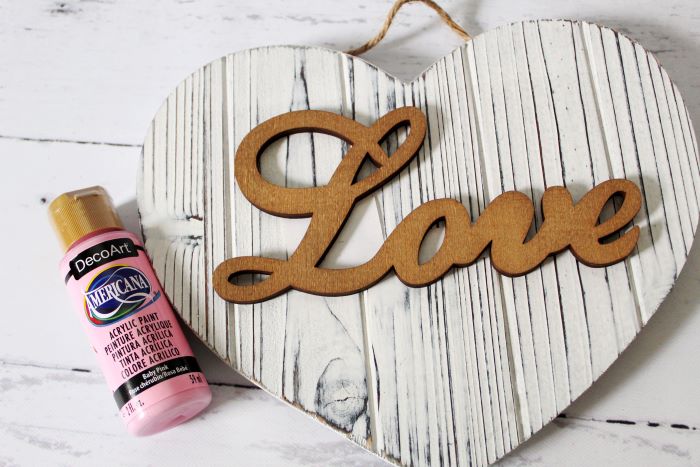 What You'll Need:
4 wooden hearts
white paint (if hearts aren't painted)
4 laser cut wooden words (or letters)
acrylic paint (check label to make sure it's safe for wood)
hot glue gun and glue sticks
thick twine or ribbon (if your hearts do not have attached hangers)
Preparing the Wooden Hearts
You can use any size hearts you want; just know that the bigger the hearts are, the more space you need available for hanging. My hearts are 9″ by 7″ and that is a perfect size for hanging on a small half-bath wall.
If the hearts aren't already painted, this is the time to paint them! I bought mine white, but you can paint or stain them any color your heart desires.
After you paint it, if you want, you can distress the painted wood so they look similar to mine.
Let them dry completely – probably overnight – before doing anything with them.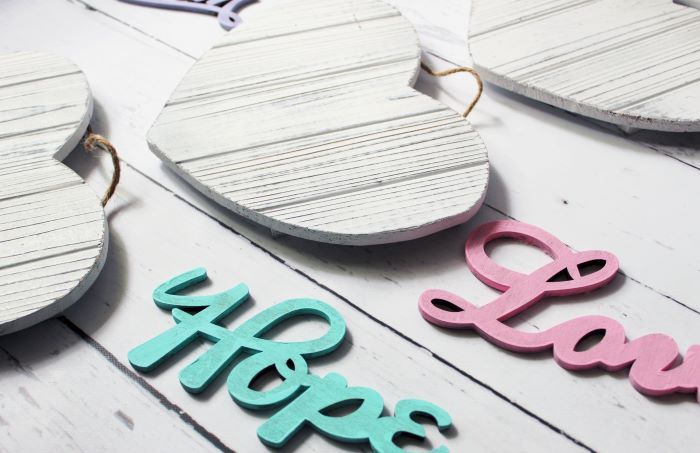 Painting Your Letters
Use acrylic paint (that says it's safe/good for wood) to paint your laser cut words or letters. Paint the tops and sides with one coat. As that coat seeps into the wood, you'll have to decide if you want to do more coats. I ended up doing 2 coats; I wanted my words painted, but I wanted a faint, see-through effect to them as well.
Tip: Don't let them dry on paper towels like I did the first time. They will stick, and you'll be stuck peeling bits of paper towel off of each one. 
Attaching Your Letters to the Wood
Pug in your hot glue gun and let it warm up. Lay out your hearts and lay the words on them to get your placement planned.
Once your glue gun is hot, squirt hot glue on the back of a word and adhere it to the wood. Press down on it to make sure it sets. Let dry.
Repeat with remaining words and hearts.
Let set at least an hour before hanging.
Attaching Twine for Hanging
Measure 4 equal pieces of twine that, when folded in half, are the length you'd like the heart to hang down from the nail on the wall.  Cut the twine.
Turn one heart over. On the back, glue each end about 4-5 inches apart on the wood. You can use hot glue to attach the twine, or you can use Gorilla Glue for a stronger bond. If you have Gorilla Glue, I would recommend that, but the hot glue should work okay as well.
Let the glue set overnight before hanging.
Hanging the Rustic Wooden Pallet Hearts
There is no wrong way to hang the hearts! I hung them in a diamond shape and I love the way they look.
But I also tried numerous other options before settling on the diamond shape:
a square
a horizontal line
a vertical line
a vertical zigzag
a horizontal zigzag
a straight, diagonal line
and there are probably so many more arrangements, too!
Ways to Customize/Change Up the Project:
Make more (or less) than 4 hearts – you'll have completely different hanging patterns!
Stain your hearts with a wood stain instead of painting (or buying painted) hearts.
Paint alternating pallet strips grey on your heart. So your heart would be white/gray/white/grey striped.
Add some additional accents to the hearts. I thought about adding flowers or greenery to my hearts!
Paint the hearts in color and the words in white – this would be perfect for a kid's room or nursery, since it would add a big pop of color!
Pair the dream sign, with this easy to make dream sign in wire!
Whatever you do, make the hearts yours. When I make things to hang in my house, I want them to reflect my personality!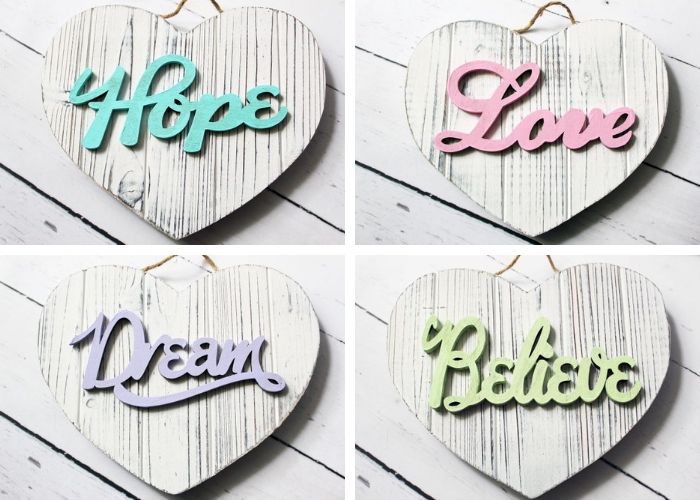 Let's Be Friends!
Insta | Pinterest | Enews | TikTok