This blog may contain affiliate links. 
Oh I love pressed flowers! There's something about them so charming and elegant. And you might remember me experimenting with pressed flower to create a unique DIY phone case (that was almost one year ago, wow!). Well, I still love the idea of playing around with pressed flowers in DIY projects, and when randomly shopping homeware and spotting this beauty of a glass frame, I couldn't help but instantly imagining it as the perfect place where to display some of the pressed flowers from my collection.
Who knows, maybe one day I'll build a whole wall of DIY pressed flower frames, wouldn't it be so beautiful?! Anyway, this project is very simple and quick to make, but this DIY pressed flower frame instantly add a very unique and personal touch to any walls. I personally have it hanging near my desk, and I just love the combination of the antique gold frame and the beauty of the pressed flowers inside. And you can make it as personal as you like, with your favourite flowers, or flowers that remind you of somewhere special…
If you're curious about the techniques for pressing flowers, here you can find more information. My favourite is still the old-school method of pressing them between the pages of a book and add some weight on top. You'll wait for a couple of weeks, and there you have it!
DIY Pressed Flower Frame Tutorial
Materials:
– Clear glass frame
– Instant glass glue + old brush
– Pressed flowers
Method:
1. It's super simple! After pressing your flowers a couple of weeks between the pages of a book (make sure they're completely dry), use a pair of tweezers to remove them and start carefully playing around with a composition to put them into your frame. It can be as simple or as complex as you prefer. I went for a small spring of eucalyptus and added a touch of pink from random wild flowers (not sure what these are called!).
DIY Pressed Flower Frame Process
2. Once you've decided for a composition, use the instant glass glue to secure the flowers on the back of the frame. Make sure the glass glue you're using is clear or dries completely clear, because the frame is clear on both sides. Use an old brush you don't mind ruining to place the glue on the flowers, if your glue comes in a pot.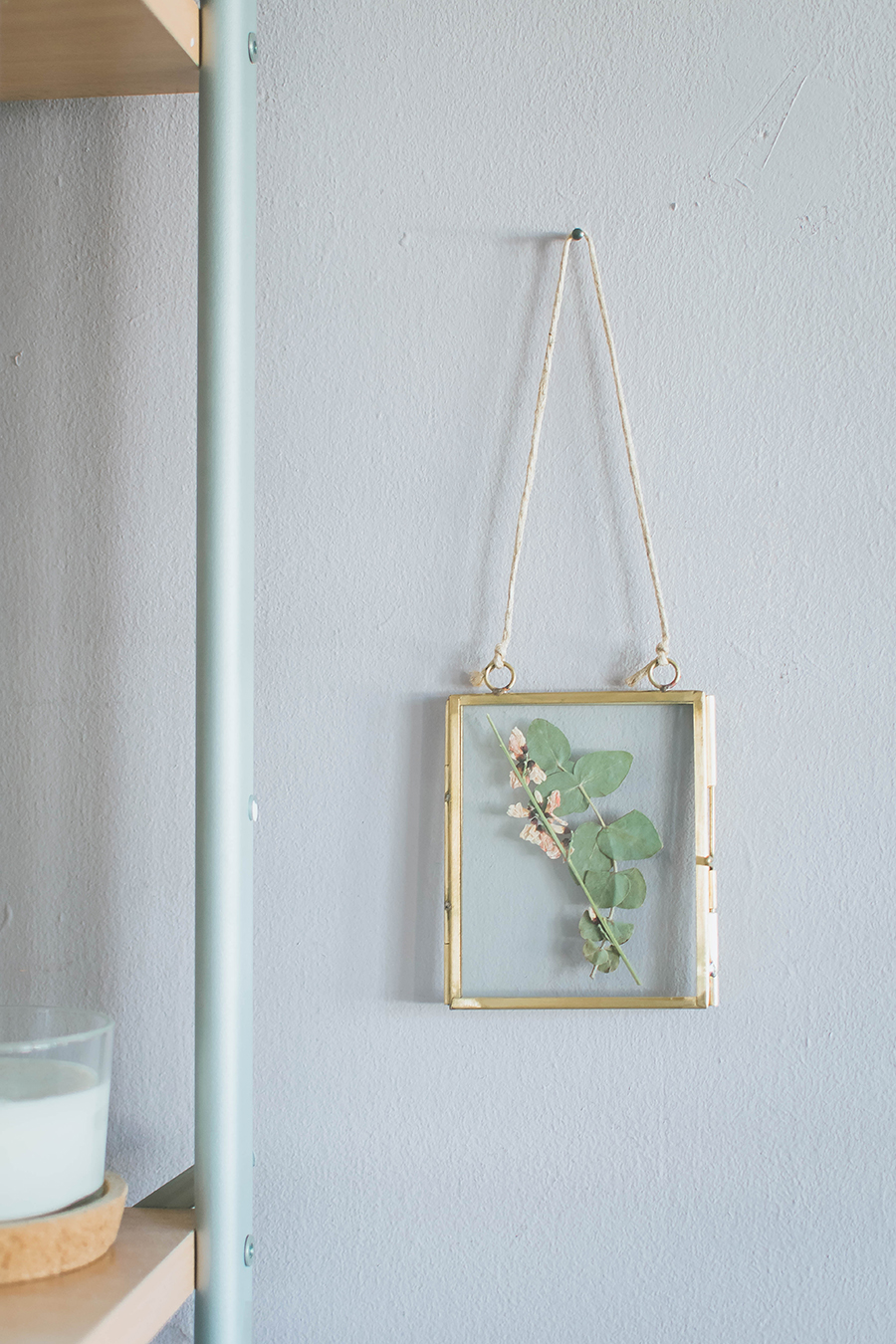 3. Let it dry accordingly to your glue's instructions, then close the frame and hand it to your wall or wherever you like!
That's it, so simple but so elegant and pretty! I'm sure it would also make for such a thoughtful handmade gift! Hope you'll give this one a try.
---
Let's Stay Friends!
Insta | Pinterest | Enews | TikTok