Let's relax! If you love a good soak as much as I do, then you must try these Fizzy Lemon Meringue Pie Bath Bombs. They are bubbly, fruity, sweet and perfect for relaxing in the tub.
It's such a great alternative to our Floral Milk Bath Soaks Recipe.  The Floral Milk Bath Soaks are full of dried flowers will give you just a light exfoliation. It's so nice.
And I also love this DIY Pink Rose Salt Soak Recipe that's just the thing for tired worn out muscles.
But these Fizzy Lemon Meringue Pie Bath Bombs are a fruit burst that it fun to make and makes a great gift!
Supplies to Make Fizzy Lemon Meringue Pie Bath Bombs:
Bath Bomb Molds
Or as an Alternative Plastic Holiday Ornaments
Epsom Salt
Citric Acid
Baking Soda
Corn Starch
Almond Oil
Lemon Essential Oil
Orange Essential Oil
Vanilla Essential Oil
Yellow Food Dye
You will use such a small amount of these that most of your supplies will last! They are all easy to find and helpful to keep in your pantry. So let's make these Bath Bombs!
How to Make Fizzy Lemon Meringue Pie Bath Bombs:
Scroll down if you want to go straight to the printable recipe and here are some quick tips. It's the citric acid that makes the bath bombs fizz and water that activates it.
That means, while making these, you must be careful with the amount of water you add. Because I'm in a humid area, I add a bit less water. If you are in a dry area you may need more. Just be sure that you are adding enough water to where the ingredients clump together when pressed – thus will firmly hold their shape in their mold.
Fizzing Bath Bombs also do well in a chilly environment. They don't hold their shape as well during hot, hot summers. So I make my bath bombs in the fall or winter!
If you want to make them striped with color like mine, it's easy! Just separate your finished mix before adding it to the molds into two bowls. In one bowl, add a tiny amount of yellow food color and mix thoroughly. You do not need to add dye to your other bowl. Then layer your mix into the molds alternating between the colorless and the yellow! Be sure to press each layer firmly together.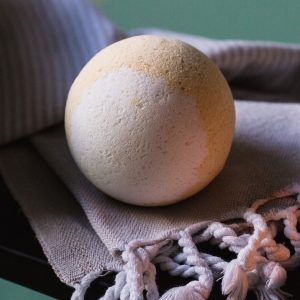 Fizzy Lemon Meringue Pie Bath Bombs DIY
These fizzy and uplifting Lemon Meringue Pie Bath Bombs smell so good and feel great to soak with!
Ingredients
3 - 4

plastic ornaments

3

tbsp.

epsom salt

1/2

cup

citric acid

1

cup

baking soda

1/2

cup

corn starch

2

tsp.

almond oil

15

drops lemon essential oil

10

drops orange essential oil

10

drops vanilla essential oil

a few drops of yellow food dye
Instructions
In a large bowl, combine the epsom salt, baking soda, citric acid, and cornstarch by whisking thoroughly. Set the bowl aside for later.

In a smaller bow, mix together the almond oil and essential oils. Stir until completely mixed.

Slowly add the wet ingredients to the dry (the almond oil to the large bowl of epsom salt and baking soda.) Stir until all the ingredients are evenly mixed.

Separate the mixture in half and place one half in a separate bowl.

In one bowl, add a tiny amount of yellow food dye and mix it thoroughly. Continue to add additional dye until you get a gorgeous lemon yellow color. It shouldn't take much!

Put on some gloves, grab a handful of 1 color of your mixture and squeeze it in your hand to see if it holds together. If it doesn't, use a mister bottle to give your mixture a tiny spritz of water. Mix again thoroughly and see if it will hold together now.

Whatever you do, don't add more than 1 spritz of water at a time. If your mixture begins to fizz. Throw it out and start over.

Once the mixture can hold together, begin layering the colors back and forth into a mold. Add a layer of yellow, then a layer of white.

Fill each side of the mold, then press the 2 halves together and seal it. Repeat this process again until you have used all of your bath bomb mixture.

Allow bath bombs to dry overnight. Carefully remove bath bombs from the plastic molds. If they are not fully hardened allow them to dry further.

To use: drop into a warm bath and watch it fizz!
So what are you going to do with your Fizzy Lemon Meringue Pie Bath Bombs DIY? Give them as gifts or treat yourself? Tell us in the comments! And need more Bath & Body DIYs? These are our most popular make DIY Skin Smoothing Coffee Scrub here and DIY Easy Lavender Sugar Scrub here.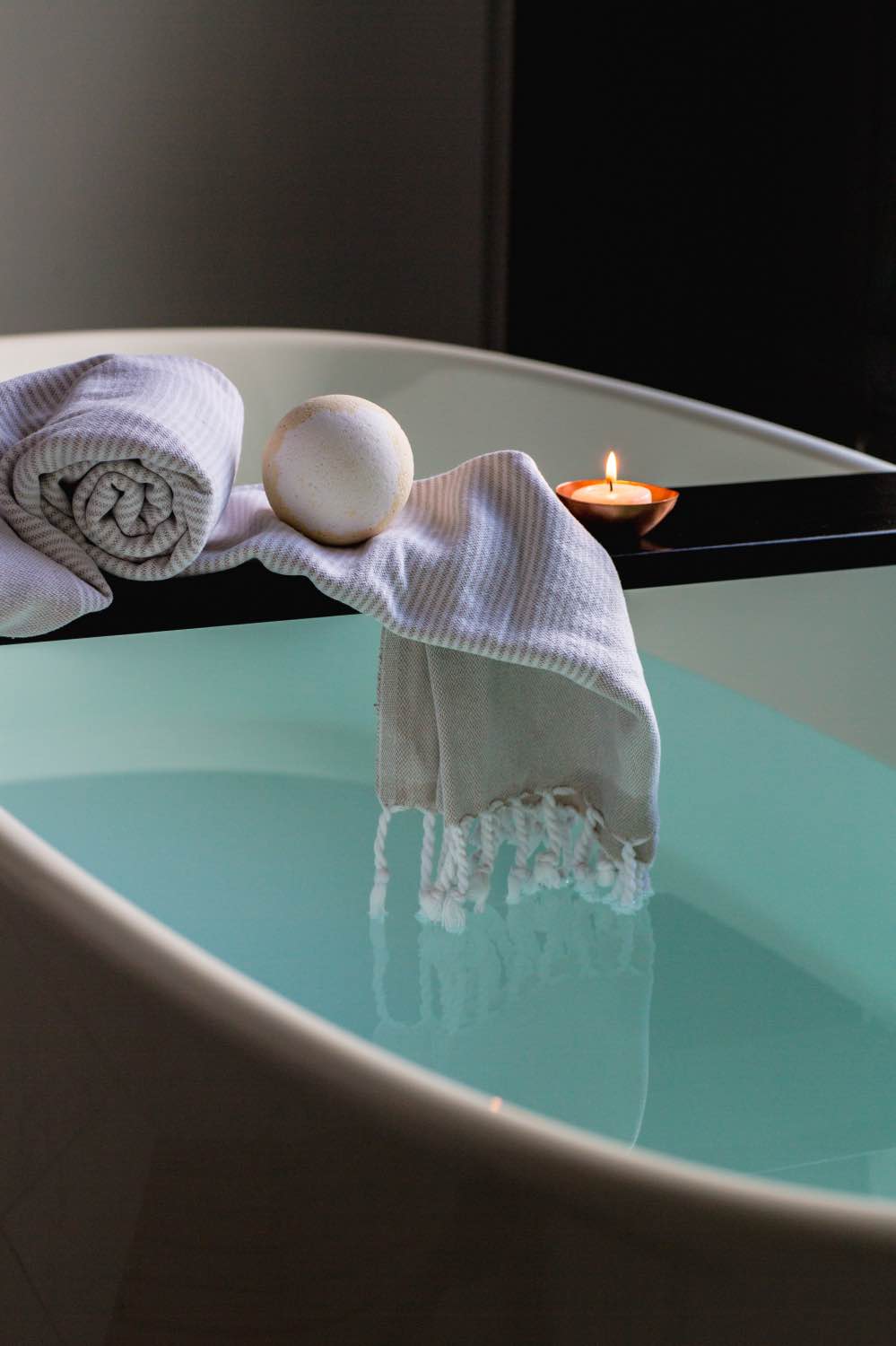 Let's Stay Friends!
Insta | Pinterest | Enews | TikTok