Have you ever had real hot chocolate – the heavenly drink that's rich, decadent and full of real melted chocolate? It's perfection.
It's nothing like the powdered mix that you add water too. Hey the powdered kind is amazing in a pinch and can also make for some excellent layered mason jar hot chocolate gifts.
But when you want the real thing and you are craving chocolate, this may be the best dessert in the whole world. So let's make it!
What Type of Chocolate to Use
Always use dark to bittersweet chocolate, one that is between 60% – 75% chocolate. Milk chocolate is too sweet and light and if you use anything darker, you will need to add sugar and taste it as you go. You will need to sweeten to taste, but since sugar takes time to break down from it's crystal form it can be a bit of a pain. That's also why it's important to use caster sugar in this recipe. Caster sugar is just white sugar that is extra fine grain so it breaks down faster.
With all that talk you would think using 60% chocolate is imperative! In fact it's not. Heck you could even make this recipe with white chocolate! Who I am to judge? As far as brands, my personal favorite is Valrhona. That's what I used for these chocolate truffles, for example. But any nice chocolate will be perfect – Callebaut, Ghirardelli, or Godiva. This recipe is best when the chocolate is high quality.
Milk vs. Cream
The amount of milk and cream can vary in this recipe. I am going to give you a standard version that uses both. However, you could add more milk to make the hot chocolate thinner and more drinkable. You could just add cream and skip the milk altogether and serve this Hot Chocolate in a demitasse.
The most traditional versions of this recipe will only use cream.
How to Prepare French Hot Chocolate
Break your chocolate down into small pieces. Then, in a small stock pot, add your chocolate, milk, cream, vanilla, and sugar and bring the heat to medium. As it heats, continue to stir with a whisk. Stir regularly and allow the ingredients to melt and blend. Once bubbles begin to appear around the edges and the chocolate is perfectly smooth remove it from the heat.
Toasted marshmallows are my personal favorite but you could also top this hot chocolate with whipped cream or nothing at all! The important part is to serve it immediately. If you want to extend your sipping length, warm your mugs first by filling them with boiling water, allowing them to set with the hot water for a few minutes and then pouring the water out.
How to Toast Marshmallows
Okay, this is important. I've toasted marshmallows about a million different ways. I'm obsessed with marshmallows and here's what I've learned.
When you toast them and crisp the outside, you also make them melt the second they touch liquid. It's just like when you add cotton candy to a cocktail. If you want your marshmallows to look like this, pile them high on top of your ready to serve French Hot Chocolate. Then use a creme brulee torch to toast the marshmallows on top. Last, drizzle the hot chocolate and marshmallows with a touch of chocolate syrup. And viola! Decadent, gorgeous hot chocolate.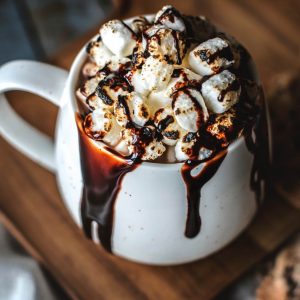 French Hot Chocolate Recipe with Toasted Marshmallows
This French Hot Chocolate Recipe uses real chocolate bars for a decadent and thick drinkable chocolate dessert.
Ingredients
8

oz.

chocolate

any high quality

1/2

cup

cream

1 1/2

cups

whole milk

1

tbsp

caster sugar

1

tsp

vanilla extract

and/or 1 dollop of vanilla bean paste

1 1/2

cups

mini marshmallows

1

tbsp.

chocolate syrup
Instructions
Break your chocolate into small pieces.

In a small stockpot, bring your chocolate, cream, milk, sugar, and vanilla to medium heat.

Whisk every minute or so and allow the chocolate to melt and the ingredients to blend.

Meanwhile, warm your mugs by filling them with boiling water. Pour the water out as soon as you are ready to pour the hot chocolate in.

Once the ingredients are blended and bubbles begin to appear on the side, pour into a mug to serve.
How to Serve:
Pile the top of your mug with marshmallows.

Using a

creme brulee torch

, gently brown the top of the marshmallows. Be gentle treating your marshmallows and torch as you would at a campfire.

Last drizzle with chocolate syrup. Enjoy!
To Store:
Allow your hot chocolate to cool to room temperature. Then place in a mason jar and store in the refrigerator for up to 3 days.
Let's Stay Friends!
Insta | Pinterest | Enews | TikTok