I'll be the first to admit: I love peppermint and mocha. One of my faves? A peppermint mocha latte! In fact, until a certain coffee shop introduced their Pumpkin Cream Cold Brew, I practically lived on peppermint lattes from there.
But I hate coffee shop prices. And I especially hate the way the holiday drinks have a premium upcharge on them. And now that we've switched from disposable k-cups to reusable k-cups filled with quality, fresh-ground coffee, I knew I could make a good peppermint coffee drink at home.
And so I introduce you to: the Peppermint Mocha Marshmallow Latte. Perfect for sitting in front of fireplaces, watching holiday movies, and bringing a little joy to your every day, morning, take-to-work coffee.
Peppermint Mocha Marshmallow Latte – the Ingredients
Here;s a quick look at your grocery list for the creamer and the latte:
7 oz. jar marshmallow fluff/creme
granulated sugar
peppermint extract
12 oz can evaporated milk
chocolate syrup (I used Ghirardelli, but plain, classic Hershey's would work too)
coffee
whipped cream, for topping (optional)
Grab your ingredients and let's get coffee-making!
Making the Peppermint Mocha Marshmallow Creamer
To make the creamer, heat the can of evaporated milk and 1/2 cup of granulated sugar over low heat, stirring often, until the sugar is completely dissolved.
Then whisk in the marshmallow fluff, one or two spoonfuls at a time, until it is melted and smooth. due to the marshmallow, the creamer will fluff up quite a bit as you whisk, but it will settle down once it is removed from the heat.
After the marshmallow is whisked in, stir in 5-10 drops of peppermint extract. I recommend starting with 5, and adding more if you think the flavor isn't strong enough. You can always add more, but you can't take it away once it's in there.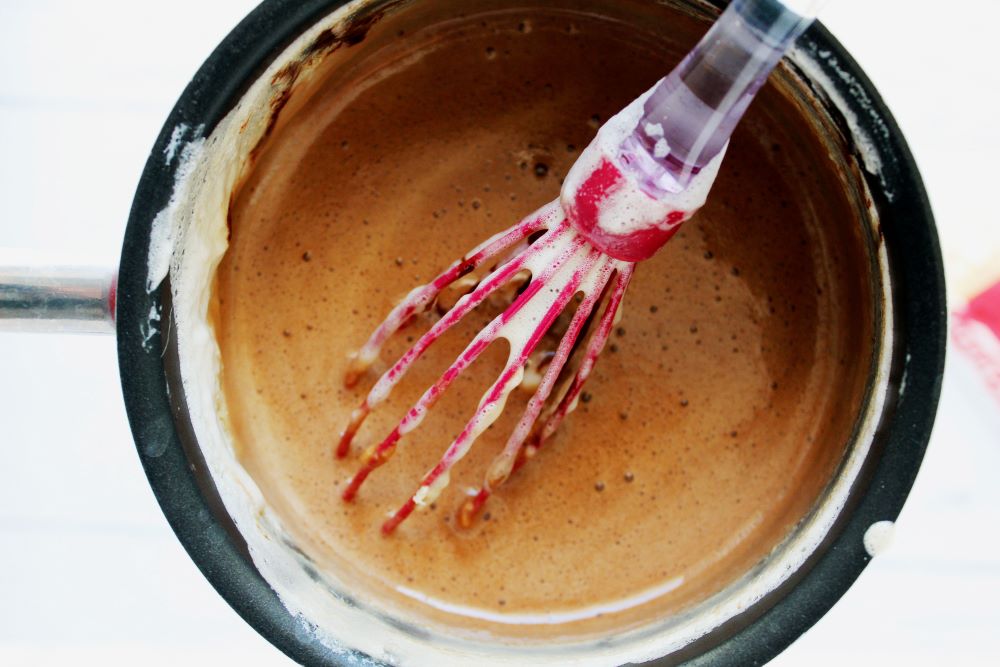 Lastly, stir in 1/4 cup of quality chocolate syrup. The better quality you use, the more your drink will taste like 'coffee shop quality.' And the 1/4 cup is your starting point. I like my drinks with a pretty light chocolate flavor, but if you like more, you can add up to 1/2 cup of chocolate syrup.
Stir the chocolate syrup in and remove the creamer from the heat. Let it sit for a few minutes so that the foaming goes down.
Creating the Peppermint Mocha Latte
Once your creamer has settled, it's time to create your latte!
Brew 8 ounces of your favorite coffee; plain or flavored will work! I've made this with plain coffee and with Spiced Vanilla Bean flavored coffee and they're both fantastic.
Pour your coffee into a large coffee mug. Add 1/2 cup of milk (skim, whole, soy, oat – whatever your preference) and 2 tablespoons of peppermint mocha creamer. Stir together. *Note: 2 tablespoons is a 'typical' creamer serving size, but I usually add a little more. I mean, if I'm having a latte made with marshmallow cream, I'm obviously okay with treating myself today. Ha!*
If you're feeling pretty extra, top your latte with some whipped cream and a drizzle of chocolate sauce (or crushed candy canes!) to finish!
Storing your Peppermint Mocha Marshmallow Creamer
Once your creamer is completely cool, you can store your creamer in an airtight container in the refrigerator. It will stay good for up to two weeks.
If it seems a little thick when you use it straight from the refrigerator, you can heat it in the microwave for a few seconds, or just make sure your coffee is very hot when you add it (add it before the milk if necessary).
How Does the Cost Stack Up Against the Coffee Shop Prices?
An average cost for a medium Peppermint Mocha at a coffee shop is $4.75. For one drink. 
This creamer makes you enough for at least 4 drinks. Here's your cost breakdown of ingredients:
chocolate syrup – $0.66 for 1/4 cup
evaporated milk – $0.85 for 1 can
sugar – $0.20 for 1/2 cup
milk – $0.30 for 2 cups (enough for 4 lattes)
jar of marshmallow creme – $1.25
coffee – about $1.00 for four servings
peppermint extract – less than $0.25 for amount used)
= $4.51 for four lattes. That's $1.13 per latte – your local coffee shop will NEVER beat that! 
I still love to grab a coffee shop drink when I'm out and busy, but if I'm home, or on a normal work day, the cost savings of making it at home are enormous.
And the taste is even better than you get at the coffee shop, because you can add each ingredient specifically to your taste!
This Peppermint Mocha Marshmallow Latte is perfect for your everyday coffee, but it would also be amazing as an offering at a holiday party or brunch!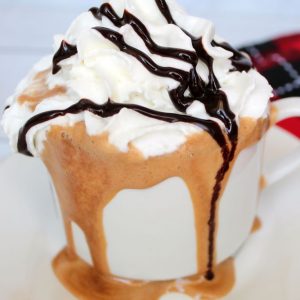 Peppermint Mocha Marshmallow Latte
This Peppermint Mocha Marshmallow Latte is a delicious way to make coffee house style coffee at home!
Ingredients
1

can evaporated milk

1/2

c.

granulated sugar

1

jar marshmallow fluff/creme

5-10

drops of peppermint extract

1/4

c.

or more, to taste chocolate syrup

8

oz.

brewed coffee

whipped cream for topping

optional
Instructions
In a medium saucepan, stir together the evaporated milk and sugar. Heat over low, stirring often, until the sugar is completely dissolved.

Whisk in marshmallow fluff, a couple of spoonfuls at a time, until melted and smooth.

Stir in chocolate syrup and peppermint extract.

Pour brewed coffee into a large mug. Add 1/4 c. creamer, stir, and top with whipped cream if desired. (You can add as much or little creamer as you like to your coffee - the more you add, the more it'll taste like the peppermint mocha from a coffee shop!)

Store leftover creamer in an airtight container in the refrigerator for up to two weeks.
Let's Stay Friends!
Insta | Pinterest | Enews | TikTok