Confession – I love marshmallow crispy treats! And I really love making marshmallow crispy treats with unique cereals – like these Honeycomb Marshmallow Crispy Treats.
Marshmallow Crispy Treats have the perfect amount of crunch. They are easy to make and easy to store. These Golden Grahams Marshmallow Treats are some of my absolute favorite because they are triple-xxx crunchy and have such a delicious flavor.
So let's make them!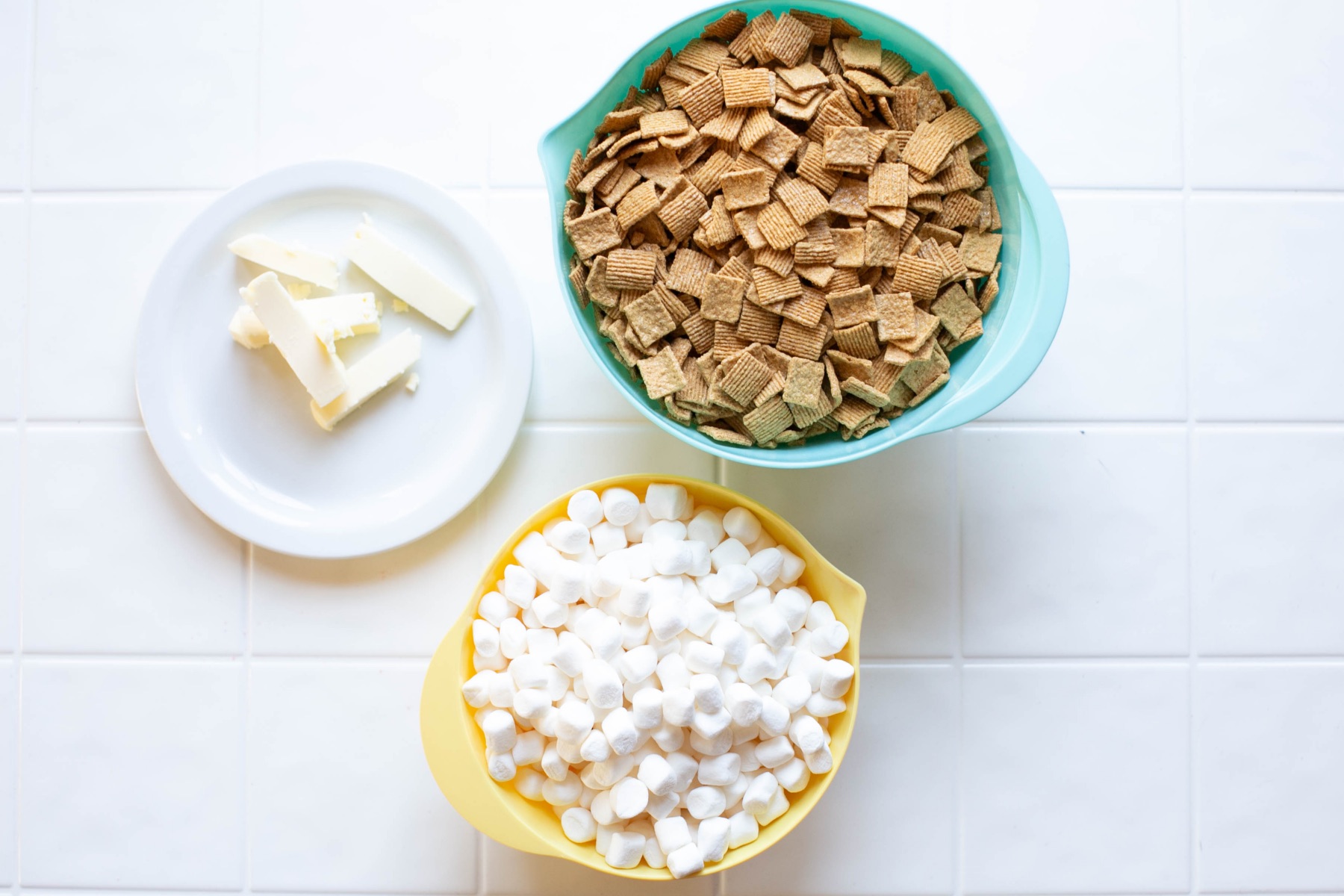 Ingredients to Make Golden Grahams Marshmallow Treats
The ingredients for any marshmallow cereal treat recipe are always similar. You will need:
8 Cups Golden Grahams
1 Bag Mini Marshmallows
1/4 – 1/3 Cup Butter
1 Tsp. Vanilla Extract
Non- Stick Cooking Spray
Pro Tip Butter: For any marshmallow treats, you can use 1/4 cup to 1/3 of a cup of butter. The butter will help the melted marshmallows stay a little smoother and a little less sticky. Of course it also adds a delicious buttery flavor. For some of our recipes, like this Cookie Crisp Marshmallow Treat Recipe you will see the recipe call for 1/4 cup. But you can actually use 1/4 or 1/3 so for this recipe, I will use 1/3 – just to show you both.
Pro Tip Vanilla Extract: With any marshmallow treat recipe, you can also add anywhere from 1 teaspoon to 1 tablespoon of vanilla extract. Most recipes don't call for this, but it enhances the flavor and is totally welcome. Just follow my guidelines below and add this to any cereal treat bar you make.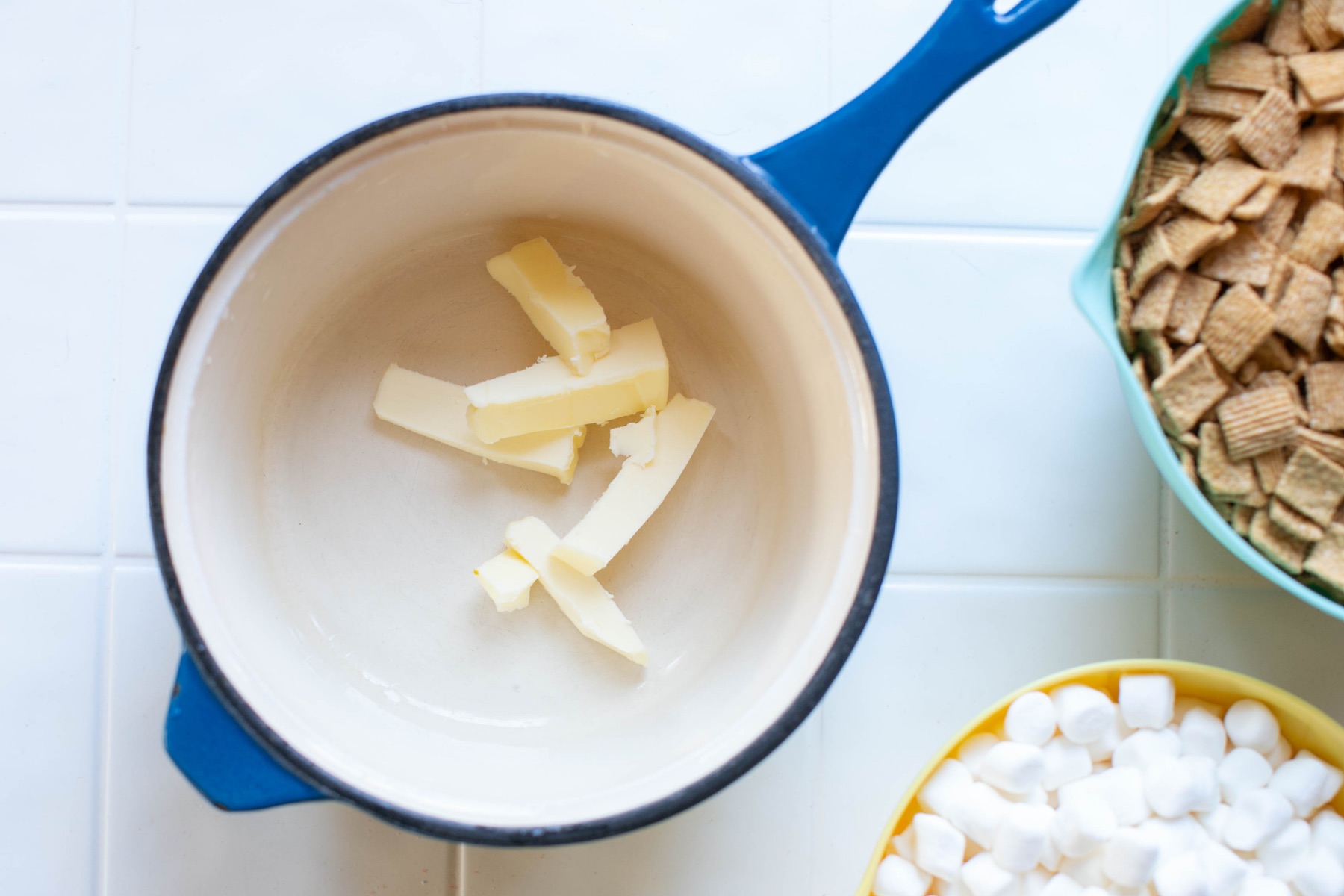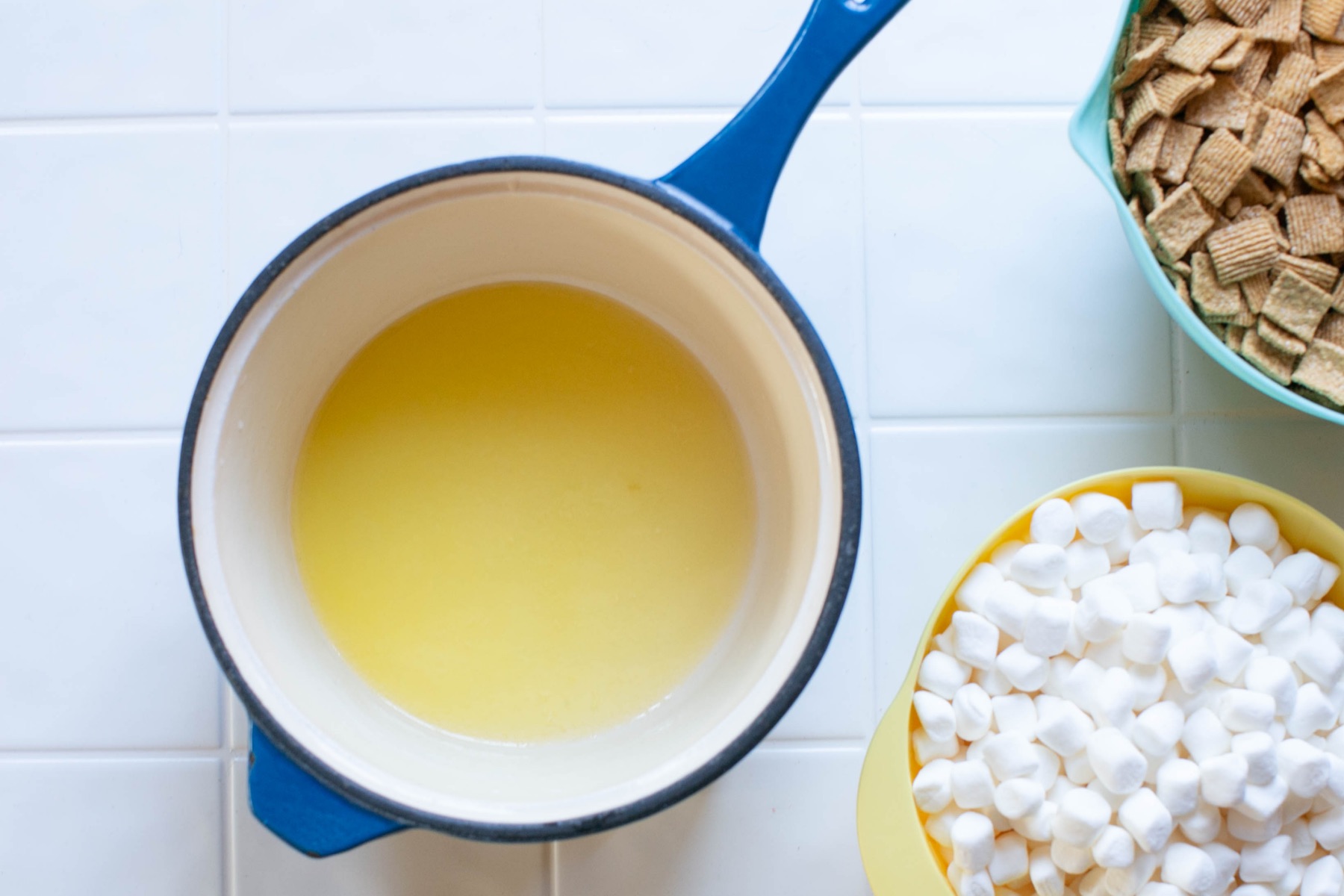 How to Melt Marshmallows
When making these marshmallow crispy treats, always start with the butter. Melt the butter on low until it's completely liquid. Then add the marshmallows. Melting the butter first will prevent the marshmallow mixture from becoming too sticky. Both marshmallows and butter should be melted in low to prevent burning. Treat marshmallows like you would sugar and know that they can burn easily.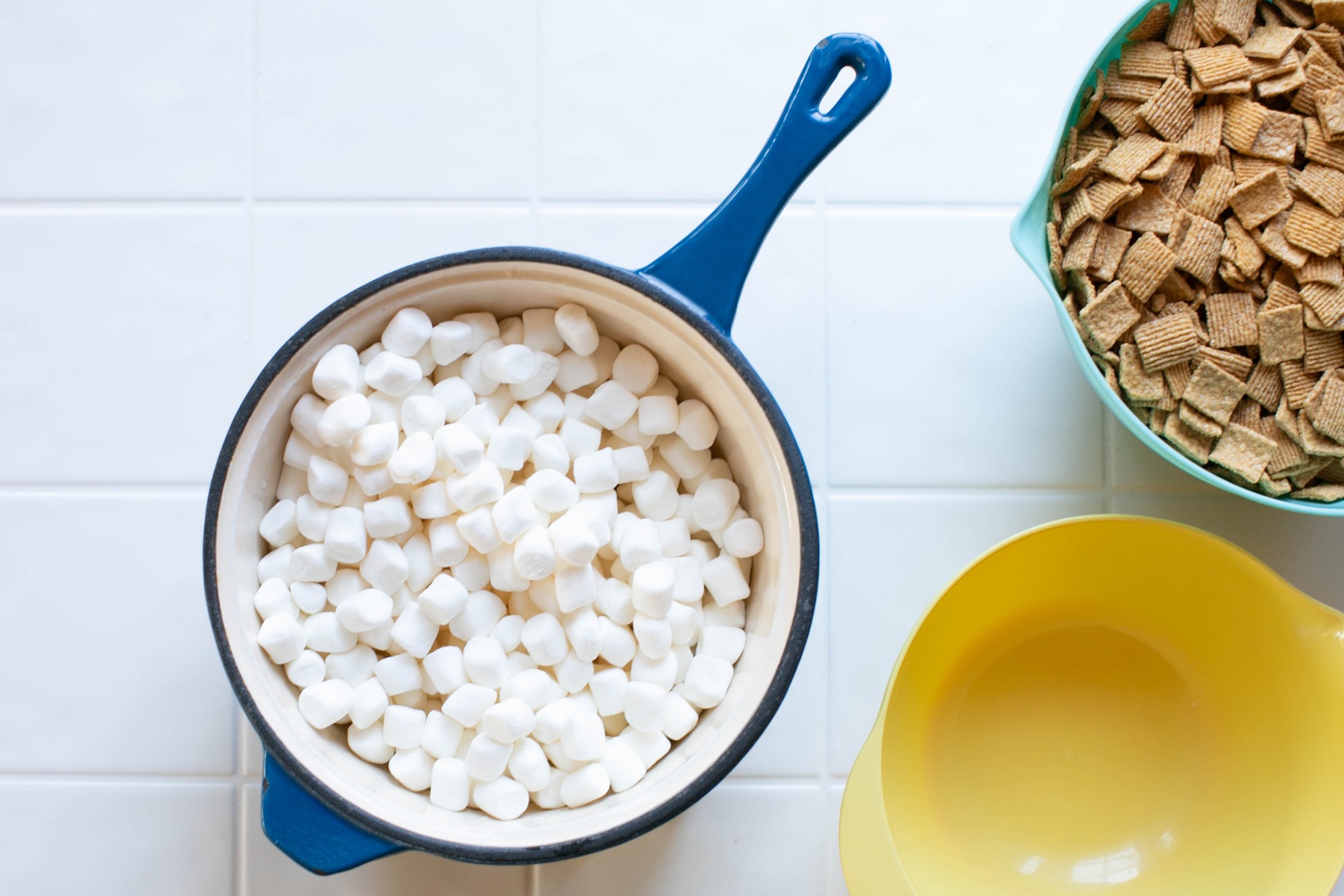 In addition to burning easily, marshmallows also stick to everything! That's why when you combine them with the cereal later, they will immediately become tacky and start to set. So anything you use to stir the marshmallows should be a utensil that doesn't get sticky easily. Rubber spatulas are best.
I also spritz any utensil I use with non-stick spray. You can spritz the spatula a few times while you are making these if you are concerned about the spray wearing off.
Why You Need to Keep Your Kitchen Tools Greased
Since we're on the subject, it's not just your marshmallow stirring utensil that you will want to grease! You will also want to liberally grease your 13 x 9 inch pan, a sheet of wax paper for pressing the Golden Grahams Marshmallow Treats into their shape, and the knife that you use to cut the treats.
Even after the marshmallows set, things can still get sticky, so I prefer to keep everything as easy to work with as possible.
Mixing the Marshmallows and Cereal
Once your marshmallows are melted, add a your vanilla extract. Then you are ready to mix together the cereal and the melted marshmallows.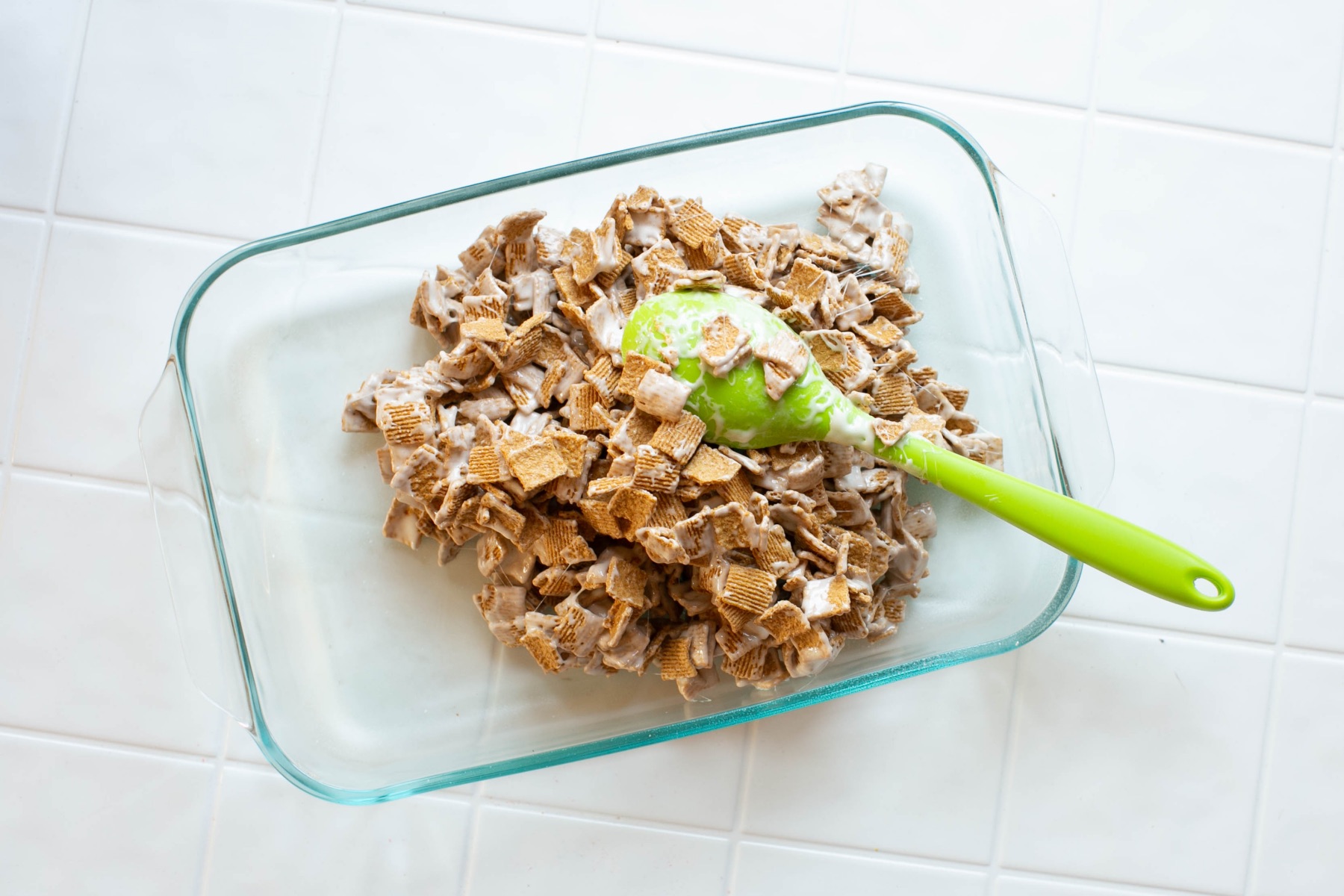 Remove the marshmallows from the heat and pour them over the cereal. With a greased spatula stir the cereal and marshmallows together until the cereal is evenly coated. You have to combine these ingredients quickly because the marshmallows begin to set fast.
And you will also want to make sure that your bowl is large enough to handle the tossing and stirring of the cereal without it spilling out.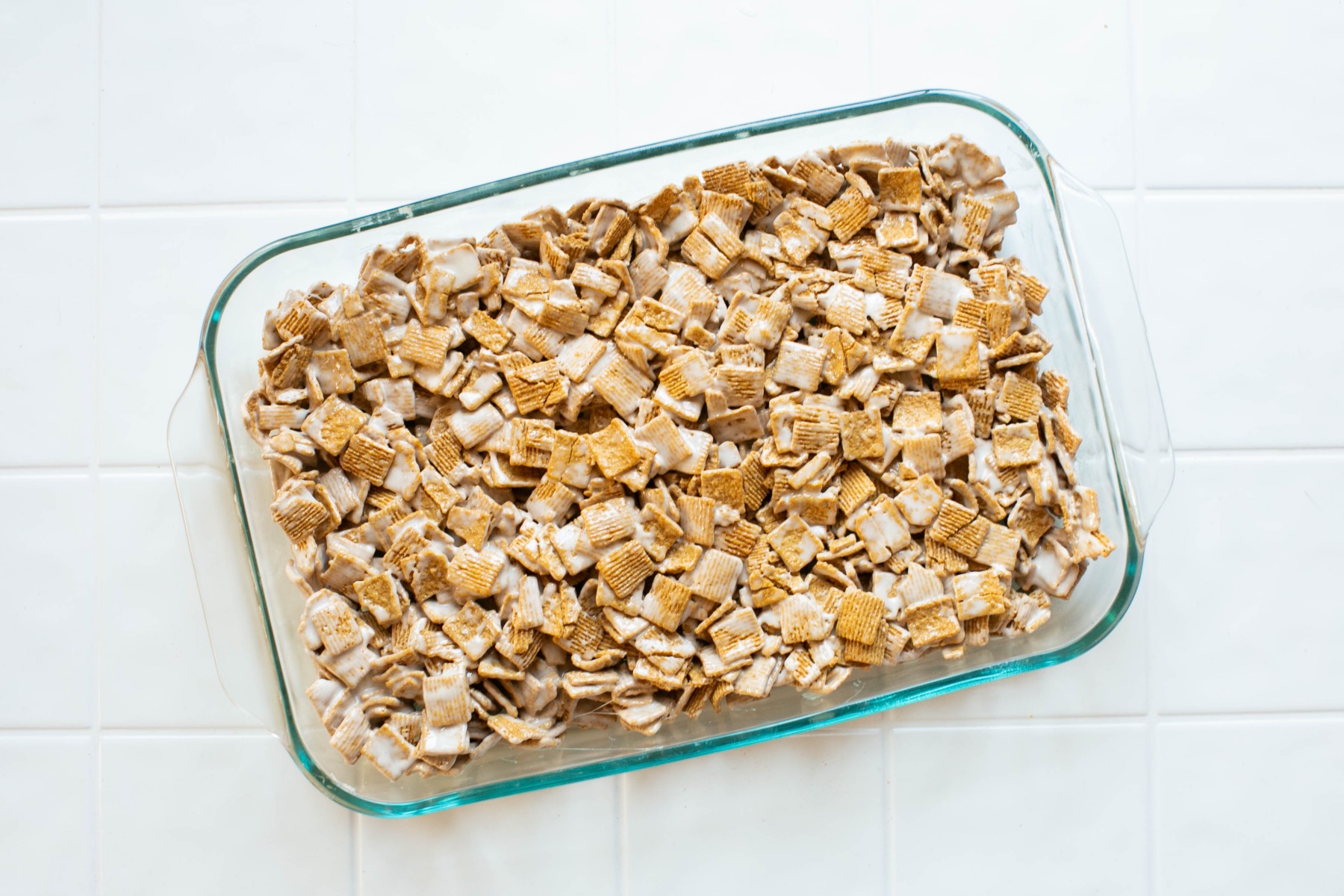 How to Keep the Cereal Crispy
I like it when my cereal is as crispy as possible. And there's a few ways to make that happen. First and to state the obvious, we will want to use fresh cereal. But next, and less obviously many people choose to pour the cereal into the marshmallows while they are still on the heat.
It makes it much easier to stir and to get the cereal evenly coated. But it will reduce the crunch in the cereal. That's why you should always remove the marshmallows from the heat, pour them over the cereal, and stir them quickly!
How to Press the Cereal
Once your cereal and marshmallows are combined, pour them into a 13×9 inch pan. Then tear a sheet of wax paper large enough to cover the entire pan and coat it with non-stick spray. With the spray side down, press the wax paper into the Golden Grahams Marshmallow Treats to help them form into a shape.
This will flatten the top and make them cuter, easier to store, and easier to cut.
Let the Golden Grahams Marshmallow Treats Set
Now here's the tricky part, if you cut into the marshmallow treats now, they will fall apart. You need to let the marshmallows set. It's an impossible task, I know!
But the good news is that it only takes 1-2 hours for marshmallows to set and for any cereal marshmallow bars to be ready to serve.
So if you are planning on serving these for dessert, make them ahead. They are best the day they are made.
How to Serve and Store the Golden Grahams Marshmallow Treats
To serve the Golden Grahams Marshmallow Treats, just cut them into even rectangles or squares. They are the perfect anytime snack. They are so fun for after school and they are perfect for any easy weeknight dessert.
You can serve them with a glass of regular or non-dairy milk – just like a bowl of cereal.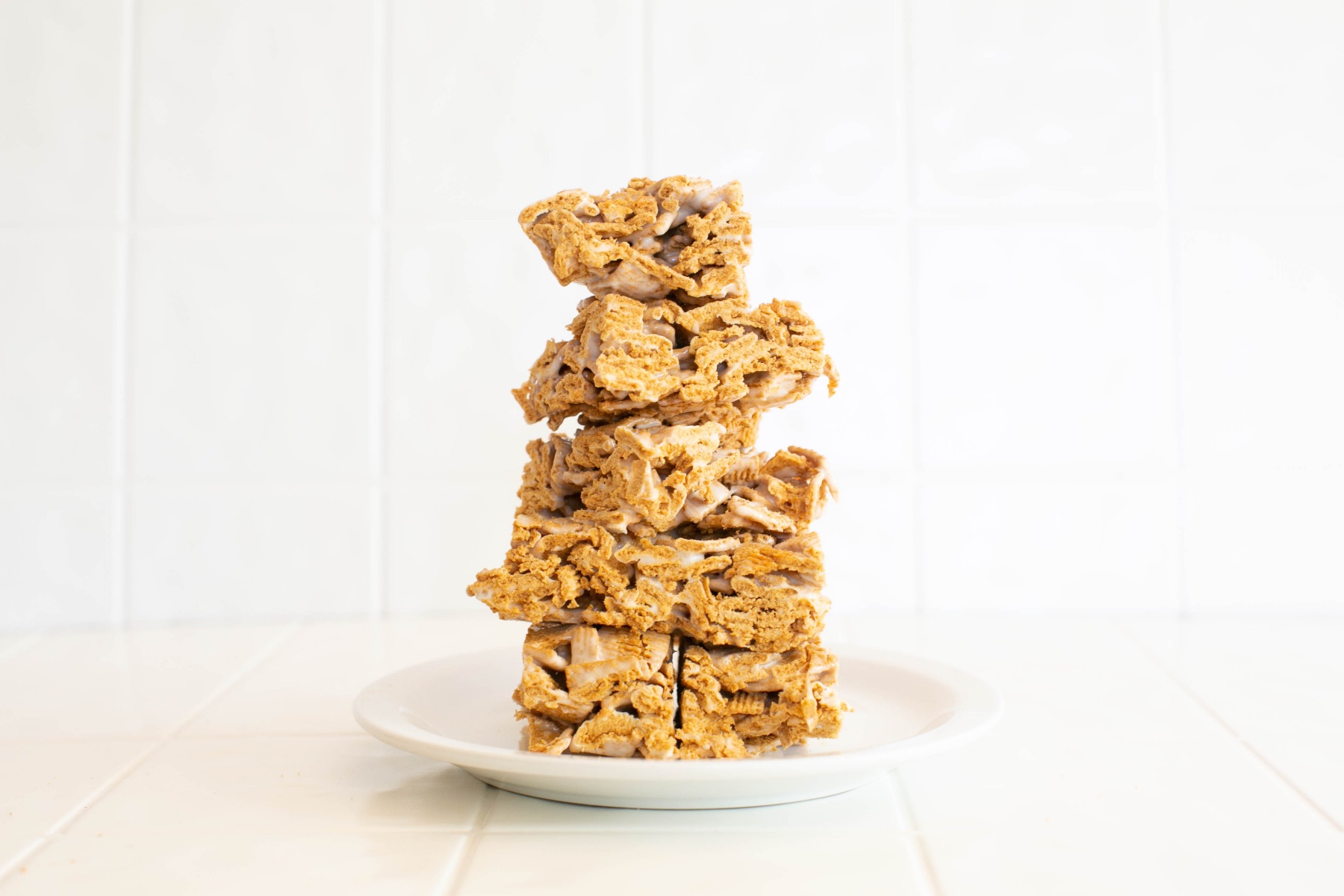 To store them, place them in an air-tight container and leave them at room temperature. If you need to make layers, separate the layers with a piece of wax paper. Depending on your climate and humidity, your Golden Grahams Marshmallow Treats will keep for a few days – longer than most other desserts.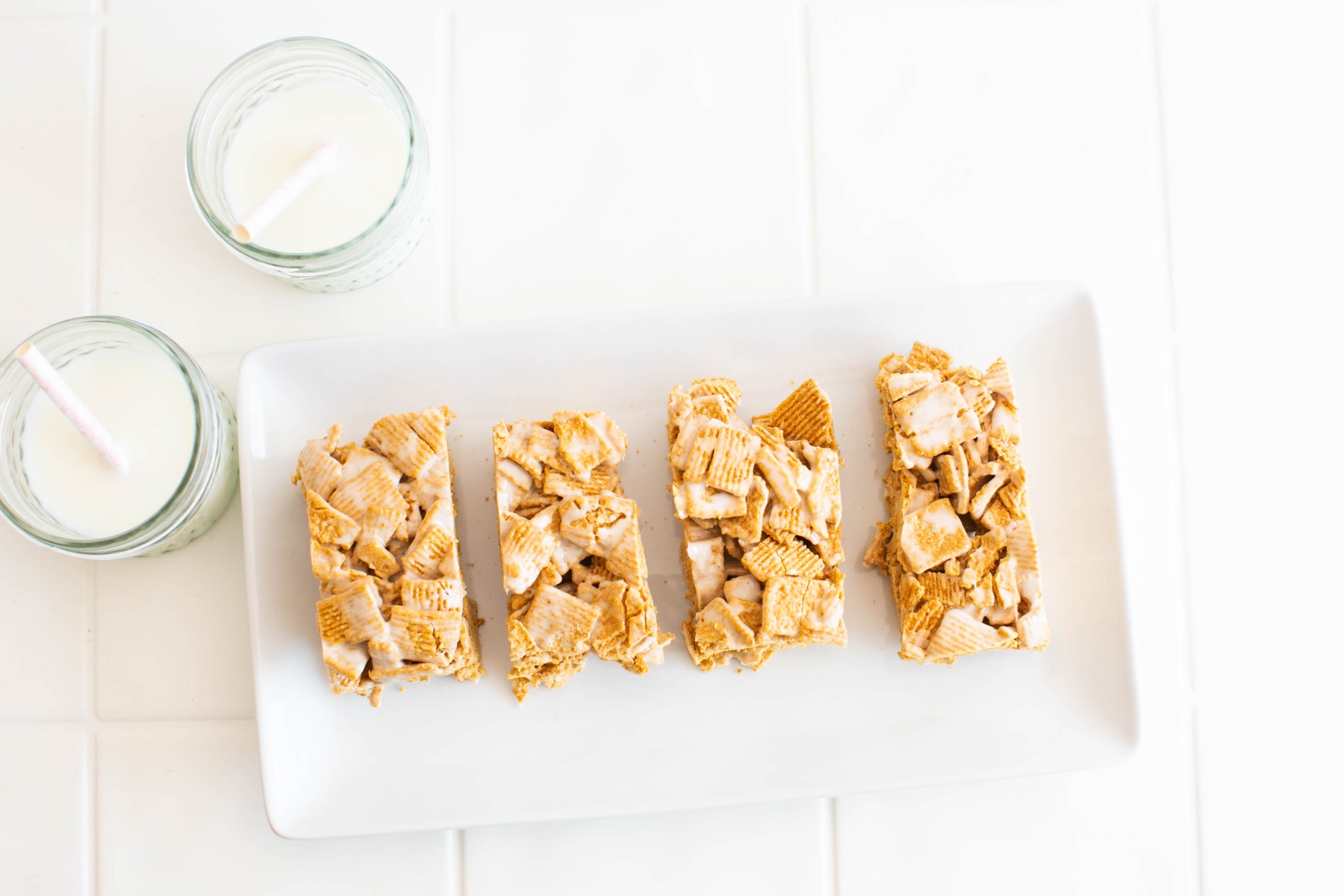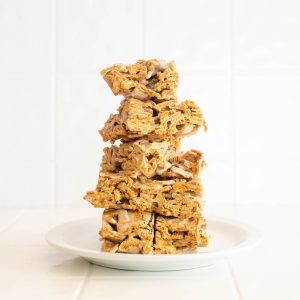 Golden Grahams Marshmallow Treats Recipe
Looking for a fun alternative to Rice Crispy Treats? Use Golden Grahams cereal to make these delicious, crunchy and flavorful marshmallow treats. It's a no bake recipe that is sure to make you smile.
Equipment
1 13x9 inch pan

1 mixing bowl

1 Rubber Spatula

1 Sheet Wax Paper
Ingredients
8

cups

Golden Grahams Cereal

1

bag

Mini Marshmallows

10 ounces

1/3

cup

Butter

1

tsp.

Vanilla Extract

Non-Stick Cooking Spray
Instructions
Melt the butter in your pot over medium-low heat.

Once butter is completely melted, add in the entire bag of marshmallows. Keep at a medium-low heat and stir occasionally. The marshmallows will melt into a glob.

Spray large mixing bowl with non-stick spray. If you are already using a rubber spatula, spray it again with non-stick spray. If you used a different utensil, use a rubber spatula for the rest of the steps.

Add 8 cups of Golden Grahams to the mixing bowl. Once marshmallows are completely melted pour over top of cereal.

Mix the melted marshmallow and cereal together. You will need to do this step quickly!

Pour the mixture into sprayed 13x9 inch baking dish.

Use the spatula to spread the cereal and marshmallow mixture evenly throughout the dish. Spray a sheet of wax paper with non-stick spray and gently press the marshmallow treats into dish.

Let the treats cool for 1-2 hours before serving.

Cut the marshmallow treats into squares or rectangles with a sharp knife. You are welcome to coat the knife with non-stick spray as well!
Let's Be Friends!
Insta | Pinterest | Enews | TikTok