Want to put a magical twist on an ordinary waffle? This recipe is so easy and is the perfect way to liven up a regular, boring brunch. You could make these for a birthday, especially a kids birthday, or if you are having a brunch party.
I'm on a quest to make all kinds of rainbow food – like these Rainbow Yogurt Cups which are actually pretty healthy! Or these Rainbow Candy Skewers which are pretty unhealthy! These Rainbow Waffles have a little bit of both qualities.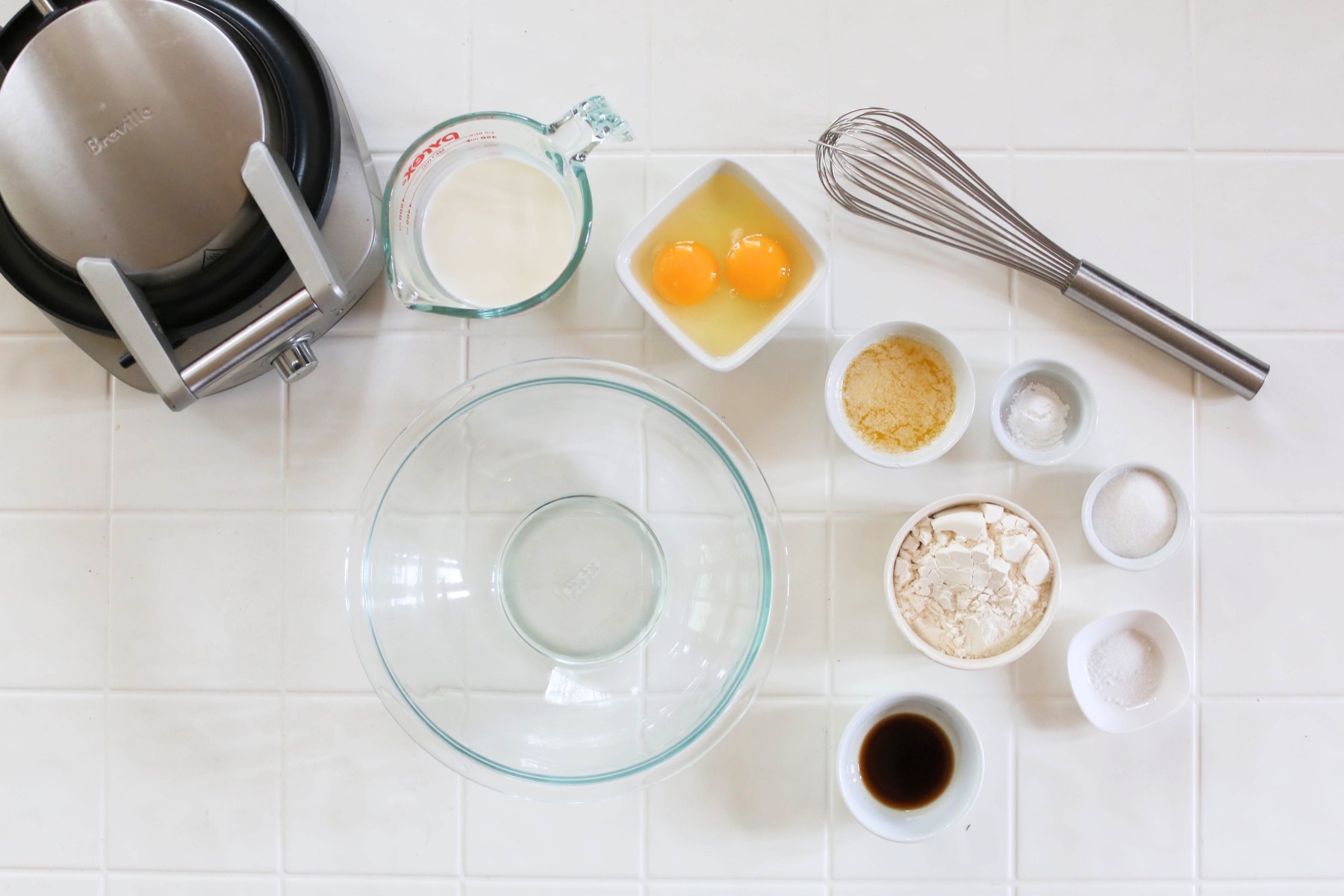 Ingredients to Make Rainbow Waffles
Flour
Sugar
Baking Powder
Salt
Milk
Eggs
Vanilla Extract
Butter
Food Color (in every color of the rainbow)
Pro Tip: You don't have to use red, orange, yellow, green, blue purple to make it look like a rainbow. You can use an array of pinks, pastels, lime greens – whatever you like to make a gorgeous color palette that still feels like a rainbow. The most important thing is to make sure you keep your specialized palette in the same color order as ROYGBIV.
Kitchen Equipment to Make Rainbow Waffles
Waffle Iron
Microwave/Stovetop
Optional: Squeeze Bottles
Pro Tip: Squeeze bottles are the easiest way to make the rainbow pattern, but you could also use 6 of anything in your kitchen that has a pour spout like liquid measuring cups or pitchers. You could even use spoons to carefully drizzle the waffle batter. These are all options if purchasing 6 squeeze bottles just for this recipe doesn't sound like a good fit.
How to Make Your Waffle Batter
Start by mixing together your dry ingredients in a medium sized bowl. That's your flour, sugar, baking powder and salt.
Use Liquid Ingredients at Room Temperature
Next whisk your eggs and milk together in a larger bowl. If your milk and eggs are extremely cold and straight out of the fridge, leave this mixture to rest until it's closer to room temperature. Cold milk and eggs can force your butter to solidify and make it hard to make the waffle batter.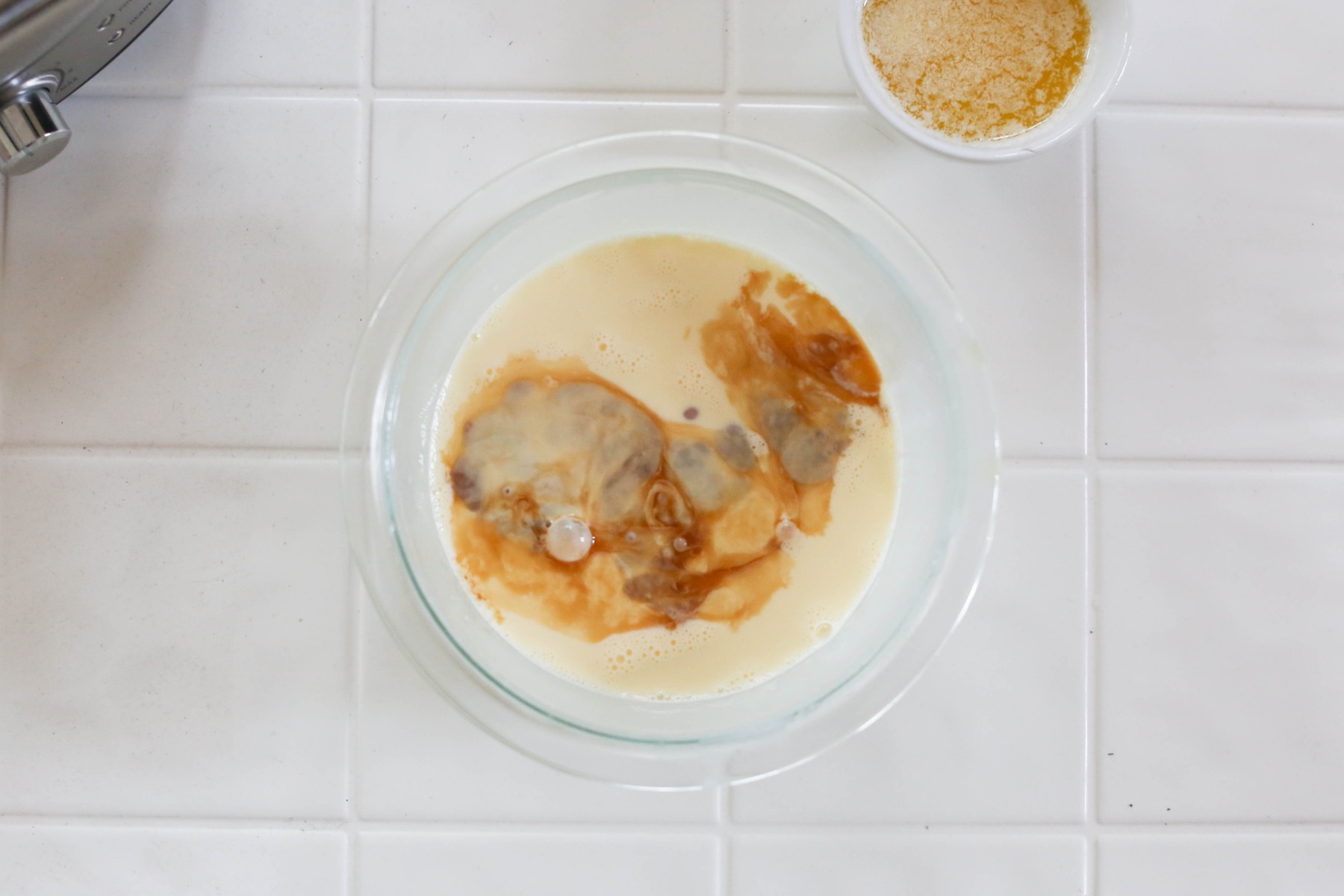 Next, melt your butter in a microwave or stovetop but make sure it's not too hot. Then add the butter and vanilla extract to the other liquid ingredients.
Mix Together Your Dry and Wet Ingredients
Slowly mix your dry ingredients into you wet ingredients. Add the dry ingredients small parts at a time. Mix until blended and the lumps are gone. But there's no need to overmix.
Continue to mix the dry ingredients into the wet until everything is completely incorporated.
Separate the Waffle Batter into 6 Equal Parts
Once your waffle batter is ready, separate the batter into 6 cups all with the same amount of batter. You can use a measuring cup to make sure the batter is evenly distributed.
Be sure to use a rubber spatula to scrape the batter off the sides of the bowls. Otherwise you will lose a lot of batter as you transfer your waffle batter into the bowls to add the food dye and then in the squeeze bottles to prep the waffles.
How to Add Food Dye to the Waffle Batter
There are so many different brands that all have different pigments and color densities. So, it's hard to say how much food dye to use!
With gel dye, you will likely only need a drop or two. For liquid dye you may need more. Be sure your color is stirred in evenly and thoroughly into each color.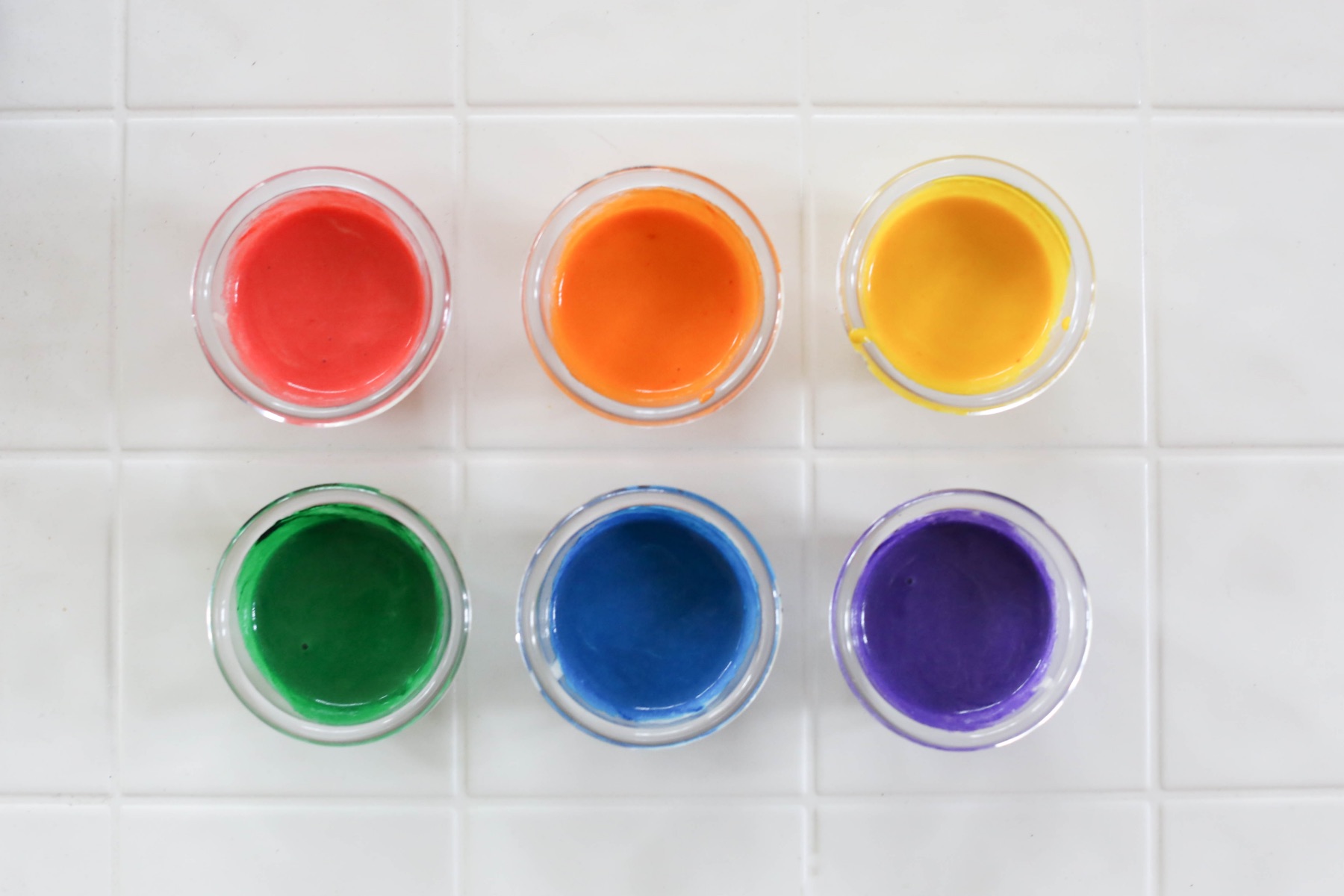 Your colors will always look darker when they are wet and lighter when they are dry. And as you cook the waffle, your colors will take on a slightly golden brown hue.
Since color is a personal choice, it's your choice how dark or light you make each color.
Transfer the Waffle Batter to Squeeze Bottles
This is more of a bonus tip – if you happen to have 6 squeeze bottles, or if you want to make this project the right way, transfer your waffle batter into 6 individual squeeze bottles. It makes pouring the batter into the waffle iron a breeze! You can control how much of each color you are pouring into your waffle iron. And you can make the stripes more defined too.
If you don't have squeeze bottles, a liquid measuring cup or anything with a pour spout will work as well.
How to Cook the Rainbow Waffles
Once your batter is ready to go, make stripes of color starting in the center with the purple and radiating out. You will want your liquid batter to slightly touch the colors that are next to them. But remember that waffle batter expands, so leave a bit of room for that!
And don't worry if your first few waffles don't turn out as pretty as you expect. There is a learning curve to cooking the waffles!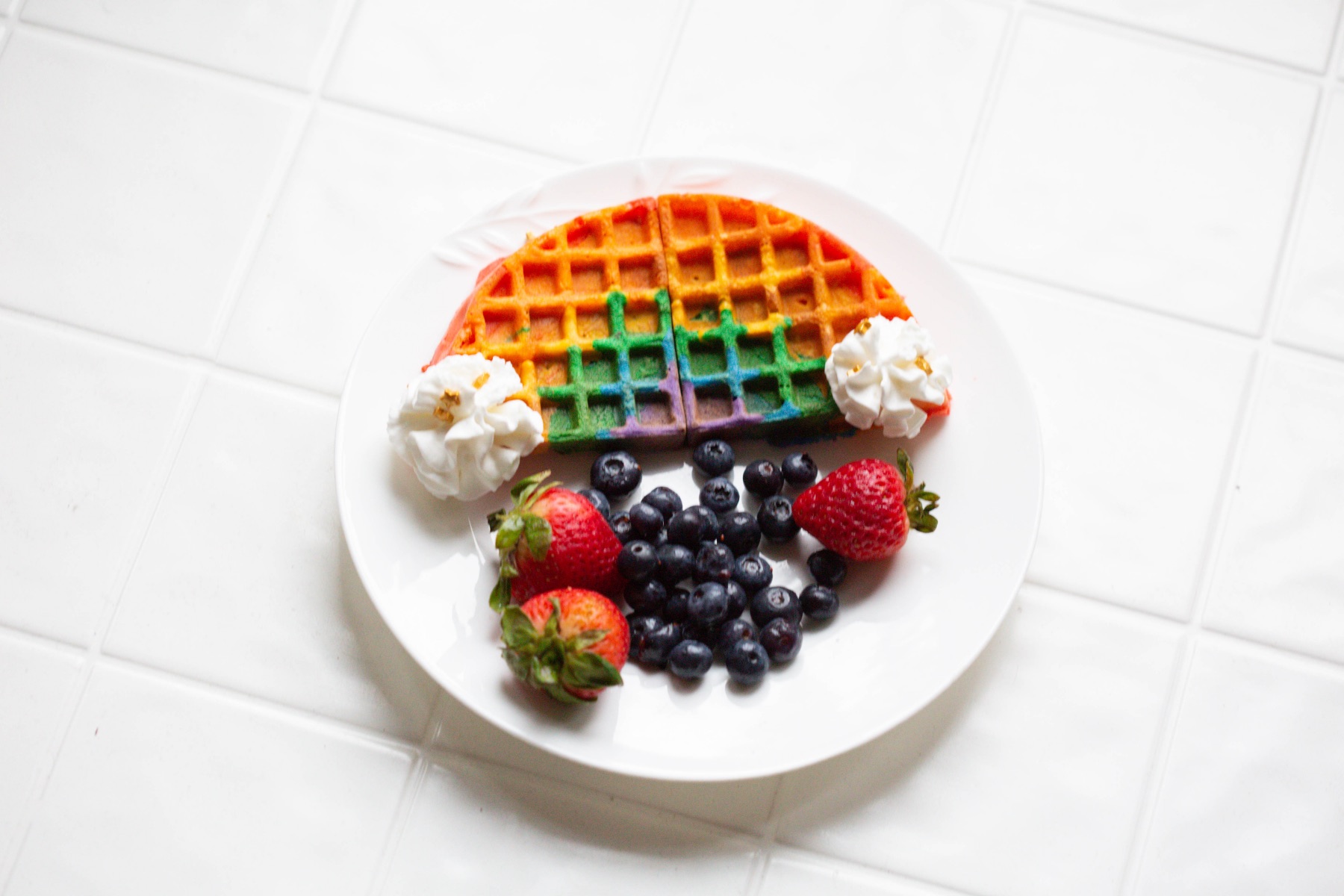 How to Serve and Store Your Rainbow Waffles
I like to break my waffles in half and then add whipped cream to replicate fluffy clouds! You can serve your rainbow waffles with fruit or your usual breakfast accoutrements like bacon and eggs. They also make wonderful dessert waffles topped with strawberries and a sprinkle of powdered sugar.
To store them, place the waffles in an air tight container and in the fridge for up to a few days.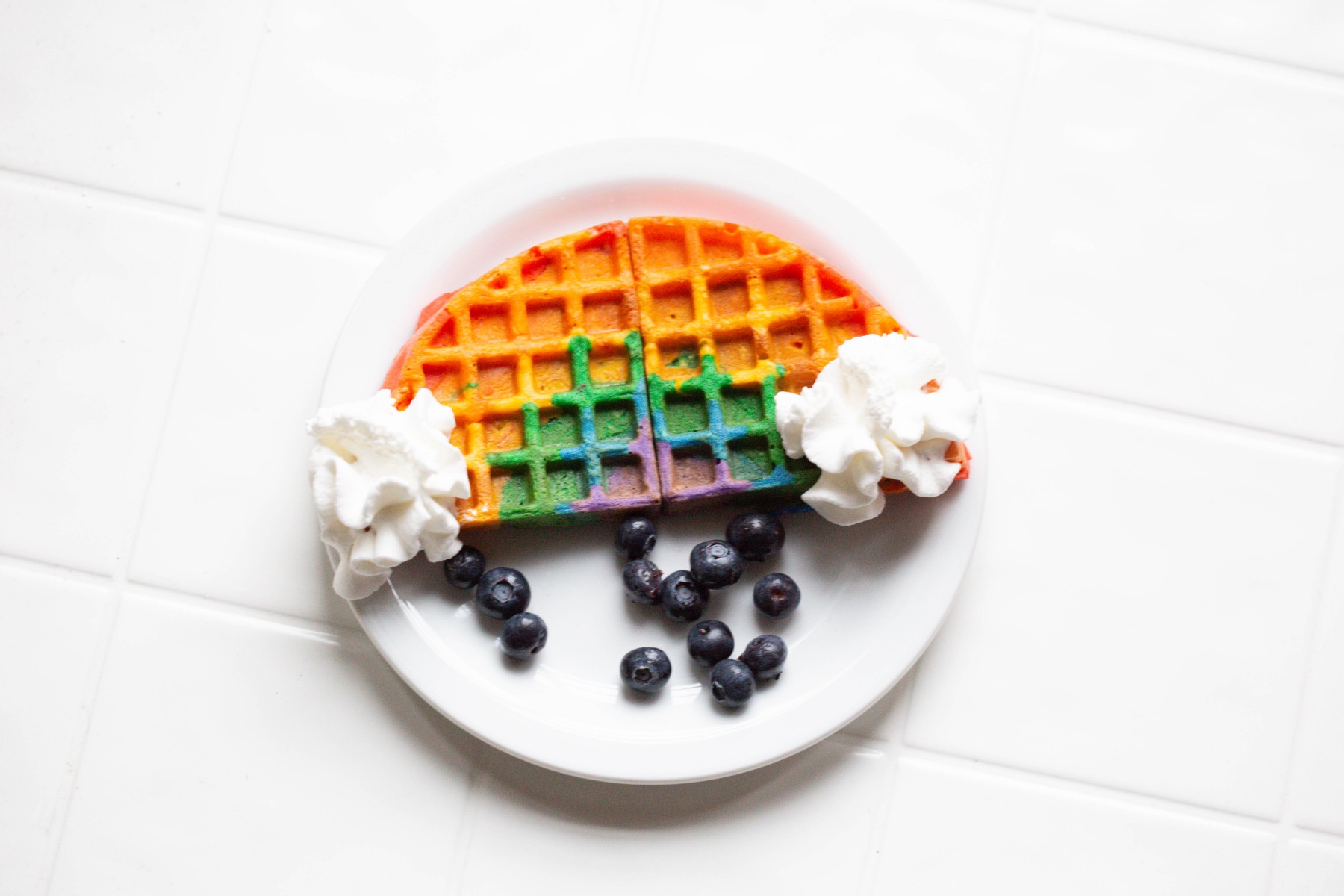 Rainbow Waffles
Put some joy into your breakfast! These rainbow waffles are colorful and so much fun. This would be perfect for a party or celebration and are fun to make.
Equipment
Microwave or Stovetop

6 Squeeze Bottles

substitute with 6 containers with pour spouts
Ingredients
2

cups

All Purpose Flour

1/4

cup

Sugar

2

tsp

Baking Powder

1/2

tsp

Salt

2

cups

Milk

room temperature

4

Eggs

room temperature

1

tsp

Vanilla Extract

1/2

cup

Butter

melted
Instructions
Preheat the waffle maker.

In a medium sized bowl, whisk the flour, sugar, baking powder, and salt together and set aside.

In a large bowl, whisk the eggs and milk together. Be sure that the eggs and milk are not too cold or it will cause your melted butter to seize.

Add in the melted butter and vanilla extract. 

Pour the dry ingredients into the wet small amounts at a time and mix the ingredients until they are blended. Once all your ingredients are incorporated, mix the batter to remove any lumps.

Divide the batter into six bowls.

Add the food coloring, one color per bowl. Remember, you don't have to make a traditional rainbow - you could use pastels or anything you like!

Make sure the food coloring is completely incorporated. Then transfer the batter into squeeze bottles or pourable cups.

To pour the batter into the waffle iron, start with your purple in the center and work your way out.

As you add each color, let the colors touch slightly, but leave room for the batter to expand.

Continue this process to the outer edge of the waffle iron with your red batter.

Cook the waffle according to your waffle irons instructions. This is usually around 5 minutes.

Break the waffles in half and serve with whipped cream to make fluffy clouds.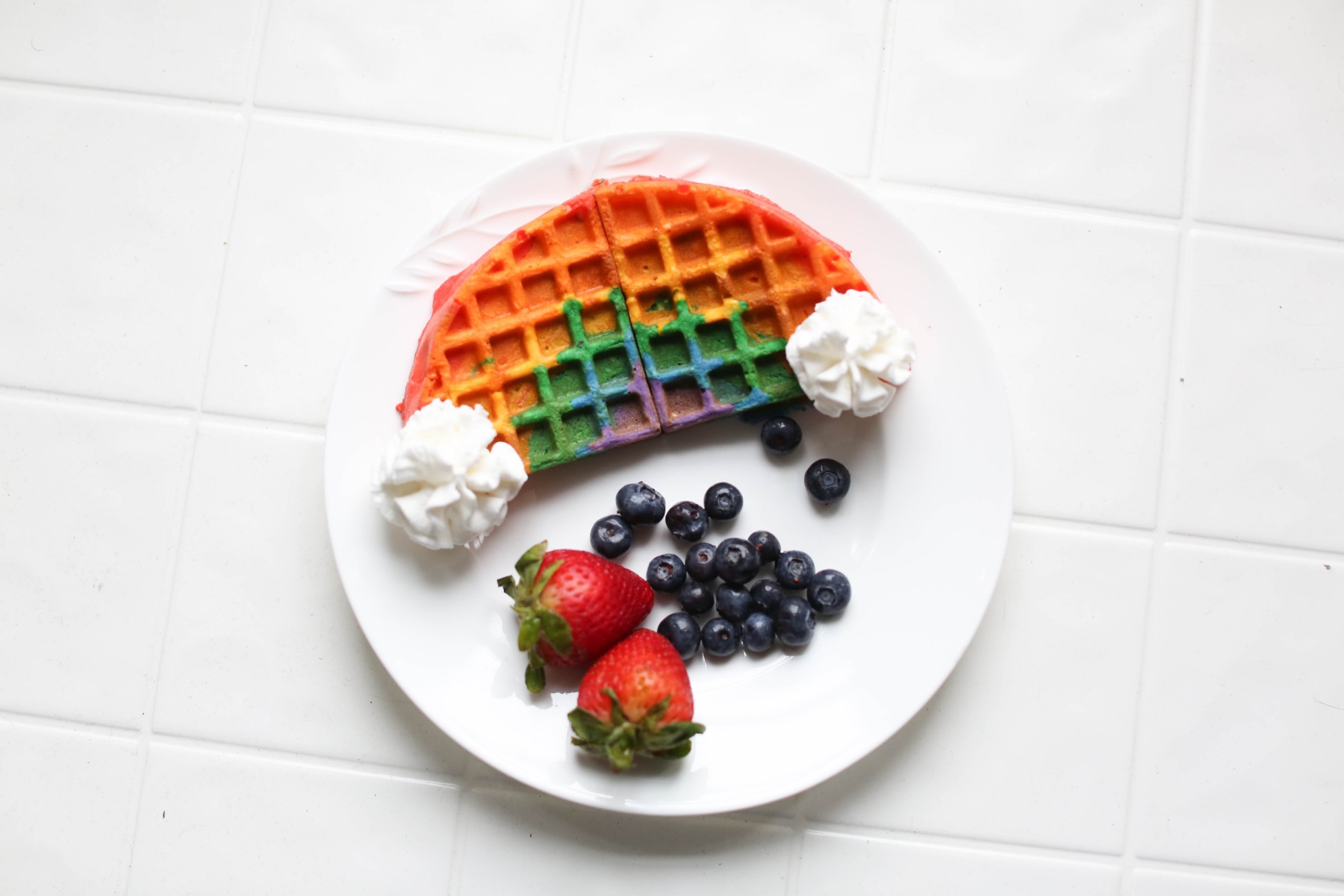 Let's Be Friends!
Insta | Pinterest | Enews | TikTok