If you love Disney treats you may be familiar with the Dole Whip – the most delicious pineapple flavored frozen treat that's available at Disneyland and Walt Disney World.
The Citrus Swirl is just as delicious but perhaps not as widely known.
So first of all, they were only available at the Magic Kingdom, at one cafe called the Sunshine Tree Terrace. But it 2018 the Citrus Swirl was replaced with the Orange Swirl! It's a tragedy.
But the good news is that you can make it at home and enjoy it anytime – even when you are away from the parks! So let's get to making this Citrus Swirl Recipe.
Citrus Swirl Prep
At least a few hours or a day before you are ready to serve your Citrus Swirl, peel and prepare your oranges. Make sure they are extra ripe and be careful to remove lots of rind.
Then place your orange slices in the freezer. You will want your oranges to be completely frozen, which will take at least a few hours.
You can also keep oranges in the freezer for anytime use!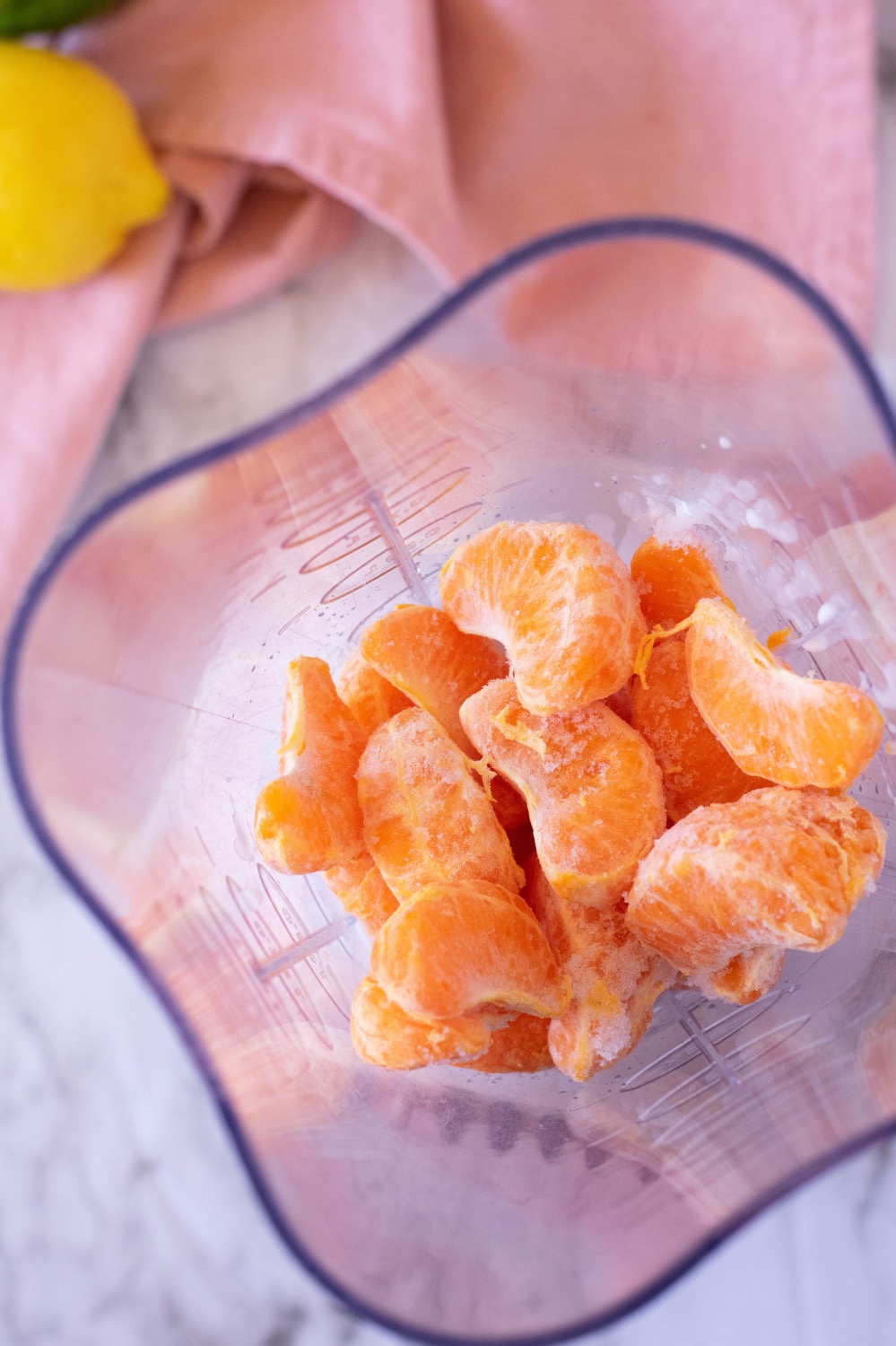 Use Full Fat Coconut Milk
Once your oranges are frozen and you are ready to begin creating your Citrus Swirl, start by adding coconut milk to a blender. Be sure to use the type of coconut milk that comes in a can. It's full fat coconut milk and very flavorful.
Coconut milk that comes in the refrigerated section by the almond milk and regular milk will not work for this recipe.
Always add your coconut milk to the blender first and then add your oranges on top.
After you have added your coconut milk and frozen oranges, but before you blend, squeeze 1-2 tablespoons of fresh lemon and lime juice into your blender. This is what gives your Citrus Swirl its citrus punch!
I used a strainer to prevent any seeds from dropping into the blend. But you could use a juicer to squeeze your lemons and limes. Then remove the seeds and pour the juice into your blender.
If you like your desserts extra sweet, you may want to add a tablespoon or 2 of honey. You can add regular white sugar in it's place but if you do, be sure that it blends thoroughly and has time to dissolve to prevent a crunchy texture and inconsistent flavor.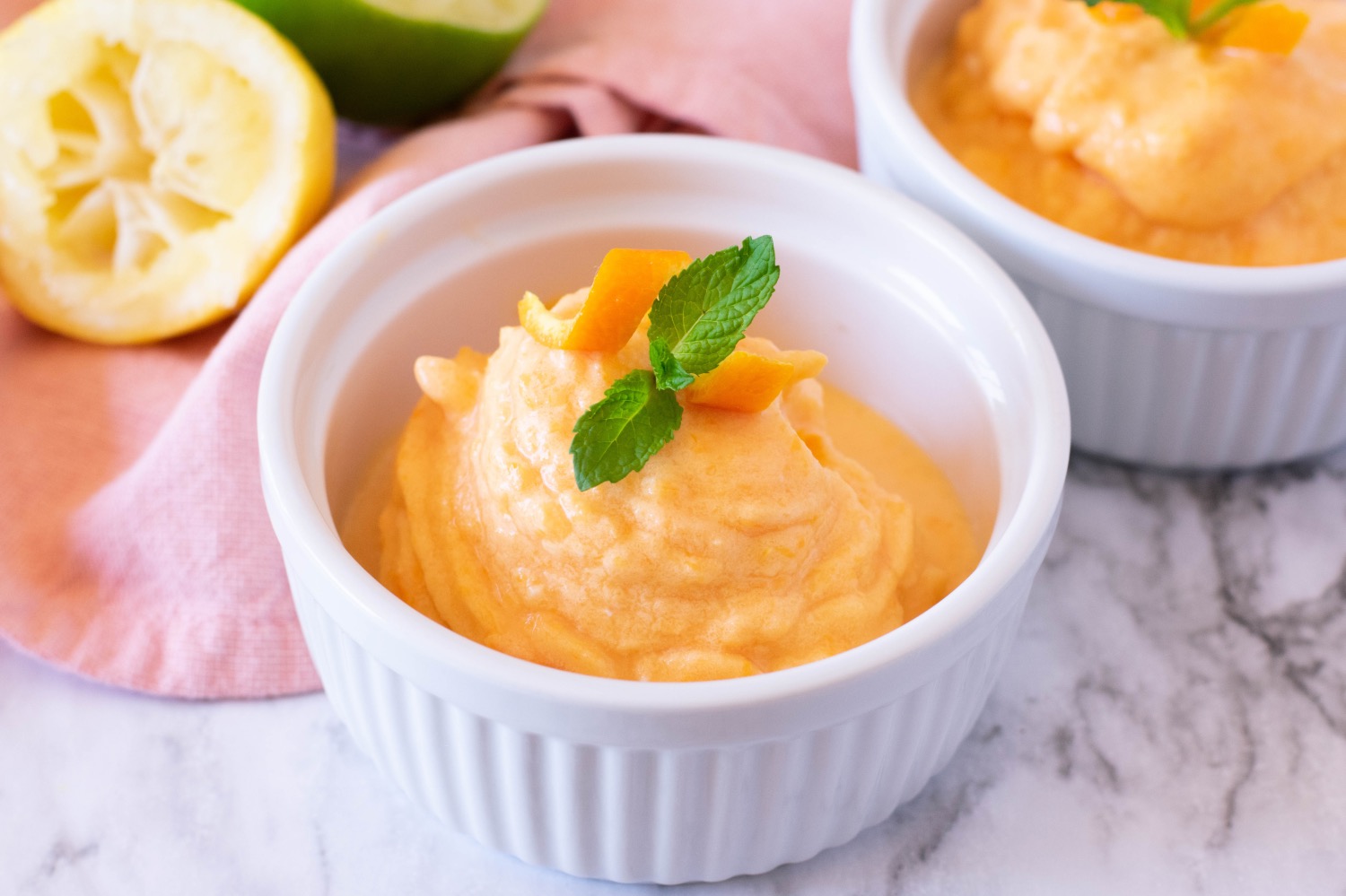 Once your ingredients are in the blender, it's just a simple whip and go! That's it!
There are a couple of helpful tips.
1. Scrape the sides as you blend. It will take a few scrapings to get your Citrus Swirl to the perfect soft serve consistency.
2. Pulse your blender or food processor to prevent blending it too much.
Now serve your Citrus Swirl immediately! It's best that way.
You can store your Citrus Swirl in the freezer, but it's not my first choice. To prep your already made Citrus Swirl from frozen, allow the Citrus Swirl to thaw for a few minutes and then blend it again.
This will even out the texture bringing it back to a soft-serve like consistency.
Citrus Swirls are traditionally served on their own, but you could also make a Citrus Swirl Float by topping a glass of orange soda with your Citrus Swirl Frozen Dessert!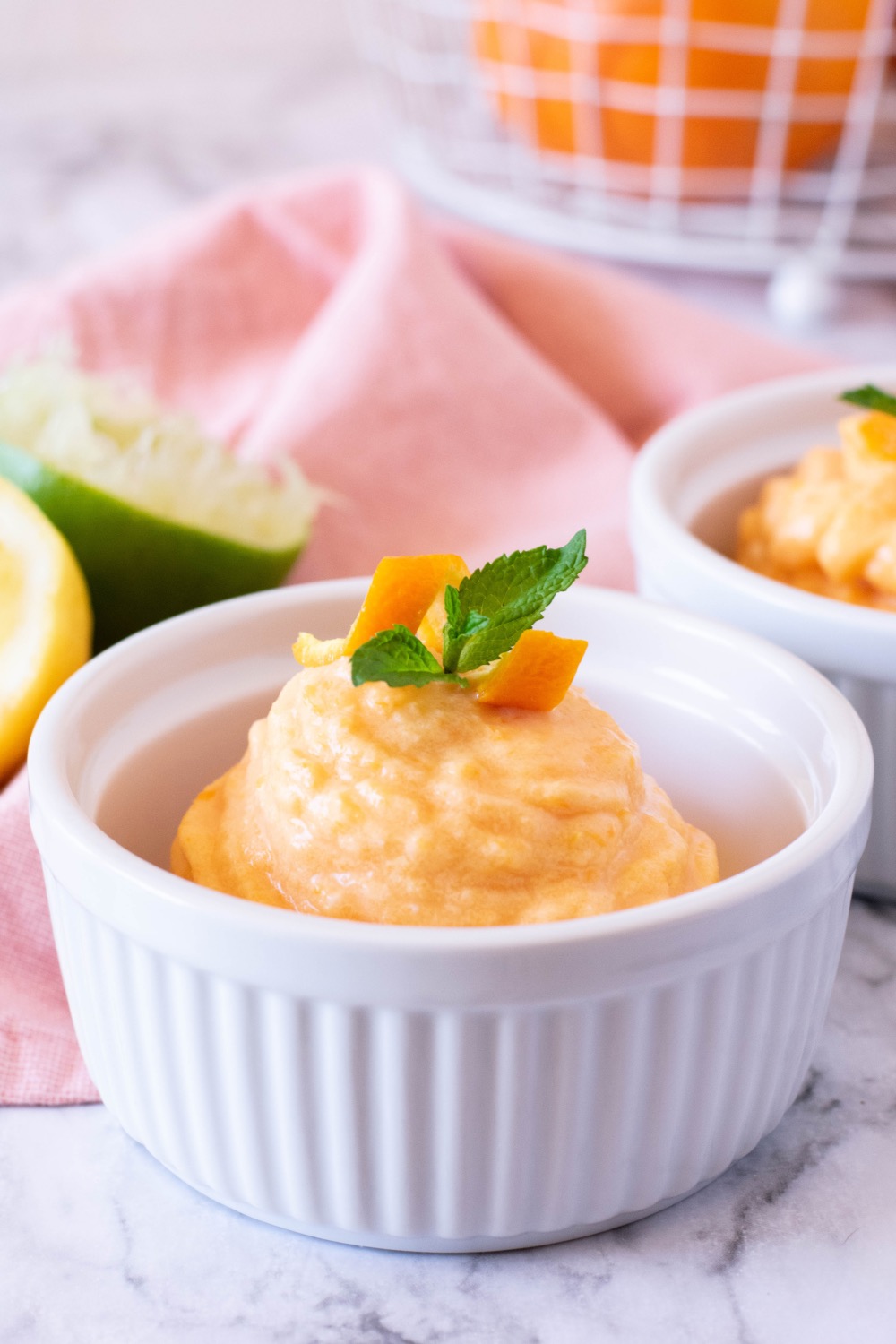 Hey and I'm no Disney purist, so I hope it's okay to suggest this twist: replace the orange soda with orange juice for a healthier Citrus Swirl Float! The Dole Whip Float is served with pineapple juice and not pineapple soda, so topping orange juice with Citrus Swirl sounds just perfect.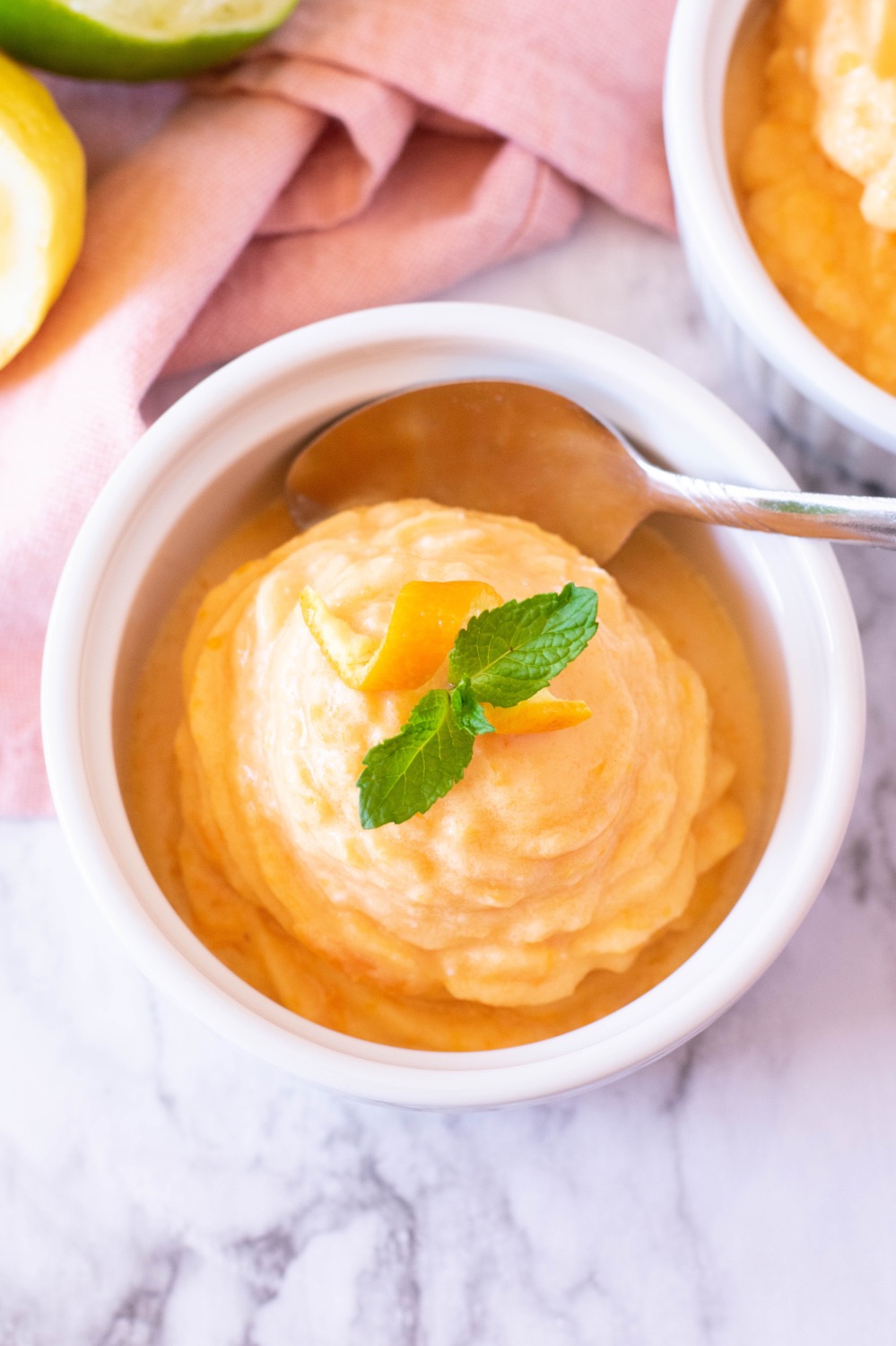 If you are going for an adult look, you could top your Citrus Swirl with a garnish of orange peel and sprig of mint. It gives it just a touch of pretty finishings that make this Citrus Swirl irresistible.
The Orange Bird: Citrus Swirl Mascot
The Orange Bird is a character created by Disney for the Florida Citrus Commission (a Disney Sponsor.) The mascot appeared in Magic Kingdom's Adventureland at the Sunshine Tree Terrace, where the Citrus Swirl can be found.
The Orange Bird was created in 1970 and even had songs with Anita Bryant.
After it was discontinued at Disney Florida, it was brought back to Tokyo Disneyland in 2004. The Orange Bird was used in celebration of Japan's annual Orange Day on April 14th. The Orange Bird became a popular item for merchandise and eventually was brought back to the US as well.
Eventually, on April 17, 2012, the Orange Bird made a proper return to the Sunshine Tree Terrace.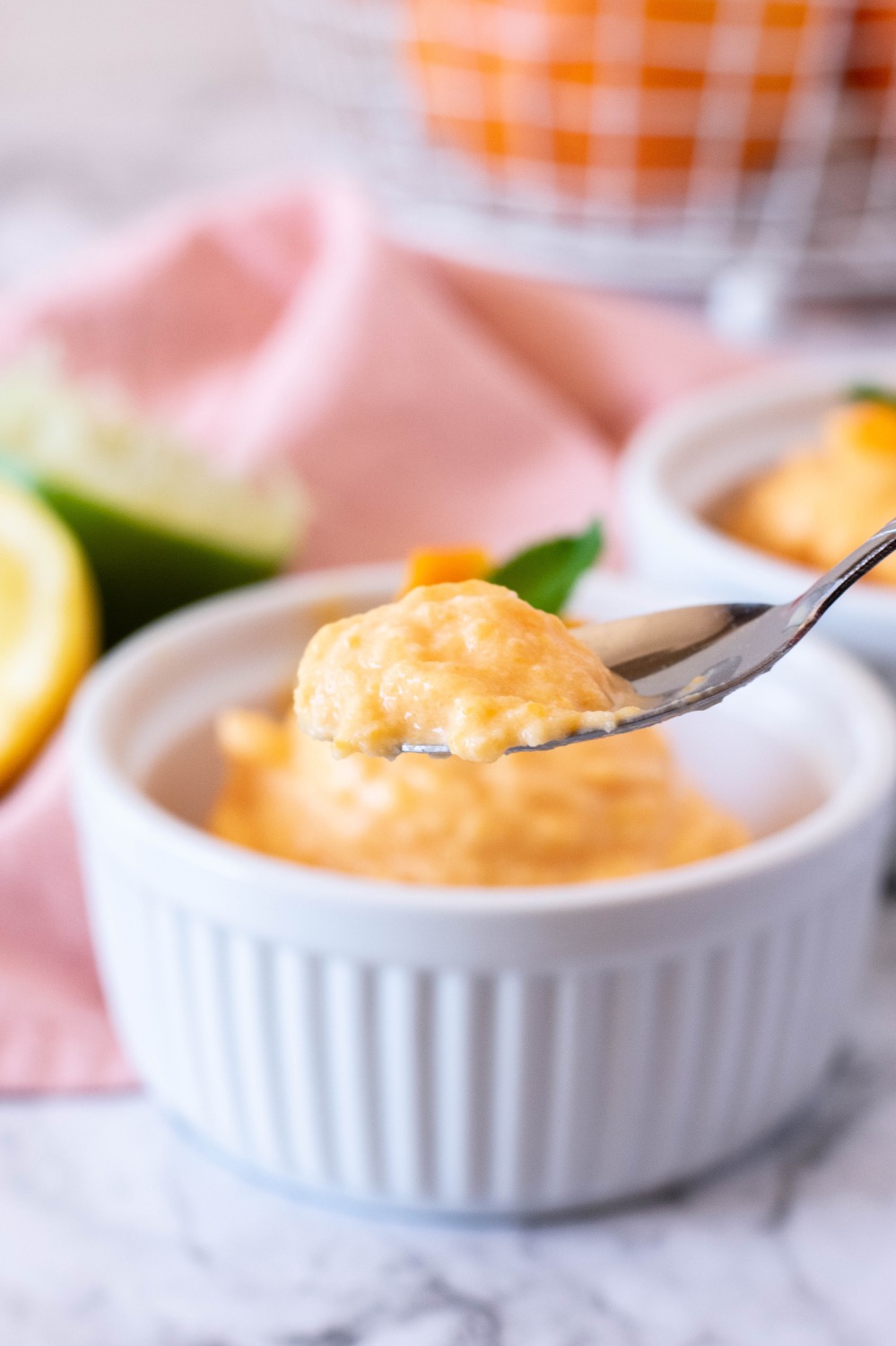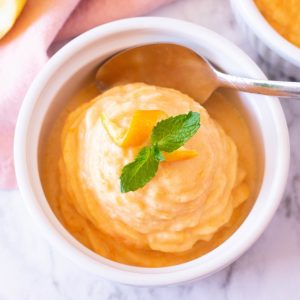 Homemade Citrus Swirl Recipe
This Disney inspired frozen treat is just like a Dole Whip - but with gorgeous citrus! Yum.
Ingredients
1

⁄2 cup Unsweetened Coconut Milk

2

cups

Frozen Orange Slices

1

tablespoon

Fresh Lemon Juice

1

tablespoon

Fresh Lime Juice

Optional: 2-3 tablespoons Honey

Or 2-3 tablespoons White Sugar

just make sure that it is pureed well

Optional Garnish: Mint and Orange Peel
Instructions
At least several hours before, peel and freeze your orange slices. Be sure to remove as much rind as you can and use ripe oranges.

Combine all ingredients into a large blender or food processor. Add the coconut milk first, it does make it a little easier to pulse.

 Once you have combined all the ingredients into your mixer, pulse until you get a smooth, soft serve ice cream-type texture. **NOTE: if you are using a blender be prepared to stop and scrape the container several times. It takes a little longer than using a food processor but it gets the job done, just don't overwork your equipment.

Divide between two bowls and top with fresh mint or orange peel and enjoy!

To store for later, place in the freezer in an air tight container. Allow the Citrus Swirl to thaw for a few minutes then add to a blender and whip until bringing it back to its soft serve like consistency.
So how are you going to serve your Citrus Swirl? With mint and orange peel? Or will you create a float with orange juice or orange soda? Tell us in the comments! And if you need even more frozen treat recipes, check out even more recipes below!
Let's Be Friends!
Insta | Pinterest | Enews | TikTok