Here's the perfect summer treat that's also healthy! It's the perfect way to cool down and it's oh so fruity and creamy. Die hard dairy lovers won't even care that this is vegan – it's that delicious.
This latest recipe is Easy Vegan Coconut Milk Ice Cream and it's layered with Vanilla Infused Raspberries.
It's the healthiest way to eat dessert and easy enough to make anytime.
Coconut Milk Ice Cream is really easy to make and really delicious. If you follow Pop Shop America, you may have noticed that we've gone frozen dessert crazy! There are Mojito Key Lime Pies, Frozen Yogurts Galore like this Cookies and Cream version, and adorable smoothie bowls too.
The next step was something vegan! This is the easiest way to make Ice Cream that is lactose free and totally non-dairy. It's perfect for health nuts, vegans, and anyone who's lactose intolerant. This Coconut Milk Ice Cream Recipe is a great stand alone. Layering it with these Vanilla soaked Raspberries is a cool way to serve it but you could serve this ice cream anyway you like.
I've found a few other Vegan Coconut Milk Ice Cream Recipes that are fabulous too. Here's a Strawberry Version and here's another one that's full of Pistachio and Chocolate Chips.
We created these layers of macerated raspberries elevate this dessert. To make it, freeze the berries for just a few minutes. Coarsely chop them and drizzle sugar and vanilla extract over them. Mix your berry mix thoroughly and return it to the freezer for a few minutes. Stir it again before you use it.
Vanilla Extract is made with alcohol which helps the vanilla flavor absorb into the berries. It's heavenly and you should do this with any berry recipe anytime for an added pop of flavor.
Now layering this dessert is just about adding the ingredients together. Because the Ice Cream doesn't have a stabilizer, you will want to serve it right away.
So eat healthy and enjoy! Tell us in the comments if you try the recipe for yourself!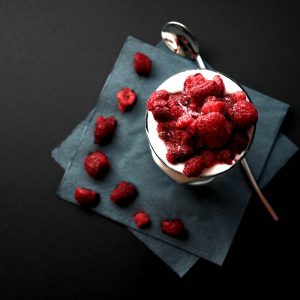 Vegan Coconut Milk Ice Cream & Raspberry Parfait
Here's the perfect summer treat that is also healthy!  Make this Easy Vegan Coconut Milk Ice Cream and layer it with vanilla infused raspberries.
Ingredients
2 - 14

oz.

cans of Coconut Cream

1/4

cup

Sugar

1/4

cup

Honey

1

heaping tablespoon Vanilla Bean Paste

1

cup

fresh Raspberries

1

teaspoon

Vanilla Extract

2

tablespoons

Sugar
Instructions
Wash your raspberries and place them in the freezer.

Mix together your coconut cream, sugar, honey and vanilla bean paste in a bowl.  Allow to sit for a few minutes.

Add your Vegan Ice Cream mixture to a Ice Cream Maker and spin for 30 minutes.

If you don't have an ice cream maker, add the mixture to a 13 x 9 gladware container and place it in the freezer.  Mix every 45 minutes, or so, for around 4 hours.

Once your Vegan Coconut Ice Cream is mixing, prep your raspberries.

Place your frozen raspberries on a cutting board and chop into small pieces.  Then place them in a bowl and stir together with your vanilla extract and sugar.

If you are using and Ice Cream Maker, allow your raspberries to sit out.  If you are using the no-churn method, place your raspberries back in the freezer until the ice cream is ready.

Once your ice cream is ready (30 minutes for a mixer and around 4 hours without) begin to layer your ice cream and raspberries.

In a glass, add ice cream around half way and then add a small amount of raspberries.  Be sure to include some of the raspberry liquid.

Fill to the brim with ice cream and top with more raspberries.  Serve immediately.
Let's Stay Friends!
Insta | Pinterest | Enews | TikTok