This post was sponsored by Gray Away as part of an Influencer Activation and all opinions expressed in my post are my own.
Okay, let's get real. Sometimes I don't have time to color my hair. I get too busy with work, friends, or just a million things. Does this happen to you?
If so, you have to check out Gray Away from Everpro Temporary Root Concealer Spray! It's my new favorite hair product. It's the perfect quick fix for any gray coverage or if you need to spruce up dull color. It's great for blending color when you have outdated color and little bits of gray.
It's perfect for me and my busy lifestyle. It is so fast that it fits in easily with my beauty routine. I found it at HEB – where you can shop online and not even need to go in person to find what you need.
So here's how to use it.
Color Match to Your Roots and Your Ends
If you are like me, your ends are much lighter than your roots just from the sun. If so, be sure to find a color that matches your roots and another color that matches your ends so you can seamlessly blend them. I used Dark Brown on my roots and Light Brown on my ends. Using multiple colors will give you the look of natural highlights.
Layer Temporary Root Concealer Spray on Top of the Root Touch-Up Stick
The Root Touch-Up Quick Stick is an ultra-targeted gray root coverage that you can even use on your eyebrows. One end has your color coverage but the other end has a blending sponge applicator. I applied the Touch-Up Quick Stick first.
The Temporary Root Concealer Spray is a revolutionary breakthrough in hair care that gives you the fastest and easiest way to touch up and cover gray roots. It's a spray. I recommend applying it on top.
To apply it, hold it the spray around 6 inches away from the area you want to cover and just give it the tiniest mist.
Blend the Color through Your Hair with the Sponge Tip
The sponge tip is perfect for blending both the Root Touch-Up Stick and the Temporary Root Concealer Spray. If you need to use your hands to blend the Gray Away through your hair, just wash your hands thoroughly afterward.
Work in Small Areas to Mimic Highlights
To give your hair a lustrous and shiny quality, apply the Gray Away in small areas, working the 2 colors back and forth. It's the best way to help your hair look full of life and bring a sparkle to dull hair.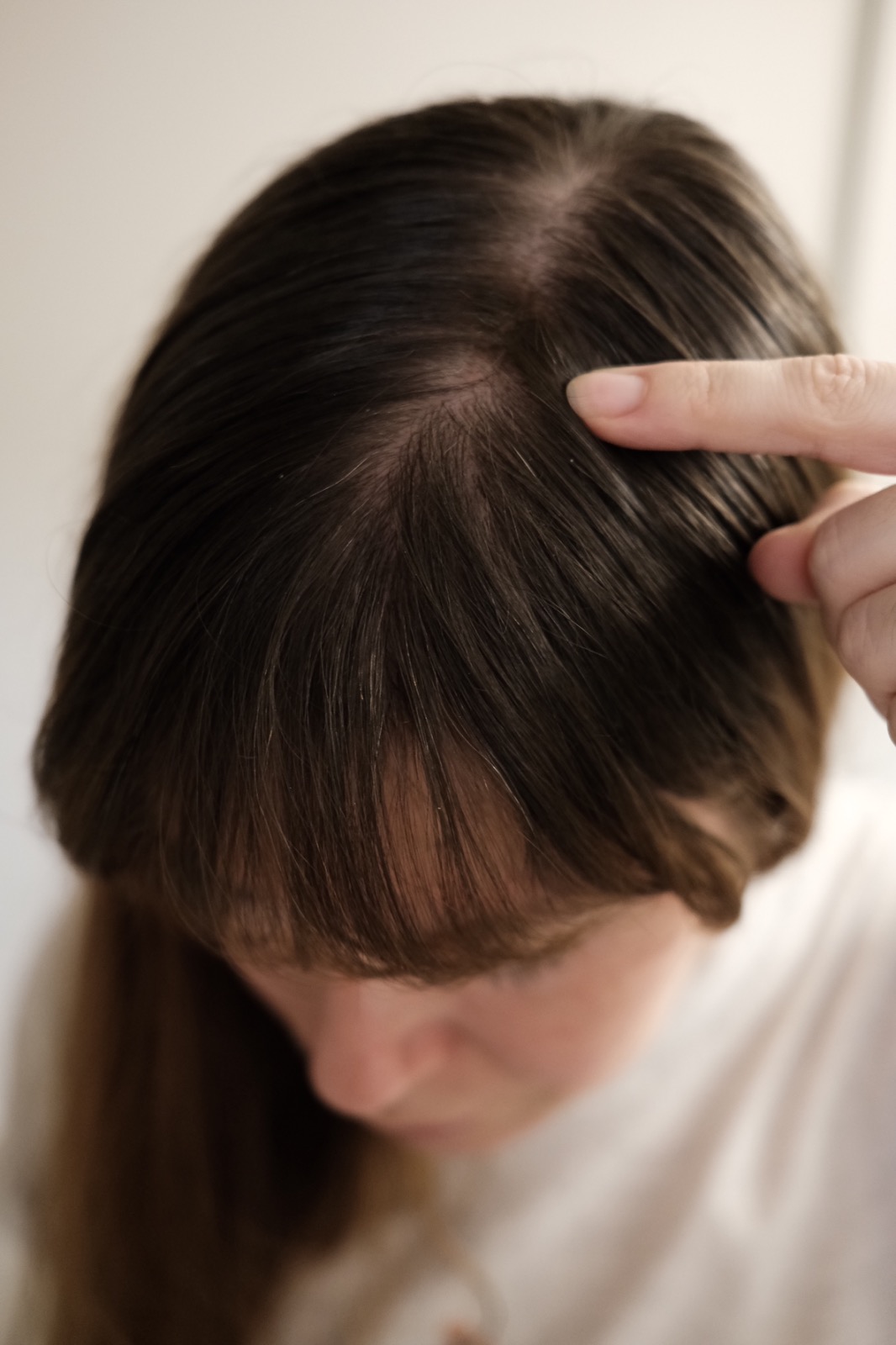 Avoid Your Part Line
Your part line is the place where Gray Away Temporary Root Concealer Spray can show. Avoid your part line completely, but if you accidentally get color there, use a soft bristled brush to blend the color into the hair and way from your part line.
Are you ready to try Gray Away from Everpro? Because I love it. Gray Away offers an affordable, salon-quality root concealer product that you can use in the privacy of your own home that facilitates your unique, on-the-go lifestyle.
Tell us in the comments what color you chose and if you have any tips for how to use it that we didn't mention here. And go to HEB to get Everpro Gray Away and make your hair sparkle without going to the salon right now!
---
Let's Be Friends!
Insta | Pinterest | Enews | TikTok