Making a vision board is such a great way to set a goal, set an intention and find a way to visually express you dreams.
So, making a vision board is a creative artful activity. But it's also a personal experience designed to help you goal set, and boost you mind body and soul!
Making a vision board is also a lovely idea for a ladies night with wine, it's perfect as a way to celebrate the New Year, and it makes a great activity to accompany meditation. That's because it's such a great way to explore who you are.
And it's a great way to get to know your friends better too.
Supplies to Make a Stylish Vision Board
This Vision Board Making Kit Here
-or-
1 8×10 Wood Board
These 6 Free Vision Board Printables Here
Washi Tape
Stylish Stickers (I chose these minimalist dot stickers)
Embroidery Floss in a Matching Color
Paper Flowers
Faux Flowers
Stylish Notecards
Optional: A Silver, White, or Gold Paint Pen

Note about Supplies: You can get really creative with your supplies but here are some musts. Be sure that your supplies match. Make sure your stickers stylistically match the images you use on your vision board. And be sure that your embroidery floss matches too.
Next, use high end supplies. Don't use cheap twine in place of the embroidery floss. Don't use cheap stickers. Nice materials will show!
Last, use a variety of supplies with unique textures, sizes, finishes. This will help your vision board look dynamic and exciting.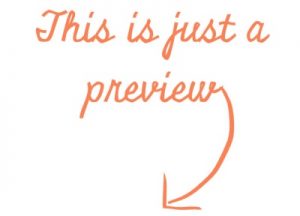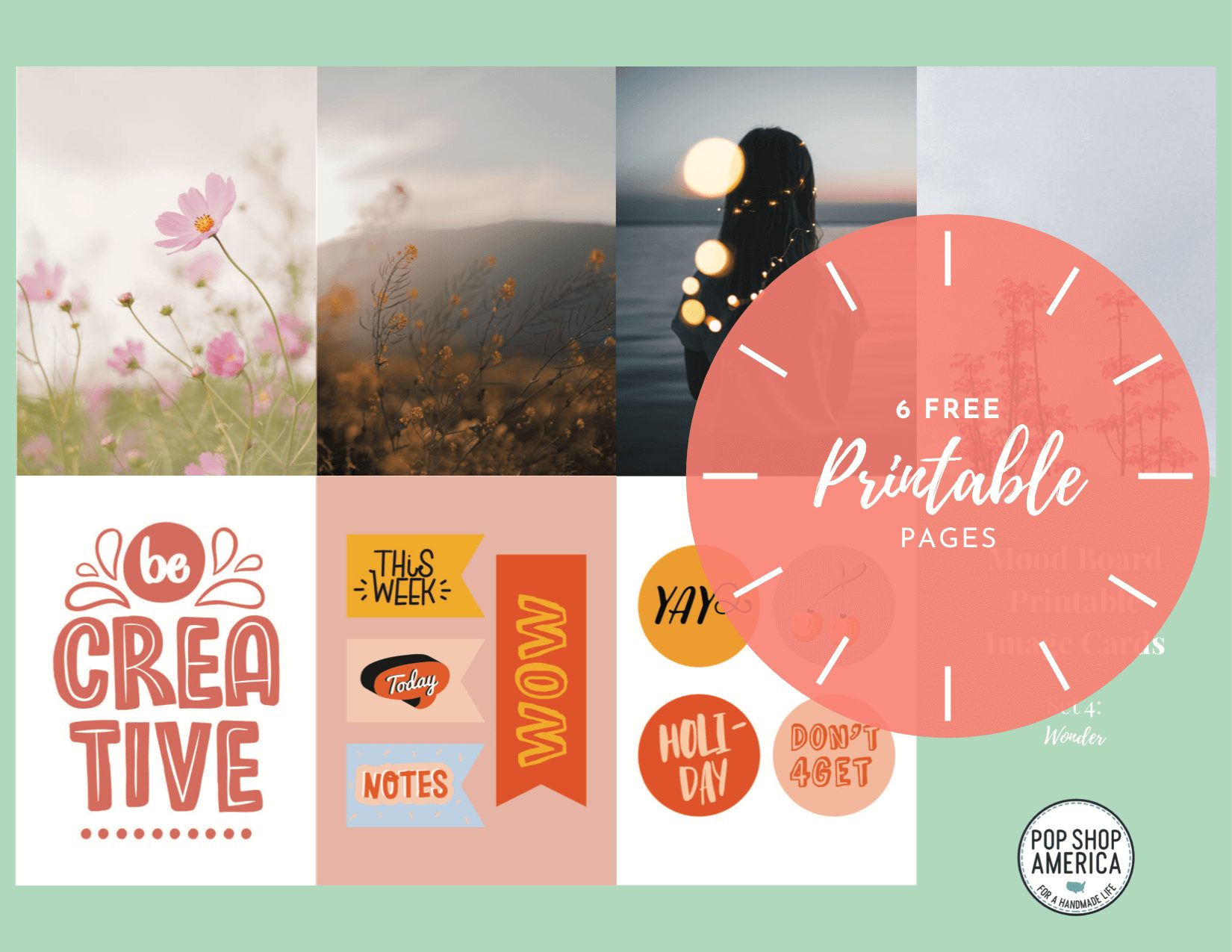 Step 1: Set an Intention
When creating a vision board start by considering your goals and dreams. Your vision board is about reflecting and manifesting what you want, so take some deep breaths and consider what these are. Try to hold this intention through the entire process of making your vision board.
Step 2: Download these Free Vision Board Printables
Next, download these 6 free Vision Board Printables . They are full of gorgeous colors and display themes varying from finding your inner social activist, becoming one with nature, and finding healthy work home life balance.
The themes may vary but the colors look so perfect together, so you can mix and match across the different pages. Find the images that speak to you, cut them out, and start to place them together.
Design Tip You Need to Know
When making your vision board, consider the Rule of Thirds. The Rule of Thirds is a design technique that's used in photography, graphic art, and painting. It's an easy way to make a piece of art look dynamic and exciting. To use it, break up any composition into 3 smaller spaces. Use that space in your piece.
So rather than placing objects in the center, place your objects just off-set from the center. Like how I placed the embroidery floss in the images above!
Step 3: Create a Theme & Composition
Before you start to attach any of your images and other objects, consider where you want to place them and what you want the finished piece to look like. Move things around on the board until you find a composition that you love! Try using the Rule of Thirds during this process!
Also, fit items and images together so that they tell a story and all fit together.
Step 4: Make Your Vision Board
Making a vision board is a creative experience. So here are some ideas, but trying something new, breaking the rules, and making something you love is the best part of the process. Try to hold your goal and intention during the entire process of making your vision baord.
Here are some ideas on how to make your vision board:
+Start by attaching your embroidery floss. Wrap it around the board and attach the ends to the back side of the board, so they won't show.
+Add your images underneath your embroidery floss or attach the images with washi tape or stickers.
+Layer faux flowers, affirmations, stickers and more into the board. Consider your composition during this process! The more unique materials you use, the more interesting your vision board will be to look at.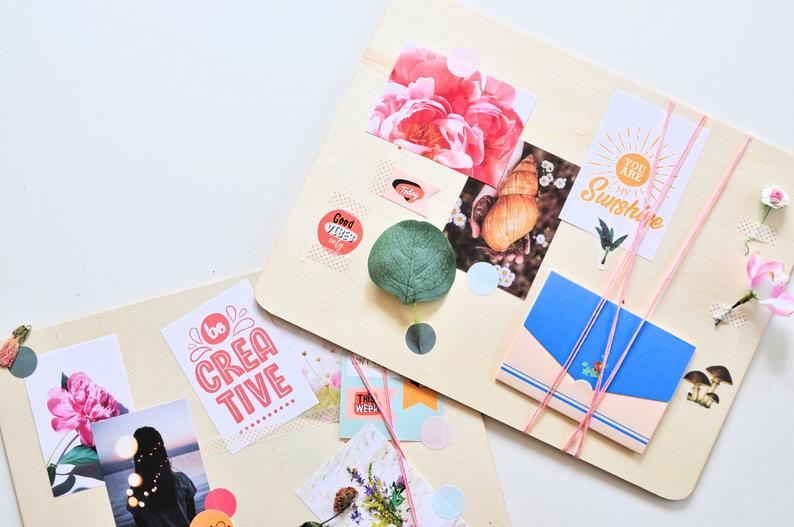 +Use a cute notecard to write a note to your future self. Or write a note about the goal you hope to achieve.
+Use your paint pen to add stars, hearts, sparkles, and embellishments in key places. This is a great way to add a finishing touch to your Vision Board.
+Hang your vision board in an intimate space where you can see it daily and reflect on your goals. Try to spend time looking at it and visualizing your goal.
+Change your vision board as you and your goals change. Remove outdated images and add new ones. Change your colors or your themes.
Because making a Vision Board is such a creative process, we would LOVE to see your Vision Boards! Tag us on social or leave a comment below. And if you can't wait to make your own, Shop our Stylish Wood Vision Board Making Kit here and be sure to download the free printables here.
Let's Stay Friends!
Insta | Pinterest | Enews | TikTok