These eye holographic stickers were paid for in full. The other stickers were gifted by Sticker Mule to add depth to this review. Thank you Sticker Mule for the support! All thoughts and opinions are my own.
You know how I love cute freebies and I love rainbows? Well are you ready to check out one of my new favorite packaging items?
It's these Holographic Stickers from Sticker Mule! And yes, thanks for asking, I am obsessed with these stickers.
Everything You Need to Know about Sticker Mule's Holographic Stickers
Sticker Mule's holographic stickers can be custom printed with your artwork or designs. We already had these cool Pop Shop America icons that show the range of what we do and fit our brand. So they were perfect for shiny, rainbow stickers.
They are available in circles from 2 inches to 5 inches and also available in custom die cuts. There are a ton of example photos on their website for inspiration.
They are available in 50 packs and larger. And they become very affordable at 200 stickers or more. At the 1,000, 2,000 and large quantities, they are less than $.33 each. Since shipping is free, Sticker Mule is always the most affordable place (that I've found) for our stickers, packaging tape and other custom packaging materials.
Stickers from Sticker Mule ship within a few business days but there have been slight delays during Covid-19. Tracking them is easy as they email you updates during their entire process.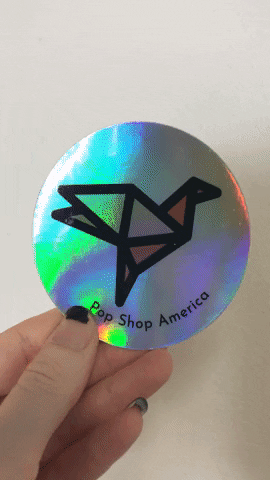 How I Use Sticker Mule's Holographic Stickers
These holographic stickers are something I add to online orders when I really like the person! Want to snag one for yourself during an order? Just be really nice to our customer service and see what you get! We have loads of freebies and love giving people an A+++++ customer service experience.
We also hosted this awesome giveaway on Instagram for a set of 5 holographic stickers! We create contests all the time. It's just a fun reason to follow us.
These are just a few ways you could snag these stickers and a few ideas if you are thinking about using cool freebies for your brand.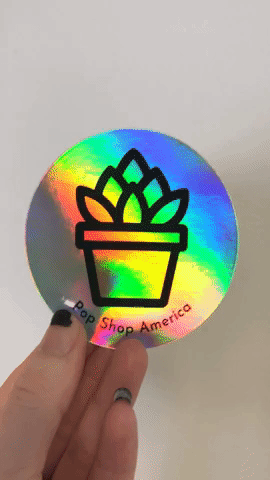 How to Get Deals from Sticker Mule
One of my favorite things about Sticker Mule are their weekly deals. They send them as emails and it's one of the only marketing emails that I have to open the second I receive it.
It's how I first found out about the holographic stickers and grabbed a set to test! I've also gotten printed packaging tape, stickers, 1 inch round buttons, and bubble mailers at a sweet deal.
Ready to check out these holographic stickers for yourself? Then don't miss them here! They are so cute and fun! And if you decide to order some, tell us in the comments so we can check out what custom art you made!
Let's Be Friends!
Insta | Pinterest | Enews | TikTok