Nothing says summer like a fruity and refreshing cream pie! This Strawberry Cream Pie has a fun twist because we added mint and rum to make it just a touch boozy and totally irresistible!
This Mojito Strawberry Cream Pie isn't my first pie that has a little touch of rum. I'm a fan of anything and everything rum and especially tiki cocktails. So this pie was a must!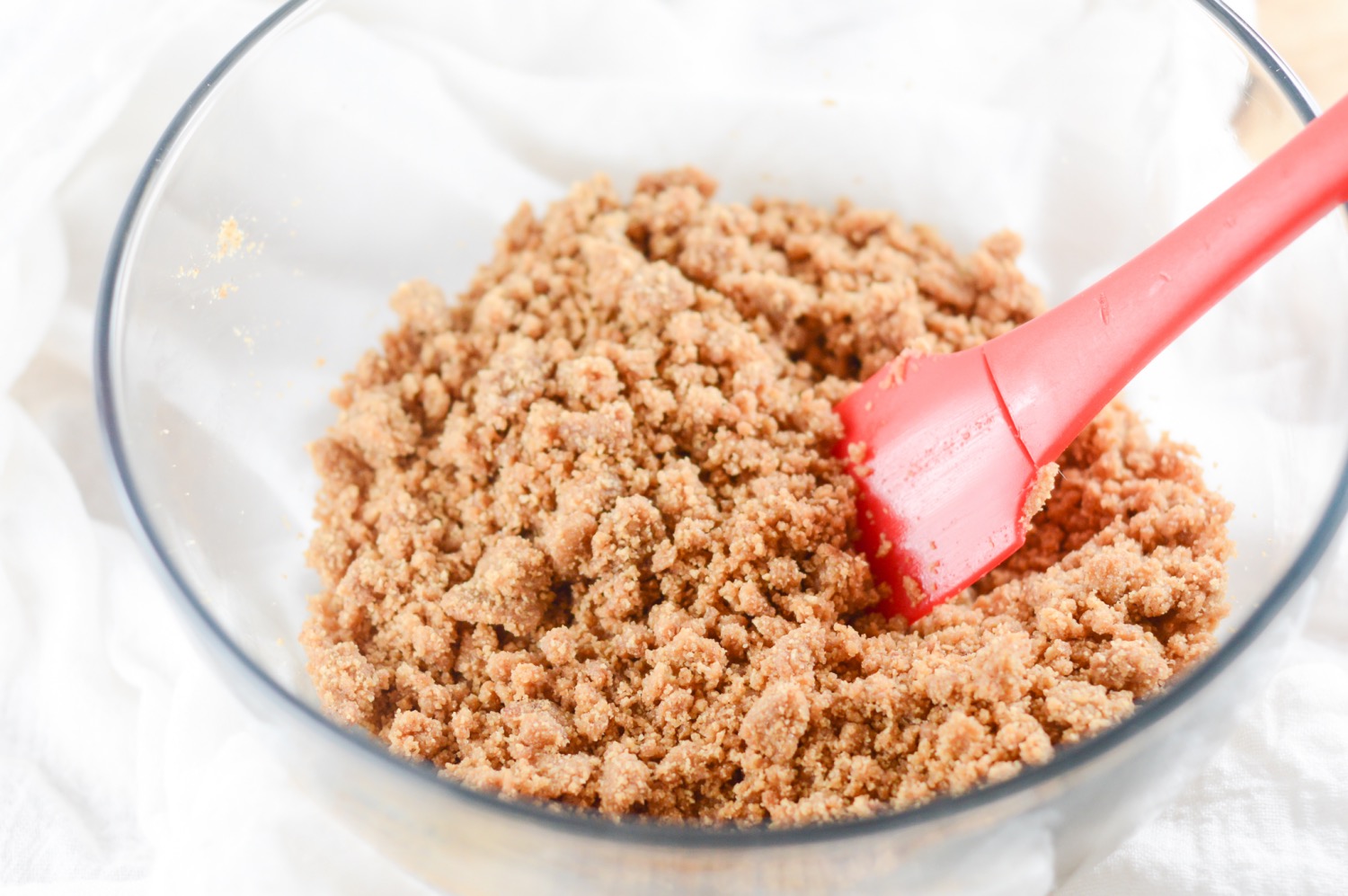 If you are looking for tips and tricks on how to make your own Mojito Strawberry Cream Pie, read on. But you can also scroll straight to the printable recipe card at the bottom!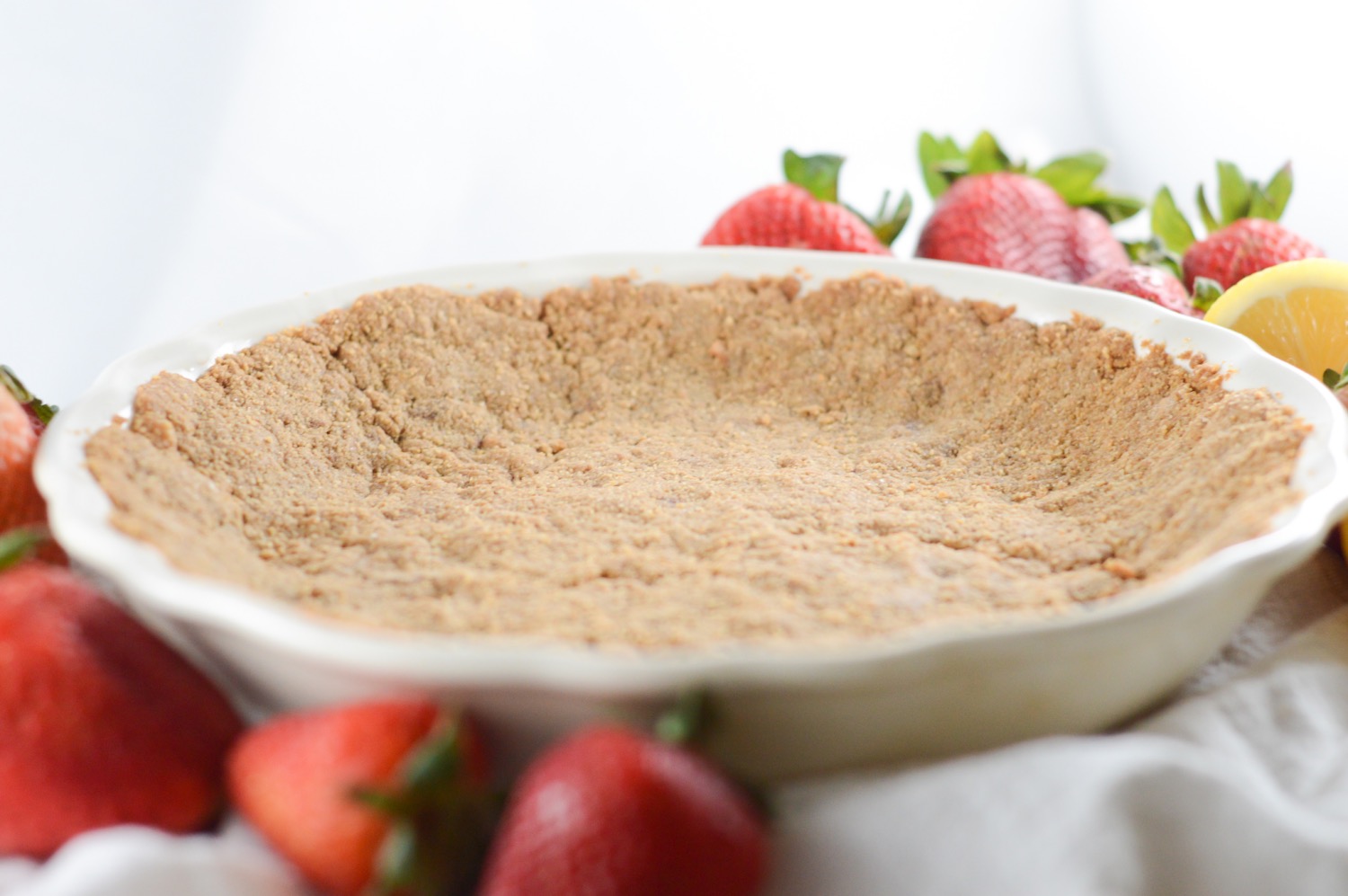 Start with a Graham Cracker Crust
The first step is to make a simple and delicious graham cracker crust. Making it from scratch is so much more delicious than a store bought and doesn't take much time at all. If you are using a store bought, you can still brush it with butter and bake it for around 10 minutes at 350°F until golden brown, to liven up the flavor.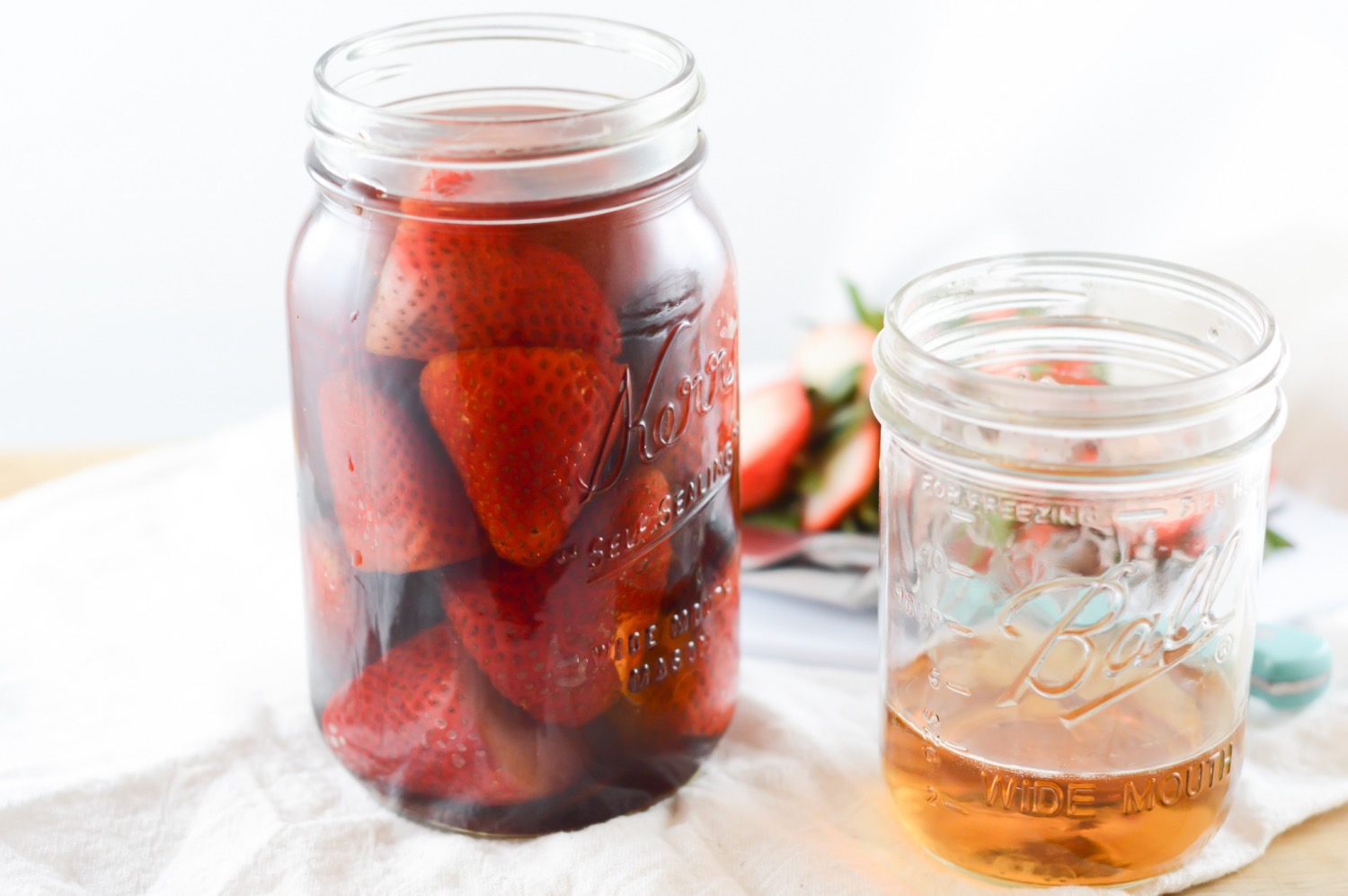 Make the Rum Soaked Strawberries
Follow this recipe, but add 1/4 cup or more of rum to your vanilla simple syrup infusion. Soak the strawberries in your rum and vanilla blend.
Now this won't make for a pie that gets you drunk! This amount of rum will just give you a rich cocktail flavor and pair well with all your favorite drinks.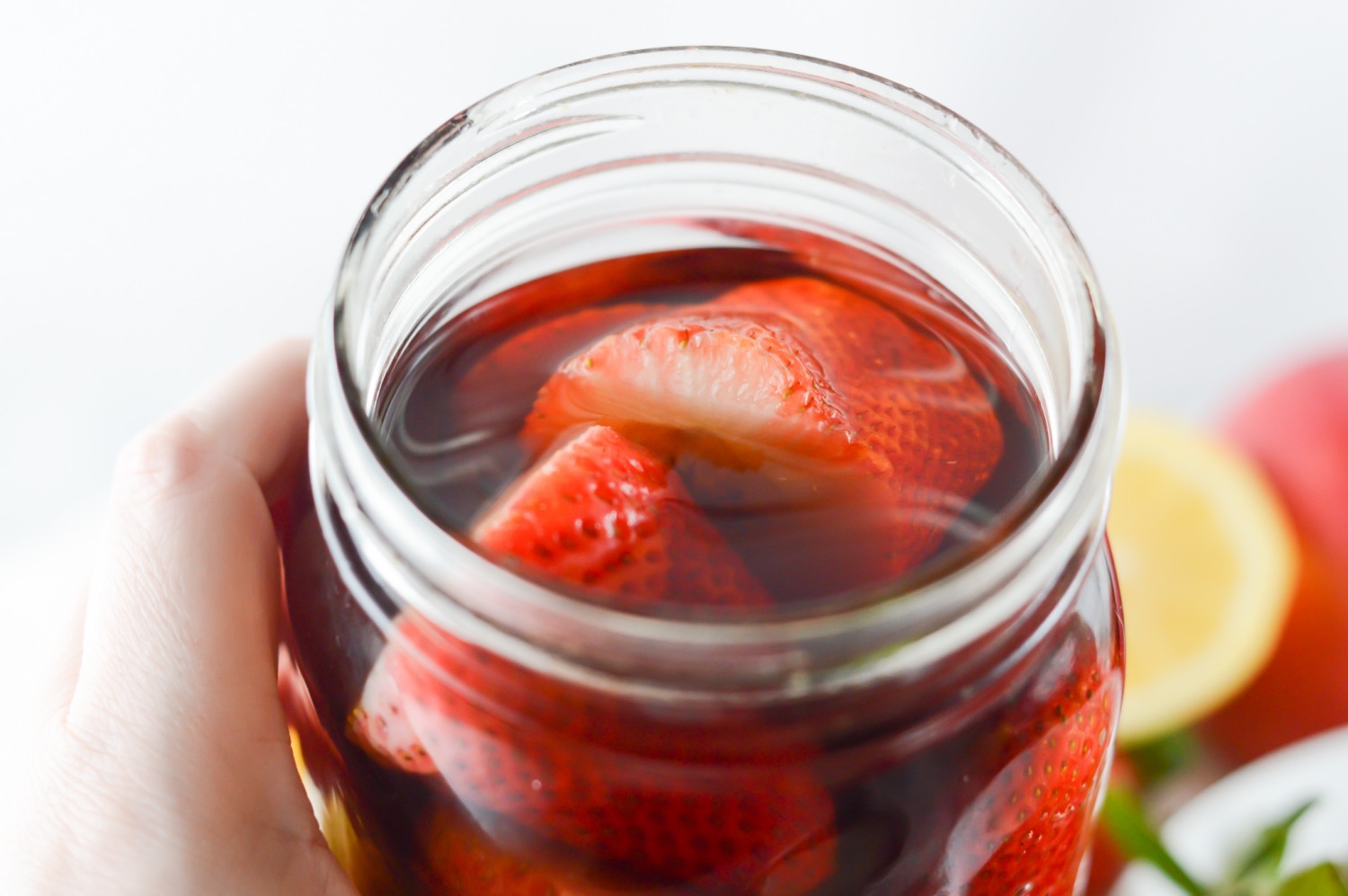 But if you are looking for a pie that's even more boozy, you can add a small amount of additional rum at the end when all your other ingredients are combined!
Blend the Cream Pie Base
Once your strawberries are soaking in rum and you've made your graham cracker crust, it's time to make your cream pie base!
Start with whipping cream and a small amount of powdered sugar. Beat on medium speed until stiff peaks form.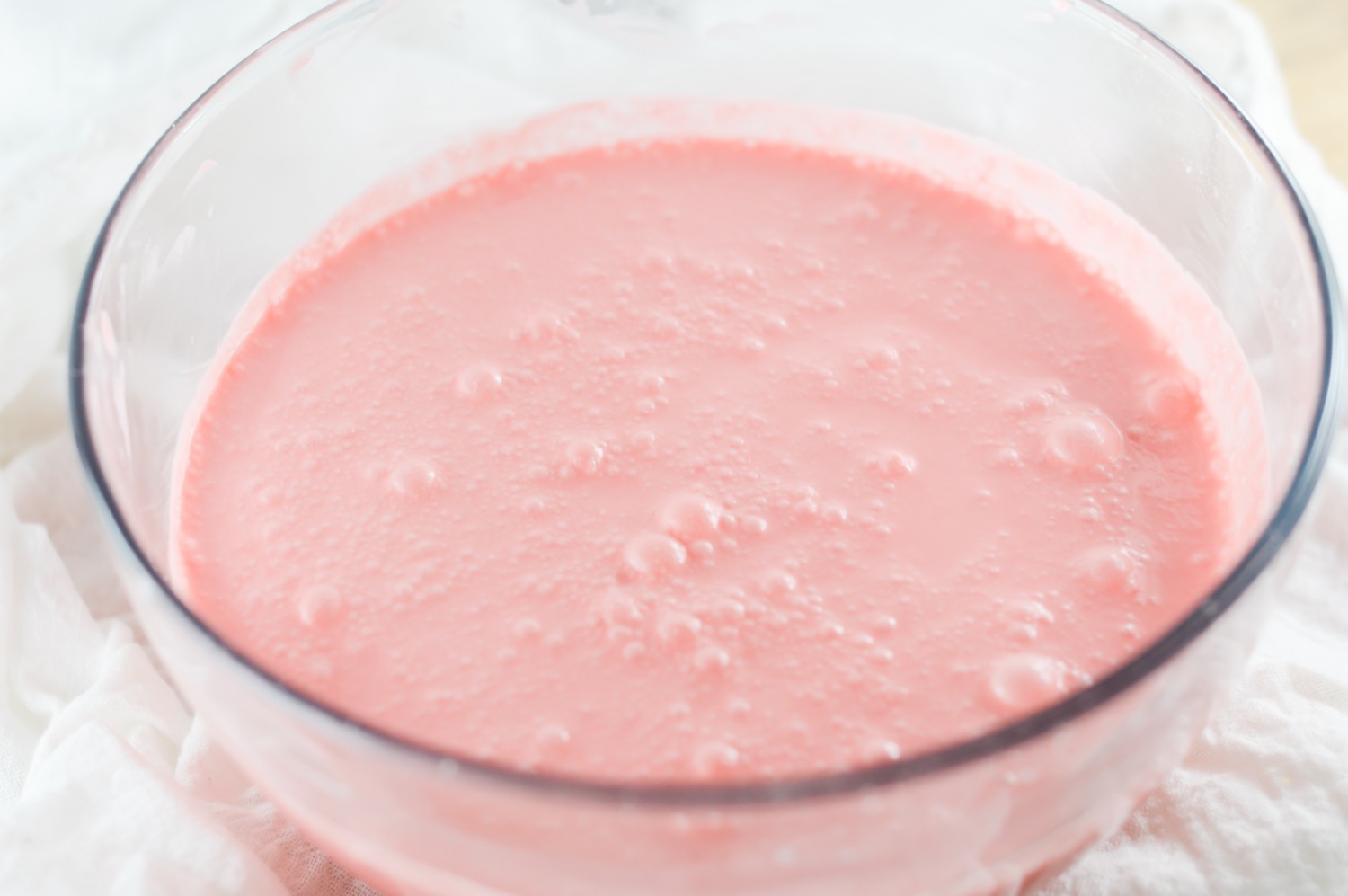 Then blend your strawberry gelatin using your package instructions. After adding the cold water, your gelatin should be cool enough to add the whipped cream. If the gelatin is still warm, place it and the whipped cream in the fridge to cool before combining them.
Once you combine the whipped cream and gelatin, you will want to place it back in the fridge for around 30 minutes. This will allow it to start to set.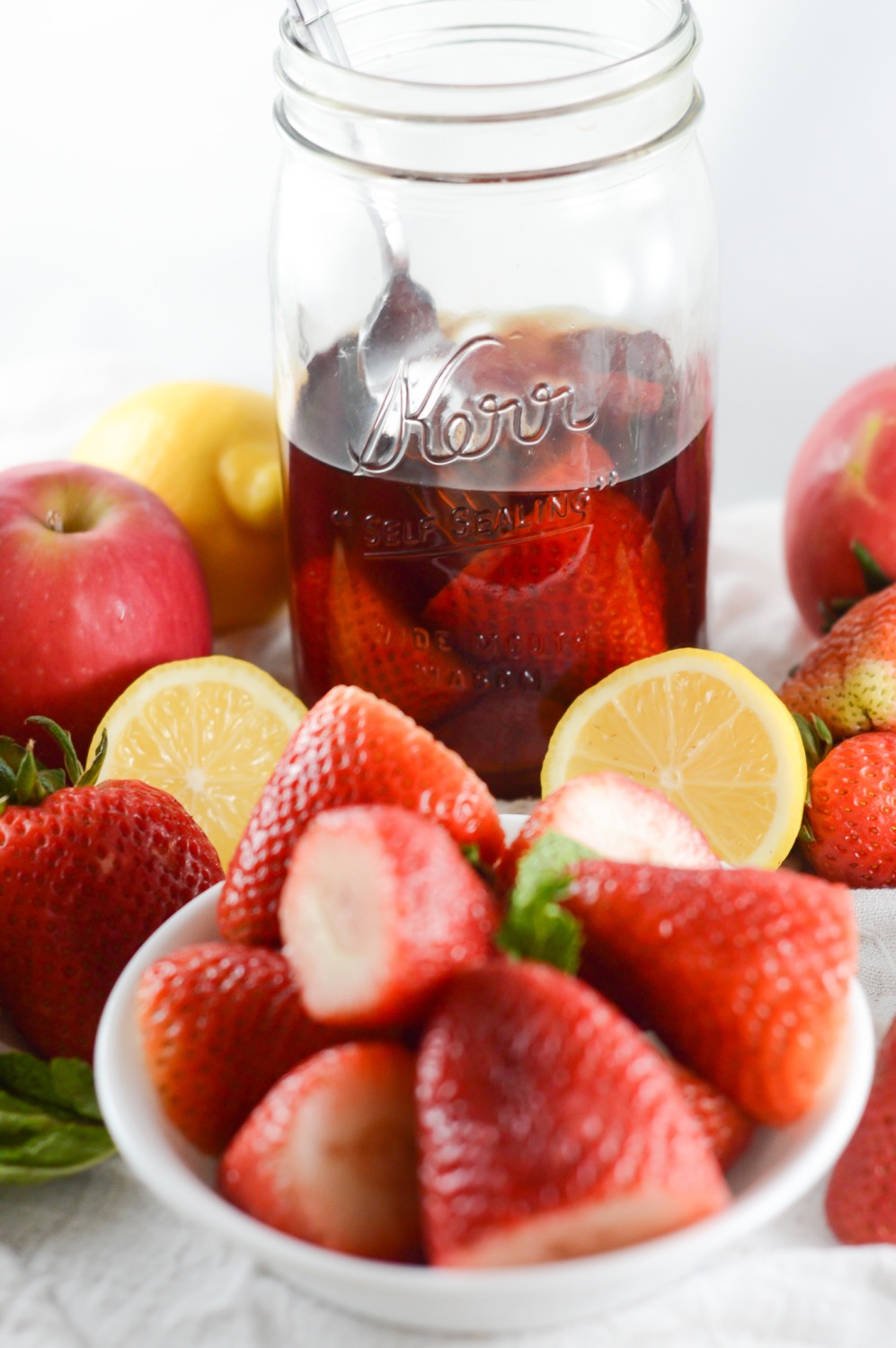 Next, chop your rum soaked strawberries into small pieces. Chop your mint to a quite fine texture. An herb chopper, food processor, or mortar and pestle will help. Toss the strawberries and mint together and add the lime juice.
Gently fold the berries into the pie base and add it to the graham cracker crust.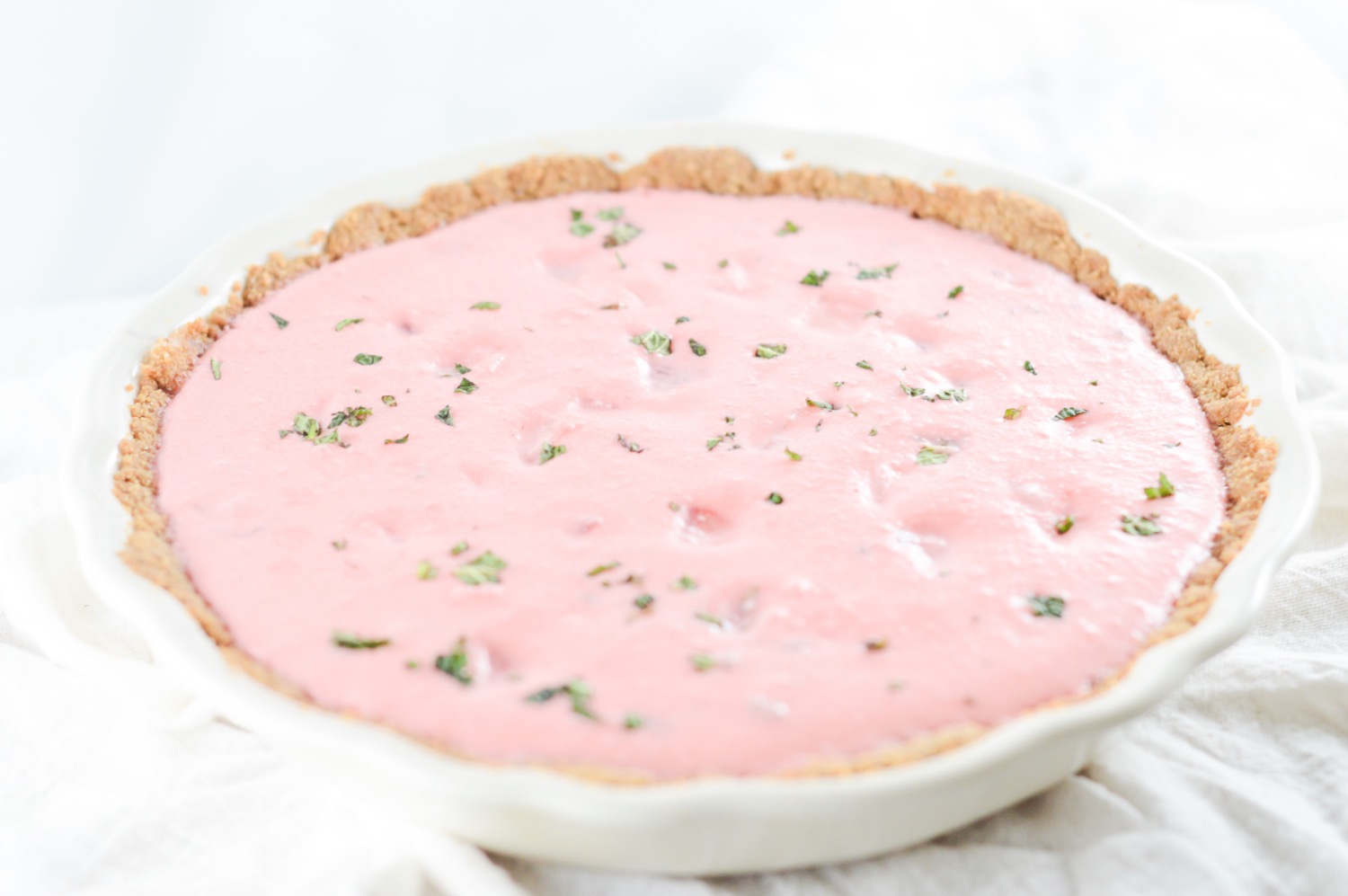 Use a rubber spatula to smooth the surface of the pie and place your pie in the fridge overnight or for at least 6 to 8 hours.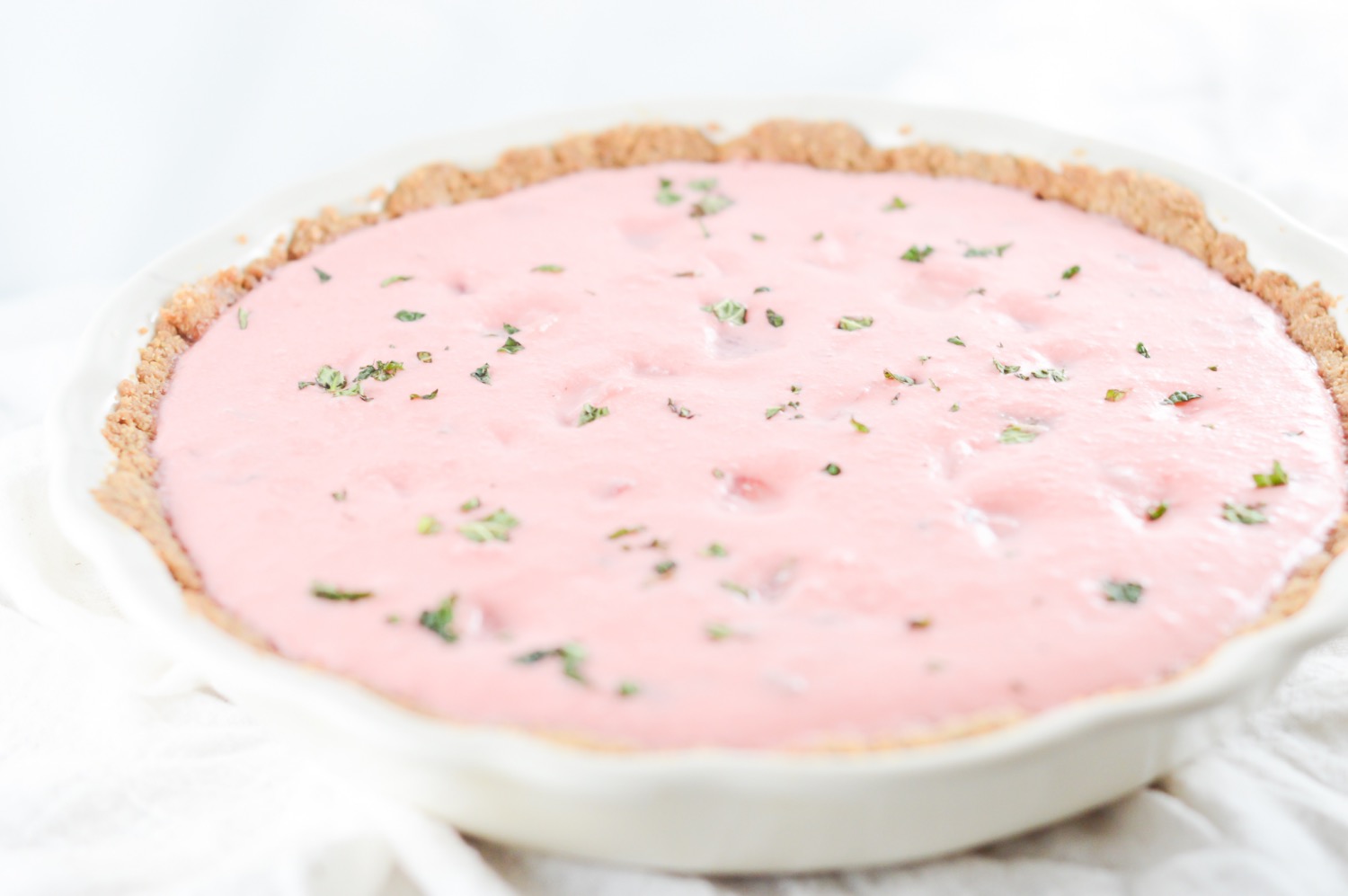 When you are ready to serve the pie, finely chop more mint and add to the top! It will make your finished results so gorgeous and irresistible.
Serve at an outdoor party, bring this pie to a pool party or a potluck, or save this pie for the perfect girls night!
The color is so gorgeous and it's full of fruity flavor.
Pair this Mojito Strawberry Cream Pie with:
1. Strawberry Mint Mojitos
2. 15 Vintage Inspired Tiki Cocktails
3. Whirled Watermelon Mojitos
4. Skinny Pink Squirrel Cocktails
How are you going to serve your Mojito Strawberry Cream Pie? Tell us in the comments and happy (no) baking!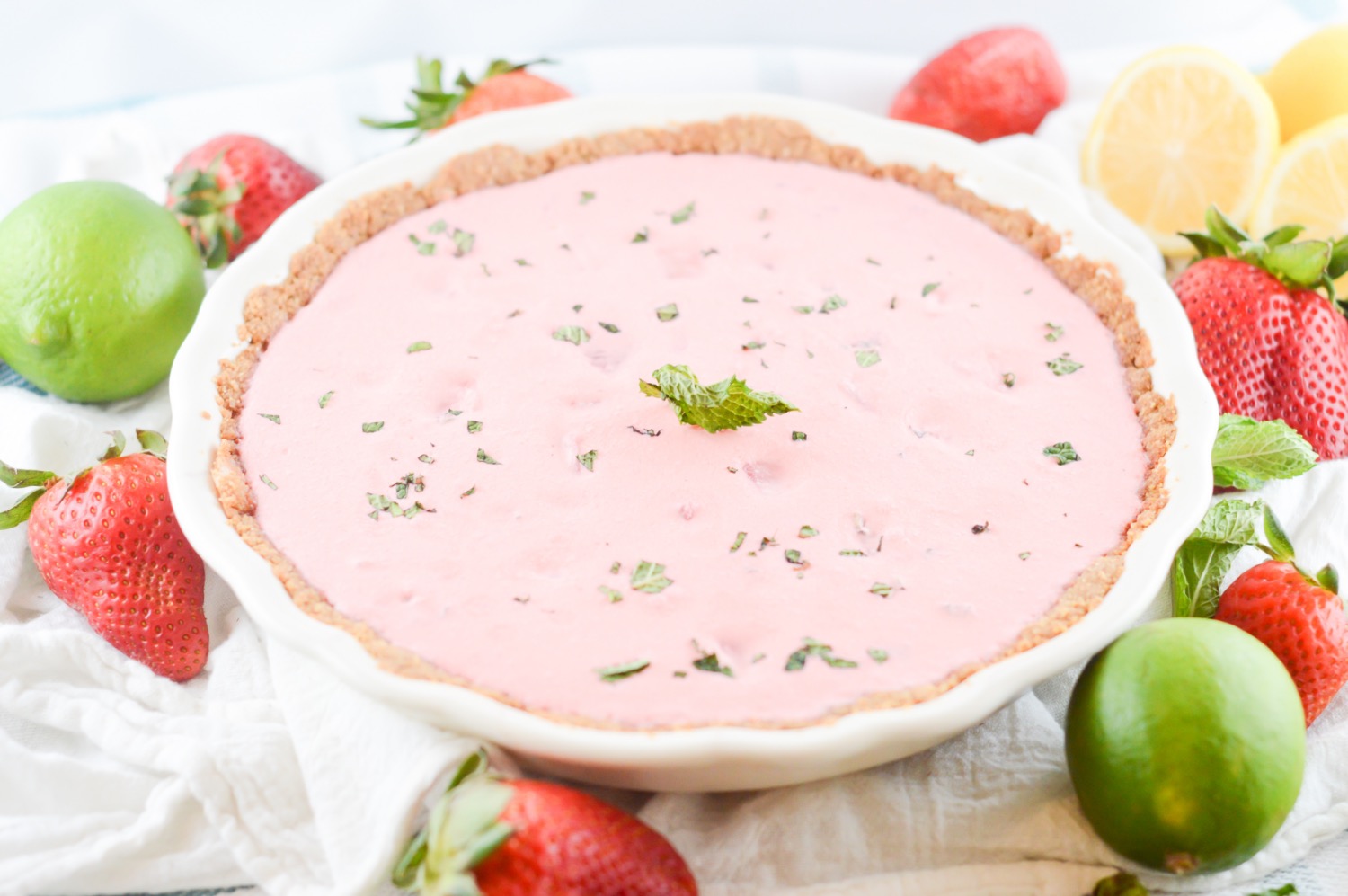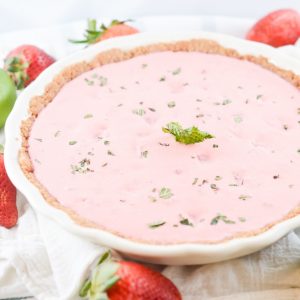 Mojito Strawberry Cream Pie Recipe
This Mojito Strawberry Cream Pie is light, creamy and refreshing pie that's perfect for summer! It even has a hint of booze.
Ingredients
2

Ounces

Strawberry Gelatin

1 ½ Cups Vanilla Soaked Strawberries

rum version

1 ¼

Cups

Heavy Whipping Cream

⅓

Cup

Ice Cold Water

⅓

Cup

Boiling Water

½

Cup

Powdered Sugar

⅛

Cup

Fresh Mint

minced

1

Tablespoon

Lime Juice

1

Teaspoon

Vanilla Extract
Instructions
In a large bowl, combine the heavy whipping cream, vanilla extract, and powdered sugar. Using a hand mixer or whisk attachment on a stand mixer, beat the mixture until stiff peaks form. Place in the fridge to set aside.

In a large bowl, combine the hot water and strawberry gelatin. Stir until gelatin has dissolved. Add the cold water to the mixture and stir well again.

Add the set aside whipped cream to the gelatin mixture and stir well. Set in the fridge to chill for about 30 minutes.

Dice 1 cup of strawberries.

Fold the diced strawberries, minced mint, and lime juice into the whipped cream and gelatin mixture. Pour the mixture into the graham cracker crust and place in fridge for 6-8 hours or overnight.

Garnish with the leftover strawberries and chopped mint and enjoy!
Notes
For the rum version of the vanilla soaked strawberries, simply replace the water called
for in the soaked strawberries recipe with the rum of your choosing. Follow all other
steps as normal.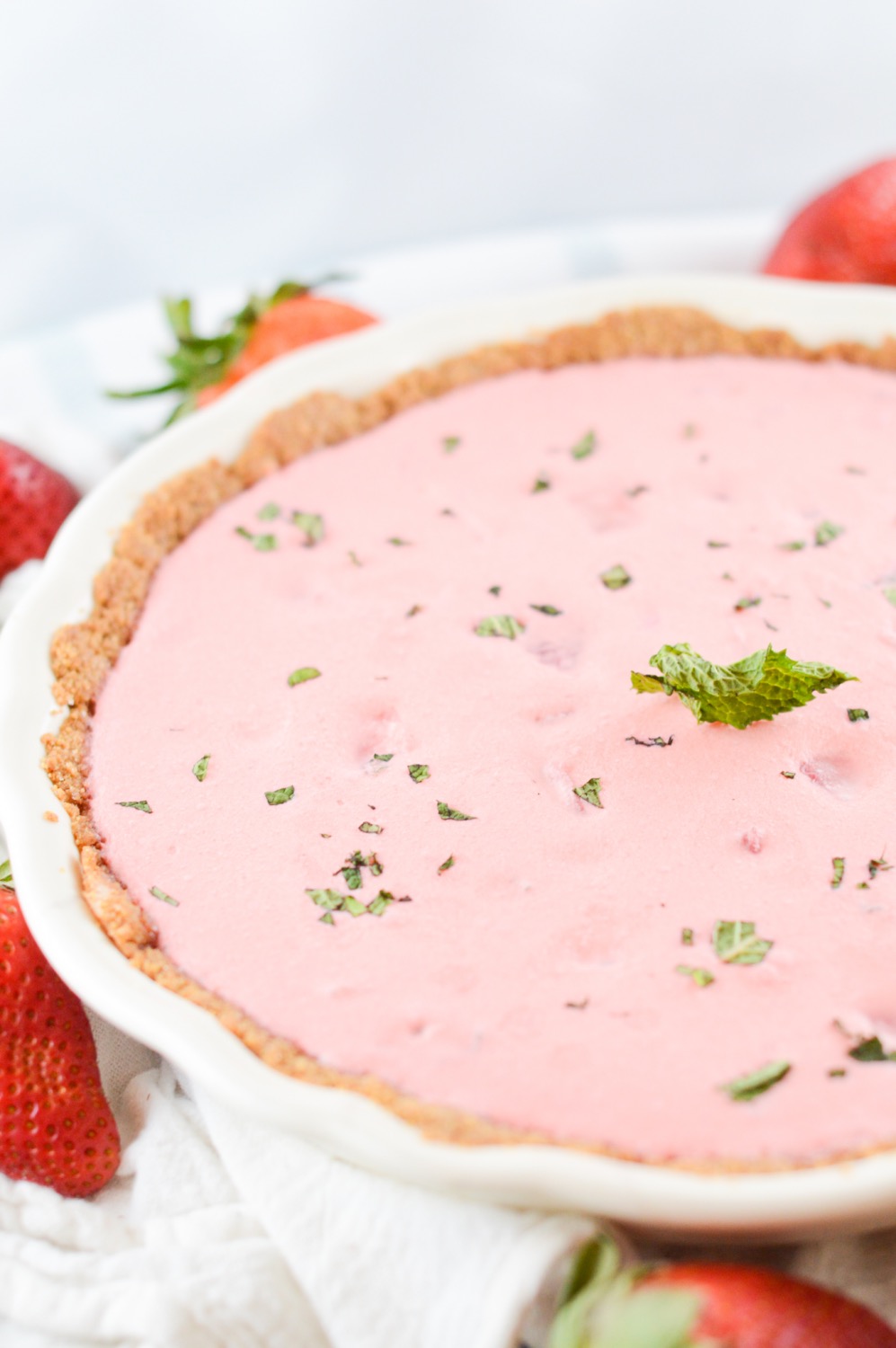 Let's Be Friends!
Insta | Pinterest | Enews | TikTok