On my way back from California, the boy and I stopped in Albuquerque, NM for an overnight stay in a popular Route 66 motel and that it was the night of New Mexico Fashion Week's epic runway show. We ended up running a little behind schedule, so I arrived during intermission. I had only missed five designers, so I was anxious to see the final seven made their way down the catwalk.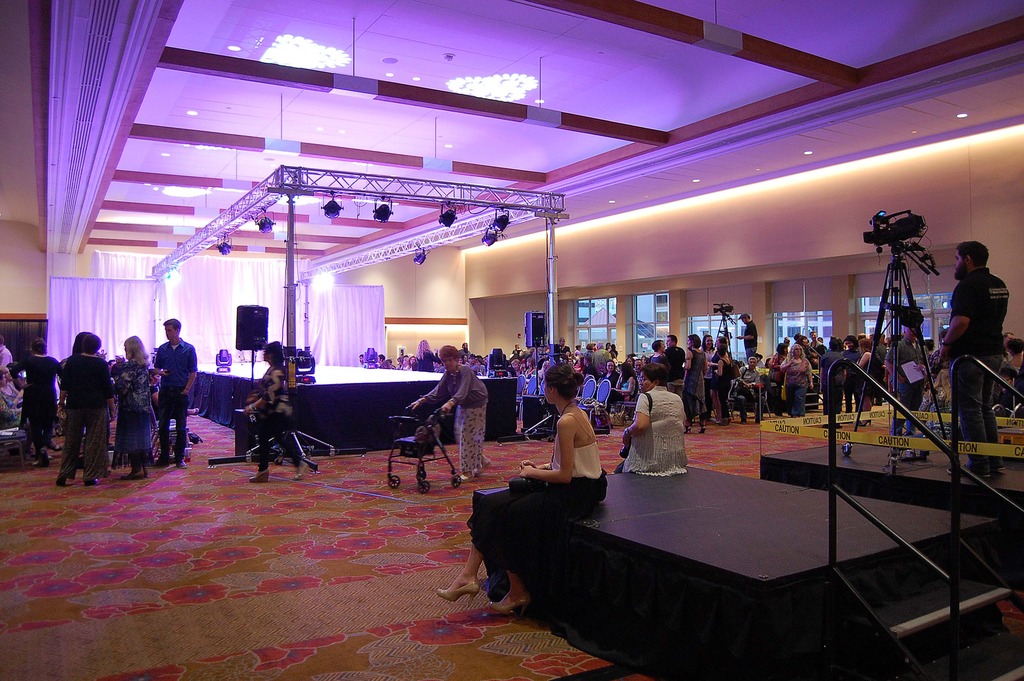 While every designer showcased their unique collections, there were some memorable moments throughout the event that stood out in my opinion, one of them being the Fashion as Art: The Dress Sculpture exhibit that I viewed during intermission. It was a competition between students and established artists and featured their interpretations of "the dress." I thought they were all creative and applaud their continued success.
The show seemed to have started on-time and really celebrated that there were models of all ages, races, shapes and sizes; which is a HUGE plus in my book.  The event was emcee'd by Miss Albuquerque 2014- Gabriella Torres, who also modeled throughout the evening. The designer line-up included: 505 Clothing, A. Tsagas Designs, Bossarolla, Debi Lynn Designs, Destinista Designs, K-Bobby International, MeliDu, Monista Art and Design, Montecristi Custom Hat Works, Noir Assassin and ODELL by Kayleigh Dawn.
Even though I wasn't able to see my friend and Houston designer- Debi Lynn 's runway show, I actually had the lucky chance of seeing her and her models during intermission, walking around in the collection. Debi Lynn Designs is known for returning to her Cajun and Muskogee Creek cultures when designing her jewelry collections (that are seen on Miranda Lambert, Demi Lovato, Britney Spears and more). Everything is one-of-a-kind and locally sourced. The collection she showcased during NMFW was called "Bayou Gypsy meets Cowgirl Chique" and focused on repurposed clothing, fringe, beading, appliques and more!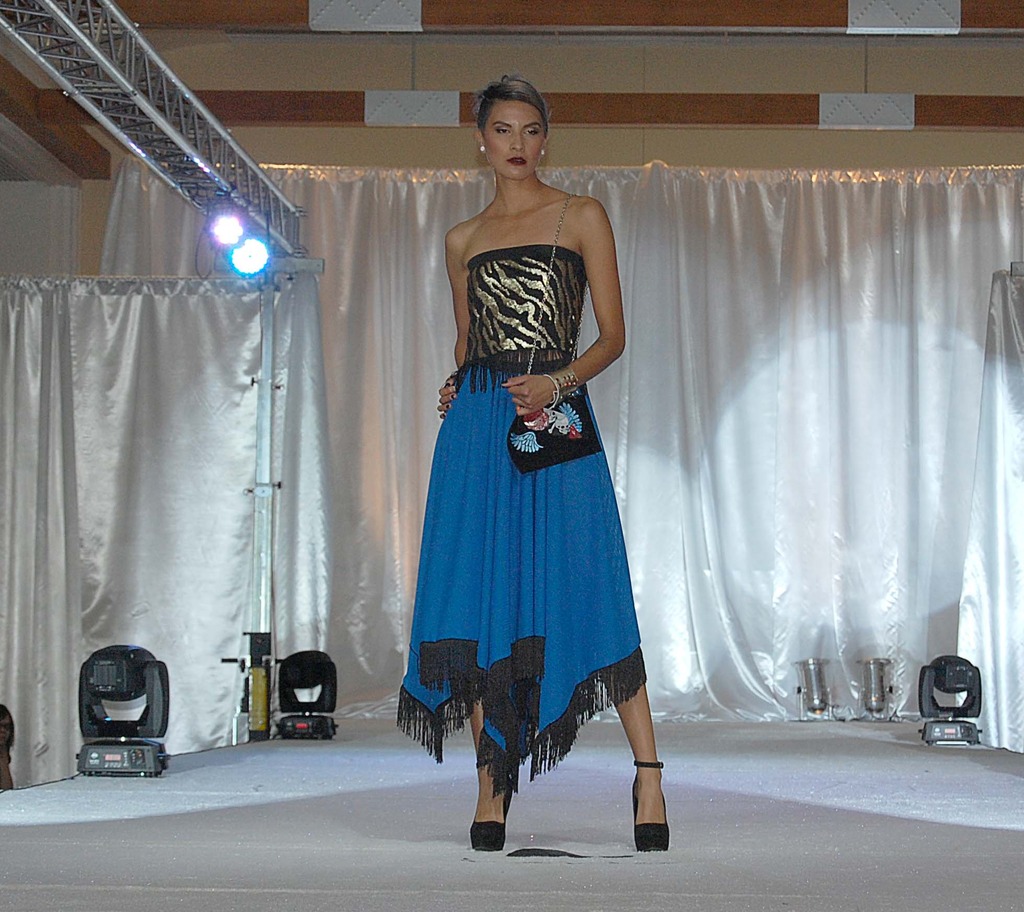 Monista Art and Design designer Monica Duran presented her accessory collection, along with Destinista Fashions – whose collection was inspired by the Empire State Building. Monica holds a degree in architecture and interior design. It wasn't until 2006, when she was diagnosed with a rare form of cancer, that she needed to switch gears. She found a happy medium through her art and creating fun accessories. The collection she showed was titled "A Kiss of a Feather," which featured 100% leather items with Swarovski crystals. I must not forget to mention that Monica was also a bad-ass model, who werked that runway.
Native American jewelry designer- Sharidynn Denetchiley is the brains behind Enlightened Designs. She represents the Dine (Navajo) Nation and is originally from the Four Corners region. Her career has spanned from collaborating with numerous Native American designers and models, as well as participating in fashion and jewelry shows across the state. Her presentation not only was about the jewelry, but it also included the body painting (on the models) done by Patrick "Cloudface" Burnham. The whole presentation was rather….enlightening. The evening ended with Montecristi Custom Hat Works and NMFW founder- Melissa Beasley making her runway debut in one of their wide-brimmed creations.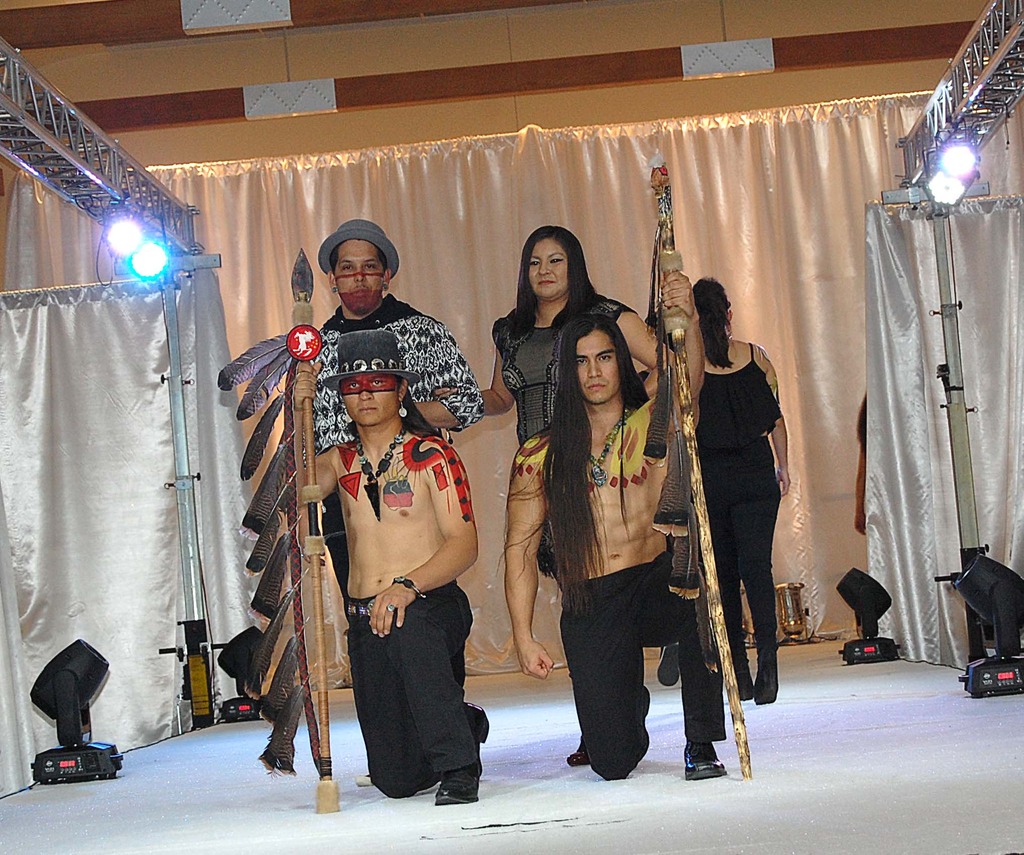 Huge thanks to Melissa and the NMFW team! For more information, check out NMFW HERE.
Let's Stay Friends!
Insta | Pinterest | Enews | TikTok